The Ultimate Las Vegas Honeymoon Checklist
Publication date:

06/14/2023

Updated:

06/14/2023
Ah, Sin City - the perfect setting to kick off the adventure of a lifetime together! When you think of a Vegas honeymoon, you might envision bright lights, extravagant shows, and endless entertainment. But there's so much more to a honeymoon in Las Vegas than meets the eye. Ready to dive into this glitzy, glamorous world? Let's go!
Pros And Cons Of Honeymoons In Vegas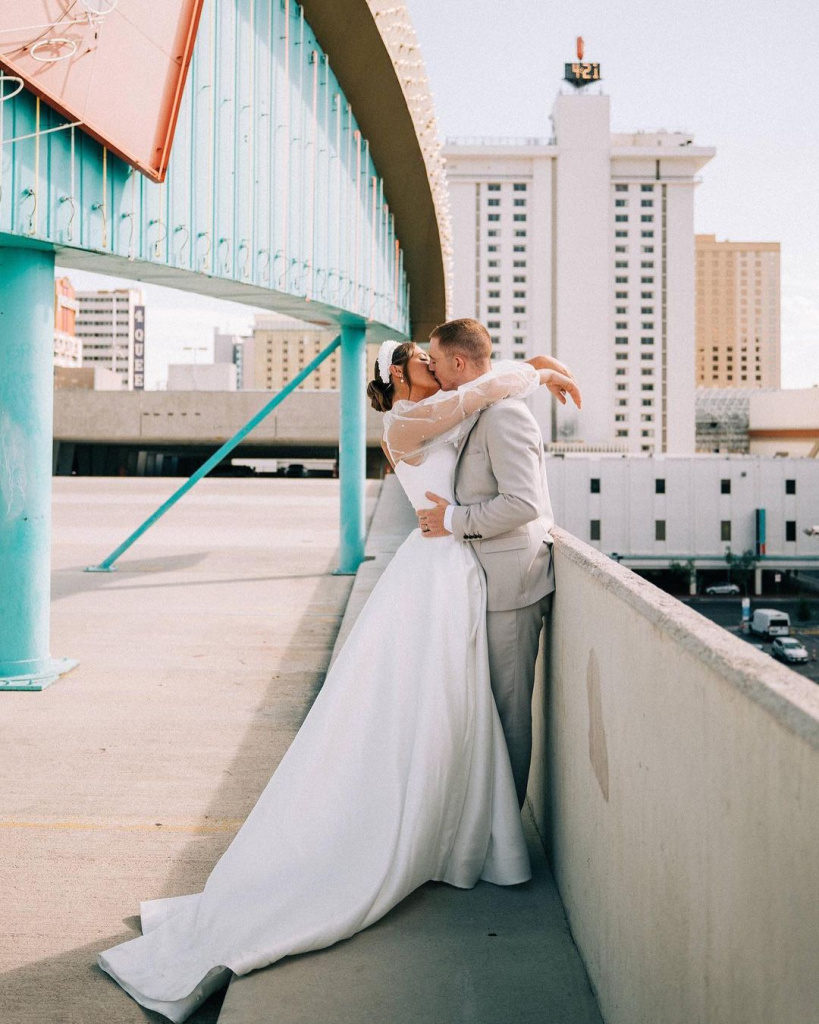 When it comes to planning a Las Vegas honeymoon, there are some definite pros and cons to consider. Let's break them down so you can make an informed decision about whether Vegas is the right destination for your romantic getaway.
Pros
A plethora of entertainment options: From world-class shows to incredible casinos, Vegas has got you covered.
Excellent dining experiences: Vegas boasts a multitude of gourmet restaurants and iconic buffets.
Unique attractions: From the Mob Museum to the Neon Museum, Vegas has something for everyone.
Easy to navigate: The famous Las Vegas Strip is walkable, and public transportation is readily available.
Romantic opportunities: Enjoy gondola rides, breathtaking views from the High Roller, and intimate dinners at top-notch restaurants.
Luxurious hotels: Vegas is known for its extravagant hotels that offer incredible amenities.
Amazing nightlife: Dance the night away at one of the city's many nightclubs or enjoy a drink at a swanky lounge.
Cons
It can be expensive: Luxurious accommodations and upscale dining can add up quickly.
Crowds: Vegas may be extremely chaotic, particularly on weekends and during major celebrations.
Climate: The desert temperatures may be extreme, particularly during the height of summer.
Temptation: The casinos, shops, and nightclubs might make sticking to a budget challenging.
Exhaustion: With so much to see and do, it's not difficult to overdo things and become worn out.
But, hey, you only get one life, right? A Las Vegas honeymoon could be the ideal way to commemorate your love and begin your married life together.
What Time Of Year Is The Best To Plan Your Honeymoon In Vegas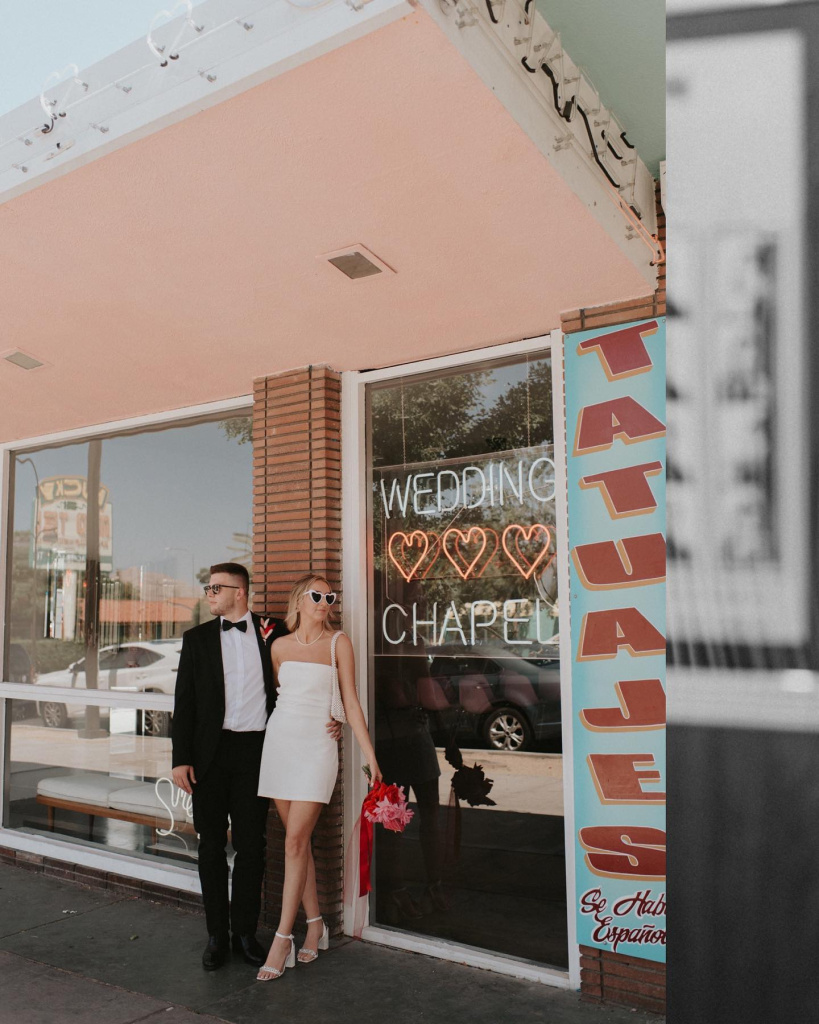 When it comes to planning your Vegas honeymoon experience, timing is key. The best time to visit Vegas is usually during the spring and fall months. Temperatures are more moderate, ranging between 70 and 80 degrees Fahrenheit, which makes it ideal for sightseeing and admiring natural sites. Furthermore, these times of year are less busy than either winter or summer, providing you with more space to breathe while enjoying your time together. Here's an overview of the seasons:
Spring: With pleasant temperatures, stunning desert blossoms, and a plethora of outdoor activities, spring is an amazing season to come here.
Summer: Prepare yourself for blistering temperatures and overcrowded sights. Pool season, on the other hand, is in full gear, and there are tons of activities inside to keep you fresh.
Fall: Like spring, fall offers mild temperatures and fewer crowds, making it an ideal time for a honeymoon.
Winter: While Vegas isn't known for its winter wonderland, you can still find holiday festivities and cooler temperatures during this time. Just be aware that New Year's Eve can be quite busy.
What To Do During Your Honeymoon In Las Vegas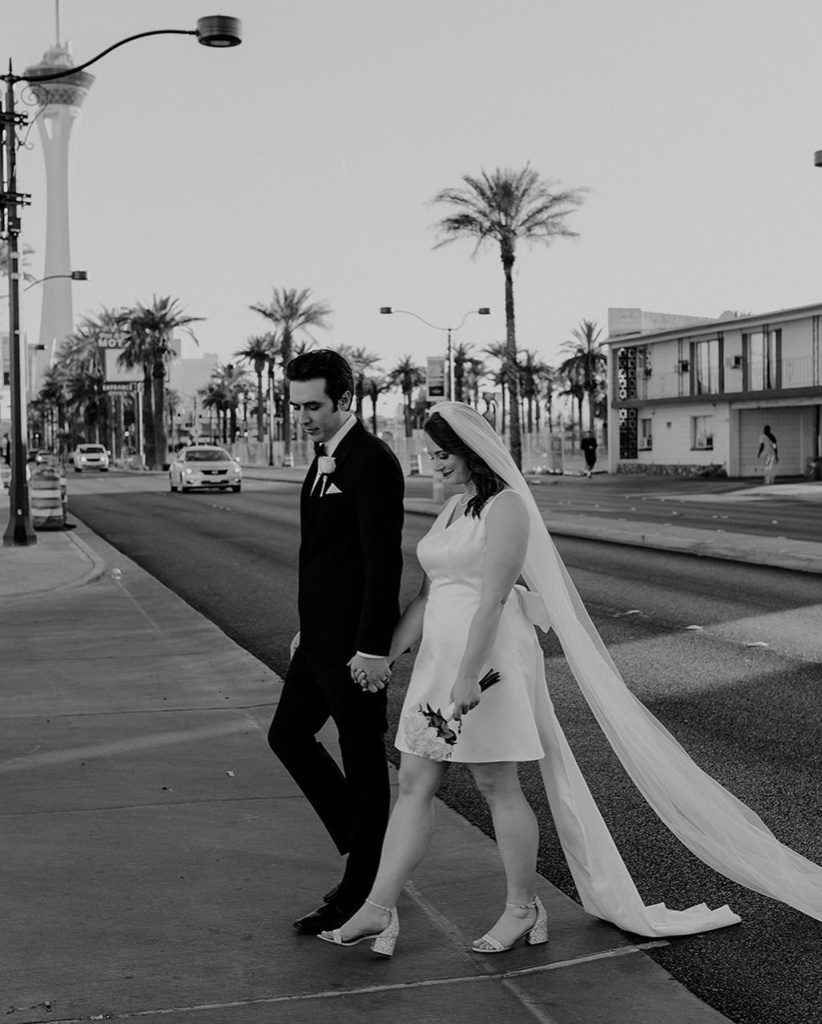 You'll never run out of Vegas honeymoon ideas. From world-class shows to romantic dinners, there's something for every couple. Here are 20 activities to consider:
Catch a breathtaking show: Cirque du Soleil, concerts, or magic shows - take your pick!
Experience a gondola ride at The Venetian to get a taste of Italy within the beating heart of Las Vegas.
Unwind yourself with a couple's massage therapy or spa session at a premium resort.
Admire the well-known Las Vegas sign and take a picture to cherish your honeymoon for the rest of your life.
Explore the great outdoors by visiting Red Rock Canyon or the Grand Canyon.
Experience the High Roller: Enjoy stunning views of the Strip from the world's tallest observation wheel.
Stroll through the Bellagio Conservatory: Marvel at the seasonal floral displays in this beautiful indoor garden.
Try to get lucky at the casinos: Either you prefer slots or blackjack or roulette, Vegas has something to suit your needs.
Enjoy the spectacular water show, packed with lights and music, at the Bellagio Fountains.
Take pleasure in great cuisine at one of Vegas' many exquisite restaurants for an intimate evening.
Visit the historic Las Vegas Strip, replete with neon lights and free live entertainment, at the Fremont Street Experience.
A chopper tour is an exciting way to see the metropolis and neighboring environs from a different perspective.
Stop by the Neon Museum to learn about Las Vegas's history through its renowned neon signs.
Toast to your love in one of the city's elite bars while sipping cocktails at a posh lounge.
Drive through Valley of Fire State Park for a lovely drive: Witness the breathtaking desert environment and one-of-a-kind rock formations.
Start your day off right with a tasty brunch at one of the city's many brunch venues.
Laugh at a comedy show: Attend a show by one of your favorite comedians.
Get yourself all dressed up and hit the dance floor to party the night away in a club.
Discover the LINQ Promenade: This outdoor shopping, dining, and entertainment zone is ideal for taking a break.
Catch an IMAX movie: Experience the latest blockbuster in stunning IMAX quality.
Top Vegas Honeymoon Hotels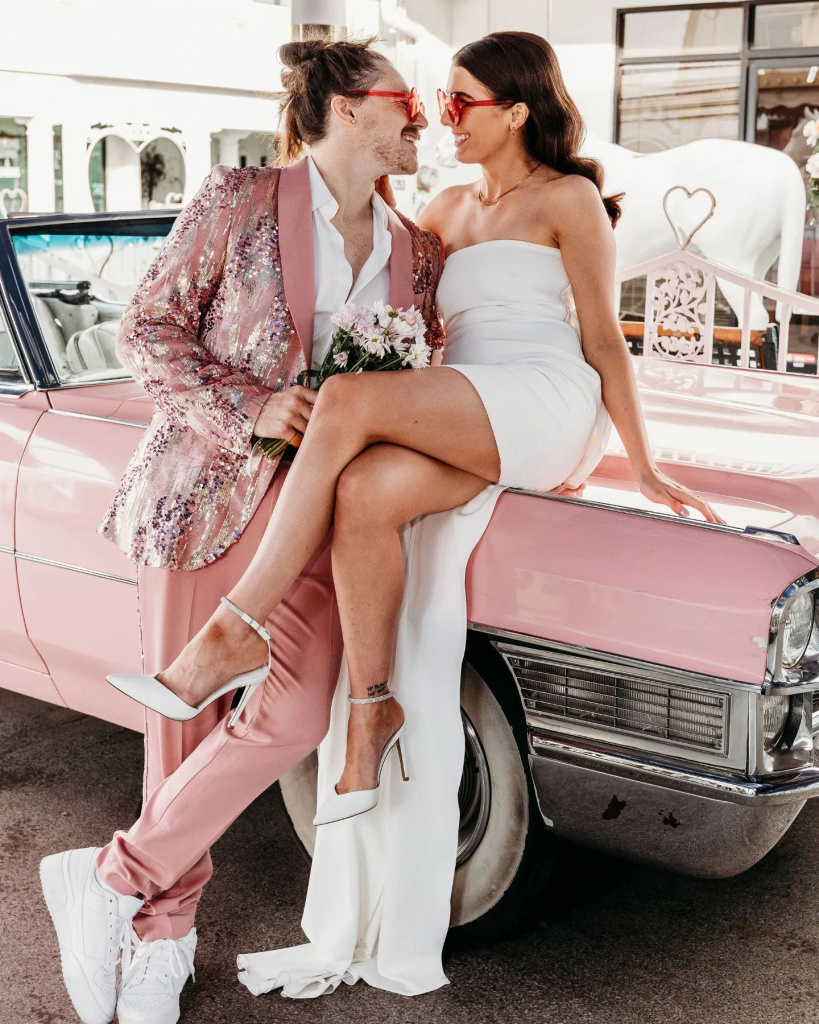 When it comes to Las Vegas honeymoons, you'll want to find the perfect lodging option for your sweet escape. Here are some of our personal favorites:
The Bellagio: This hotel is famous for its distinctive fountains and exquisite suites.
The Venetian: With its Italian-inspired decor and gondola rides, you'll feel transported to Europe.
Wynn Las Vegas: A favorite pick for its exquisite rooms, fantastic restaurants, and premium shopping.
ARIA Resort & Casino: Elegant and cutting-edge ARIA is great for visitors looking for an upscale Vegas adventure.
The Cosmopolitan: This glamorous and elegant hotel offers breathtaking views of the Strip as well as distinctive culinary opportunities.
Caesars Palace: This hotel is ideal for couples seeking a blend of history and elegance.
Mandalay Bay: With its tropical-themed poolside complex and beach club, Mandalay Bay is ideal for honeymooners wishing to unwind and enjoy the sun.
The Mirage: This Polynesian-themed hotel offers lush surroundings and an incredible volcano show.
Paris Las Vegas: Feel the romance of the City of Light with this Parisian-inspired hotel.
Four Seasons Las Vegas: For a more intimate and luxurious experience, consider the Four Seasons, located within Mandalay Bay.
Vegas Honeymoon Checklist: Things To Pack With You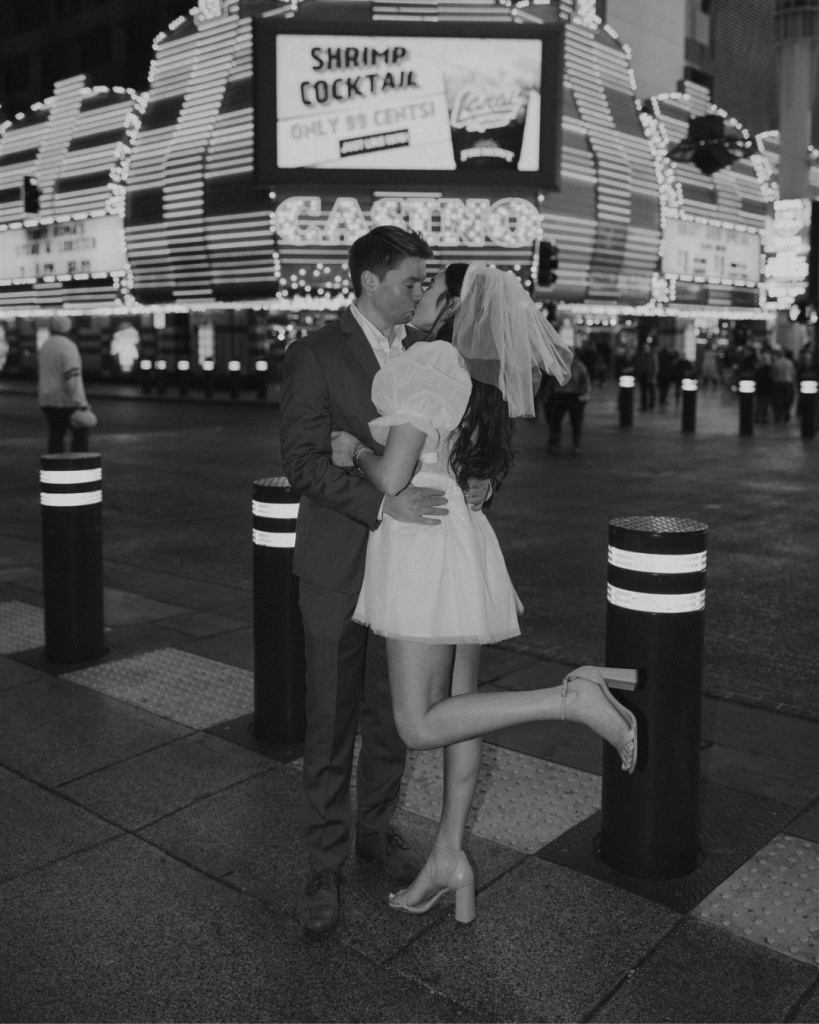 As you prepare for your honeymoon to Vegas, you'll want to make sure you've got everything you need for an unforgettable experience. Here's a list of essentials:
Appropriate shoes: You'll be walking a lot, so be prepared!
Sun protection: To safeguard oneself from the desert sun, bring sunscreen, sunglasses, and a hat.
Dressy attire is required for many luxurious places and shows, so pack appropriately.
Swimsuits: Make use of the fantastic hotel pools and beach clubs.
Bring a light jacket or jumper in case the weather drops at night.
Capture all of the beautiful memories you'll make together with a camera or your smartphone. Or just hire a professional photographer!
Keep your devices charged while exploring the city with a portable charger.
Essential toiletries: While many hotels provide basic amenities, it's always a good idea to bring your own favorites.
Evening bag or clutch: Perfect for carrying essentials during a night out on the town.
A reusable water bottle: Stay hydrated in the desert heat by refilling your bottle throughout the day.
Travel-sized first aid kit: Accidents happen, so be prepared with a few basic supplies.
Snacks: Keep your energy up with on-the-go snacks like granola bars or nuts.
A guidebook or travel app: Plan your days with ease and have all the information you need at your fingertips.
Copies of important documents: In case of emergency, have copies of your IDs, travel insurance, and other essential documents.
A good book or magazine: Relax by the pool or in your hotel room with some light reading.
Entertainment for downtime: Download movies, games, or podcasts for when you want to unwind.
Travel pillow and eye mask: Ensure a comfortable flight or car ride to Vegas.
A list of vital contacts: Prepare phone numbers for your hotel, local services, and loved ones in case of an emergency.
Carry all of your essentials in a compact bag or tote while enjoying the city.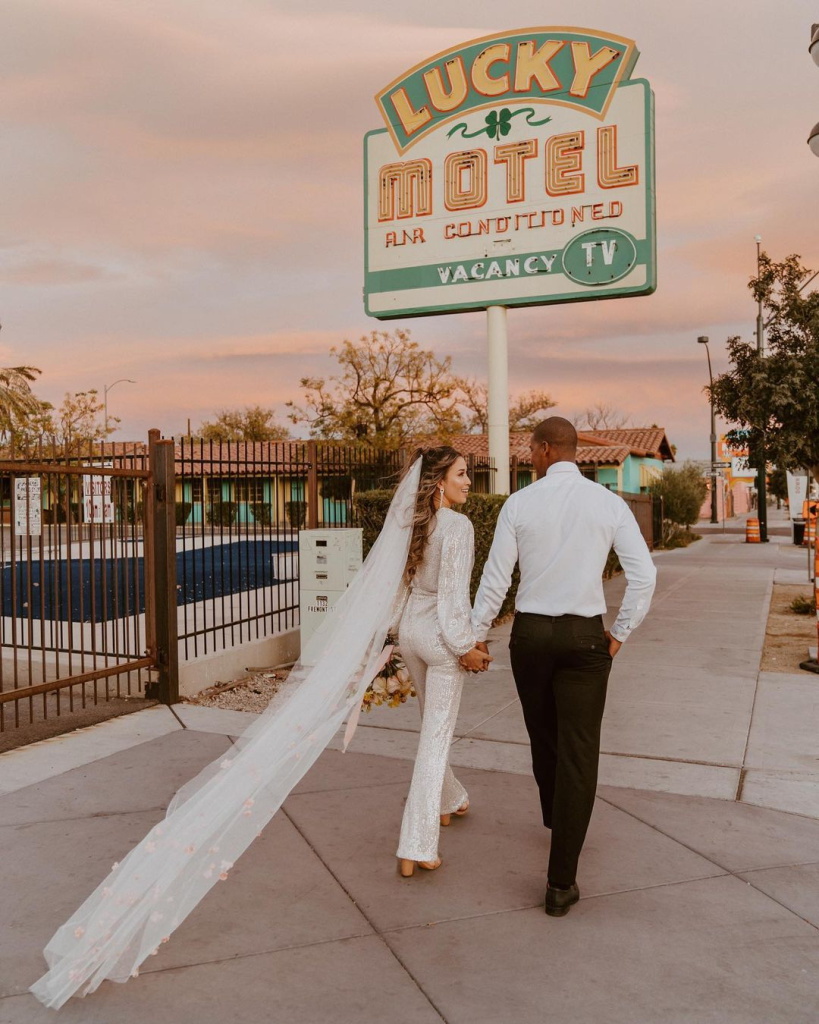 That's all there is to it! A detailed guide to planning the perfect Las Vegas honeymoon. Sin City is the ideal place for marking your love and beginning your married life together, with its countless options for entertainment, luxury hotels, and fantastic restaurants. Make sure to pack wisely, go at the right time of year, and, above all, have a great time!