5 Backyard Wedding Ideas to Make Your Own
Publication date:

03/06/2022

Updated:

02/06/2023
Throwing a wedding party at the backyard of your house is a perfect option for those who adore cozy and tranquil celebrations with the dearest friends and family members. The biggest advantage is the natural environment, namely the picturesque landscape, which will add to the entire atmosphere of friendliness and love. Therefore, you don't need to spend a fortune or put in a lot of effort to decorate the surroundings using the charming splendor around you.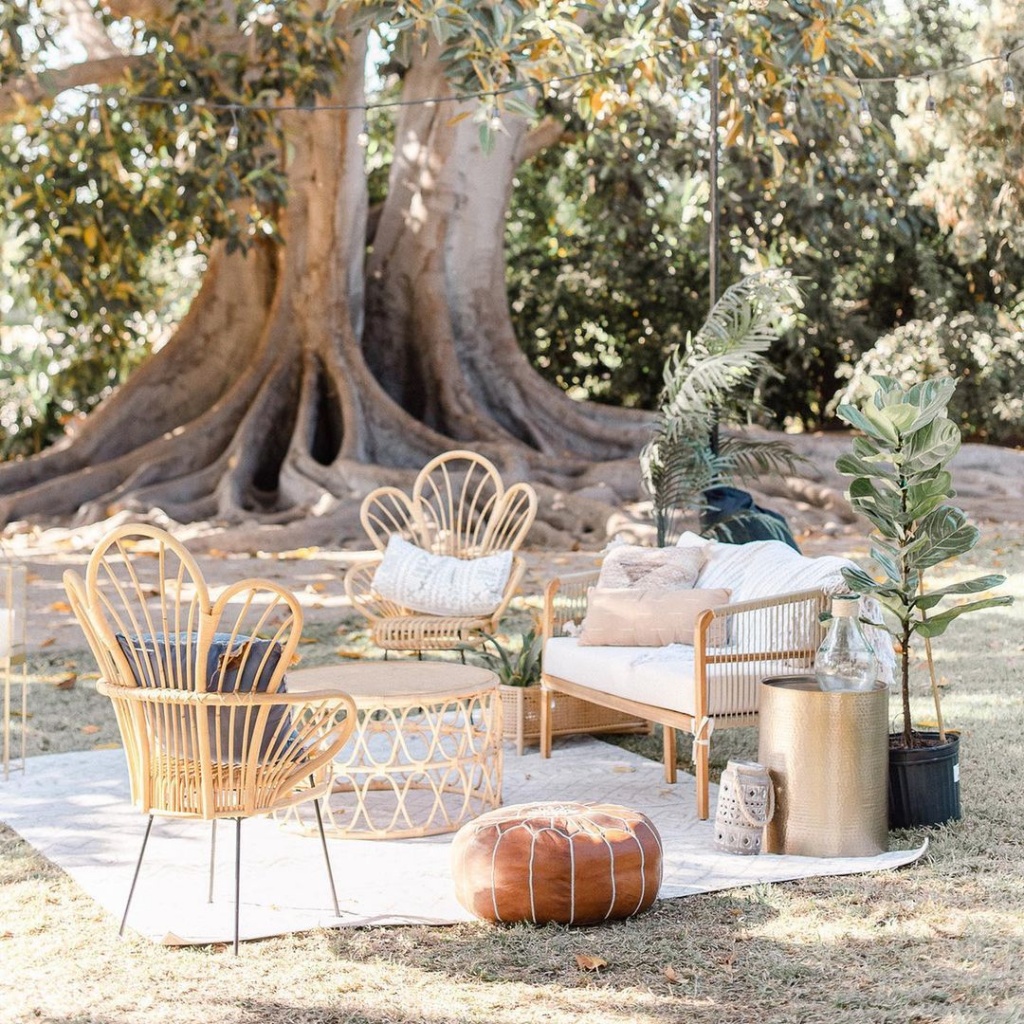 Photo by xoandfetti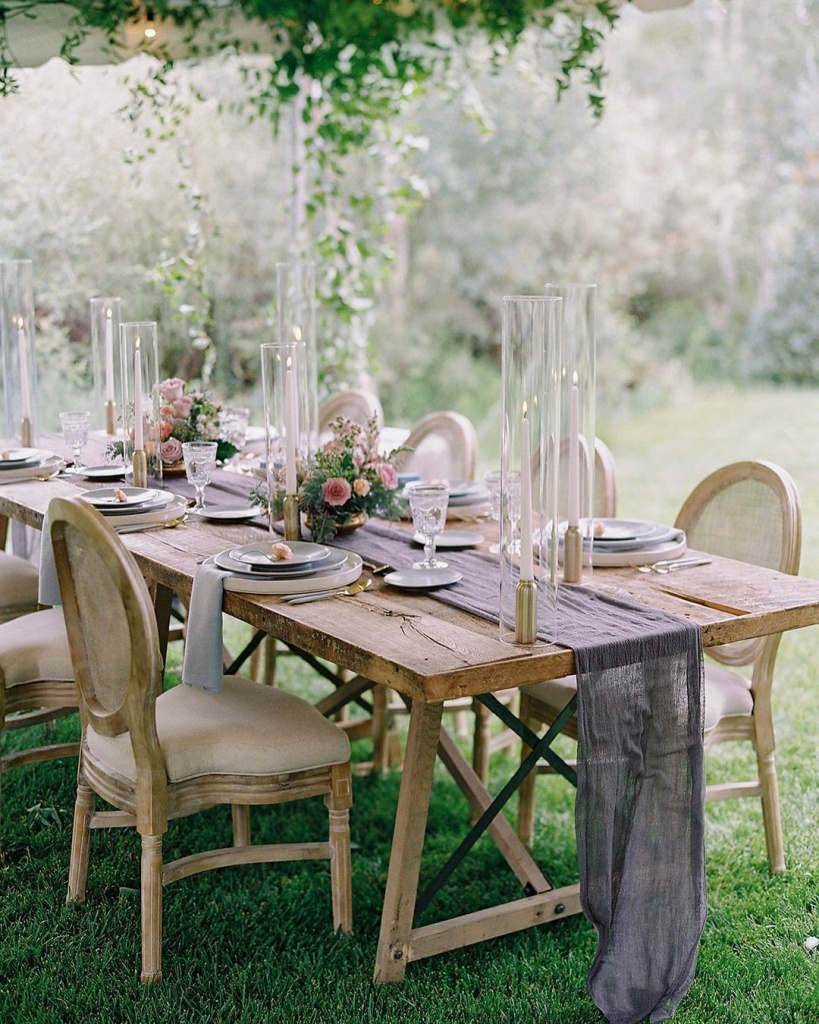 Photo by carriekingphotographer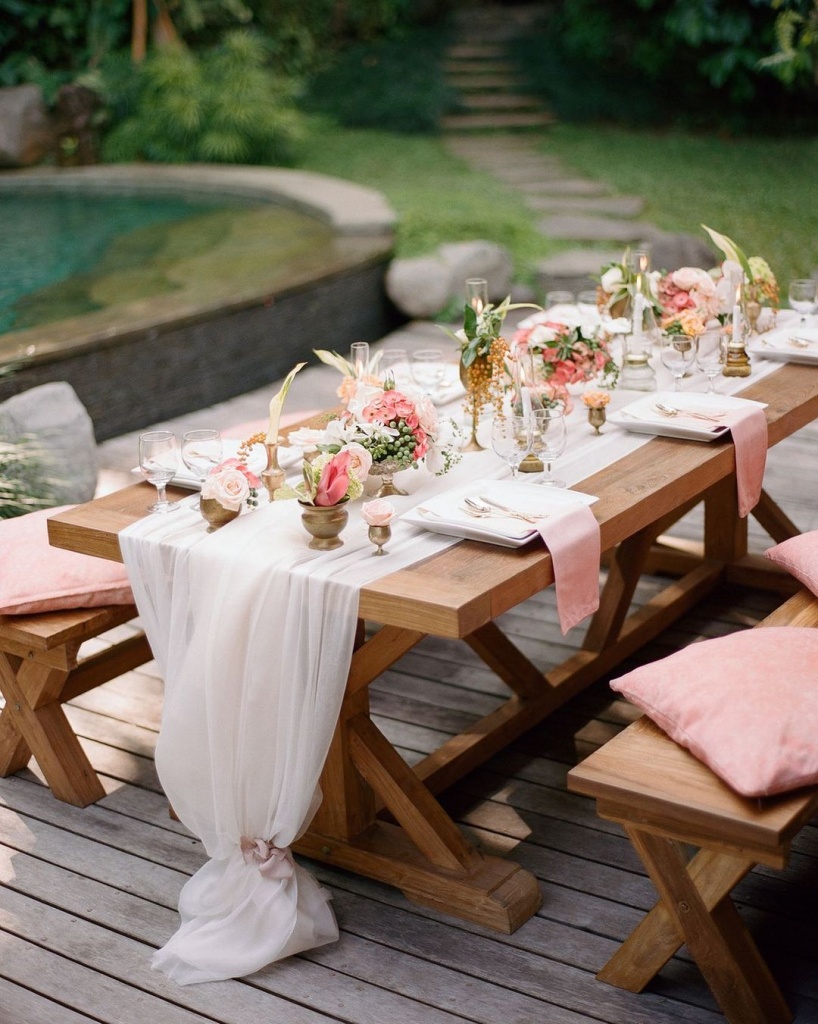 Photo by audrawrisleyphoto
Create a Chill Lounge Area
Maintaining the ambience of the event, provide your guests with a relaxing area where they could settle down, have a chat and enjoy the company of the newlyweds. When it comes to the decoration of the wedding venue, rustic or boho styles are thought to be the most appropriate ones, as they are made of natural materials with light colors and fresh greenery. However, feel free to pick those items that catch your attention, creating an eclectic effect. To have the perfect scene, don't keep using the ideal adornment, trying to match every detail. Let it all go with the flow and don't be afraid to push the boundaries, selecting something unexpected even for yourself. A summer backyard is basically a blank canvas that needs vivid colors and various textures. So, it's time for you to become a real artist and make your dream wedding a reality. Add comfortable printed pillows if you've got a low festive table, or vice versa, use elegant wooden or transparent chairs to create the contrast. Try to feel at one with the beautiful natural view without attempting to bring all the best and all at once.
Have a Rain Plan
There is an important point you should highlight on your to-do list to prioritize and get it done first. Even if the weather forecast promises a sunny and clear day, remember that nobody can predict it for sure. It's better to take all the precautions before the wedding day and rent a tent, considering the number of guests you're inviting. Frankly speaking, in case it doesn't rain, set powerful fans inside the tented area, and your friends will be able to escape the midday heat in it. Moreover, in some regions during the hot season, night temperatures drop sharply, so the tent will become a real shelter for those who are not used to such sudden changes. In addition, with the thought of possible rain, prepare umbrellas and warm shawls for your guests.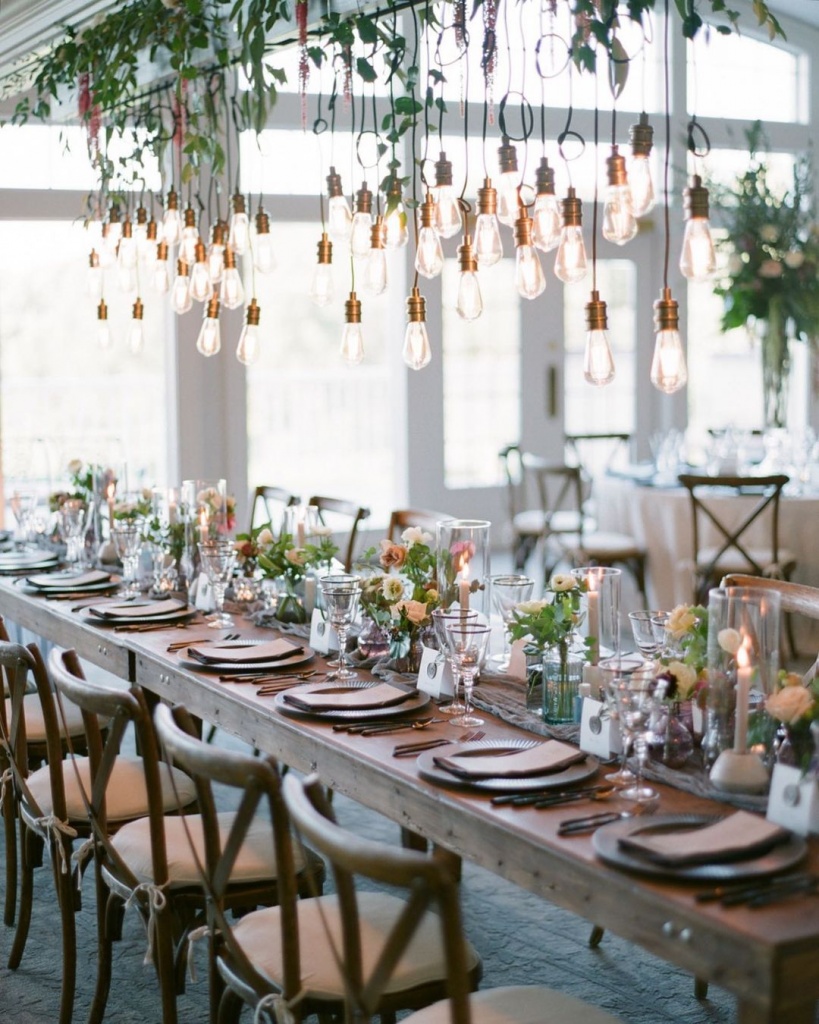 Photo by themccartneys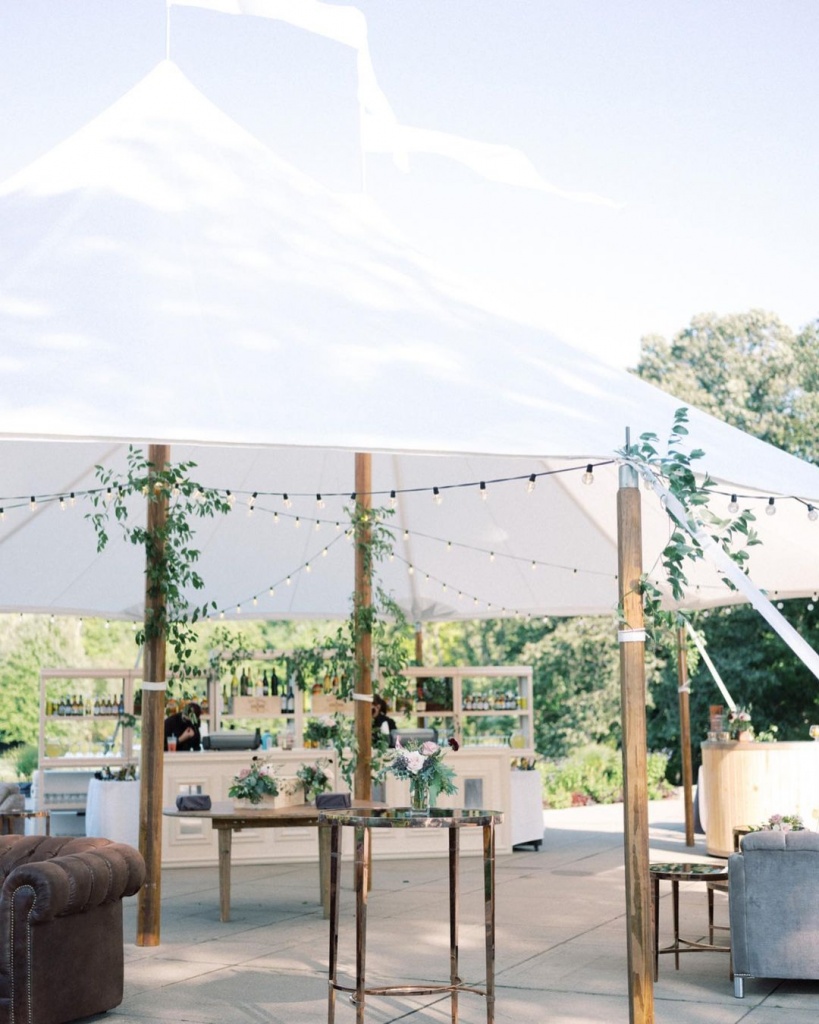 Photo by themccartneys
Illuminate With String Lights
Actually, it's difficult to overestimate the importance of lighting in outdoor spaces. The proper lights can turn an ordinary backyard into a wonderful spot, whereas the lack of it will considerably spoil the aftertaste of the celebration. String lights are the most popular and affordable way both to light up the area and to decorate it. There are many ways of how you can use them, mainly wrapping them around the fence or tent beams, hanging them from trees, or just setting them throughout the yard. Additionally, make use of decorative lanterns and colorful candles of different shapes and sizes and place them right on the tables as modern installations. Uplighting is another widely used way to make your event stand out. When choosing a color that would favorably match with the ambience and theme, settle the beams in the most significant places, for example at the wedding ceremony arch, or just pile them around the yard. Anyway, don't save money on this point, and your big day will become a real success.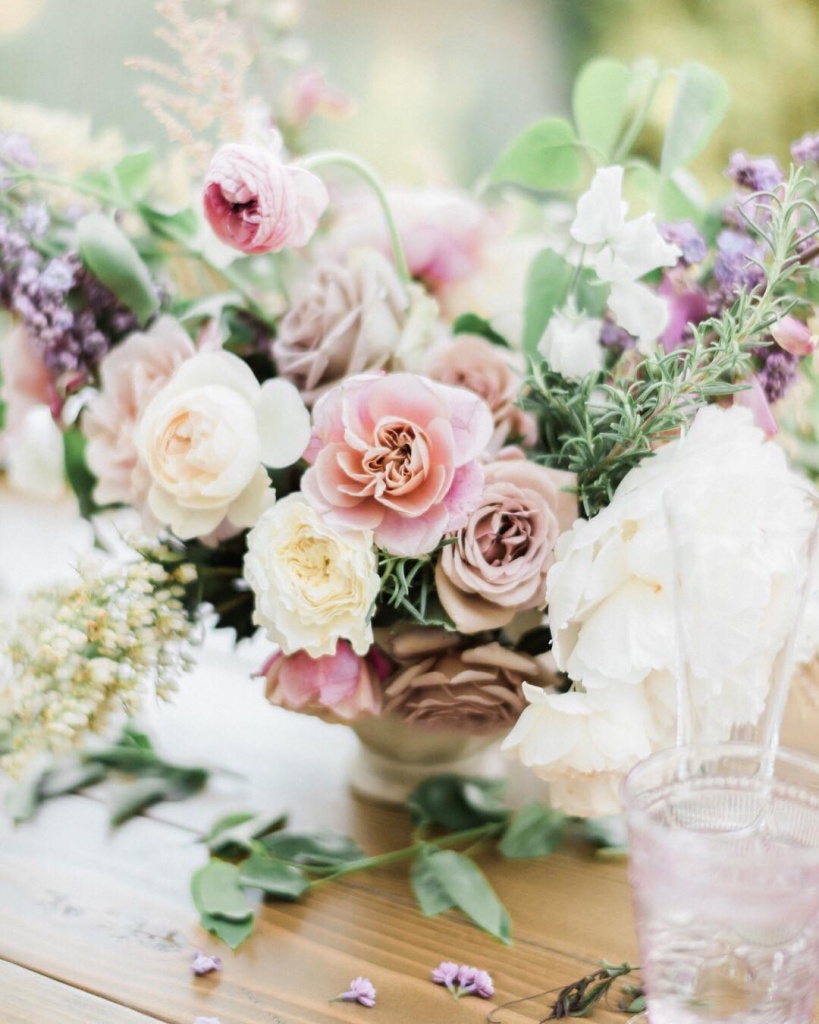 Photo by etherandsmith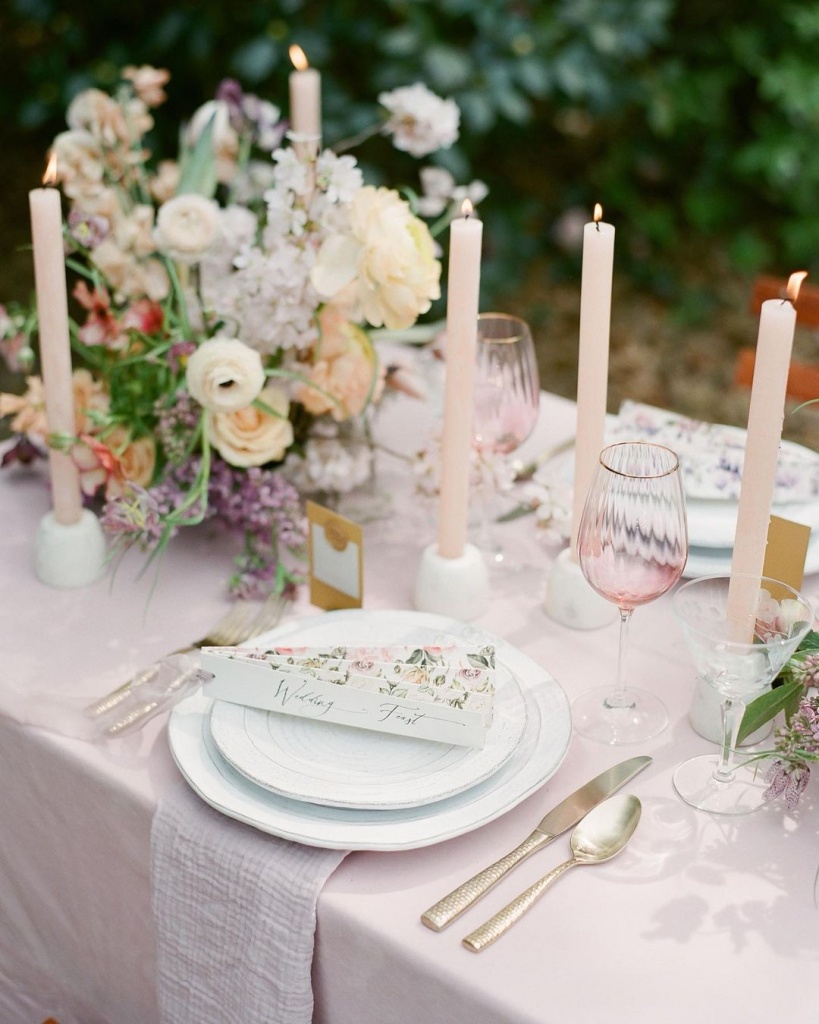 Photo by thehappybloom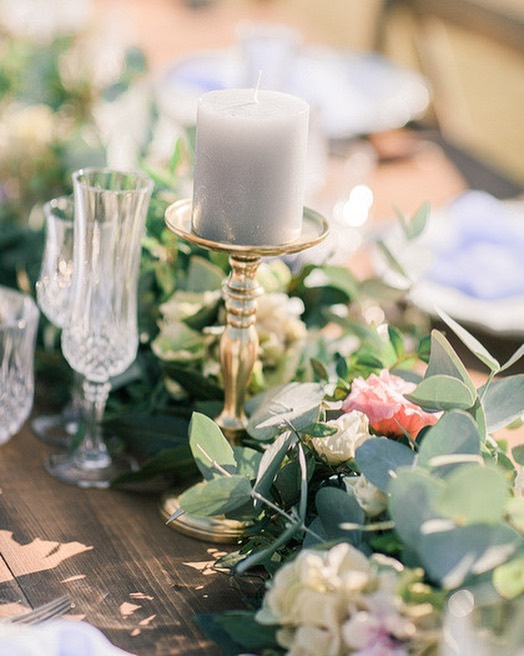 Photo by katylunsfordphotography
Add Color to Your Outdoor Tables
Except for the wedding ceremony arch and lounge zone, you can showcase the concept of the celebration by decorating the tables. Nobody prevents you from experiments and non-traditional adornment, though in case you're more into classy styled team, opt for neutral, pastel colors, the ones you can easily notice in nature. By the way, it's a great tip to deal with the natural palette and textures when looking for a perfect wedding decoration at home. Pay attention to the shades of fresh herbs, wild flowers and soft fabrics. Choose wooden furniture, cover it with light linens of powdery tones and add refined cutlery. Several bright pieces of pretty plants in pots or just tiny flower bouquets will be a main accent of the composition.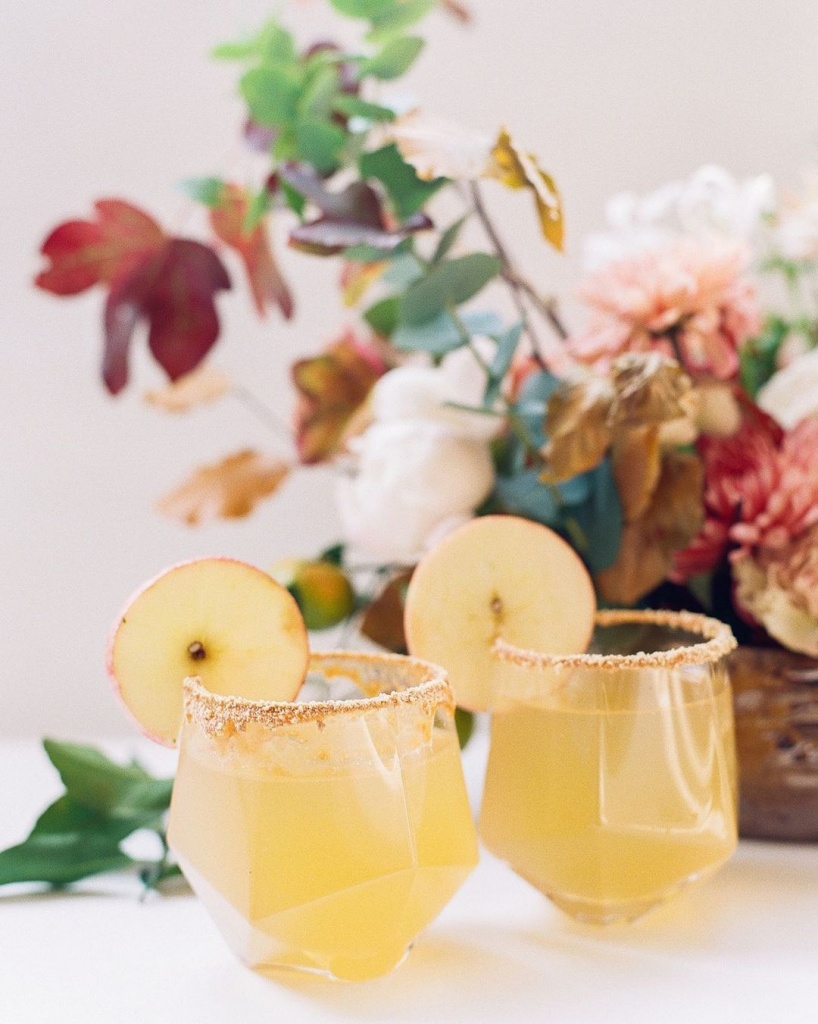 Photo by audrawrisleyphoto
Bring the Bar Outside
There is no better focal point for the biggest part of all your guests than a great outside bar. Serve cocktails, champagne and Prosecco to freshen up the grown-ups, but don't forget about the younger guests, offering them non-alcoholic beverages like handmade lemonade or cold tea. However, the self-serve bar cart or wagon full of beer on ice will definitely make a remarkable visual impact and surprise your friends.
Hosting a backyard wedding is a wonderful way to create a heartwarming and memorable event among your beloved people. There's no place for stress or tension because you're literally at home, where all the surrounding ambience is familiar, nothing interrupts you from your partner and from such a happy moment of your life.