How to Address a Wedding Invitation the Right Way
Alright, by now you've probably picked out your fancy stationery and gathered all the deets from your guests. Now comes the tricky part - figuring out how to address those wedding invitations! There are different ways to scribble down names on those envelopes, depending on the guests' relationship status. Don't worry, we've got your back! We're spilling the tea on the most common scenarios, as well as answering those burning questions you've got.
But hey, just a quick tip before we dive in: Give yourself a break and make sure you've got enough time to sort out the addresses (and double-check anything that's got you raising an eyebrow). Alright, ready to tackle those examples? Here's how to address the wedding invitations like a boss.
Addressing Wedding Invitations Rules
When it comes to addressing wedding invitations, there are a handful of easy-peasy rules to keep in mind. Old-school etiquette says that the inner and outer envelopes follow different vibes. Keep the outer envelope all fancy with titles and full names, while you can be more chill with the inner envelope (skip first names, titles, or last names, no biggie).
But hey, let's talk titles for a sec. They can be a bit old-fashioned and not everyone's cup of tea (especially if some of your guests don't vibe with "Mrs.," "Ms.," "Miss," or "Mr."). So, feel free to ditch the titles and just go with your guests' names. No stress! If you're feeling extra modern, give the gender-neutral title "Mx." a spin on your invites. Now go rock those wedding invitations!
How To Address A Single Guest On Wedding Invitations
First up in your envelope-addressing quest: figuring out how to nail that wedding invite for a single guest. Let's start with their title. Use the one they prefer, but if you're in doubt, no worries - just skip the title altogether. When it comes to inviting a guest's plus-one, it's cool to name both folks if you know their deets. If you're not sure who they're bringing or if they're just bringing a casual date, "and Guest" on the inner envelope will do the trick.
Check out these examples:
Outer envelope: Ms. Zoe Martinez
Inner envelope: Ms. Martinez
Rockin' It with a Plus-One
Outer envelope: Mx. Alex Chen
Inner envelope: Alex Chen and Guest
How To Address An Invitation To A Family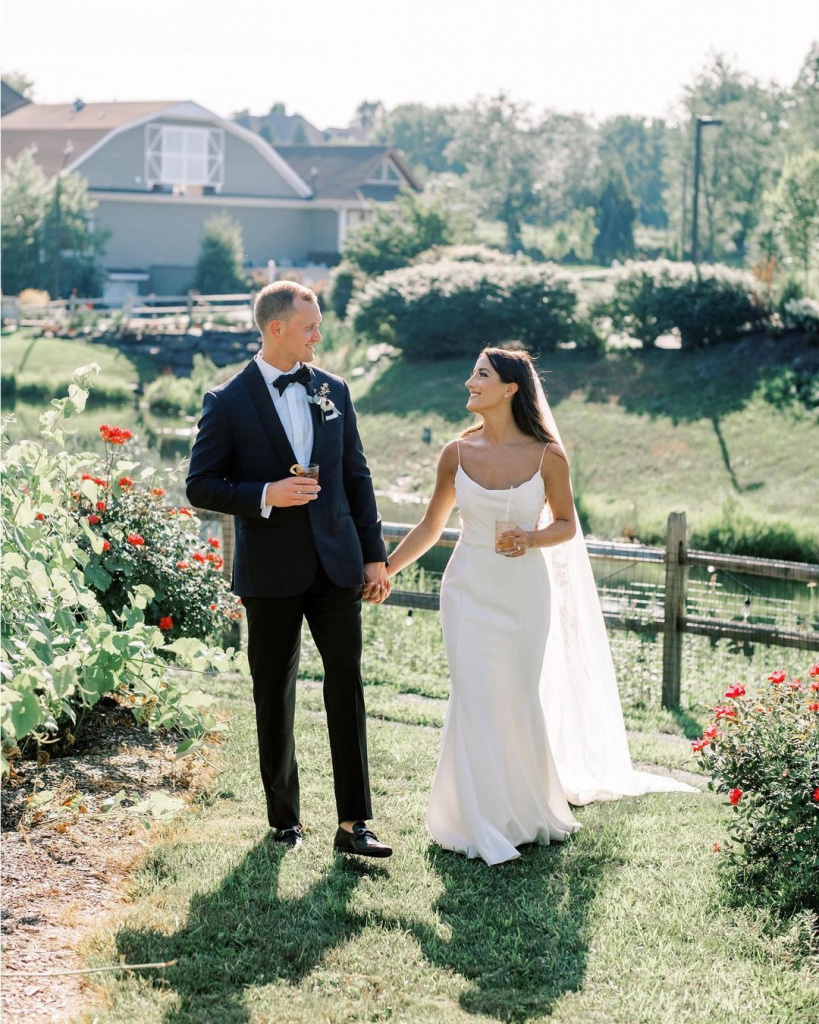 When planning on sending invites to a family with kids under 18, save the outer envelope for the parents' names. List each little one by name on the inner envelope. Feel free to use "Miss" for girls under 18 if you want. Boys don't need a title until they hit 16 - then you can call them "Mr."
Heads up: If you skip the kids' names, you're kind of hinting that they're not invited. But hey, some guests might still think their kids are welcome. If you're worried about that, ask your fam and wedding squad to help spread the word that it's an adults-only thing and pop the message on your wedding website. You might still need to hit up guests who don't catch on with a friendly call to clear things up.
Outer envelope: Mr. and Mrs. Peter Thompson
Inner envelope: Mr. and Mrs. Peter Thompson / Daniel, Jeffrey, Miss Emily, and Mx. Taylor
Proper Way To Address Wedding Invitations To Children 18+
If you're inviting a family with children who are 18 or older, it's cool to give each of them their own invites (unless they're still bunking with their parents). No need for titles if you don't want to, but if you're into it, just make sure you're using the right ones for your guests.
Outer envelope: Ms. Emma Williams
Inner envelope: Ms. Williams
How To Address A Wedding Card To A Married Couple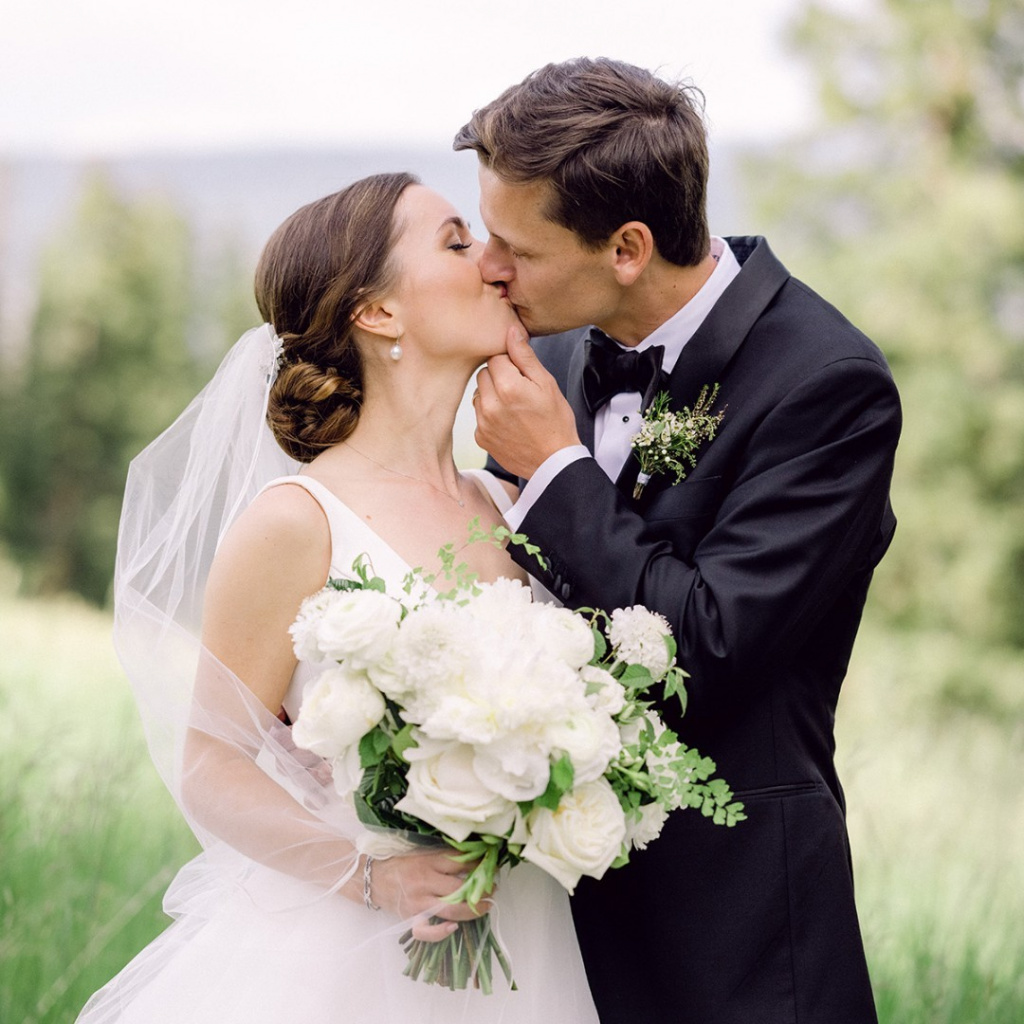 When inviting a married couple, it's cool to put their names on the same line. Feel free to skip the titles and list the names separately (like in example two below). If they've got different last names, put the one you're tightest with first. If you're equally close to both, go alphabetically. And if one of them took the other's last name, show that on the invite (like in example one below).
Same Last Name
Outer envelope: Mr. Ryan and Mrs. Olivia Harris or Mr. and Mrs. Ryan Harris
Inner envelope: Mr. and Mrs. Harris or Ryan and Olivia
Different Last Names
Outer envelope: Ms. Lily Anderson and Ms. Rebecca Johnson or Lily Anderson and Rebecca Johnson
On the inner envelope: Ms. Anderson and Ms. Johnson or Lily and Rebecca
How To Address A Wedding Invitation To An Unmarried Couple
If you're puzzling over how to address wedding invitations for a couple who's not hitched but cohabiting, there's a small difference from how you'd address those for a married couple. You still need to include both their names on the envelopes, but in this case, each name gets its own line. Like with the married couple example, list the one you're closest with first or go by alphabetical order if you're equally tight with them.
On the outer envelope: Ms. Ashley Park, Mr. Liam Kim
On the inner envelope: Ms. Park, Mr. Kim
Envelope Address Etiquette To Those With Distinguished Titles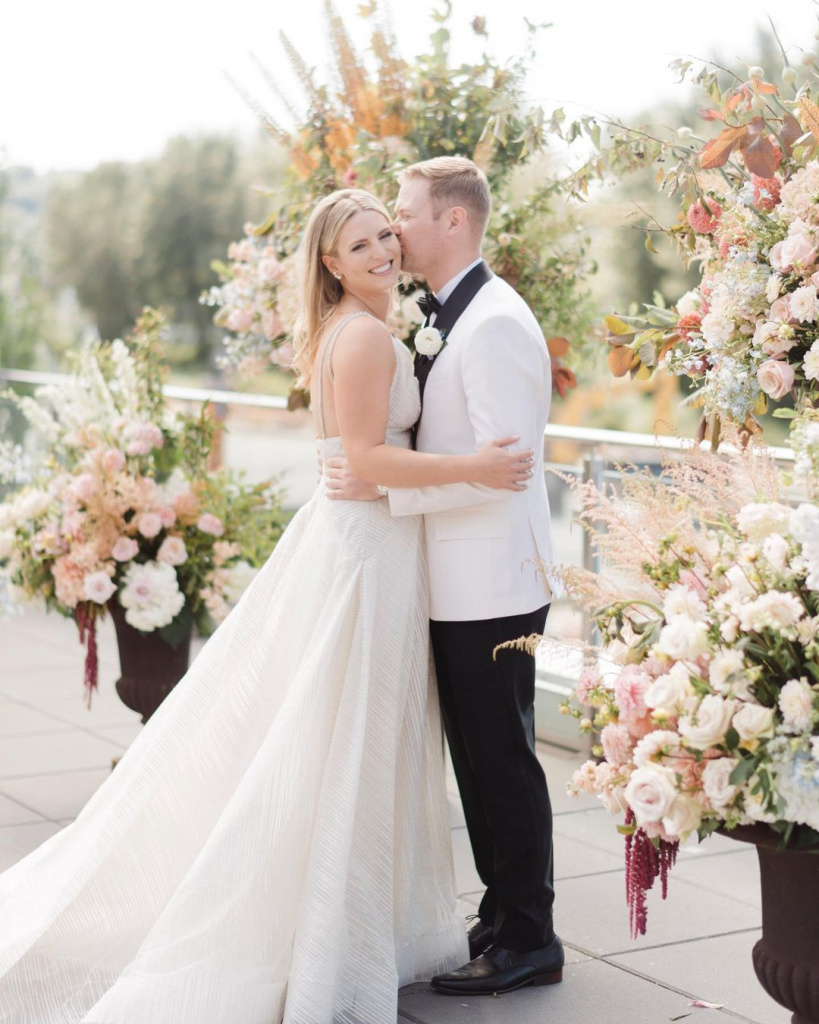 For guests with special titles, like doctors, lawyers, judges, or military personnel, proper etiquette calls for addressing them by their title on the wedding invitation envelope. Inviting a duo? Put the guest with the higher-ranking title first or, if both guests have equally fancy titles, list their names in alphabetical order. Here's what to scribble on a wedding invite envelope for a doc, military pro, lawyer, or judge.
Doctors
Outer envelope: Dr. Rachel Kim and Mr. David Park
If the doctor uses their partner's name socially: Dr. Rachel and Mr. David Park
If they're both doctors, write on the outer envelope: Doctors Rachel and David Park
Inner envelope: Dr. Kim and Mr. Park or The Doctors Park
Military Personnel
Outer envelope: Major Samantha Lee, US Army and Mr. Jason Lee
If they both have military titles: Lieutenants Samantha and Jason Lee, US Army
Inner envelope: Major Lee, US Army and Mr. Lee or The Lieutenants Lee
Lawyers
Outer envelope: Ms. Olivia Carter, Esq. and Mr. Brian Carter
If both parties are lawyers: Ms. Olivia Carter, Esq. and Mr. Brian Carter, Esq.
Inner envelope: Mr. and Mrs. Carter
Judges
Outer envelope: The Honorable Andrew Patel and Ms. Mia Patel
Inner envelope: Judge Patel and Ms. Patel
Wedding Envelope Addressing FAQs
Still feeling unsure about how to tackle those invite envelopes? No worries - we're here to answer some of the most common questions we get, like how to organize your guests' names and what to do if you're only using one envelope.
How To Address An Invitation With One Envelope
So what's the deal if you're only sending out one envelope? In that case, you need to make sure you list all the people who are invited. That includes guests who'd normally only be mentioned on the inner envelope, like plus-ones and kids. If you're running low on space, you can switch out individual kids' names for "and Family" or stick with "The Miller Family."
Is Addressing Wedding Invitations By Hand Obligatory?
There's no denying that handwriting each guest's name is a sweet gesture, but it's definitely not a requirement. Putting invites together can take a while on its own, so don't stress if you want to print address labels at home or snag some pre-printed envelopes with your paper goods. Another option? You can hire a local calligrapher to address the envelopes for you in style!
Whose Name Goes First On A Wedding Invitation?
Figuring out whose name to list first on wedding invite envelopes has been a classic etiquette question for ages. The good news is, there's no hard and fast rule these days, and you definitely don't have to base your decision on gender. Some couples choose to list the person they're closer to first, then their partner, while others stick to alphabetical order.
Ultimately, it's your call whether you want to follow any of these guidelines (or none!). The only time there's an exception is if there are titles involved. In that case, the person with the fanciest-sounding title should be named first.
Where to Put Guests' Names on Wedding Invitations
According to the standard wording for wedding invites, guests' names aren't written on the invites themselves. Instead, you simply need to address your loved ones by name on the outer and inner envelopes. That way, you don't need to make a specific invite for every single household that you're sending them to.