How to Choose a Bridal Salon: Key Considerations
Publication date:

10/26/2023
That dreamy walk down the aisle is a moment many cherish. Sure, the groom, the location, and the cake hold their significance. But the showstopper? The gown. The journey to the right dress begins with selecting the ideal bridal salon. Wondering how to find that perfect place that aligns with your dream? Dive in!
Preparing for Wedding Dress Shopping: Inside the Bridal Salon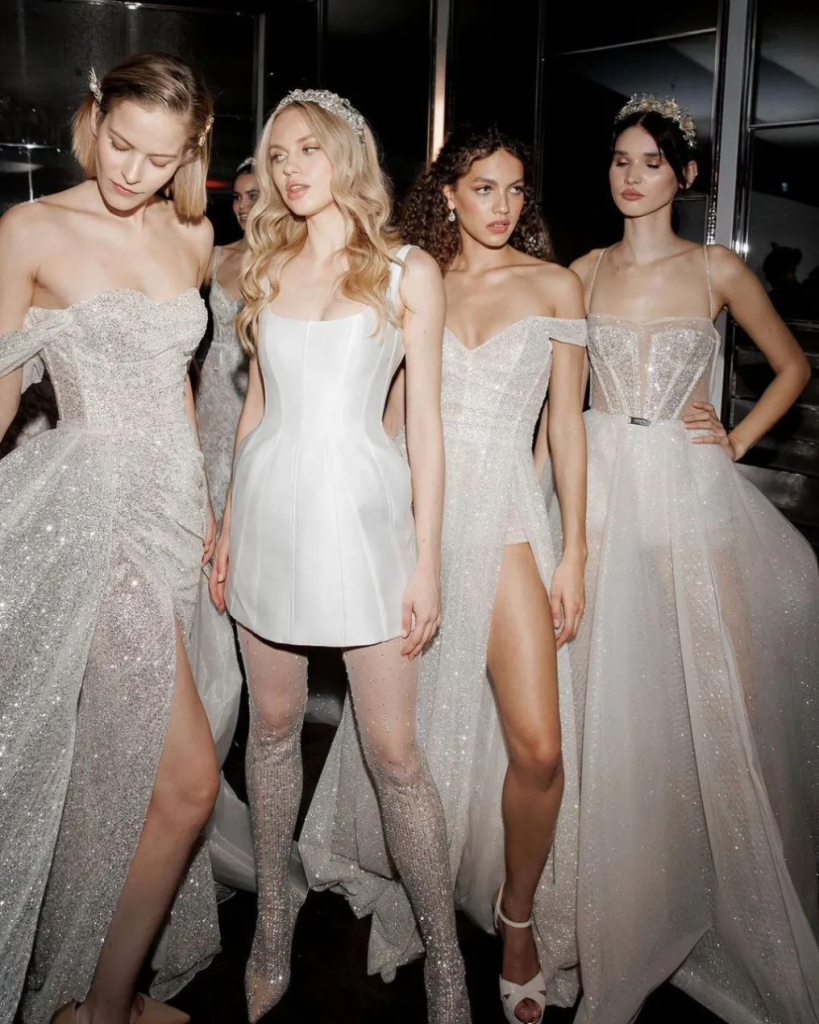 A bridal salon isn't just another store. It's where dreams take shape. Yet, before immersing oneself in the enchantment, it's good to have a roadmap. Here are some tips to ensure your bridal salon experience is smooth and memorable.
It's vital to set a budget before entering the salon. Know what you can afford. While beautiful designer dresses might be tempting, they shouldn't break the bank. Once you've set your budget, start researching the style you're aiming for. Are you a vintage vixen, a boho beauty, or maybe you're gunning for that classic, timeless look? By having a style in mind, you'll have a clearer direction once you're amidst the sea of gowns.
Who you take on this journey matters too. We can't stress this enough: choose your entourage wisely. While it might seem like a fabulous idea to invite your entire sorority, too many opinions might drown out your own. Stick to a few trusted pals who genuinely understand your style and vibe.
Speaking of prep, let's chat about undergarments. Wearing the right underwear can make or break how a dress fits. Opt for nude, seamless pieces and consider taking the bra or shape-wear you intend to wear on your big day. Lastly, keep an open mind. The perfect dress might be unexpected, something not initially considered. Just relax, go with the flow, and enjoy the bridal salon experience.
Things to Consider When Choosing a Bridal Boutique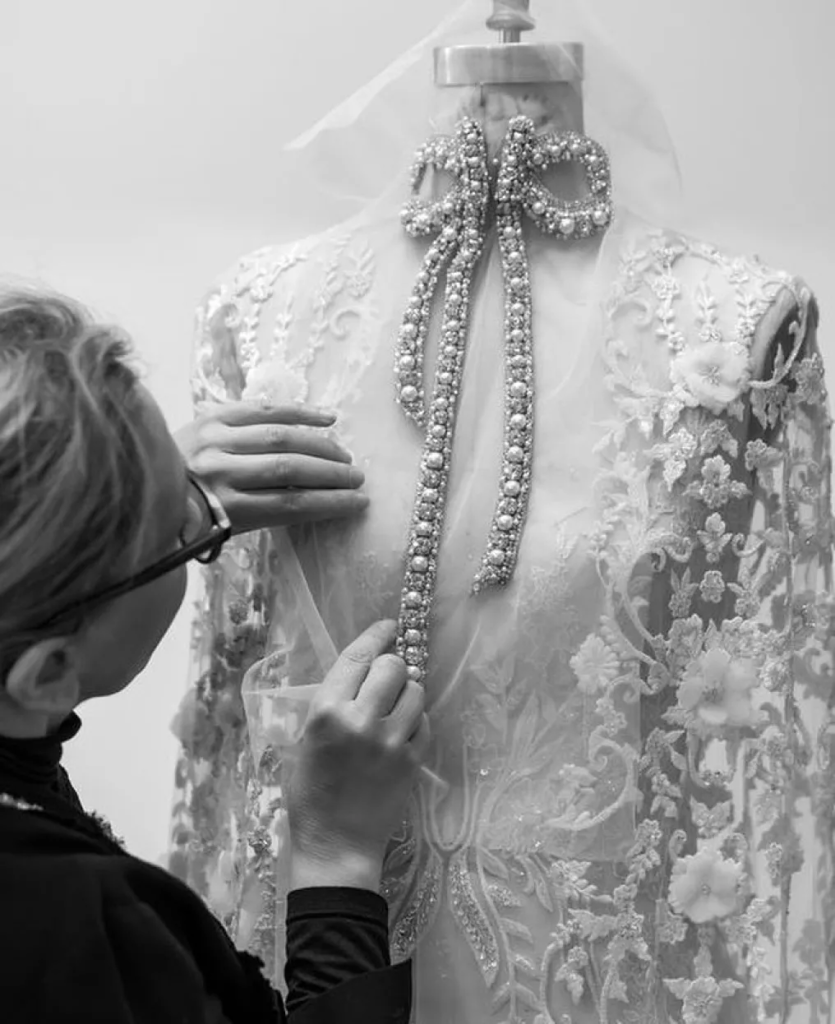 Selecting the best bridal shop is a significant decision. Just like choosing a partner, the shop should match your personality, cater to your desires, and make you feel your best. Here's a comprehensive guide on how to pick a bridal shop that feels tailor-made for you.
Ambiance is Key
One of the pivotal bridal salon selection tips is to pay attention to the store's atmosphere. Beyond just a place to purchase a dress, a bridal shop is where memories are made. The staff's attitude, the salon's décor, and even the lighting play roles in crafting that experience. You're not merely shopping; you're living a moment. So, opt for places where you feel cherished, relaxed, and truly at home.
Do Your Due Diligence
Thanks to the digital age, preliminary research is just a few clicks away. But how to do it effectively? It goes beyond just reading reviews. Dive deep into the shop's online presence: scroll through their social media feeds, study their collection highlights, pore over testimonials from other brides, and gauge their online interactions. An active and engaging boutique with a tapestry of satisfied clients tends to be a beacon of promise.
Aligning Your Desires with the Shop's Offerings
Reflect on your individual style, set clear boundaries on aspects like budget, designer preferences, or customization options, and identify the kind of shopping journey you desire. Maybe you want an intimate, private consultation or perhaps a celebratory toast after finding "the one." By understanding and listing down your non-negotiables, you can filter and find boutiques that align seamlessly with your vision.
Finding the Perfect Bridal Salon: A Detailed Guide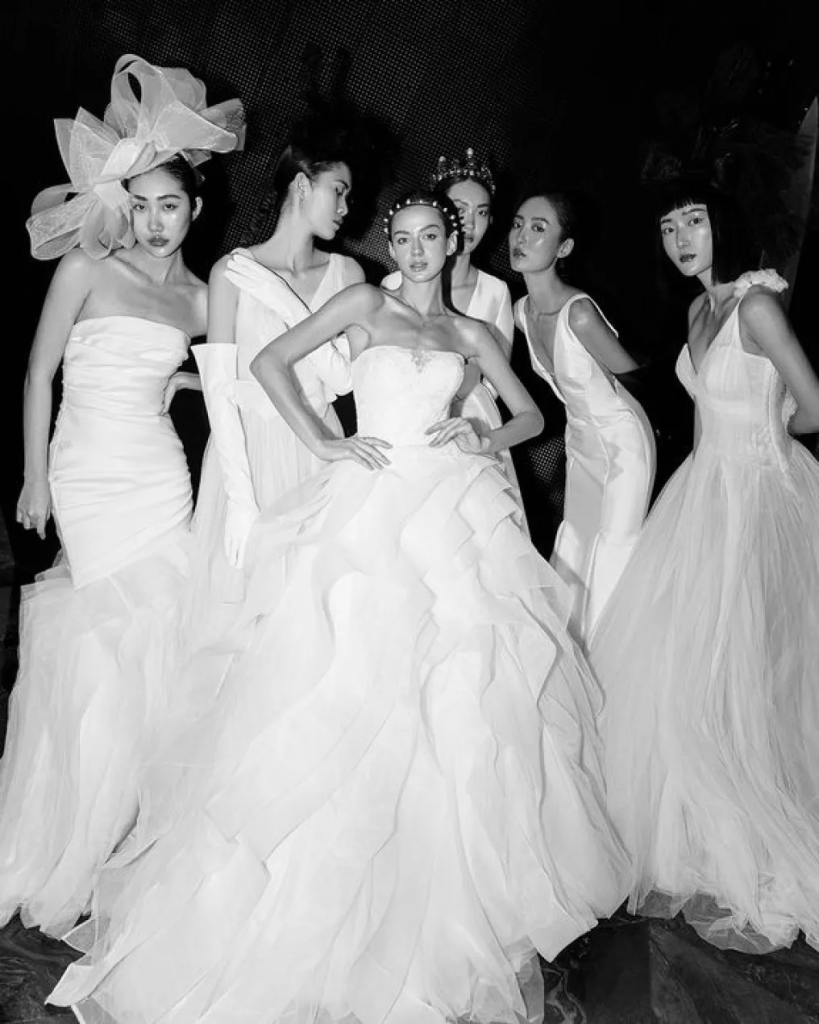 Think of this as a special journey. In place of a compass, you have your bridal instincts; instead of a regular map, you have these tips for choosing a wedding dress shop. Your mission? To uncover the best bridal salon that stands as a unique gem. The path might seem daunting, but with the right tools and a touch of magic, you're set to discover your bridal haven.
Online and Offline Research: Begin with some digital exploration, but also lean on friends for their suggestions. Real-life reviews can provide invaluable insights.
Multiple Visits: Don't rush into a decision after just one visit. Explore a few salons to truly understand which one aligns with your vision.
Assess Their Collection: Take a close look at the styles they offer. Does their range vibe with what you've been envisioning?
Budget Wisely: A beautiful gown doesn't always mean breaking the bank. Seek elegance that fits comfortably within your budget.
Location Matters: Consider the convenience of the salon's location. Multiple visits for fittings and finally picking up the dress mean proximity can be a game-changer.
With this roadmap in hand, you're set to embark on this enchanting journey. The goal isn't just to locate a bridal salon, but to uncover that special haven where your dream wedding dress awaits!
Wedding Dress Shopping Guide: When to Begin the Search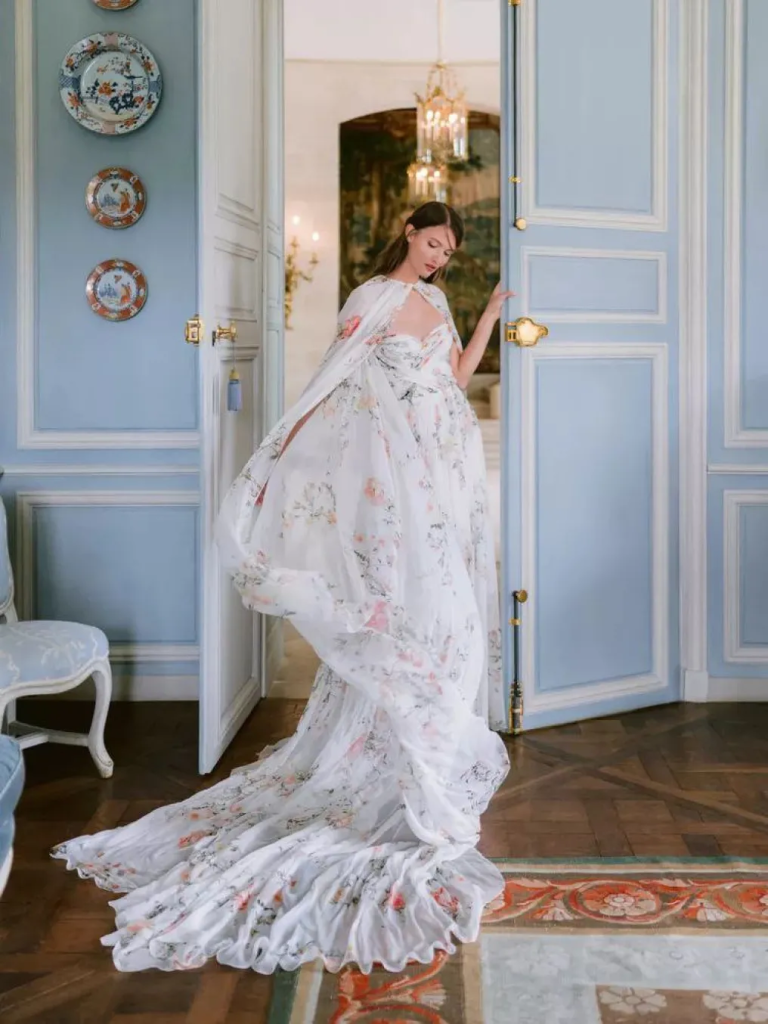 Every bride looks forward to that special moment – stepping into a bridal salon, feeling the rustle of silks and satins, and embarking on the journey to discover 'the one'. However, like any great adventure, timing is key. Venturing too early could drown you in a sea of choices while starting too late might spike your stress levels. Let's dive deeper into some tips for a wedding dress shopping experience to ensure your dress search is as memorable and stress-free as the wedding day itself.
Understanding Your Wedding Schedule
Most wedding dresses require a span of four to eight months for crafting and delivery, with an additional two to three months set aside for any necessary tweaks or alterations. This means the optimal window for initiating your hunt is about 9 to 12 months prior to your wedding date. This spacious timeline ensures you have ample room to explore and decide, all without the ticking clock adding undue pressure.
The Custom Dress Consideration
If you're envisioning a gown that stands out and speaks uniquely to your style, a custom piece might be in the cards. Such dresses, especially if they involve intricate embroidery, beadwork, or other detailing, naturally demand more time. Should you lean towards a customized gown, it's advisable to get the ball rolling around 12 to 14 months in advance.
Being Season-Smart
The calendar plays a more significant role than one might assume. With fashion cycles and seasonal changes, different times of the year can bring fresh trends or even lucrative deals. For brides on the hunt for a bargain, the year-end months, specifically November and December, often see bridal shops clearing out older stock in preparation for the incoming collections. Furthermore, during peak wedding periods, expect salons to be bustling. This could potentially influence appointment lengths, attention levels, and overall experiences.
Factoring in Emotional Responses
The journey can be a whirlwind of emotions — from elation to second-guessing, to perhaps even feeling overwhelmed. Some brides may strike gold on their very first try, while others could need multiple visits to narrow down their preferences. It's crucial to have a buffer for reflection, allowing yourself to process emotions, reconsider choices, and arrive at a decision without feeling cornered.
What to Ask When Wedding Dress Shopping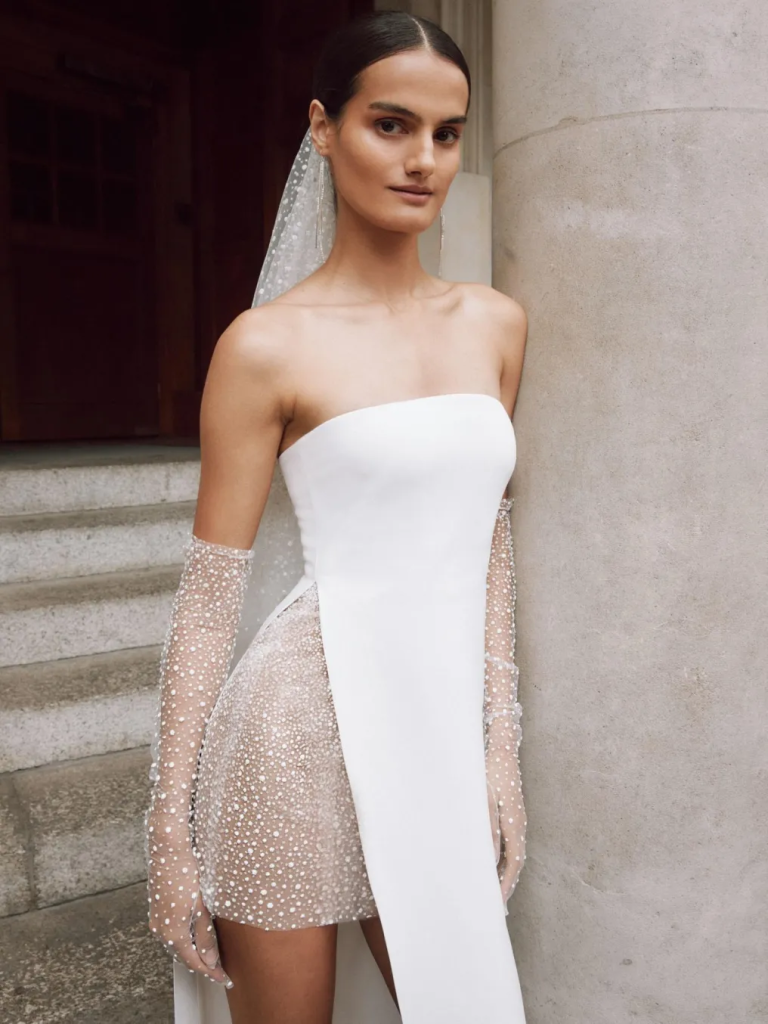 The allure of dress shopping is undeniable. Amidst cascading fabrics and the shimmer of sequins, it's like stepping into a bridal fairy tale. However, as you embark on this gleaming quest, choosing the right bridal boutique becomes crucial. Amidst the excitement, it's vital not to lose sight of the practical aspects. Here's an expanded guide to the essential questions you should be posing during your visit:
Price Range: "Within what price bracket do most of your dresses fall?"
Variety in Collection: "Can I get a glimpse of the range of styles and designers you carry?"
Alteration Options: "Are alterations possible on these dresses? If so, what are the associated costs?"
Customization Queries: "Do you entertain custom design requests for brides looking for something unique?"
Fitting Frequency: "How many fittings are typically required before the dress is ready for the final look?"
Delivery Details: "What's the usual wait time from selecting a dress to its arrival?"
Rush Requirements: "If I needed the dress sooner than the standard timeframe, are rush orders possible? What additional charges are involved?"
Cancellation Clauses: "Could you walk me through your cancellation policy?"
Payment Procedure: "How is the payment structure laid out? Do you offer plans or require a lump sum?"
Accessory Advice: "Given the style of this dress, what accessories would you suggest to complement it?"
Lighting Levels: "Can I view the dress under varied lighting conditions to get a full perspective?"
Arming yourself with these questions ensures you're not just enchanted by the aesthetics but are also making an informed, practical decision.
Mistakes Brides Make When Dress Shopping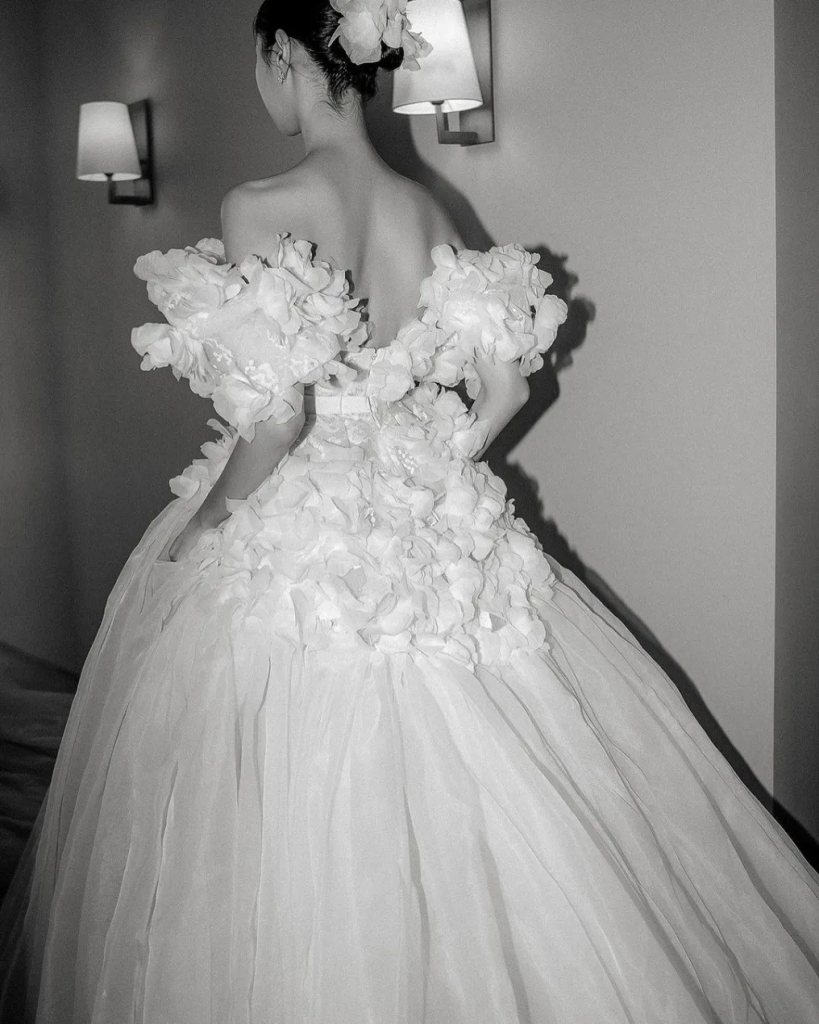 As magical as this experience can be, it's also easy to trip over some unexpected snags along the way. Given the importance of the occasion, how to choose a wedding dress shop and the dress itself becomes a decision of paramount significance. Let's dive into the most common mistakes brides make, ensuring you glide gracefully down the aisle of dress selection, rather than stumbling through it.
Overloading on Opinions
While it's tempting to include all your loved ones in this monumental decision, sometimes too many chefs spoil the bridal broth. Everyone has their perspective, which might not always align with yours. The result? Confusion, conflict, and sometimes, a compromised choice. Stick to a few trusted souls who genuinely understand your style and vibe.
Ignoring the Budget
Falling in love with a gown that's leagues beyond your budget can be heart-wrenching. It's crucial to set a clear budget and communicate it to the bridal consultant from the get-go. Remember, it's not just about finding the dream dress but also about making financially sound decisions for your big day.
Overlooking the Venue and Theme
That dramatic ball gown might look stunning in the salon, but will it suit your beach wedding? The style and location of your wedding play a significant role in determining the type of dress that will be suitable. Ensure that the gown aligns with the overall vibe and logistics of your wedding day.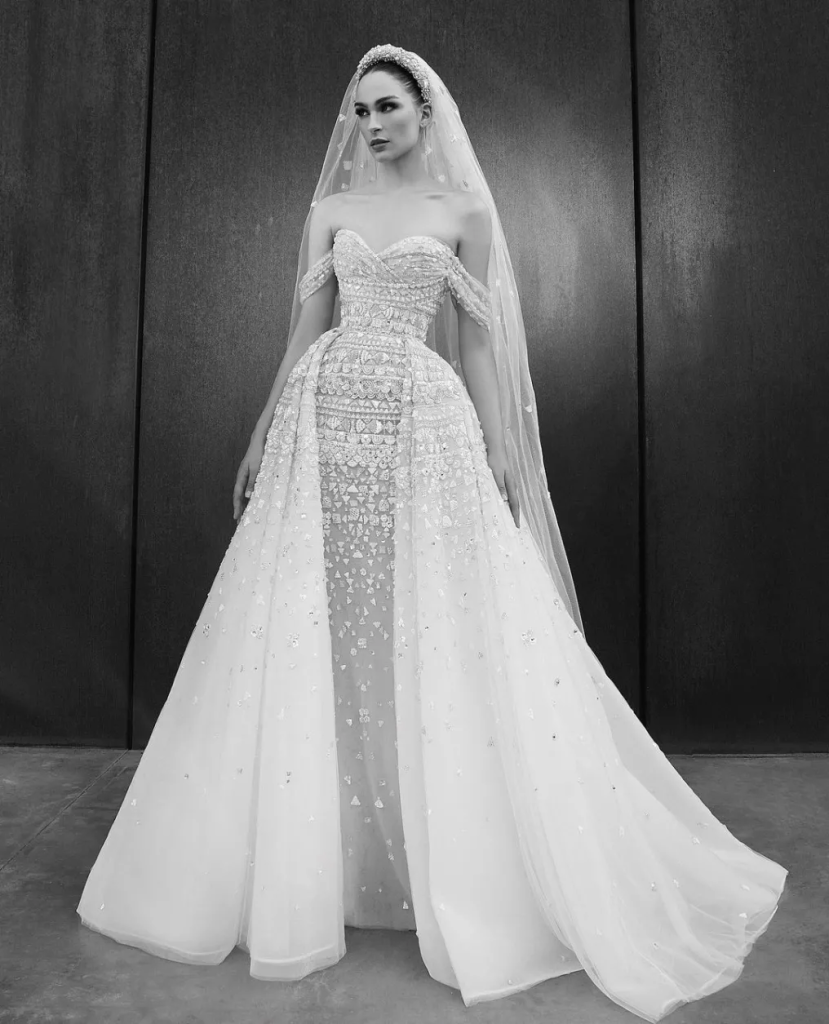 Getting Fixated on Trends
While it's exciting to don a gown that's the talk of the season, trends come and go. It's essential to remember that your wedding photos are timeless. Choosing a dress solely based on what's in vogue might lead to future regrets. Instead, focus on what resonates with your personal style and the kind of look you want to remember forever.
Not Considering Comfort
Yes, beauty sometimes requires a bit of sacrifice, but your wedding day isn't the time for that. An uncomfortable gown can make you fidgety, distract you from enjoying the moment, and even affect your posture in photos. Ensure you can move, dance, and sit comfortably in your chosen dress. After all, it's a celebration, and you should feel both beautiful and at ease.