Best Places for a Wedding Photoshoot in the Dominican Republic
Publication date:

10/22/2023

Updated:

10/24/2023
When you think of tying the knot amidst turquoise waters, swaying palms, and stunning sunsets, the Dominican Republic probably pops into your mind. And why not? It's become the go-to for those seeking Dominican Republic destination wedding photos. Picture this: A backdrop so heavenly that even angels might be a tad envious. Yes, we're talking about a place where your love story deserves to be framed. Many couples (probably even some of your Facebook friends) have chosen the DR for this very reason. So, if you're looking to pepper your wedding album with a bit of Caribbean charm, allow us to serve up some of the dreamiest spots for you.
Punta Cana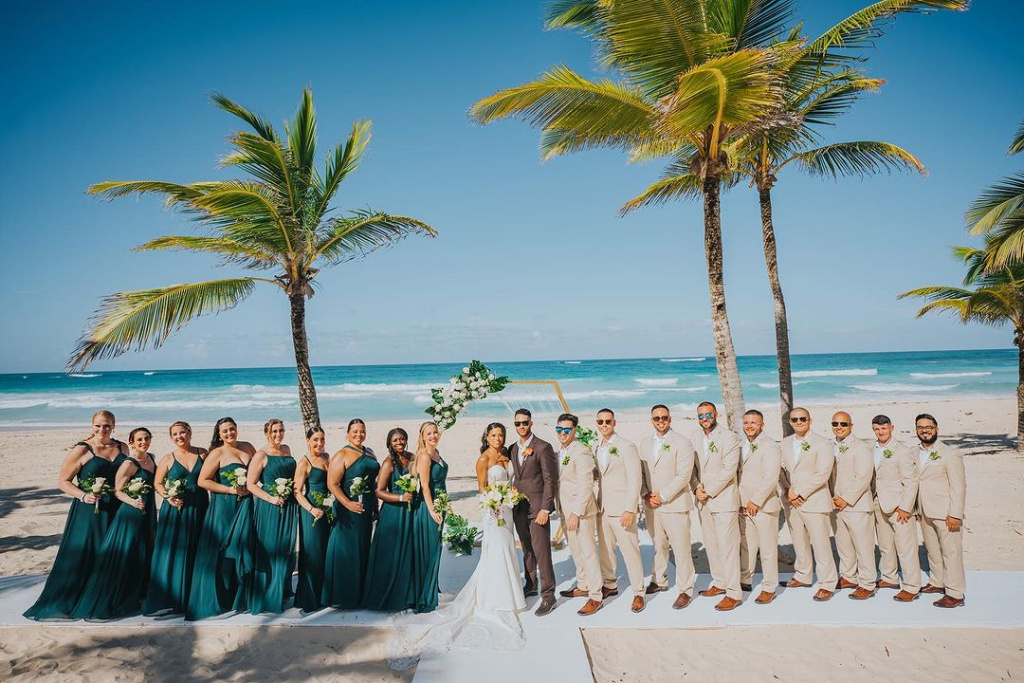 Oh, the beauty of Punta Cana! Nestled in the Caribbean, this destination is the backdrop for countless dreamy tales. Envision endless stretches of powdery-white shores, caressed by clear blue waves that glisten in the sun. Truly, it embodies the essence of Punta Cana and sets the stage for a tropical wedding photo shoot in the Dominican Republic.
Annually, numerous duos are enchanted by its captivating romantic ambiance. Whether you're looking for a morning session, with the day's initial sunlight gracing the skies, or an evening one, where the heavens turn into a kaleidoscope of hues, Punta Cana delivers. From its lavish retreats, suited for those desiring opulence, to its expansive coastlines, perfect for pairs wanting serenity – there's a spot for all. And speaking of uniqueness, diving enthusiasts might want to explore its marine treasures for some captivating submerged images.
But a little tip: Punta Cana is quite the hotspot. If you desire a serene setting, it's wise to strategize. Maybe drop by during less busy times or secure your photoshoot slot early on.
Samana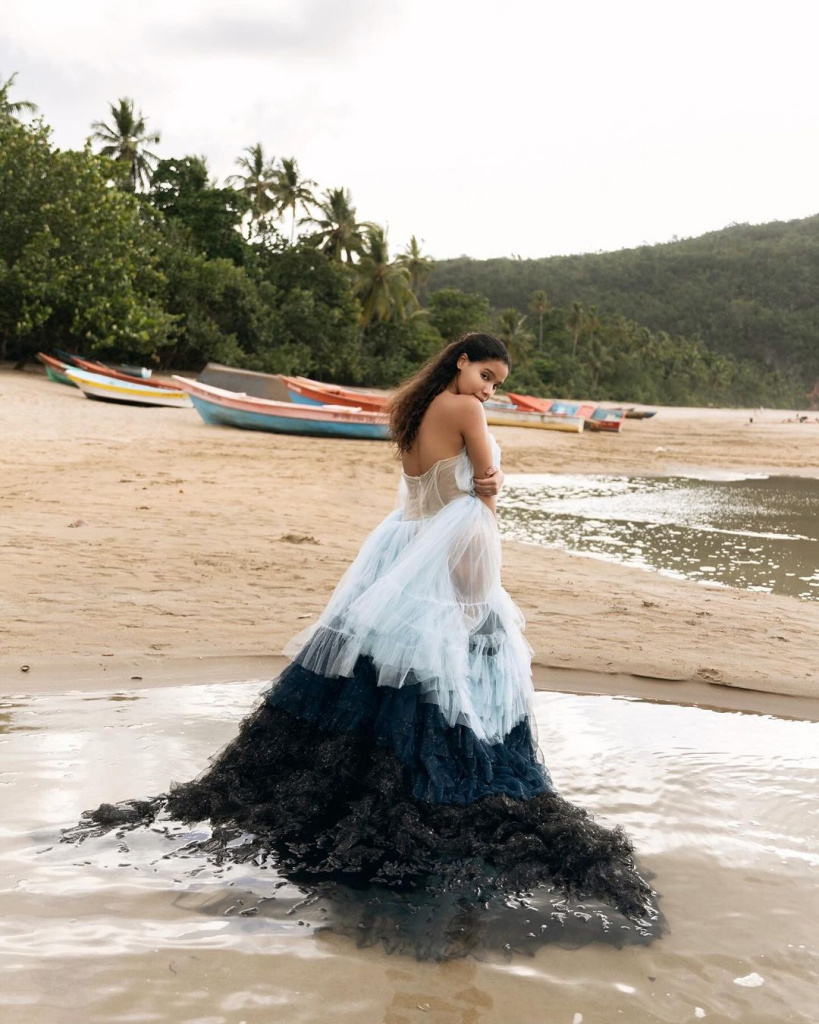 Have you ever thought of infusing your wedding photos with a touch of wild, unspoiled beauty? If yes, Samana stands out as the epitome of nature wedding photography locations in the Dominican Republic. It's a sublime blend of cascading waterfalls, dense tropical greenery, and pristine beaches that stretch as far as the eye can see. This is not just any beach – think powdery white sands, secluded coves, and waters that dance with shades of turquoise and blue. Samana feels as though Mother Nature took out her finest paintbrush and went to town on this canvas!
The crown jewel of Samana has to be El Limón waterfall. Another must-visit is Playa Rincón. Often touted as one of the most beautiful beaches in the world, a stroll here, hand in hand, with the waves gently lapping at your feet, will give you photos that speak a thousand words.
While Samana is stunning year-round, if you're aiming for that perfect shot, consider the months between November to April. The weather is just right – think balmy days and cool evenings. However, a word to the wise: Samana's beauty is no secret. It can get quite crowded, especially during peak tourist season. So, if you're looking for a more intimate experience, either plan your shoot during the weekdays or explore some of the less frequented spots in the region.
Lastly, don't just come to Samana for the photos. Dive into its essence. Listen to the songs of the local birds, feel the texture of the ancient trees, and let the energy of this untouched paradise seep into your soul.
Santo Domingo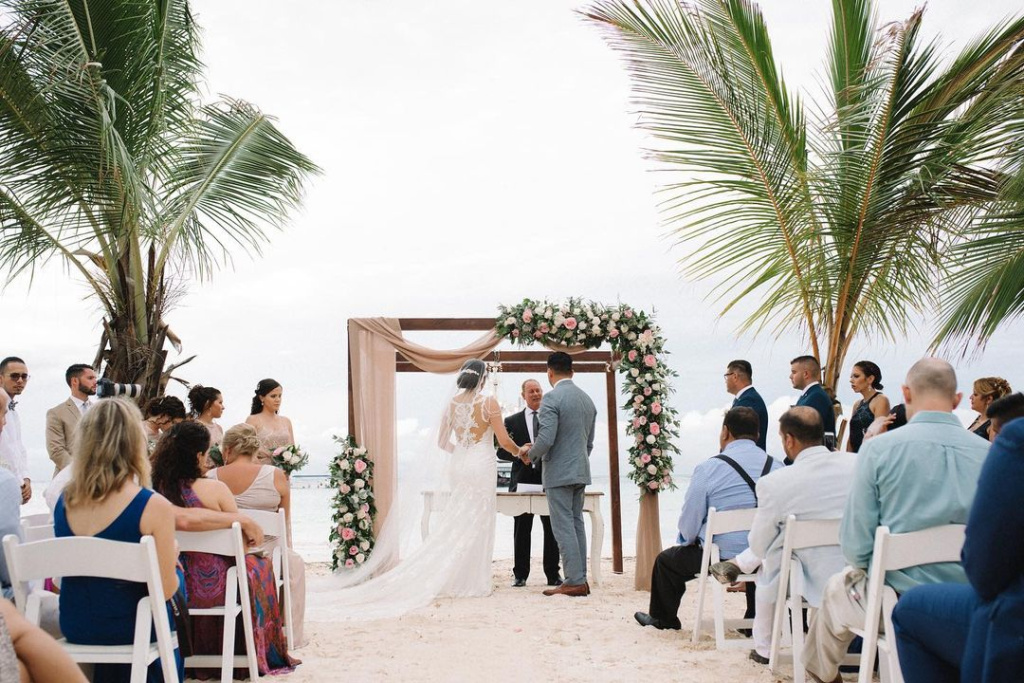 Step into Santo Domingo, where the past gracefully mingles with today, marking it as one of the best places for wedding pictures in the Dominican Republic. Its crown jewel is the Zona Colonial, a UNESCO World Heritage gem. Here, ancient cobblestone pathways and grand structures radiate romantic vibes. Walking alongside your loved one, every nook seems to narrate tales of passion, heroics, and age-old stories. Additionally, the lively hues of the buildings create a striking backdrop, infusing your shots with vibrancy and depth.
The city seamlessly blends its historical charm with a contemporary beat. Beyond the classic colonial allure, there's a blend of chic coffee places, artistic venues, and bustling plazas showcasing the city's modern rhythm. For capturing Santo Domingo at its finest, target the golden hours—just after the break of day or as twilight approaches. This is when the city glows with a mesmerizing, amber luminescence. Yet, if vibrant and candid moments are what you're after, the city's lively hubs during peak day times will surely delight.
A note for duos planning a session: the charming cobblestone lanes, while picturesque, can pose some challenges, especially in high heels. Having a pair of cozy shoes on hand might be a good idea.
Jarabacoa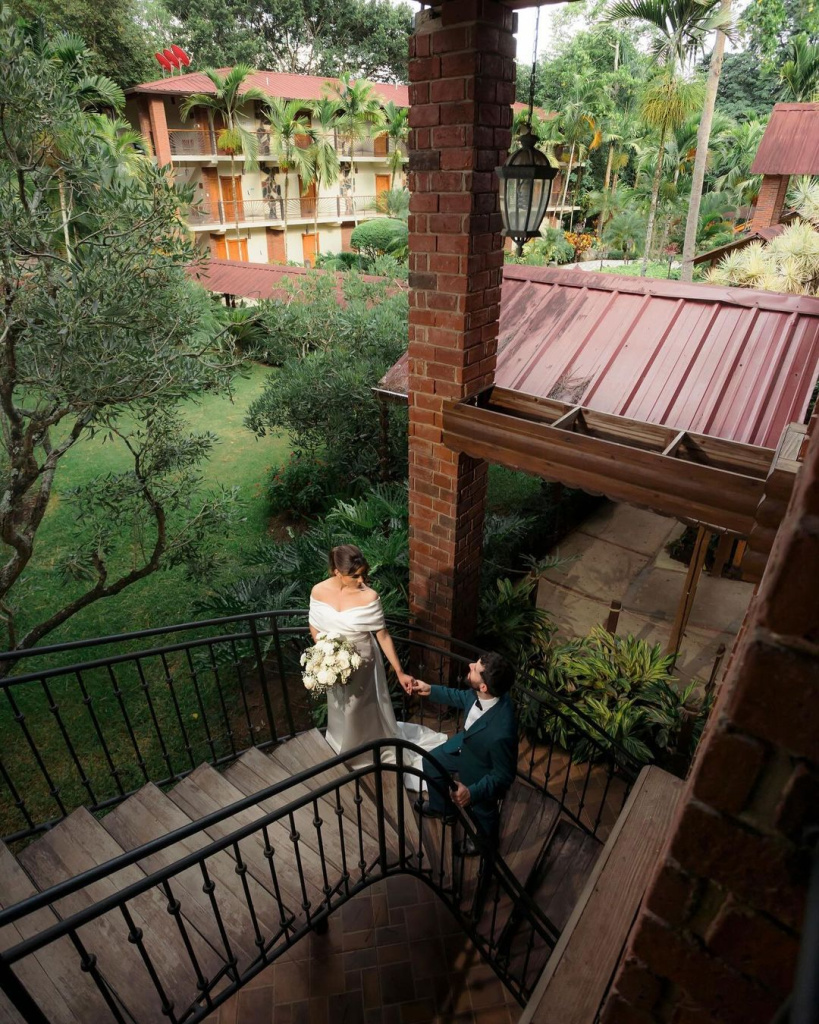 If a mountainous setting is what you're after for your love story's frame, then Jarabacoa is your destination. Recognized as one of the prime scenic wedding photo spots in the Dominican Republic, it deviates from the usual Caribbean beach scenes. Instead, it gifts couples with a lush, verdant backdrop that's both unique and mesmerizing.
At its core, you'll find enchanting landscapes: verdant forests descending onto gentle hills, with majestic fog-draped peaks overseeing from afar. The morning atmosphere is enriched by mists, crafting stories of ageless love, making each snapshot resemble a living masterpiece. Plus, the mountainous charm brings a pleasantly cool ambiance, a nice break from the standard tropical warmth.
For those pondering accessories, think about comfy, chunky knitwear, steaming cups of cocoa or coffee, and perhaps a plush blanket to cuddle up with your significant other. As for the best moment to capture, early mornings in Jarabacoa are magical with the mist painting its best scenes. Given the elevated landscapes and walking paths, a bit of hiking might be on the agenda, so don't forget suitable shoes. The views, though, are more than rewarding!
Cabarete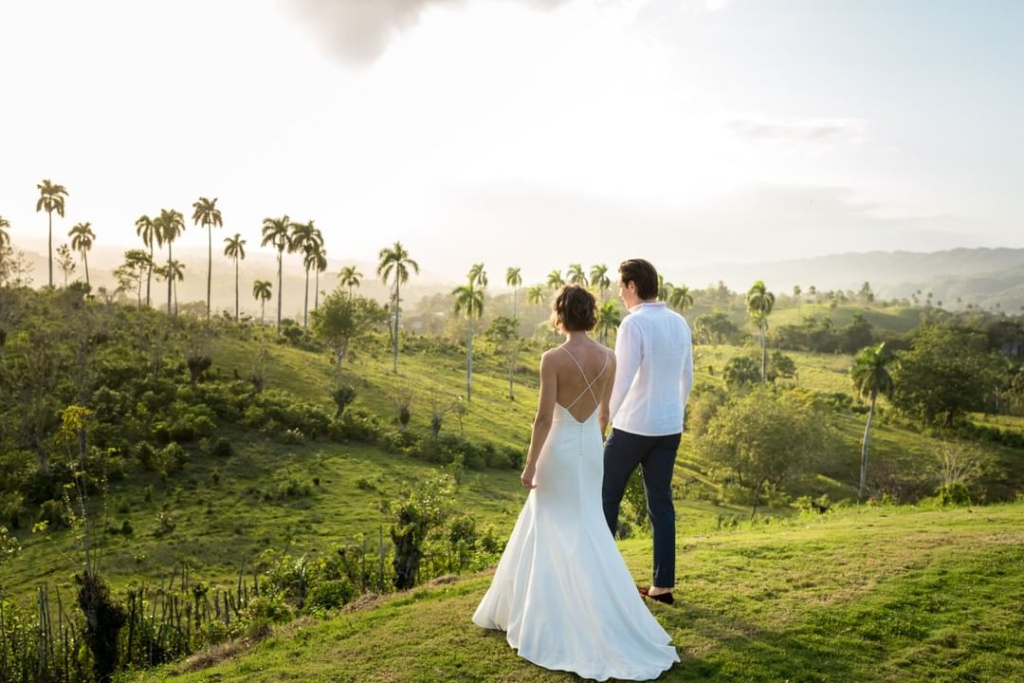 Where passion meets thrill, you'll find Cabarete. Renowned as a haven for the adventurous at heart, Cabarete serves as an ideal backdrop for those seeking unique Dominican Republic beachfront wedding photos. While its expansive golden shores and deep blue waters are a sight to behold, the real allure is the spirit of adventure that fills its atmosphere. Whether it's the fluttering kites of kite surfers or the serene movement of paddleboards during the early hours, this locale beautifully merges the dynamics of excitement and love.
Instead of those stereotypical shots with wind-swept hair and sun-kissed cheeks (though there's plenty of that here too!), ride the waves with your partner, challenging each other to a playful paddleboard contest, or maybe just laughing off a tumble into the refreshing ocean. These raw, authentic, adrenaline-pumped moments, frozen in time, tell a love story that's uniquely yours.
Early mornings in Cabarete offer a surreal serenity, with gentle waves, fewer crowds, and a soft, luminescent light that's pure gold for photographers. However, if you're keen on capturing the vibrant energy of kitesurfers and windsurfers in action, early to mid-afternoon is your sweet spot, when the winds are just right.
For couples considering Cabarete: This is not a place where you play it safe, attire-wise. Think breezy outfits, comfortable swimwear, and maybe even some sporty gear. And while those high heels might look stunning, they're best saved for another day. Here, barefoot is the way to go. Oh, and don't forget a change of clothes; chances are, you'll be taking more than just a tiny dip!
Las Terrenas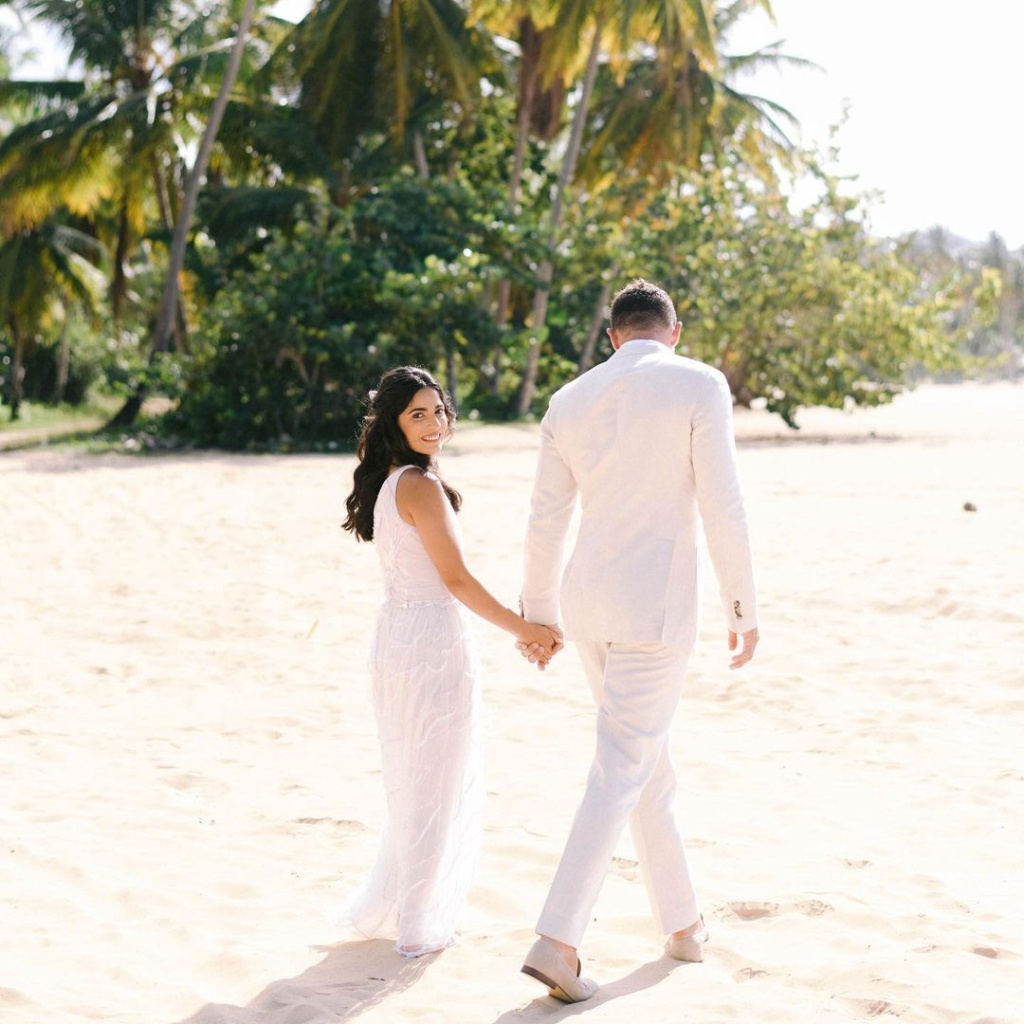 Ah, Las Terrenas! If ever there were a place that blended the rustic charm of a European village with the laid-back allure of a Caribbean paradise, this would be it. An under-the-radar gem, Las Terrenas stands out as one of the unique wedding photography locations in the Dominican Republic. Those sun-kissed, palm-fringed beaches you've dreamt of? Check. A picturesque fisherman's village, complete with vibrantly colored boats and fresh catches of the day? Double-check. 
But it's not just about the scenery; Las Terrenas has an atmosphere, a certain je ne sais quoi that's infused with European elegance and Caribbean spontaneity. Walking its streets, you'll stumble upon quaint cafes and bakeries reminiscent of a Mediterranean town, right next to lively beach bars pulsing with Dominican rhythms.
Early mornings and late afternoons are the tickets to capturing Las Terrenas in its finest glory. Mornings provide a serene setting, with soft light casting a dreamy glow over the town. Meanwhile, evenings, especially during sunset, offer dramatic, fiery backdrops that can make any photo pop with vibrancy.
For couples drawn to this coastal haven: Embrace the locale. Dive deep into the local culture, perhaps donning outfits inspired by the town's unique blend of influences. 
Playa Fronton
Often whispered among avid travelers as the treasure trove of the Caribbean, Playa Fronton is one of those romantic wedding photo locations in the Dominican Republic that has remained relatively untouched by the hands of commercialism. Getting there is half the fun. Whether you opt for a serene boat ride that gives you panoramic views of the island or choose the invigorating path of a hike, every moment leading up to the beach is filled with anticipation and excitement.
Upon arrival, you're greeted with visuals that seem straight out of a fantasy novel. Towering, jagged cliffs stand tall as silent sentinels, their shadows playing hide and seek with the shimmering turquoise waters below. It's a place where the world fades away, leaving just you, your beloved, and the rhythmic dance of the waves. This seclusion offers an unparalleled intimacy, making every photograph not just a shot but a moment frozen in its raw, unadulterated beauty.
A word of advice: Come prepared. Given its remote nature, amenities are sparse. Pack essentials like water, snacks, and perhaps a cozy blanket for those impromptu cuddle sessions.
Bahia de las Aguilas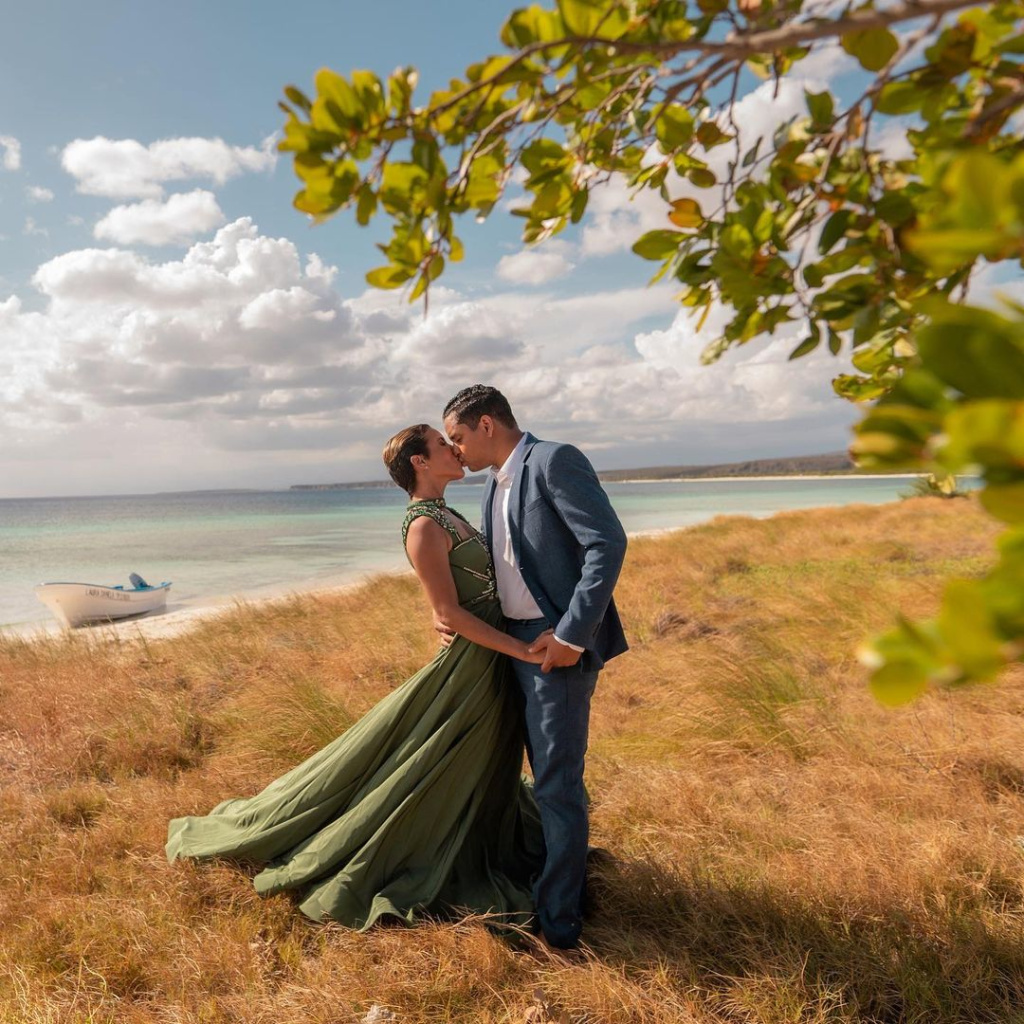 In a land where beaches reign supreme, Bahia de las Aguilas holds a special place in the hearts of many wanderlust souls. Often lauded as one of the most pristine and enchanting coastlines, this beach stands as a testament to the unspoiled beauty that the Caribbean has to offer. When it comes to beach wedding photography in the Dominican Republic, Bahia de las Aguilas is the gold standard.
The water, with its enchanting turquoise hue, is pristine, showcasing the marine treasures beneath. But the real distinction of Bahia de las Aguilas from other shores is its pure, unspoiled essence. Without any buildings, resorts, or commercial spots, it feels like a personal haven crafted by nature exclusively for you and your partner.
To truly encapsulate the surreal beauty of Bahia de las Aguilas, think about organizing your photo shoot in the early hours of the day or as the sun prepares to set. The gentle light during these times casts a magical illumination over the beach, making each snapshot an artwork in itself. As the day concludes, the heavens display a breathtaking palette of shades, setting a scene that's purely poetic.
However, the allure of Bahia de las Aguilas has its nuances. Owing to its remote character, facilities are limited. That impromptu picnic idea? It serves a dual purpose—both romantic and pragmatic. Bring along a delightful assortment of treats, maybe some cool wine or juicy fruits, and savor the day. Relish the calm, delight in your partner's presence, and allow the enchantment of Bahia de las Aguilas to shape every instant.
Altos de Chavon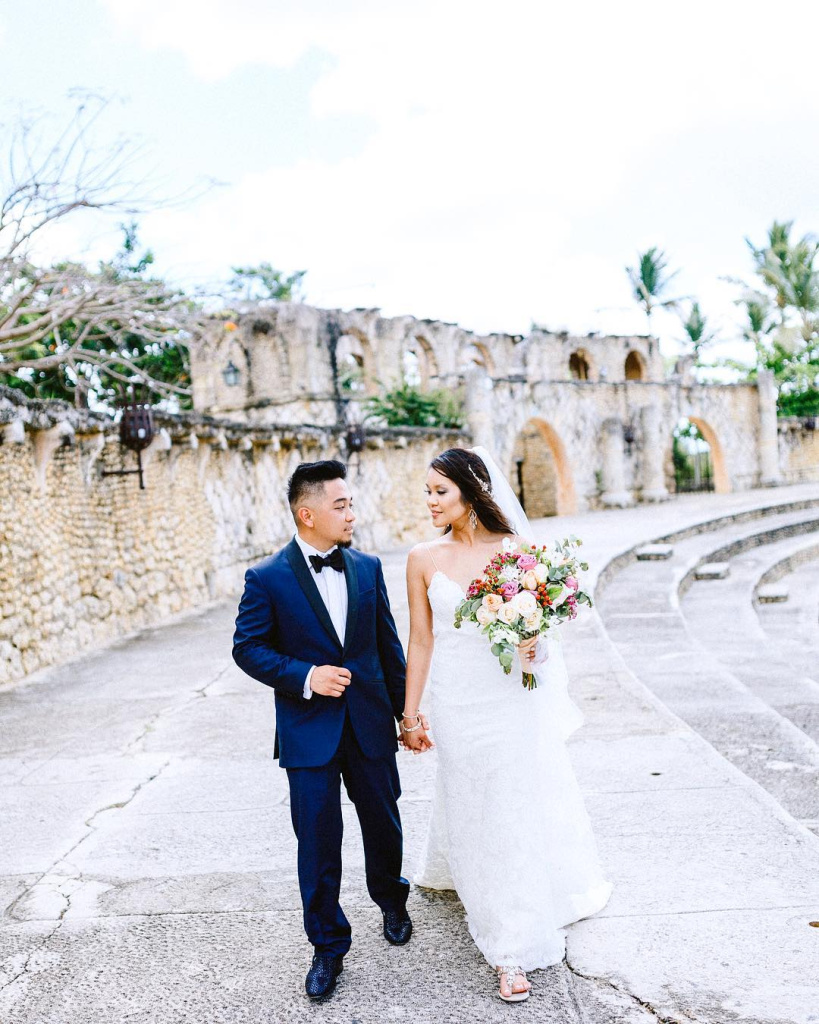 Ever fancied the blend of old-world Mediterranean charm with the warm Caribbean air? Altos de Chavon in La Romana is the answer. A seamless blend of both realms, it stands out as one of the most revered historic wedding photography spots in the Dominican Republic.
Envision wandering along stone-paved paths, surrounded by ancient structures casting gentle silhouettes. Each turn seems to narrate tales from the past, casting you and your partner as protagonists of an everlasting romance. The artisan studios scattered across the area add a burst of color and modern flair, beautifully marrying history with today. But the real showstopper? The grand amphitheater. Its towering archways and layered seating transport you to nights filled with narratives under a canopy of stars. Being at its heart, you can't help but be overwhelmed by its rich history, where countless love and epic tales have unfolded.
If you're donning a breezy bridal dress or a sharp suit, this setting amplifies your elegance. Dive into the theatrical atmosphere, let your attire speak, and the resulting imagery will surely captivate. A quick note: the location draws crowds. To get those personal, crowd-free moments, it might be wise to book your session during quieter times or on weekdays.
Hoyo Azul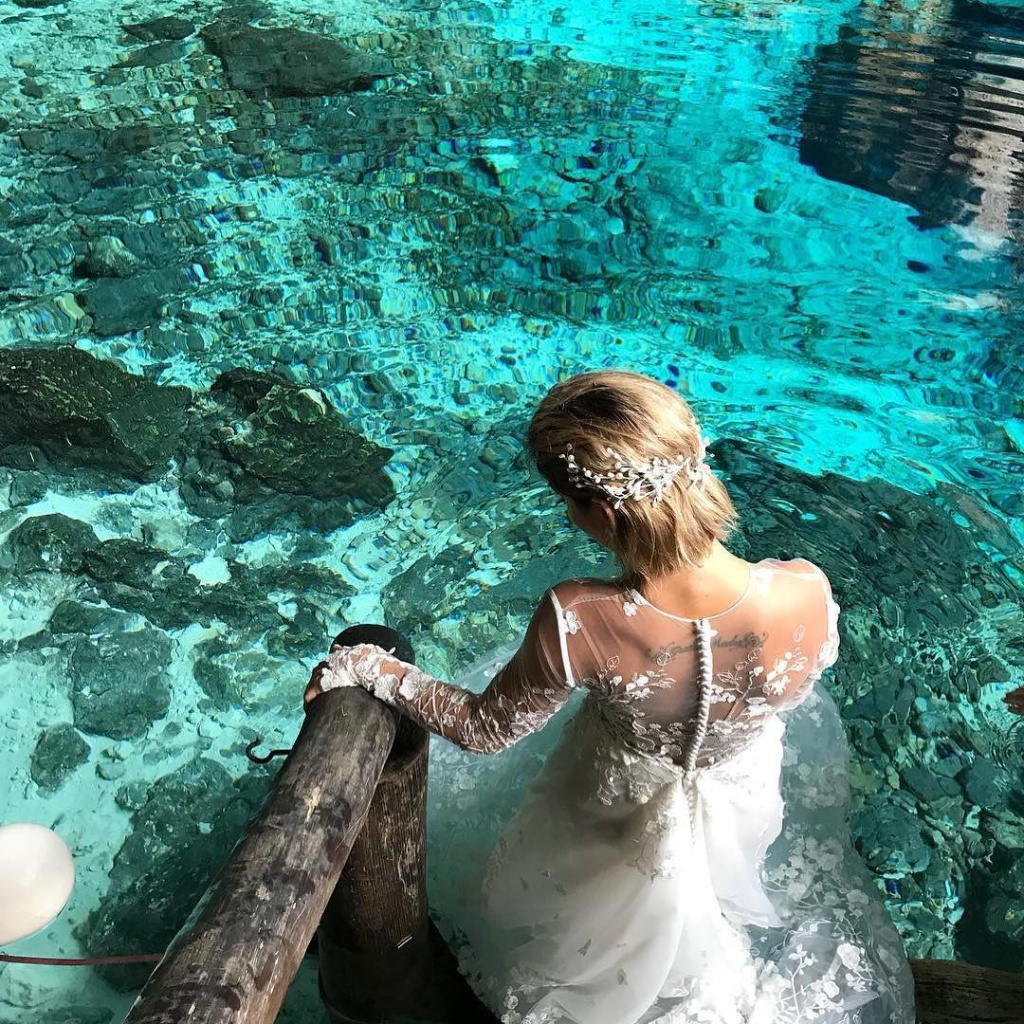 There's a reason tales of hidden treasures are so captivating—they promise a world that's exclusive, untouched, and absolutely mesmerizing. And if there were ever a hidden gem that epitomizes this allure in the realm of wedding photoshoot locations, it would undoubtedly be Hoyo Azul. Envision a natural sinkhole, brimming with waters so clear and blue that they seem to have stolen their hues straight from the skies. The waters are so pristine that they mirror the world around them, creating an enchanting play of reflections. Surrounding this azure oasis is a dense curtain of tropical forests, their lush greens serving as the perfect contrast to the cerulean depths.
The interplay of colors and elements at Hoyo Azul is nothing short of magical. Whether you're capturing a tender moment with your beloved by the water's edge, or you're diving into its cool embrace for an underwater shot, every photograph will exude an ethereal charm.
However, a tiny nugget of wisdom for those enchanted by Hoyo Azul: while its beauty is undeniably captivating, accessing the cenote might require a bit of a trek through the forest. So, pack some comfy shoes alongside those wedding heels.