Creative wedding bar ideas
Publication date:

03/03/2022

Updated:

02/06/2023
Being a place where your guests may try various drinks and raise a toast to the newlyweds, a wedding bar is also a great place for them to chat, to get acquainted and even take some nice pictures. That's why it would be a cool decision to transform such a popular place into a memorable decoration according to your wedding style, making  it classic or bohemian, rustic or romantic.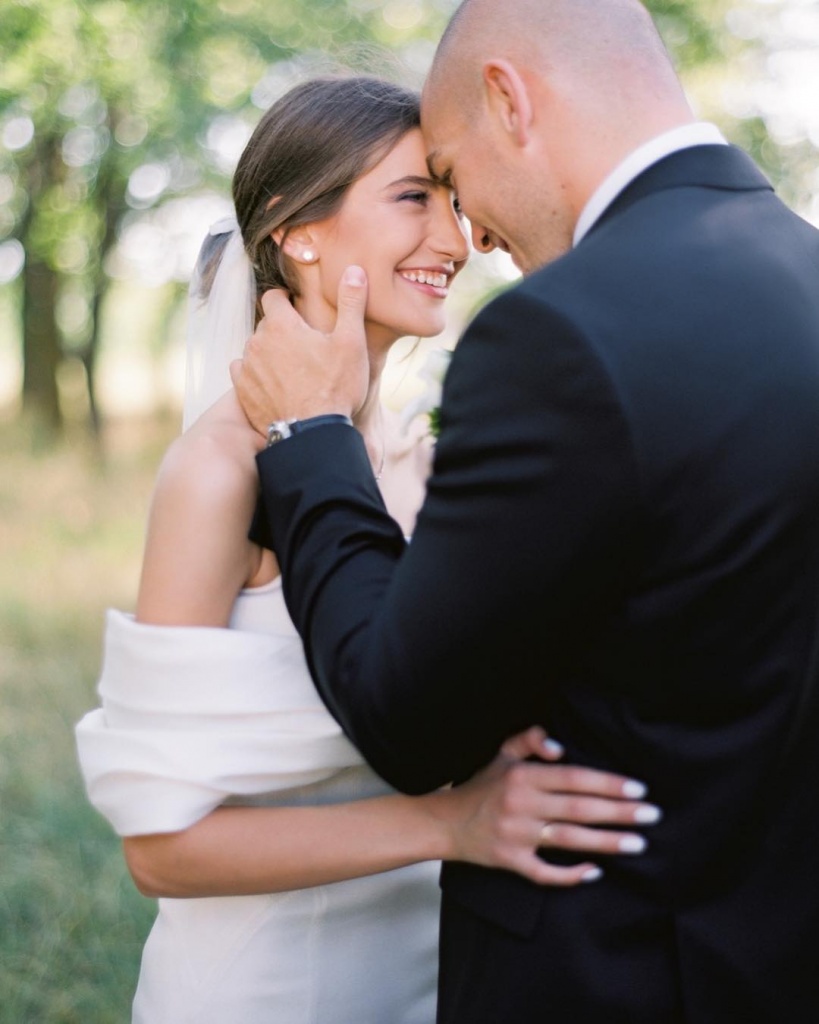 Photo by tamaragigola
Try different shapes and sizes
It may not be quite obvious, but the right shape of your wedding bar is a big part of its success among guests. The best option here will be to contaact the manager of the venue or your wedding planner to discuss the suitable size and shape of your wedding bar for it not looking too big or just inappropriate. Recently, more and more couples choose a round-shaped cocktail bar, because this shape gives full access to the beverages and all the guests can easily take any cocktail without even thinking about irritating angles.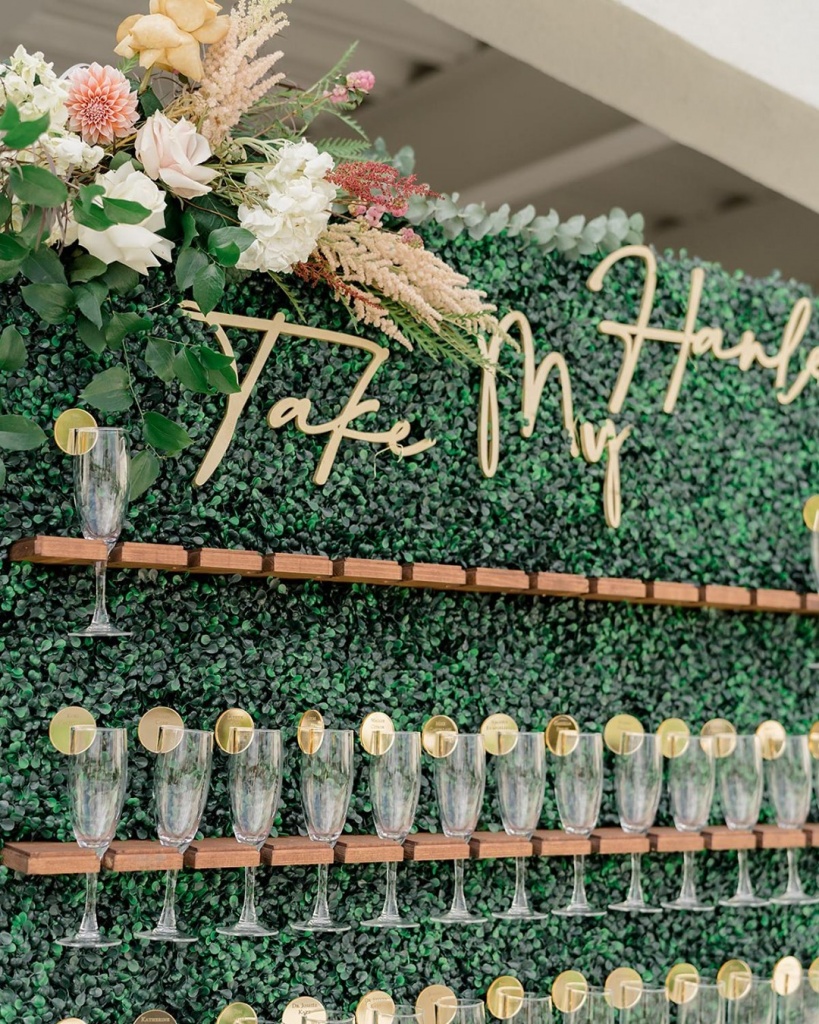 Photo by magdalenastudios
Utilize the adornments
As stated before, your wedding bar is a great opportunity to create another photo zone. In case you use lots of flowers in your hall decoration, insert some of them into your bar adornment and it will immediately turn it into a popular place for your guests to have really nice pictures. And, in general, try to complete your bar with some details taken from your wedding invitations or you can add your personal monogram in golden or silver script to make your wedding bar look absolutely unique and exquisite. Romantic sayings and your favorite quotes about love, printed and framed, will look amazing as well. Also, if you have an idea to surprise your guests, give them a creative list of your favorite cocktails' ingredients and prepare the one with the secret recipe, your signature cocktail. Let them guess it and see how fun it may be!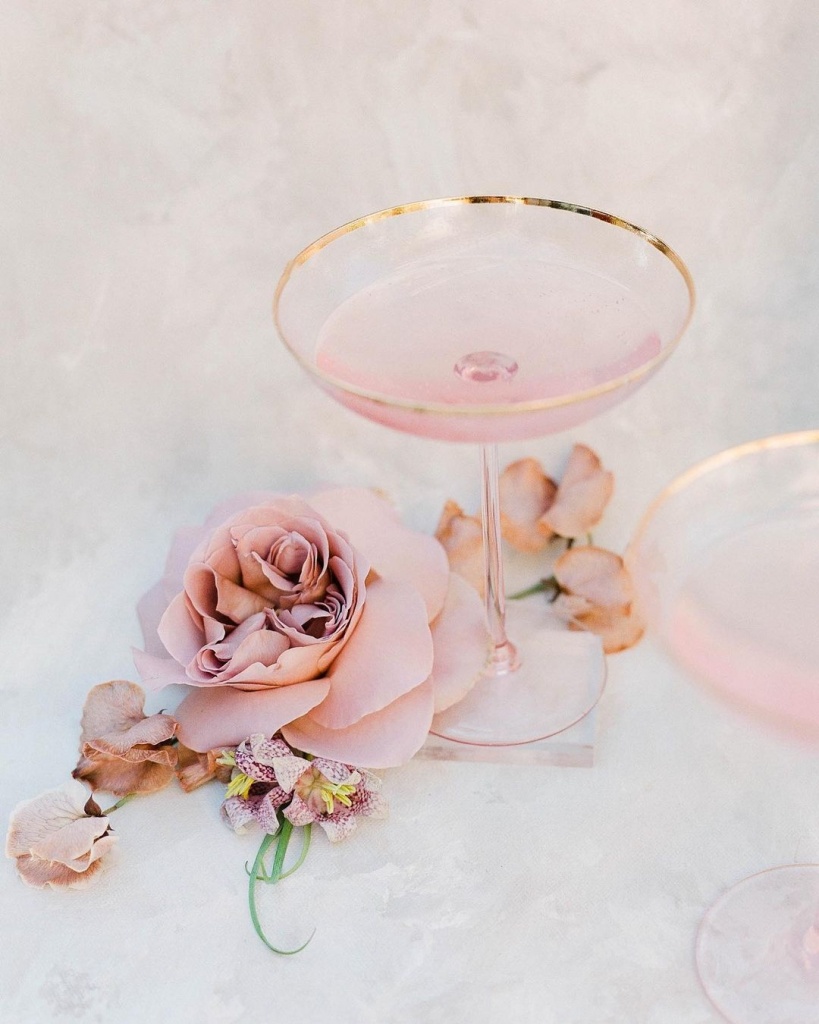 Photo by ashleynoelleedwards
Check the season for appropriate decorations
Keep in mind the season of your wedding day while preparing both the decorations of your bar and the beverage supplies. If we are talking about a sunny summer day and rustic or light romantic theme, it's better to refuse from using dark colors and heavy furniture and choose something light-colored, soft tissues, linen and wood. As for the beverages, their main aim is to freshen up the guests, so chilled beer, Rosé with ice and cocktails in mini bottles will be a perfect choice. And as an alternative, during cold seasons, stick to something warm and cozy if your theme allows it with various crafty drinks or even custom drinks. If earlier the idea of presenting your signature cocktail was introduced, now you can offer your guests to create their own cocktails adding some garnishes and mixing tastes in line with their preferences.
Сonsider your wedding bar design
If the option with a round bar doesn't work for your wedding and you'd like to hire a professional bartender, then it'll be an important thing to design a double-sided or even four-sided bar. It's a great solution for avoiding long lines at the bar, meaning the bartender can work efficiently and your guests will be able to get their drinks rather quickly and may try many different drinks. And another tip that will simplify the whole process even more is providing the guests with the bar menu before they get to the bar. You can print it on cards or demonstrate it on a big screen close to the bar.
Photo by bottega53
Promote a Completely Mobile Setup 
A wedding bar is considered to be a focal point for your guests, so it makes sense to design and create it rather simple and mobile. In this way you can choose the size and shape you prefer the most and put it up really fast. If keeping your wedding bar simple or even monocolored you can decorate it with anything you like in accordance with your wedding concept. It may be a cool idea to add some bright blooming flowers in vases or elegant chandeliers to a bar of neutral colors like white, cream or ivory and it will definitely become a top place for taking nice photos. Additionally, if you're not a big fan of flowers, you may utilize mirror elements or geometric patterns that always look fantastically in such wedding themes as vintage, classic and boho. And, please, don't forget about the illumination of your wedding bar, because the right lighting may greatly improve even the simplest bar.
Make use of the location
In all the variety of ways to decorate your wedding bar try to choose those matching your main wedding concept and venue. Here are the examples of the most popular options to introduce your cocktail bar to the guests. Maybe some of them will serve as an inspiration for your personal wedding bar.
The classy cocktail bar. In terms of this one, you can stick to different variants, starting from a stylish drink bar with open shelves, the calligraphic monogram and chic greenery to a glam darkish bar full of bright flowers, lights and neon signs in the background.
The beer bar. This one works perfectly when it's self-served with either beer being on tap or bottles stored in a bathtub full of ice and other drinks in cans. This one is especially created for boho and rustic themes celebrations.
The wine bar. The favorite bar at rustic styled weddings, with those carefully selected red and white wines placed in chic decorations made of wood and hay will make the evening unforgettable.
Photo by gregfinck
The Champagne bar. The perfect option is to settle it in a ladies' lounge serving it in elegant crystal glasses of different shapes and colors. And here comes also the Prosecco bar becoming a must-have for hot summer celebrations in romantic, classic or vintage style.
A cigar and whiskey bar. A top choice for men's kind of bars. Dark colors, vintage adornments, leather accessories and candles will create a unique atmosphere that real gentlemen will definitely appreciate.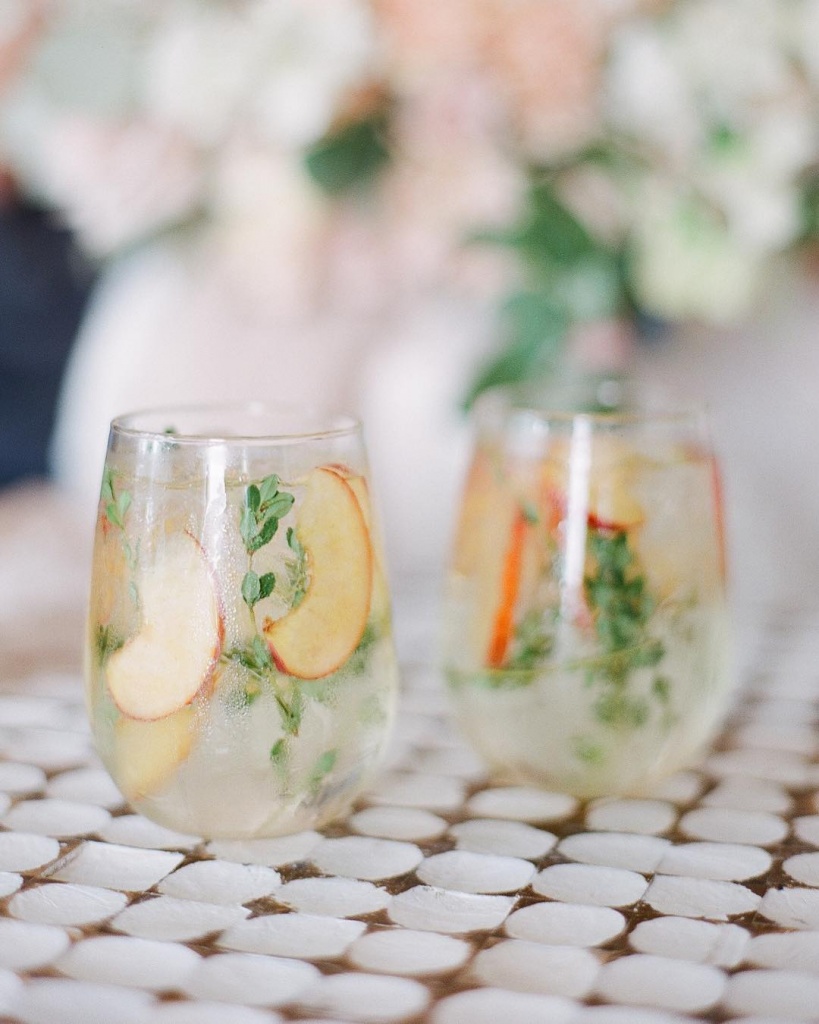 Photo by ashleynoelleedwards
The soft bar. An option for a teetotal celebration for which fruit juices, alcohol-free cocktails and sparkling water in mini bottles will be a nice choice and is welcomed for every wedding theme.