A complete guide to outdoor weddings
Publication date:

03/03/2022

Updated:

02/06/2023
It is fair to start by admitting that the idea of having an outdoor wedding is an amazing one! Such a beautiful and lovely event will be a nice memory not only for the newlyweds, but also for their family members and all the guests. Although, it should be noted from the very beginning that there are a lot of stages that need control and lots of details that have to be discussed and clarified beforehand. Basically, it's important to have a well-elaborated plan, from searching for the appropriate venue to choosing the wedding cake, with all those "what if '' to be sure everything goes the right way. Down below, you'll see the crucial points to take into consideration for a successful wedding preparation.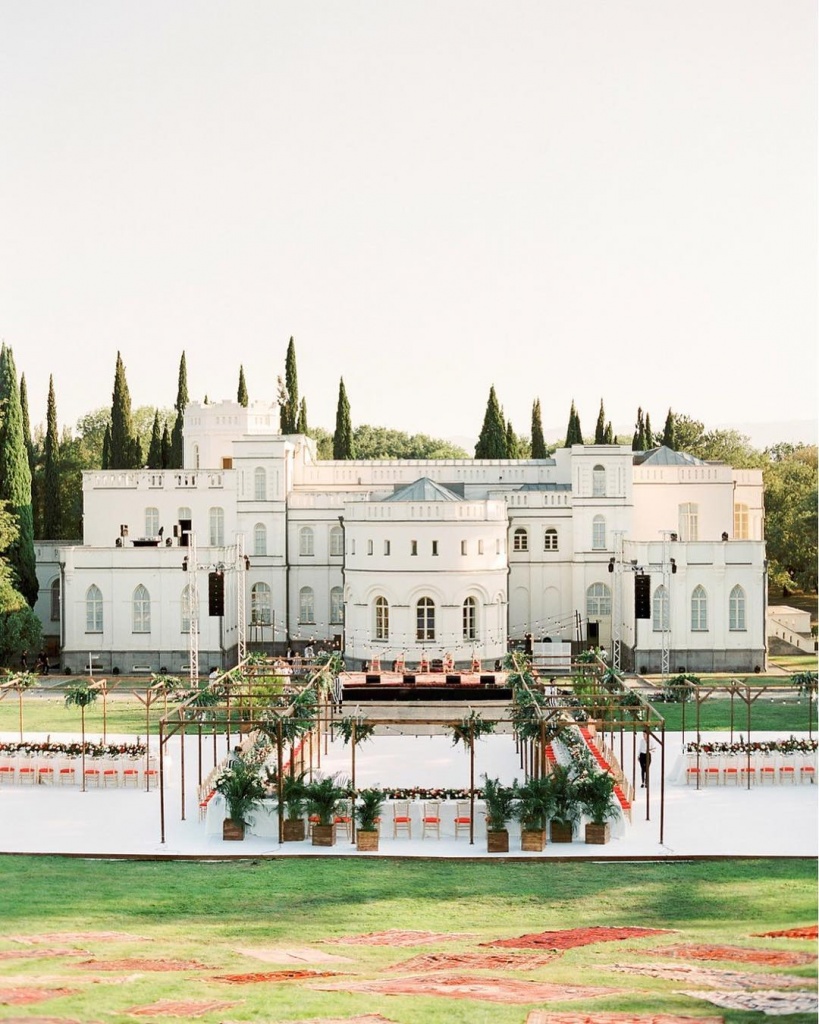 Photo by  tamaragigola
How to choose the right place for an outdoor wedding
Well, actually, lots of wedding themes would look good if organized outdoors. Though the most popular and harmonious ones are country themed wedding ideas, which are rustic and boho. These themes are still chic and elegant, and they perfectly match with a flower garden, sunny beach, wood, green lawns and practically any simple open area. Remember that some venues are literally a blank canvas and you'll have to fully decorate it and bring furniture, supply electricity and running water, so all your team of hired florists, decorators and caterers can complete their work easily and freely. Nevertheless, there are also many wedding venues that are well-equipped and are experts in dealing with outdoor celebrations, so they will provide you with all the necessary furniture and the contacts of those vendors or caterers who are experienced and can contribute to your destination wedding. One more important thing to mention, in case you're not leaving for a warm place, is that the outdoor wedding season is pretty short due to the good weather and the demand for the best locations is always rather high, so don't delay booking the venue you like.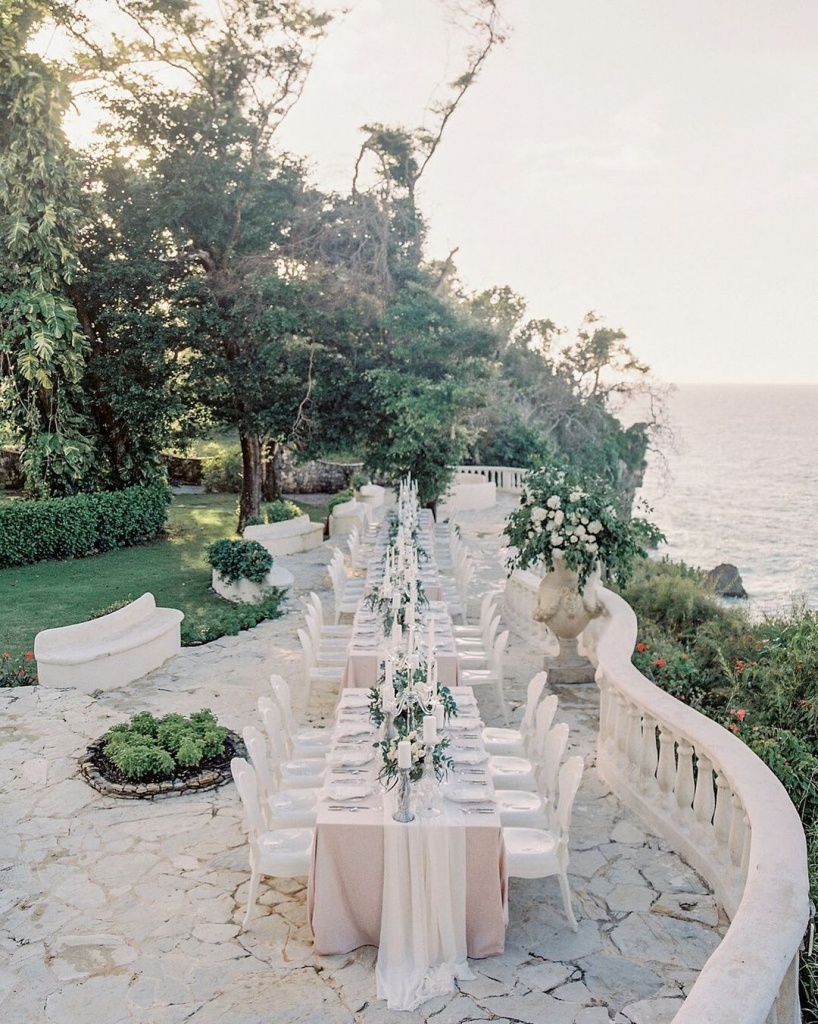 Photo by lauragordon
Consider the time of day
It is important to remember the time of day in order to create the right timeline of your wedding day so that  your venue doesn't lose its beauty and authenticity, especially if you are limited by natural light. Let's say, you're planning your celebration in a wonderful natural area that looks fantastic in the morning and in the afternoon and the landscape is just incredible. However, when it gets dark, this location may look a bit creepy without sufficient lighting. Then it makes sense to begin the wedding ceremony earlier to have a nice background and, consequently, you'll have more time for the reception and for taking pictures during the daylight.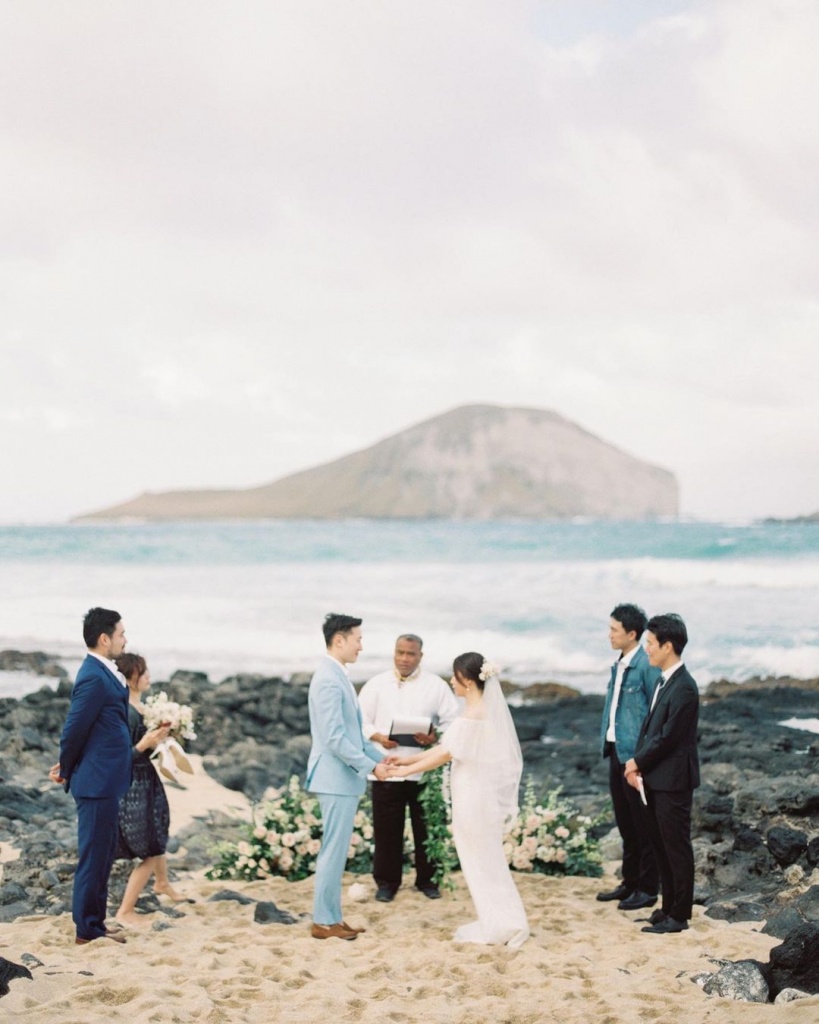 Photo by aliceahnphotography
Consider the logistics
Frankly speaking, logistics, though being challenging, is quite often a key component of a successfully held event, especially if the event is the outdoor wedding. There are many points you should keep in mind and coordinate during the preparation process, including electricity supply for the whole illuminating system and for the live music band or DJ. You may also need another generator previously discussed with the technical rider. Water supply is highly required and has to be settled long before everything starts. Don't forget about washrooms, which can be decorated according to your wedding style. Also, verify whether all your vendors and the team can easily get to your location. It is also necessary to arrange a shuttle service for guests. The coordinator will be responsible for getting everyone on time. In order to avoid unnecessary worries, set aside at least 30 minutes for the preparations. Speaking of guest comfort, provide your guests bug sprays, sunscreens and umbrellas in hot months and blankets in colder ones. Moreovera depending on the weather, it'll be necessary to use fans or portable air conditioning units to keep the location warm or chill.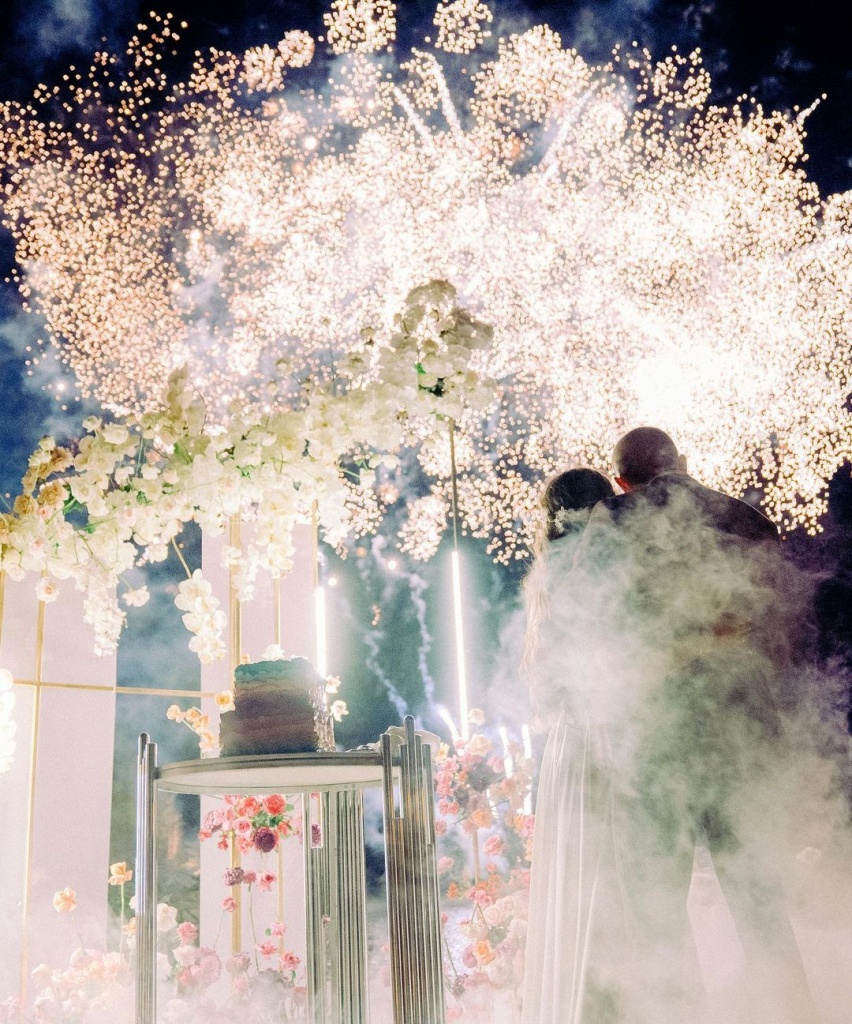 Photo by maxkoliberdin
Outfits for an outdoor wedding
One of the most important things that needs to be clear on your wedding invitation is the venue and the dress-code so that all your guests have time to prepare a suitable outfit and footwear according to the weather and the theme. Specifying the dress-code, pay attention to the climate and the wedding concept. Thus, for hot summer countryside celebrations, magnificent flower gardens or areas next to the river or pond with a breathtaking backdrop, it's better to opt for cocktail or semi-formal attire instead of black tie or formal outfit. Additionally, it would be great to mention the color palette of the wedding in your invitations so that every guest would contribute to the whole atmosphere.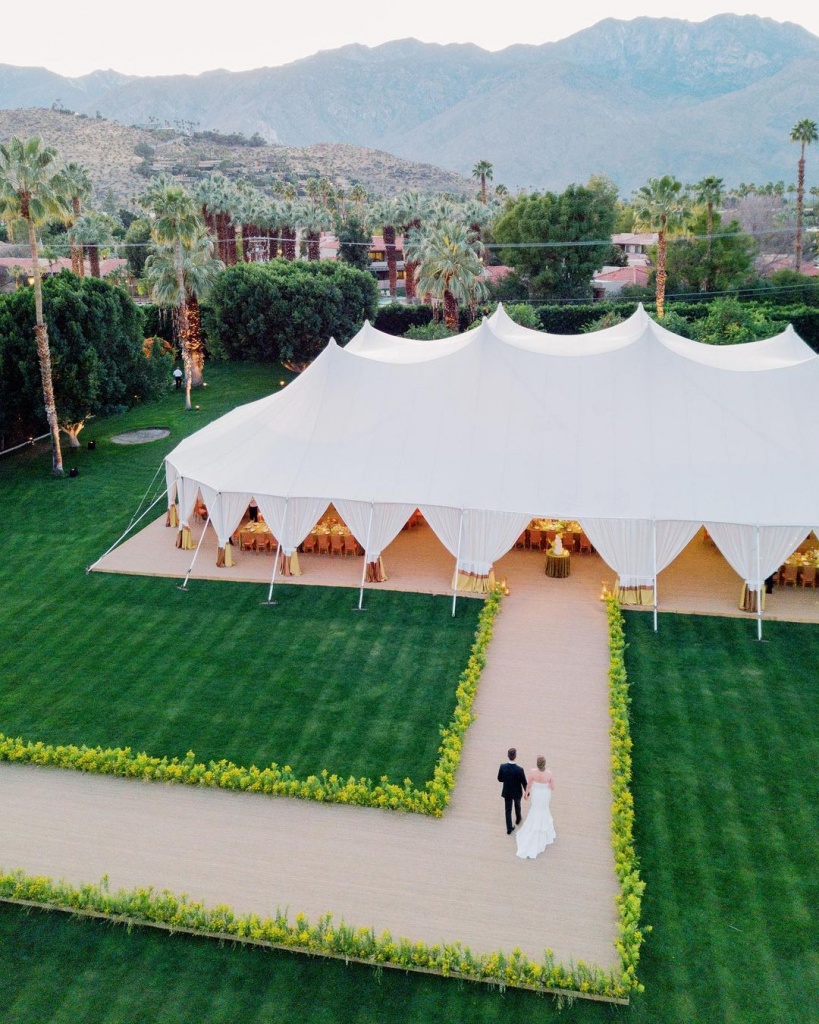 Photo by corbingurkin
What should I do if it rains?
Unfortunately, the weather is uncontrollable. That's why it's so important to think over your actions in case it rains at the most unexpected moment. First, find out whether your venue has an indoor hall, and what are the conditions under which your wedding will be moved there in case of rain. If possible, create a plan that defines the responsibilities of each member of your team. Well, if this option isn't available, you should stick to the idea of having a tent or a marquee as an overhead cover. Actually, it is impossible to lose in this situation, even if there is no rain, because you may use your tent as a great shelter from the sun. Anyway, you can always cancel your tent rental services if you don't feel the need. However, keep an eye on the different weather forecasts and try to predict the weather on your wedding day, because if it gets too windy or it is about to rain, the tent will never last and the only solution will be an indoor space that you should have as a backup plan.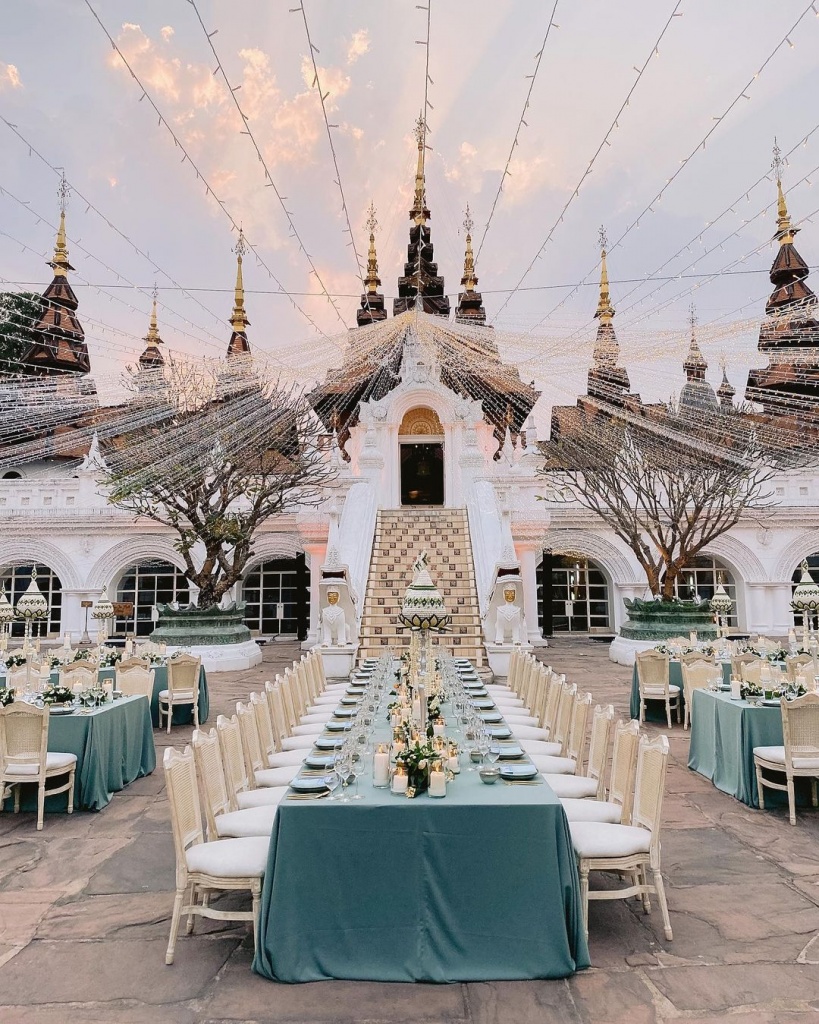 Photo by josevilla
Decorations for outdoor weddings
To tell the truth, the decoration for your outdoor wedding is something that you can create without spending all your budget. The main adornment is the nature and the landscape, which is probably why you've chosen the venue. Your wedding location will be a perfect backdrop for all the photos, videos as well as the wedding ceremony. If you would like to add the decorations, mind the natural scenery, which will greatly help with the appropriate style. Feel free to choose the adornments you personally like or hire a professional decorator who would make a perfect picture. You can also control lighting with trendy lanterns, crystal chandeliers and flickering lights. The choice is rich, choose the one you like.
Summing up, the outdoor wedding is a great and memorable celebration, but there are many stages of the preparation that need control. So, if you don't want to miss a thing, just stick to your wedding plan, complete every stage gradually and thoroughly and you'll have the best wedding ever.