A Complete Guide To Best pre-wedding video
Publication date:

05/15/2022

Updated:

03/28/2023
Creating your unique story via video art might first seem to be a challenging task though that's a fascinating experience for both of you! You are probably looking forward to your wedding movie, watching yourselves in a white dress and a tuxedo. Well, it becomes clear what the wedding video is about. But do you need a pre-wedding video? What is it? What are the pre-wedding video shoot trends, tips, and ideas? Get all the answers from the article!
What is a Pre-Wedding Film?
Pre-wedding means telling the story, something previous, leading you to the marriage. Pre-wedding video shooting might include your interviews, showing your love story, or engagement moment. The main idea is to depict how you two achieved this, reached a decision to tie the knot and start a family.
Why Do You Need Pre-Wedding Cinematic Video
You will never regret creating a pre-wedding film because there are plenty of reasons why you need it. Let's get started with a few of them.
Create a Connection
Creating such a video means spending at least a day with your wedding videographer. That's a great opportunity for you to establish nice communication that will finally lead you to productive cooperation in the future - a vital component of a stunning video result afterward. Get here to find out about 7 easy steps when choosing a wedding videographer!
The Videographer will Know Your Angles
You will know how to pose and feel how to act in the movement when you're being filmed. And accordingly, your wedding video maker will know your angles and use this knowledge while filming your wedding video as well. By the way, you're not in a hurry because you will have more time during pre-wedding film shooting than on the wedding day.
Surprise the Guests
The pre-wedding film works not only for you as a part of your family gallery and history. You may show the video on the wedding day and surprise your guests. It's also a great way to entertain your guests, touch their hearts, and spice up the program a bit.
Use the Material for Wedding Purposes
Pre-wedding video shoots might be used in so many ways: animated invitations, your wedding website, and as the beginning of your main wedding film.
A Different Fresh Vibe
Why don't you use this opportunity to change the image a bit? Pre-wedding films have no limits in location, outfits, style, and mood. You're not restricted by certain colors, clothes, or distances so the more creative and patient you and your videographer are, the more original your pre-wedding video will be.
An Amazing Opportunity to Spend a Day Together
You're not only practicing to pose together as a couple before your wedding video shooting but also have an opportunity to enjoy the company of each other and show your feelings. If you choose a further destination, you'll even take a journey together or see some new stunning places. Isn't that romantic?
Pre-Wedding Photoshoot Video Trends
Movie Trailer
That always looks cool as it shows your love story in the format of a romance movie. It also includes dramatic moments, narration, and a movie style. Your guests will be intrigued and glued to the video on the wedding day.
Interview Format
Sincere words and candid laughter never fail. An interview format always builds a story and is a basis for the plot of the pre-wedding video. Together with your video maker you may prepare some questions and think over the answers or respond on the spot. Both options might work well, it's up to you which one to choose. What is usually included? You can tell about your first meeting, date, or the moment when you got engaged. Sometimes couples wish to share some deeper thoughts and explain what they appreciate in their partner, their character traits, or even retell some funny moments.
Engagement Video
Some brides and grooms want to reproduce the precious moment of their engagement. You can choose the same location where it happened or opt for another one. This idea seems to be quite logical and simple though it depends on you and your videographer how original it will be.
Beauty of Nature
It is simple and perfect, so what can be better than choosing some places in the heart of nature? Breathtaking mountain view, pristine blue river or mighty ocean, blooming gardens, or mysterious sands of the desert as a backdrop without any additional decorations will make your video unique.
Pre-Wedding Video Shoot Tips and Ideas
Be Yourself and Trust Your Videographer
You aren't actors, so don't play. If you want to make your video candid, just relax, enjoy yourself and be yourself. Act as you feel though listen to your videographer's advice and ideas. If you've hired them, trust them and cooperate effectively. Get here to read about 10 ways to get the emotional wedding video!
Be Open to Experiments
You've probably already watched some pre-wedding videos but stop thinking that yours must be similar or even the same. Be open to something new and original. You're creating your own story which is unique and different.
Original Locations
You may find that perfect balance combining different locations. For instance, capturing the beauty of nature and the palace, mixing a walk on a peaceful beach with rushing about a pulsating city.
Try Another Season
If your wedding is in summer, surprise your guests with a video of snowy and icy winter, why not? A cold snap will create a certain time distance, plus brings an absolutely different atmosphere. You'll get totally different videos in the end.
Сost of a pre-wedding video shoot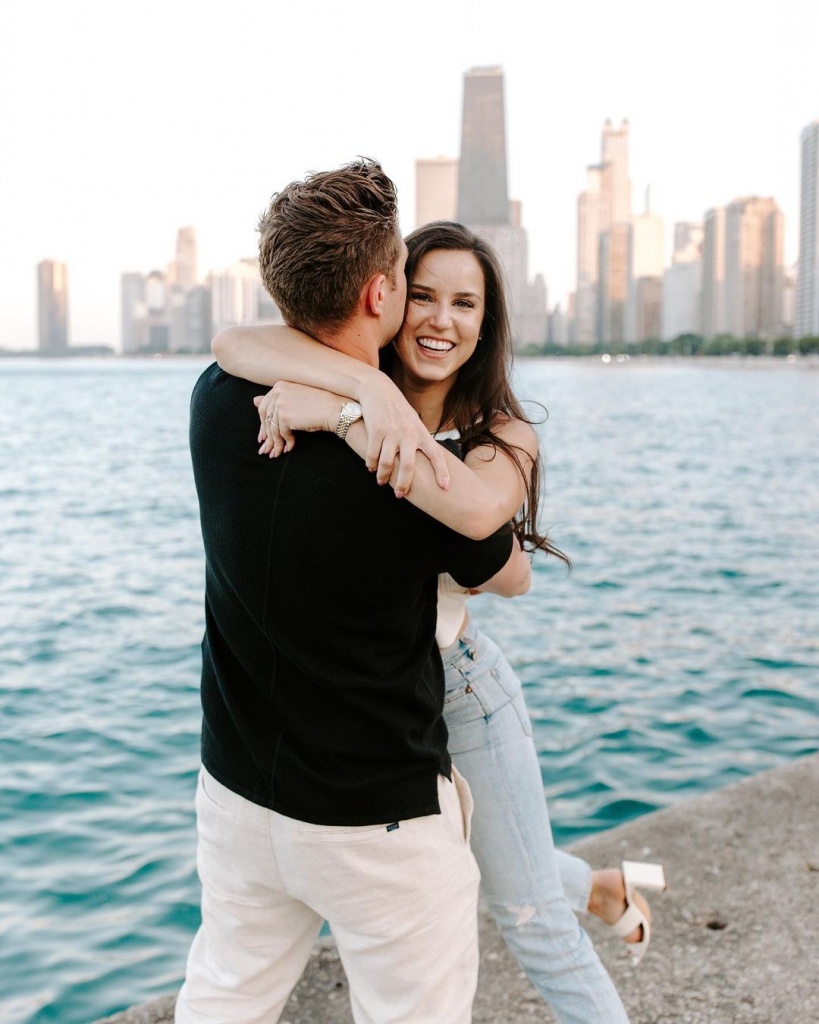 Photo by @kerricarlquist
Pre-wedding video shoot price varies from state to state and depends on the package, amount of assistants, equipment, and services included. Before booking a package ask for more details about the result you get and the services that will be provided. On the Wezoree you can contact photographers directly and find out the answer.