70s-Inspired Wedding Dresses
Publication date:

07/16/2023
You're the kind of trailblazer who shrugs off conventional gowns, right? You're craving a trip down memory lane, a love letter to the unforgettable era of 70s fashion. You want a 70s wedding dress, don't you? Well, you're in good company! 70s-inspired wedding gowns are making a triumphant return, and they're turning heads left and right!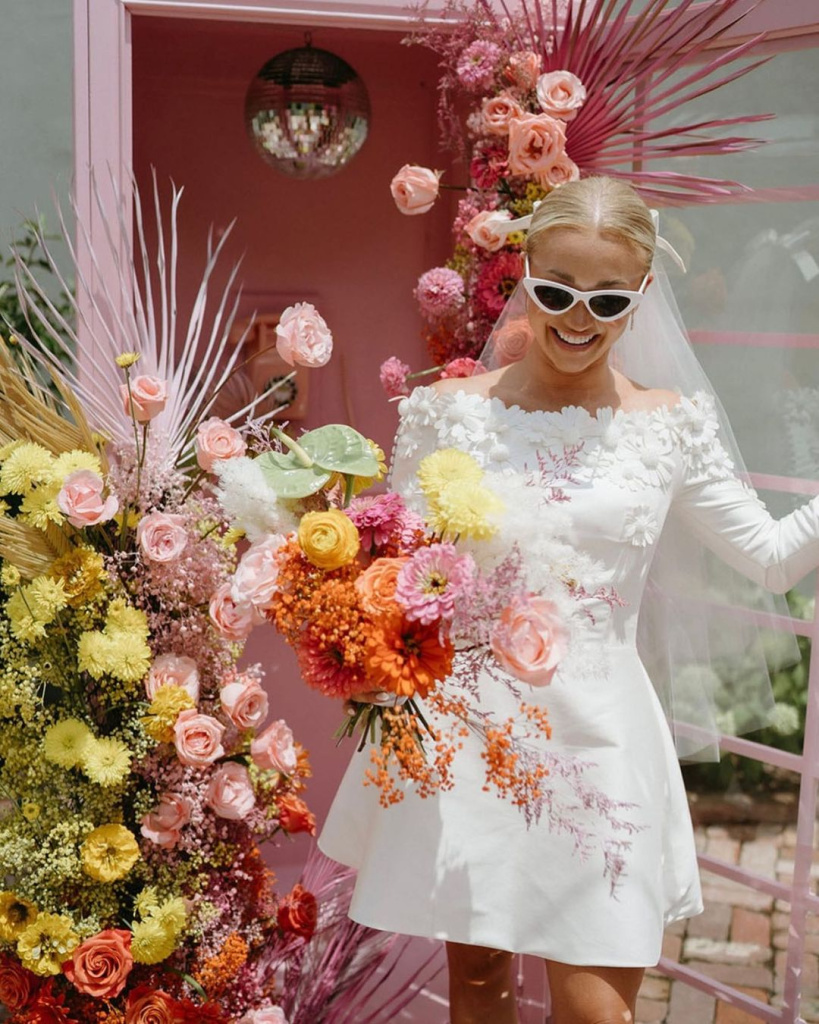 What is So Special About 70s-Style Wedding Dresses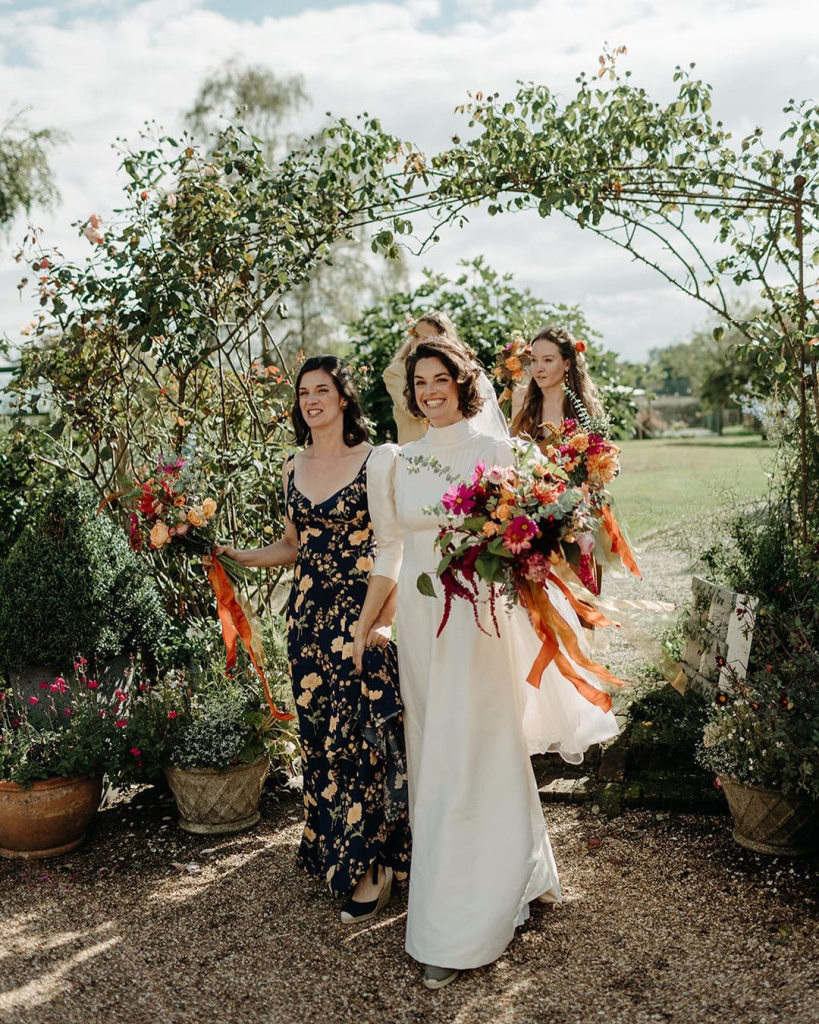 Let's take a trip in our time machine, darling, back to an era of daring fashion statements and boundary-pushing style. 70s wedding dresses were all about self-expression, individuality, and breaking free from traditional norms.
One of the most remarkable aspects of the 70s-inspired look was the use of different silhouettes, fabrics, and patterns that brought a whole new dimension to wedding dresses. For instance, the boho-chic look was a significant style statement of the era, emphasizing natural, flowing lines, and relaxed aesthetics.
Talking about famous wedding dresses in history, the 70s had its fair share of iconic looks. Who can forget Bianca Jagger's white suit, or the stunning bohemian dresses worn by style icons like Stevie Nicks and Cher? Then there were the royal weddings. Princess Anne's Tudor-inspired dress remains one of the most memorable royal wedding gowns.
There was an impressive variety of types of 70s dresses, from maxi dresses to mini dresses, and from lacey Victorian styles to sleek and stylish disco outfits. Let's not forget the prairie dresses, peasant dresses, and bohemian gowns that still influence today's fashion.
70's Inspired Wedding Dresses: Our Top Picks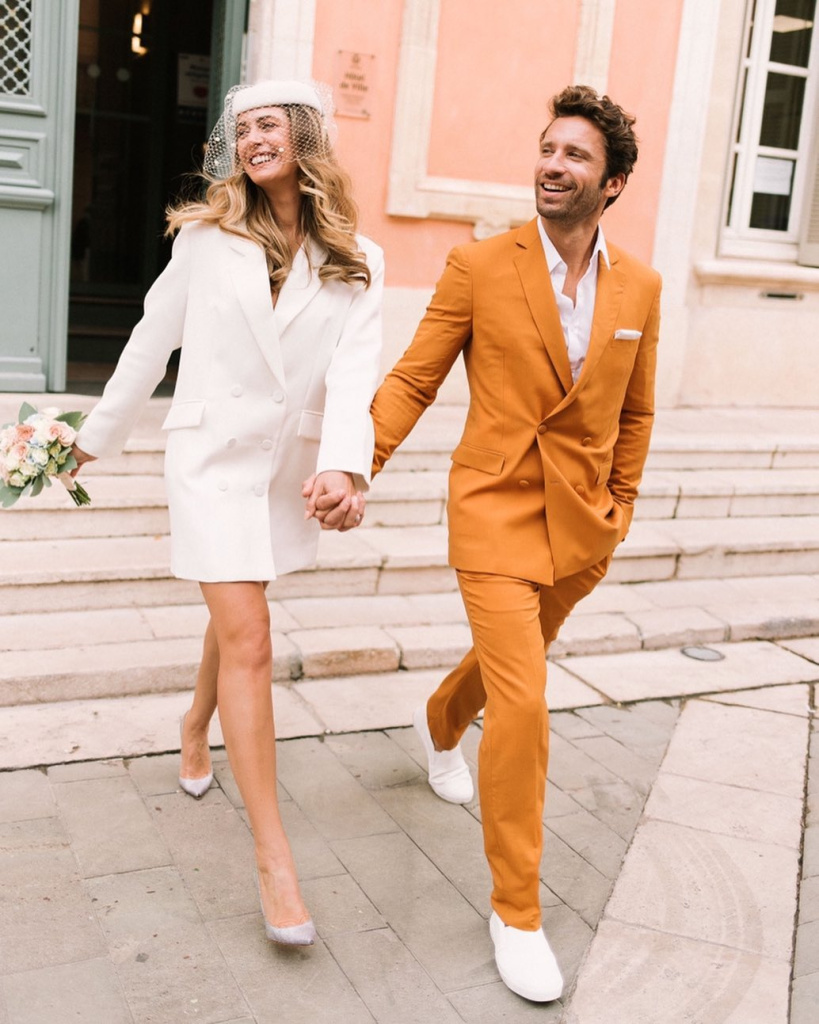 Hold onto your veils, we're taking a deep dive into the treasure trove of 70s style! We've hunted high and low to bring you our top picks of 70s-style wedding dresses. From pure authenticity to vintage revivals, there's a dress for every 70s-loving bride.
Authentic 1970s Wedding Dresses
Dive headfirst into the glorious nostalgia with authentic 70s-style wedding designs. These gowns capture the essence of the 70s with their style and flair. Here are six delightful examples:
Bianca Jagger Inspired Suit: Take a daring approach to your wedding attire, inspired by none other than the fashion-forward Bianca Jagger. Her legendary white suit is the embodiment of the 70s-style wedding attire for the audacious bride. Pair it with a wide-brimmed hat, and you're all set to make a powerful statement on your big day.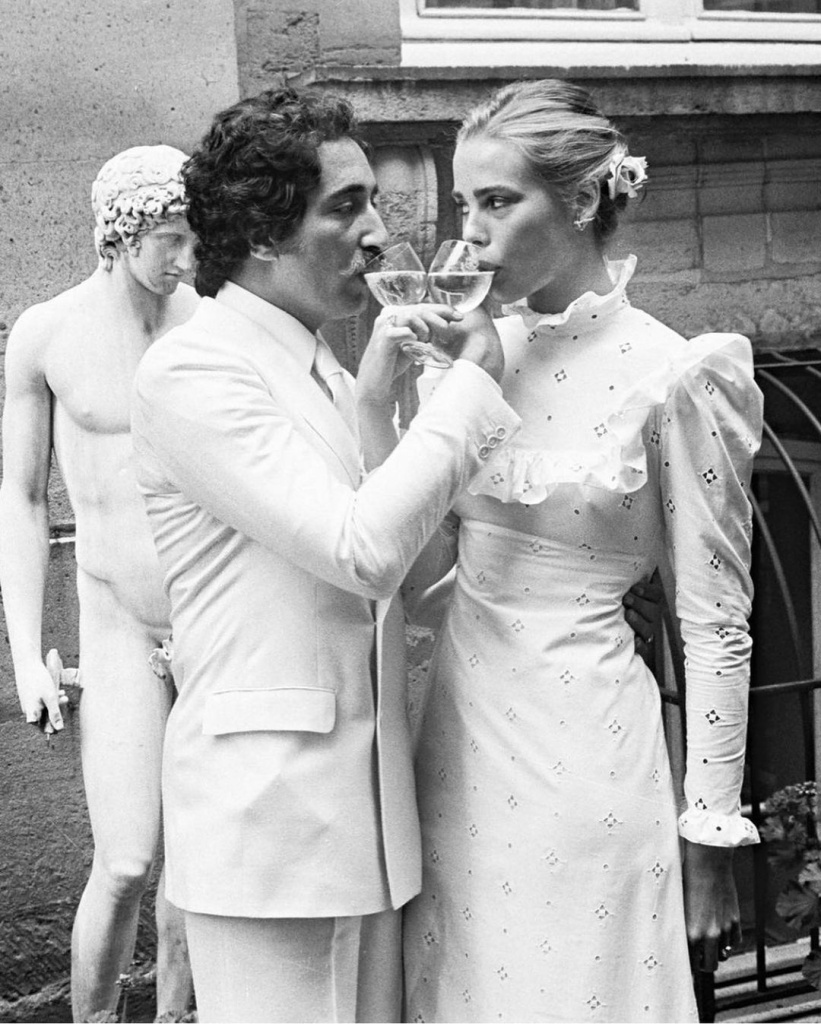 Prairie Dress: Immerse yourself in the rustic charm of the 70s with an enchanting prairie dress. The high-neck, puff sleeves, and tiered skirt resonate with the beauty of rural life, bringing a unique pastoral element to your wedding look.
Empire Waist Gowns: The epitome of the 70s vintage-inspired wedding dress is the empire waist gown. With its soft silhouette and flowing fabric, it exudes an air of ethereal elegance, just the perfect attire for a bride going for a dreamy 70s look.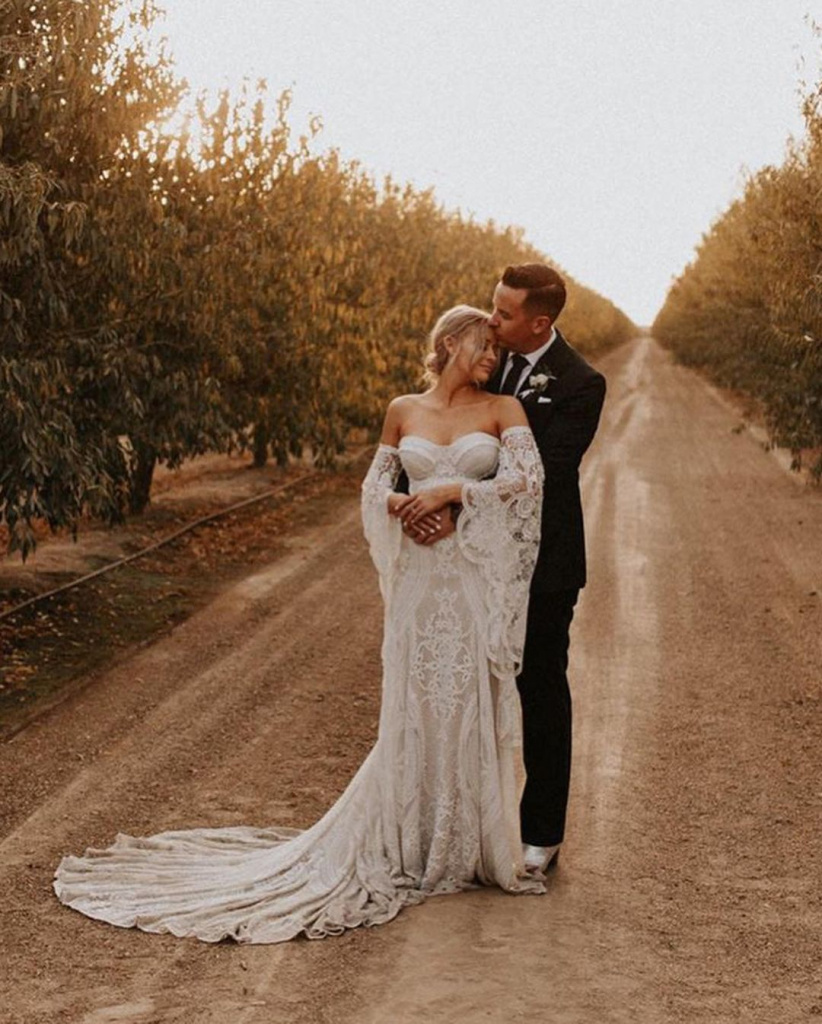 Crochet Lace Overlays: The comeback of crochet lace overlays in the latest style wedding dresses pays homage to the intricate detailing that was so beloved in the 70s. A dress adorned with these overlays not only adds a vintage touch to your look but also brings a soft romantic feel.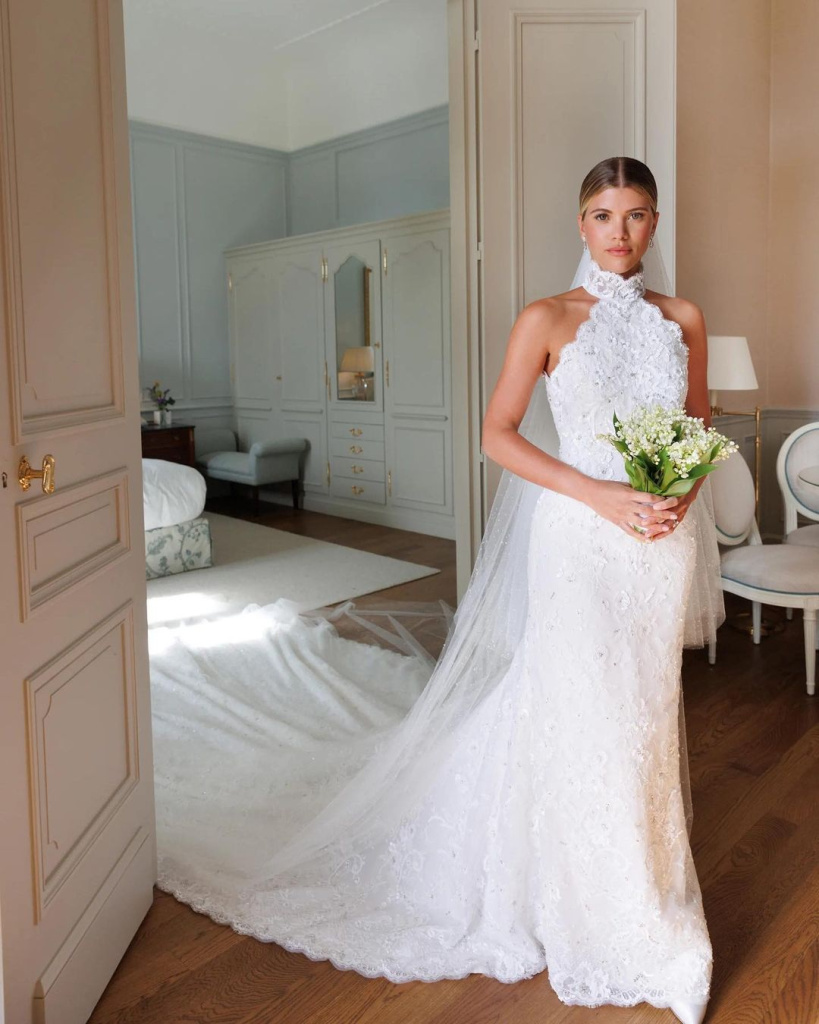 Halter Dress: The halter dress was a rage in the 70s and continues to be a classic choice for a chic, stylish bride. It's ideal for those desiring a dress that is both sleek and sophisticated, with a hint of 70s glam.
Psychedelic Prints: To capture the true essence of the 70s, why not opt for a wedding dress with psychedelic prints? Bold, vibrant, and eclectic, it's a daring choice for the bride who wants to turn heads and break away from tradition.
Vintage 70s Wedding Dresses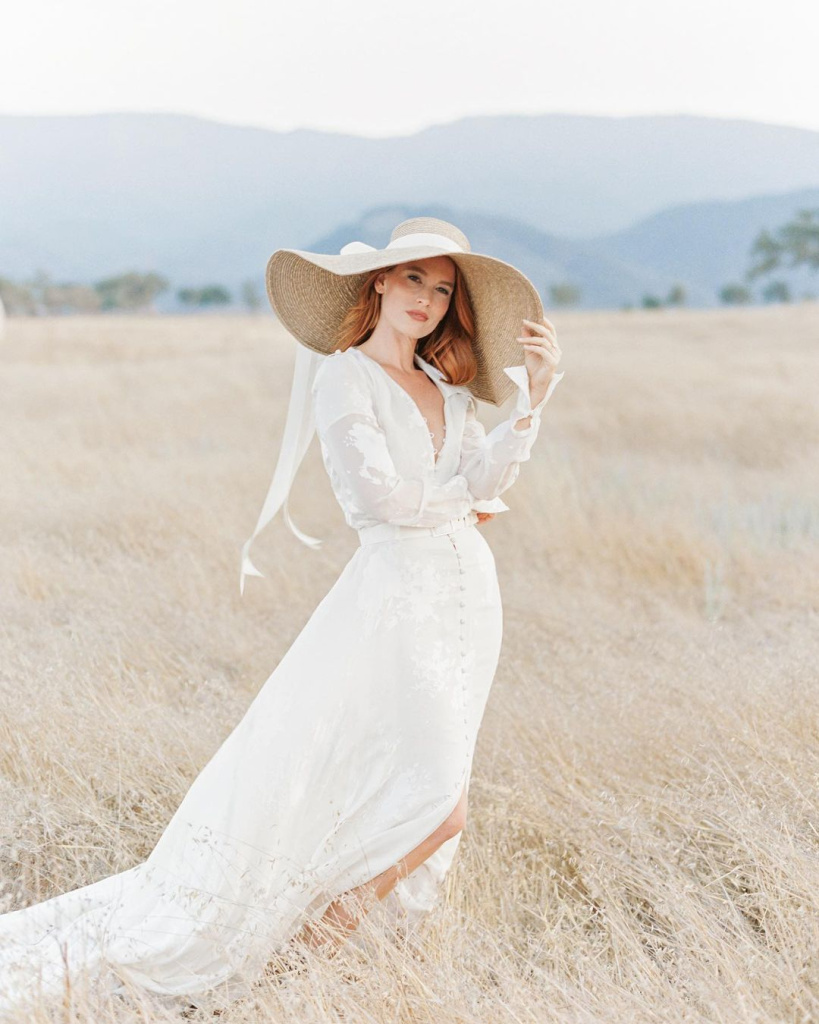 When we think of the 60s-70s-style wedding dresses, we envision a beautiful blend of mod fashion and boho-chic, creating a fashionably perfect fusion. If you're all about that vintage vibe, these five styles will inspire your wedding day ensemble:
Maxi Dresses: Bring the timeless charm of the 70s to your wedding with a luxurious maxi dress. In a silky fabric, with a cascading silhouette, it captures the essence of effortless elegance, a staple of 70s wedding dresses.
A-Line Mini with Go-Go Boots: Get ready to channel your inner Twiggy with a 70s-inspired A-Line mini dress. Pair it with iconic go-go boots for a fun, energetic look that perfectly merges 60s mod with 70s flair.
Victorian-Inspired Gowns: For an enchanting throwback to a bygone era, consider a Victorian-inspired gown. From high necklines and lacy details to full sleeves, every detail resonates with a unique romantic allure that is the hallmark of this 70s wedding dress.
High-Waisted Jumpsuit: Show off your groovy side with a high-waisted jumpsuit, a daring and chic staple of the 70s fashion scene. Its trendy silhouette makes it a glamorous yet comfortable alternative to traditional wedding dresses.
Lace Bib Front Maxi Dress: This style borrows from the modest, feminine designs of the late 60s and early 70s. Its prominent lace bib front adds an interesting focal point to the dress, making it a unique choice for vintage-loving brides.
Hippie 70s Wedding Dresses
Hippie chic was all the rage in the 70s. If you're inspired by the flower power era and want to incorporate that into your wedding look, these four hippie 70s theme wedding dresses will have you saying "I do" to the bohemian style: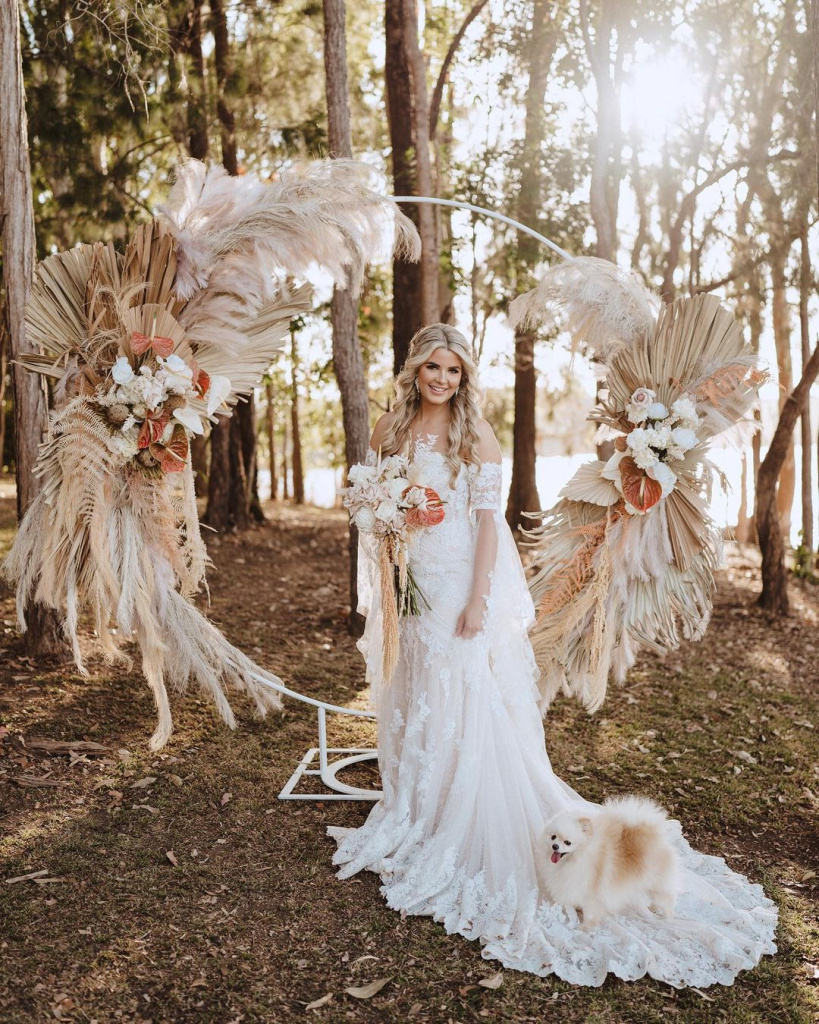 Bohemian Lace Dress: This dress is the heart of 70s bohemian fashion, with its intricate lace, bell sleeves, and flowy silhouette. It's the ideal 70s wedding dress for the bride who wants to express her free spirit. Plus, it looks extremely good in wedding photographs. 
Fringe Dress: For a more dramatic 70s-inspired look, consider a dress with fringe detail. Not only does it encapsulate the uninhibited style of the era, but it also adds a fun, whimsical touch to your wedding attire.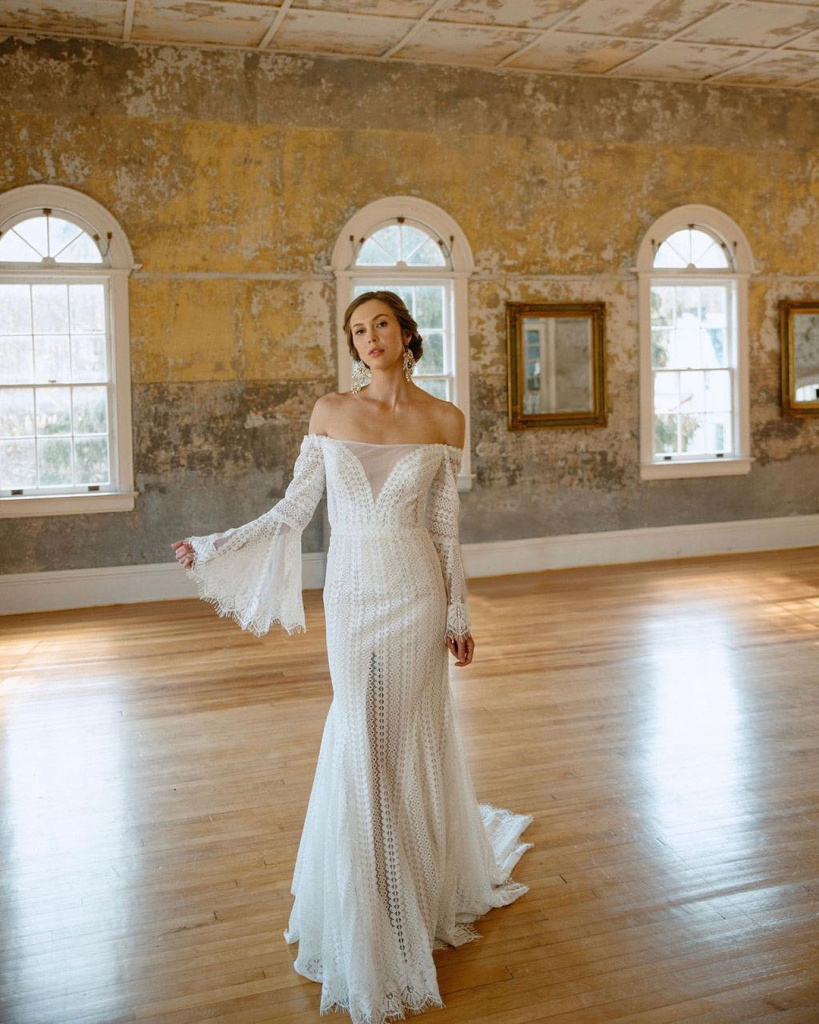 Off-Shoulder Gypsy Dress: Embrace your inner gypsy with an off-shoulder dress. Paired with flared sleeves and a flowing skirt, it's the perfect blend of laid-back and chic - a signature style of the 70s bohemian fashion.
Crochet Maxi Dress: A 70s-inspired crochet maxi dress is the embodiment of boho charm. Whether adorned with floral motifs or geometric patterns, the intricate detailing of the crochet lends a unique vintage vibe to your bridal look.
Disco Wedding Dresses
Who doesn't love a bit of sparkle on their special day? Let's step into the time machine and dial it back to the disco dazzle of the 70s wedding dresses. If you've got your dancing shoes ready, here are five show-stopping styles for your consideration: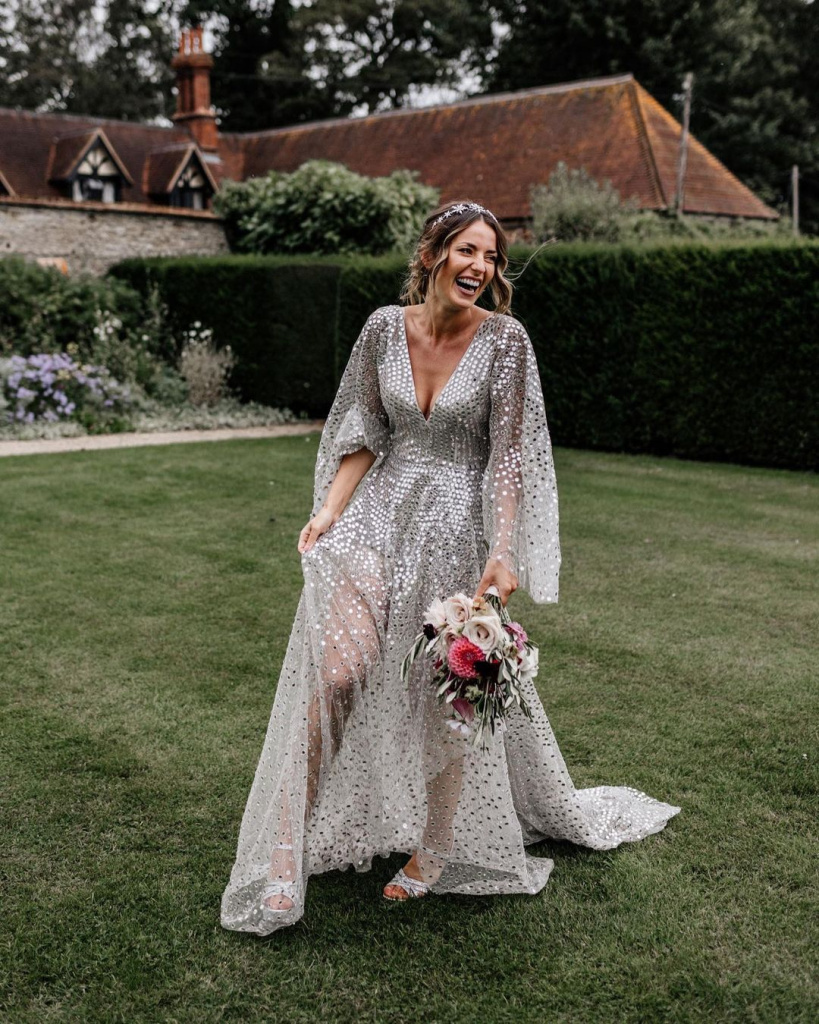 Sequin Wrap Dress: Fancy lighting up the room as you twirl? A sparkly sequin wrap dress could be your ticket. It's an exquisite mix of sophistication and that unmistakable 70s disco vibe - you'll be the shining star of the night.
One-Shoulder Gown: Feel like bringing out your disco queen alter ego? A one-shoulder gown is just the right mix of elegance and retro-chic. It's not your standard wedding dress, it carries a touch of the 70s sophistication and a whole lot of fun.
Velvet Jumpsuit: Thinking of shaking up the traditional wedding dress norms? A velvet jumpsuit ticks all the right boxes - stylish, comfy, and oh-so-disco. The soft, plush fabric is a nod to the disco era's penchant for luxury and bold fashion choices.
Metallic Mini Dress: Ready to turn heads as you walk down the aisle? A metallic mini-dress is your answer. It's audacious, it's playful, and it's every bit the embodiment of the disco era. You'll be setting the dance floor on fire, in a good way!
Beaded Fringe Dress: Imagine making your grand entrance in a beaded fringe dress. With every step you take, the shimmering beads dance around, creating an eye-catching spectacle that's straight out of a 70s discotheque. Now, that's how you add a dash of disco glam to your wedding day.
Long Sleeve 70s Wedding Dresses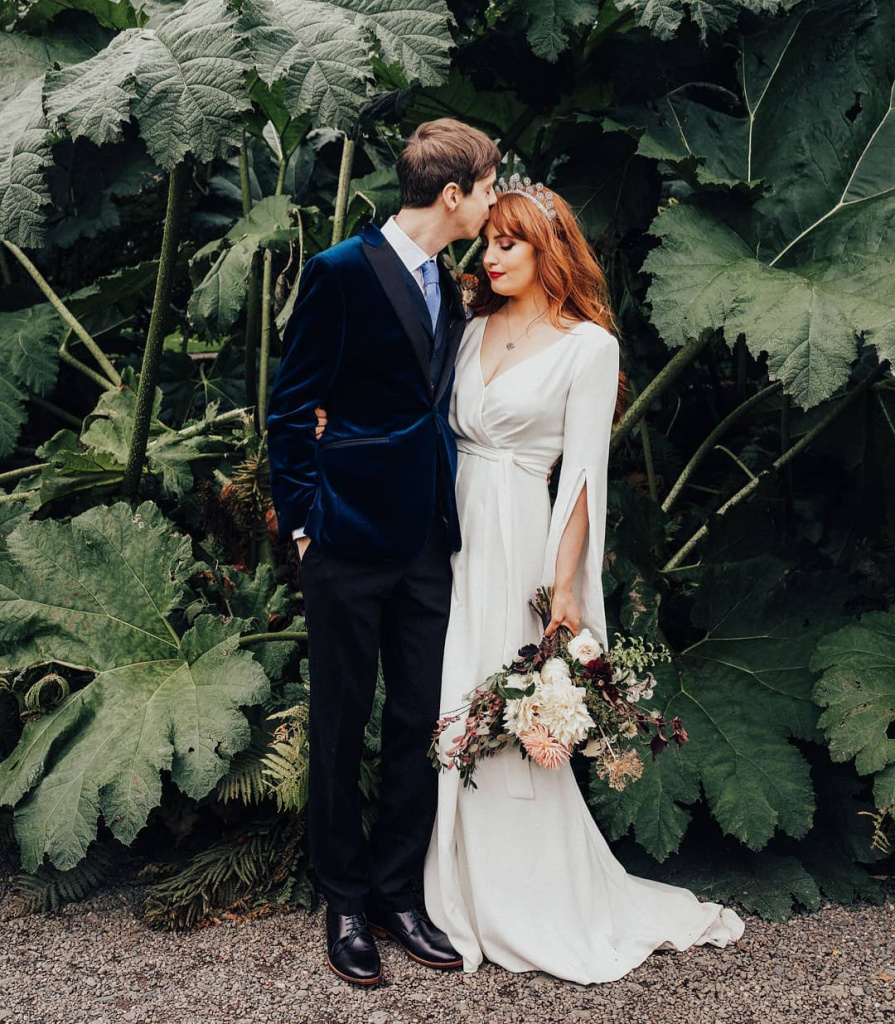 Wrapping up our journey through the 70s, we can't overlook the grace and charm of long sleeve wedding dresses. They hint at the understated elegance of the 70s and seamlessly blend classic aesthetics with a fashionable twist. If you're on the hunt for a wedding gown with a throwback vibe, these three styles definitely deserve a spot on your list:
Boho Chic Dress: A 70s boho wedding dress with long sleeves radiates understated elegance. The relaxed silhouette, along with details like balloon sleeves and crochet lace, perfectly captures the boho charm of the 70s.
Bishop Sleeve A-Line Dress: This dress takes a simple A-line silhouette and elevates it with the addition of dramatic bishop sleeves. It's a beautiful nod to the 70s when fashion was all about making a statement.
Peasant Dress with Puffed Sleeves: This 70s-inspired wedding dress brings together the casual comfort of a peasant dress with the dramatic flair of puffed sleeves. The loose-fitting silhouette paired with an elastic or drawstring waist adds to its laid-back charm, while the puffed sleeves contribute a vintage aesthetic reminiscent of the 70s fashion. Detailed embroidery, particularly on the sleeves or neckline, will further enhance the retro look, making you the quintessential 70s bride on your big day.
Floral Lace Dress: If you're looking for a 70s boho wedding dress, a floral lace long-sleeved dress could be the perfect choice. This dress can feature a fitted bodice with a flared skirt, providing a flattering silhouette. The long sleeves, often finished with delicate lace edging or bell cuffs, will add a romantic touch. The floral lace pattern throughout encapsulates the essence of the 70s boho chic style, making it a gorgeous and classic option for your wedding day.