10 of Father-Daughter Wedding Photos
The bride's dad is the only person who knows the exact words to tell his little girl to calm down and cheer up before one of the most important moments of her life. This special and strong bond appeared the minute you were born, but only now, being an adult, can you really feel and appreciate it to the fullest. It may seem that your father doesn't worry at all, but actually his heart beating raises every time he looks at you and sees your happy tears and beautiful smile. These true and pure emotions are bound to be captured by your wedding photographer. Therefore, discuss this subject in advance and certainly set aside about 15 minutes in your wedding day plan. Be sure, this touching scene of sharing a moment with your beloved dad before the ceremony will be a great memory for both of you.
The Proud Look on DaJust imagine a look of the happy and proud face of a father when he finally meets his charming daughter in the wedding attire. He is totally overwhelmed and wowed by such an appearance and flaunts his emotions freely. He's always been by your side, from the very childhood to the first school exam, from your early romantic stories to the engagement and planning of the wedding. So, your dad fully understands your feelings and sincerely enjoys supporting you during this big day.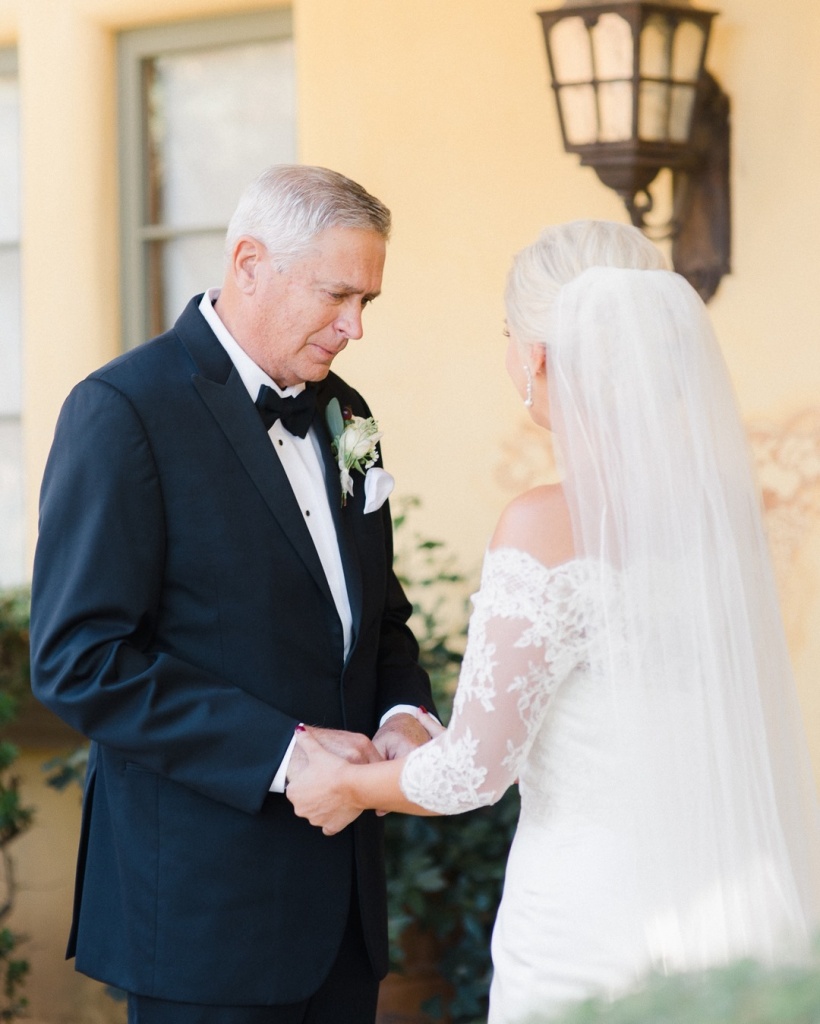 Photo by xoandfetti
An Emotional Moment
Your wedding day is an occasion when even the toughest dad lets himself totally unleash emotions and demonstrate the true love for his child, who is stepping into a new and exciting life period. The palette of feelings he experiences is difficult to explain or somehow analyze. Your dad is happy that you're marrying the man you love; however, he is also a bit embarrassed that time flies so fast, and you're no longer that little girl he took care of. So, spend some time in person with your father, give him hugs and allow this emotional moment to become your mutually important memory.
A Jaw-Dropping Occasion
Even if your dad tried to imagine your final look in a wedding dress with all the accessories and the bouquet, he couldn't think of you being so incredible. He is used to seeing you in casual  or office style outfits, but the impression of such a beautiful lady will blow his mind. Therefore, be ready for his possible genuine shock when looking at you.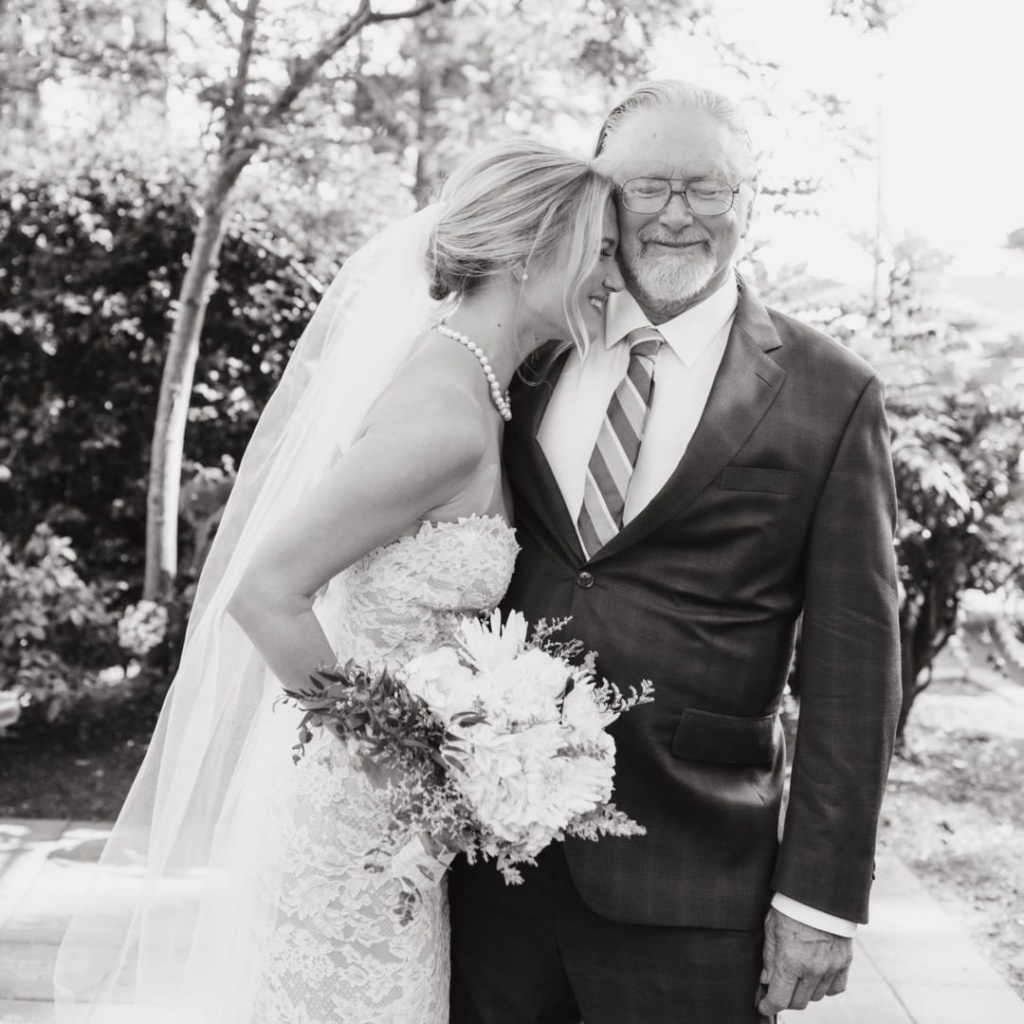 Photo by courtneybowlden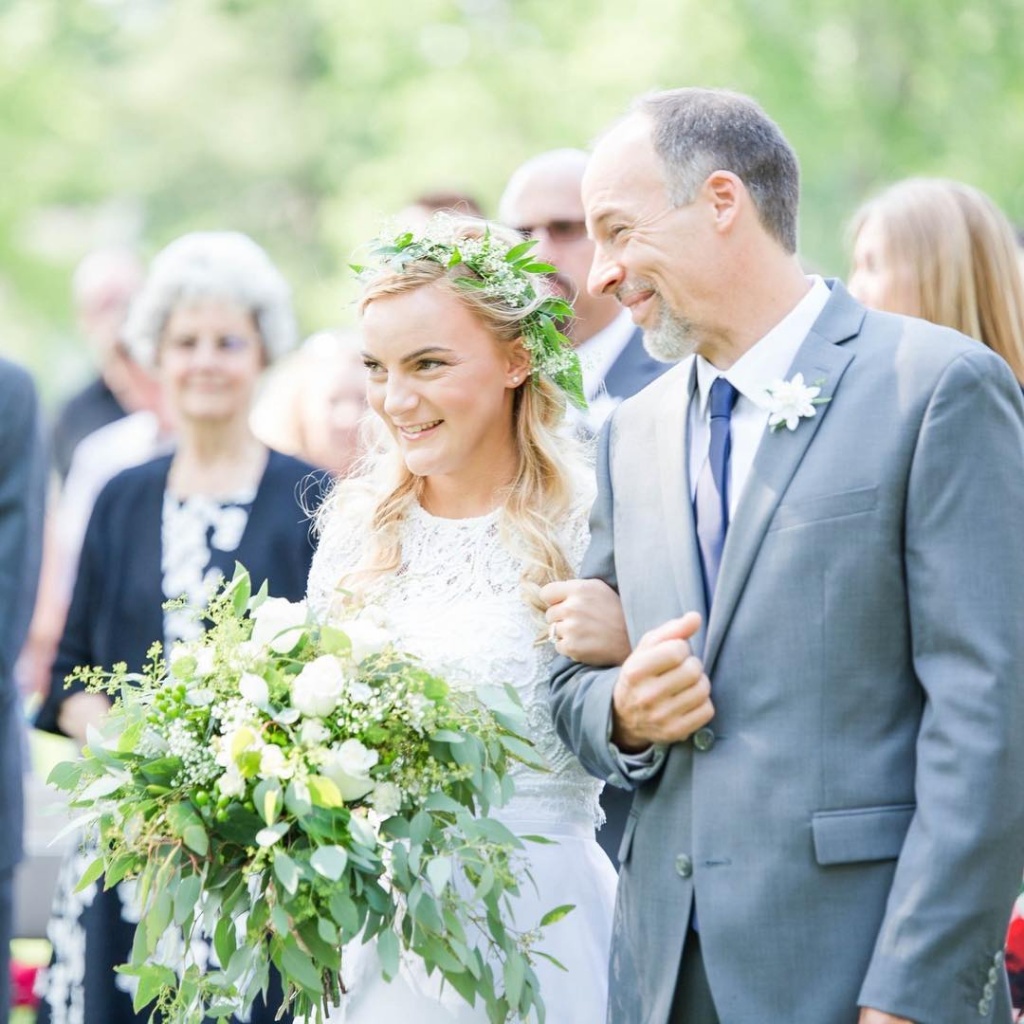 Photo by kristajeanphotography
All Smiles
Anyway, your wedding day is a joyous celebration; therefore, don't forget about taking some really nice shots of your father and you smiling and enjoying the celebration. So, right after the first look, happy tears and warm embraces, wink at your dad and ask for several family portraits that you'll keep in the wedding album. Moreover, make your dad a surprise! Just print and frame the photos and give them to him as a memorable present. No doubts, these photographs will get the best place on the shelf.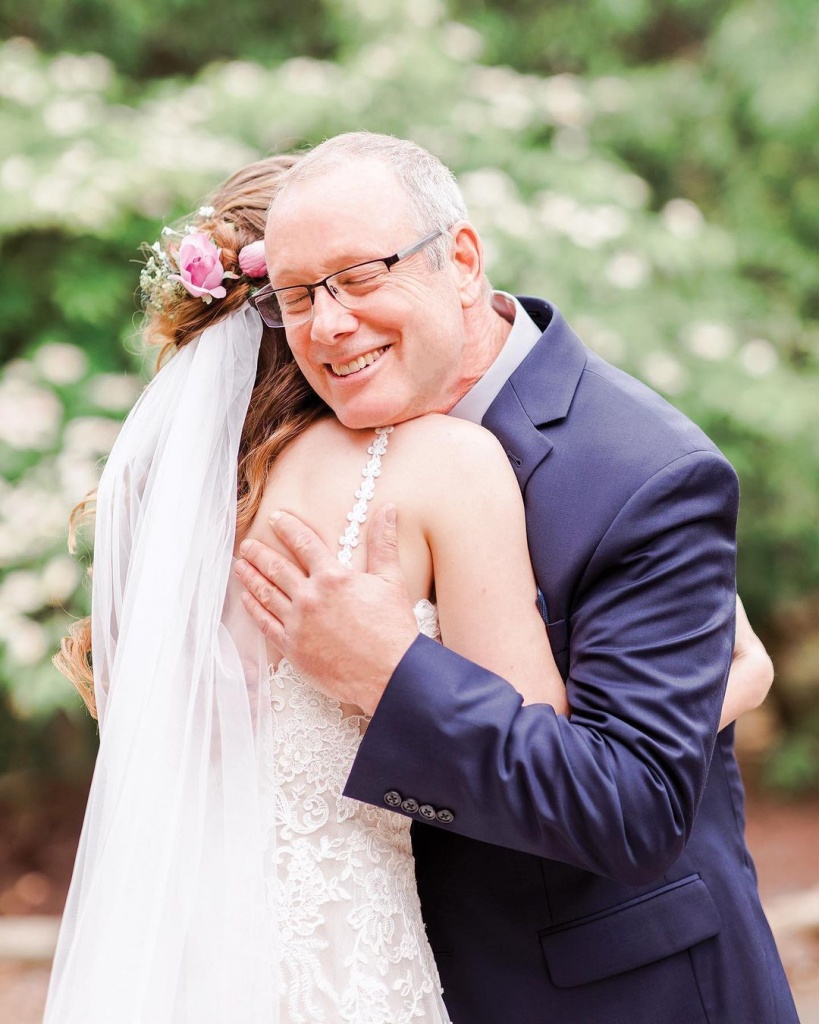 Photo by danielleambryphotography
A Sweet Father-Daughter Memory
While chatting before the wedding ceremony, remind your father of some funny stories from your childhood related to him that you still keep in mind. Ask your dad to do the same so that he could share with you these absolutely unexpected things you don't even remember. Both of you have been through numerous situations and have lots of common stories. Make this special moment be one of those.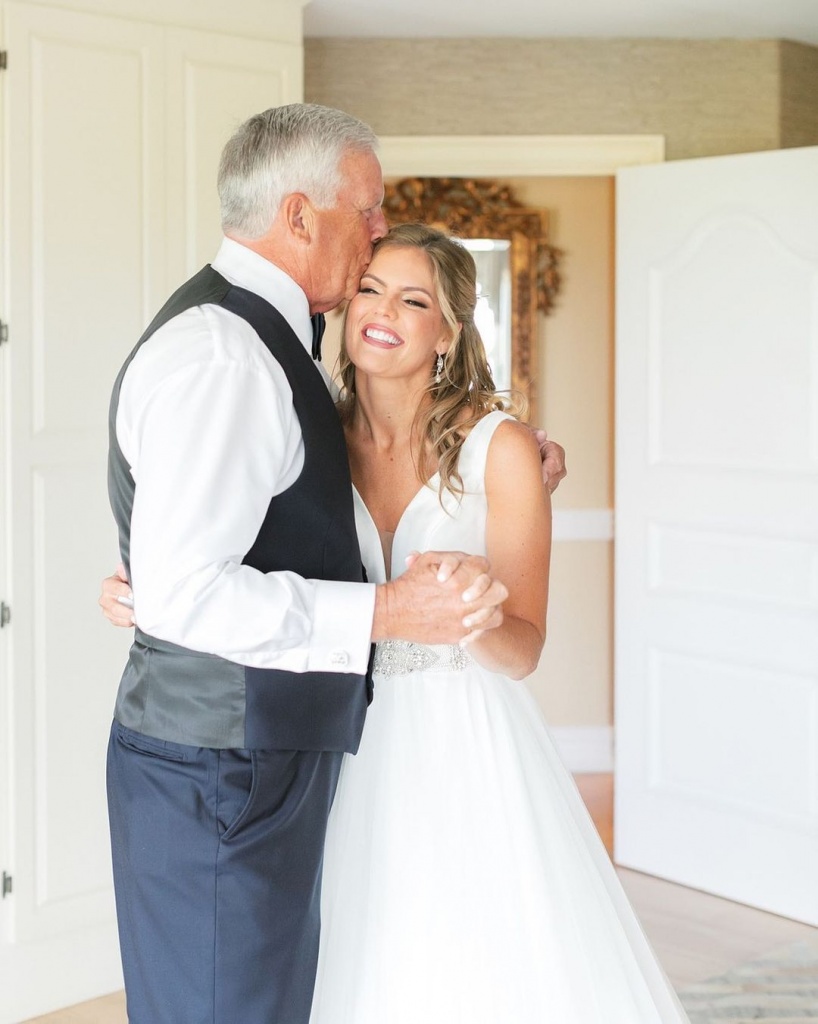 Photo by magdalenastudios
A Kiss on the Cheek
A delicate kiss on the cheek is one of the most touching ideas of the father-daughter photoshoot to bring to life. People say that a father's love for his princess is hard to explain, it pushes boundaries and breaks horizons. Only next to you, he turns into a gentle and caring parent who tenderly nourishes your relationship and is always on your side.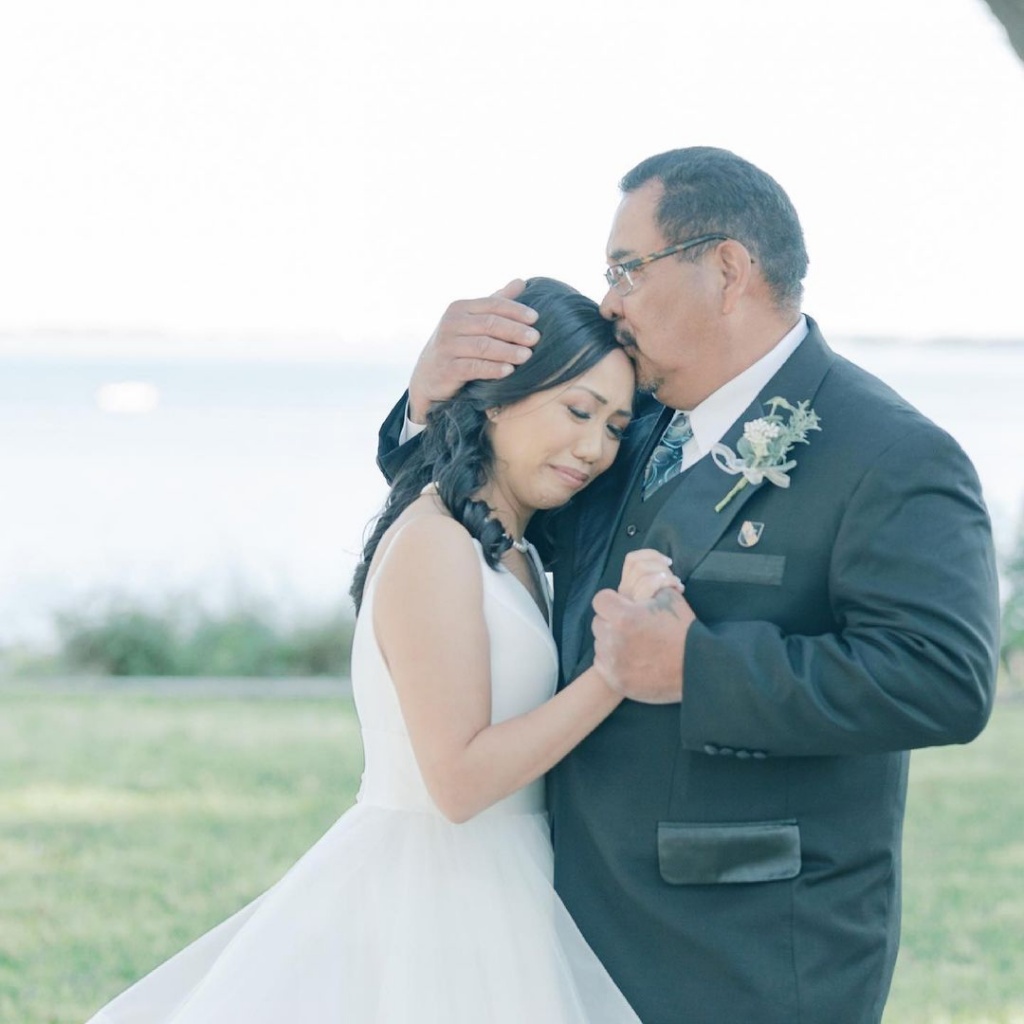 Photo by summeradamsphotography
Laughing and Crying
Such shots, where none of you can hold back the tears when seeing each other, are real favorites among brides all over the world. Looking at the photograph, you clearly understand that it's impossible to fake such strong feelings that invade a person in one second. What seems unreal will happen in your real life, on the day of your wedding. Thus, you'll be a witness of true magic happening right before your eyes.
Photo by jaylimstudio
A First Look Down the Stairs
Can you hear the heart rate of the father? He gives the impression of a loving man who is looking forward to finally seeing his splendid daughter. She touches his shoulder, he turns around and can't help but smile or cry, as he meets this incredible woman. The same goes for the bride who, once goes downstairs, can't wait to embrace her dad and listen to his comments on the outfit. Actually, this tension prolongs only till the moment they look at each other. Then it's all about love and happiness.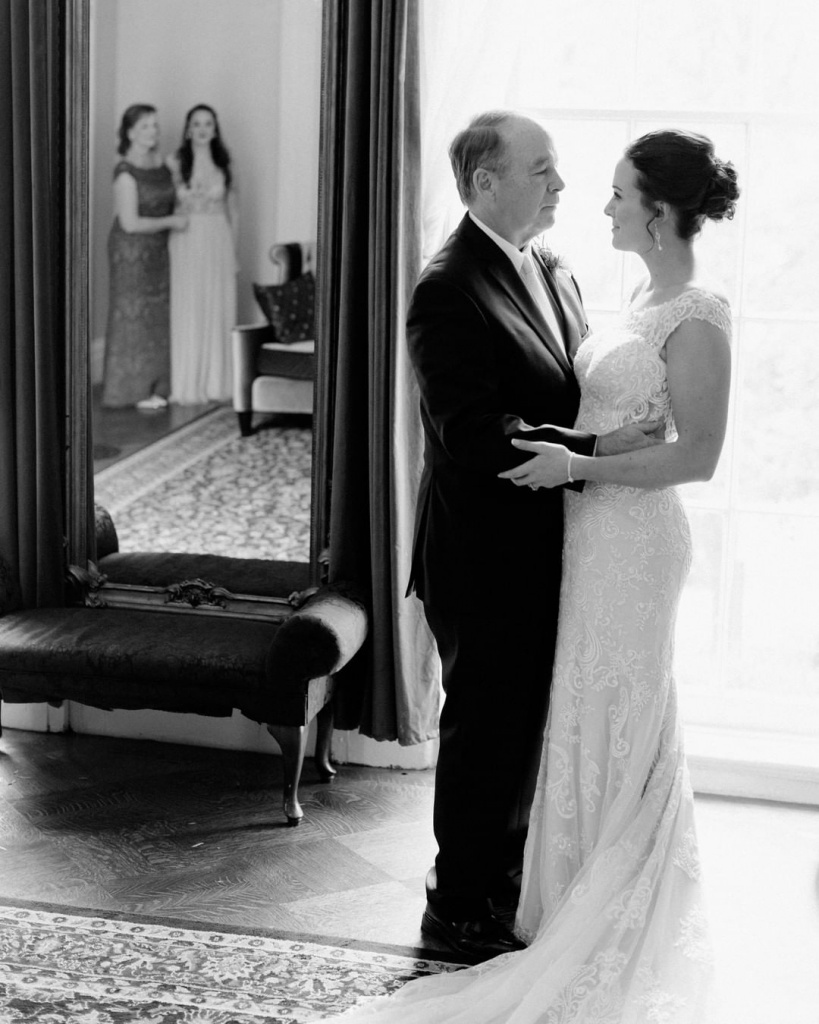 Photo by davidabel.co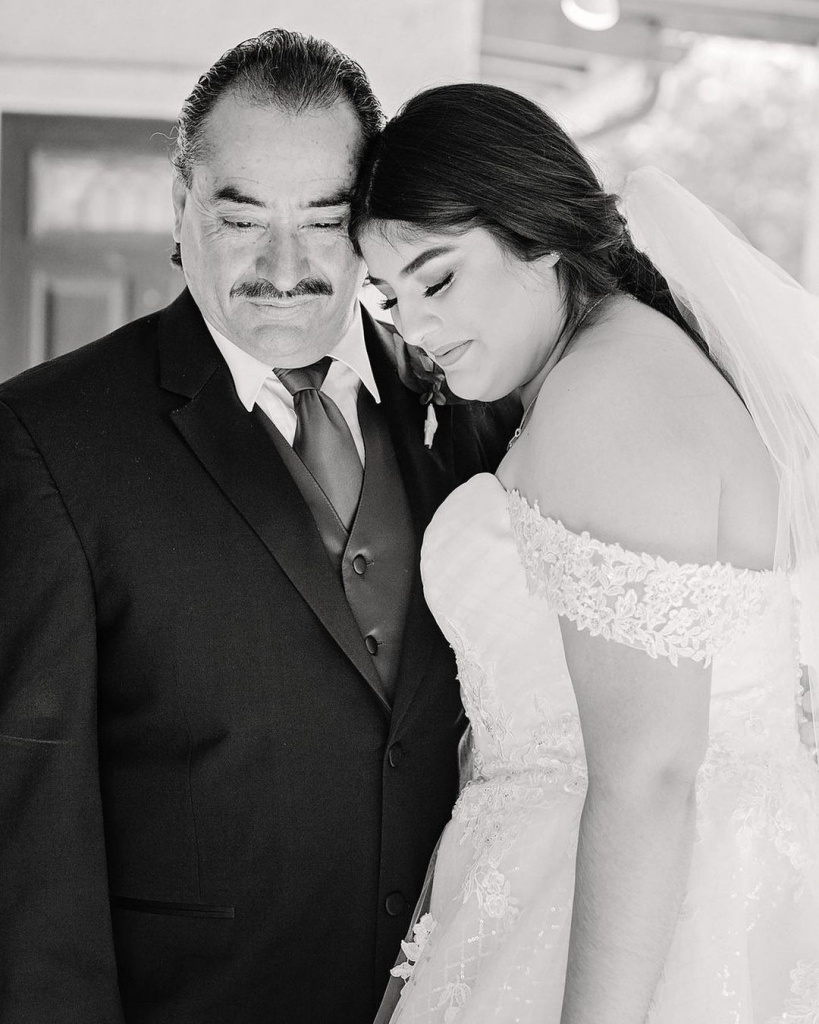 Photo by devonstoebephoto
A Hug at Home
At this very moment, while embracing your father at home, a strange feeling gives you goosebumps and tears fill your eyes. You understand that you stop being a little girl, and now you have two loving families. You'll take all the best from your parental modeling and start to create your own one. Furthermore, you are full of thankfulness and warmth for the man who showed you how the woman should be loved and respected. Now, you're holding the hand of your groom, the man who won't let you or your father down.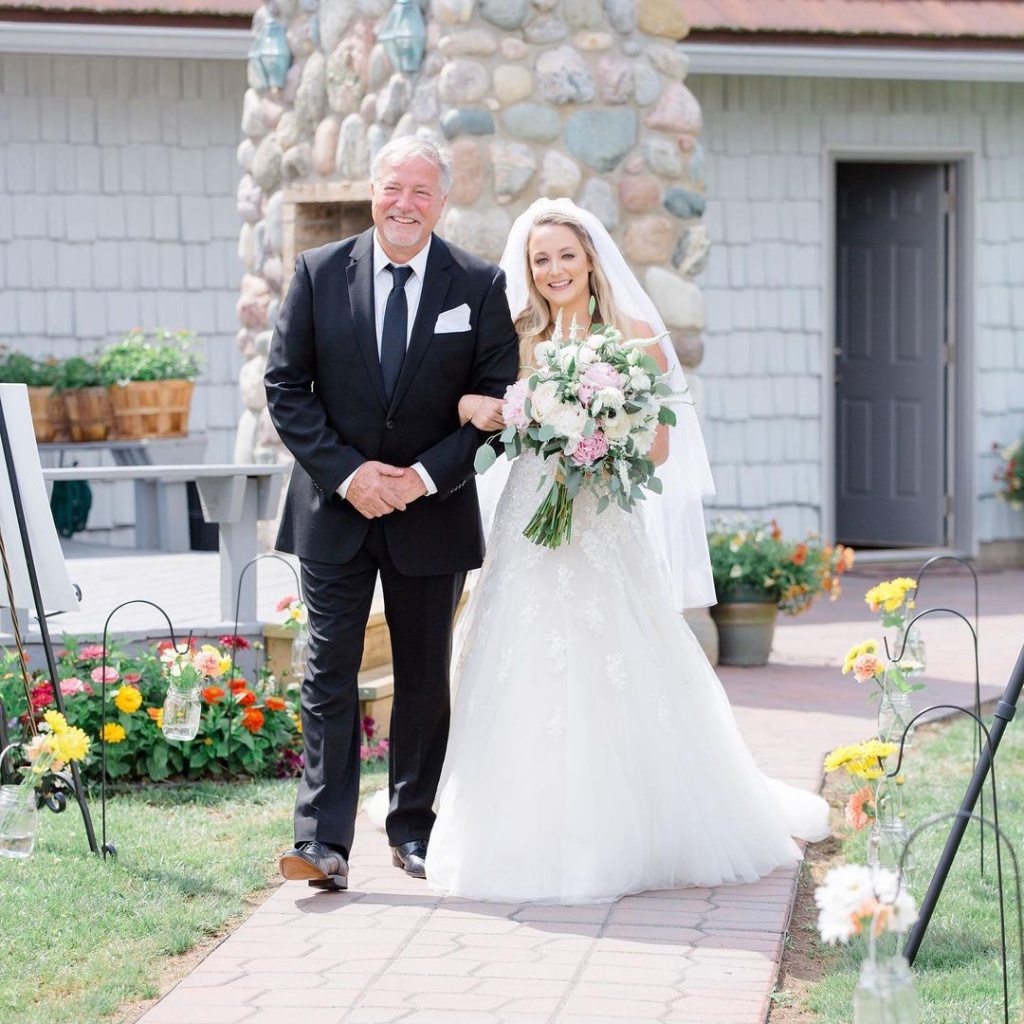 Photo by dreamboxphotography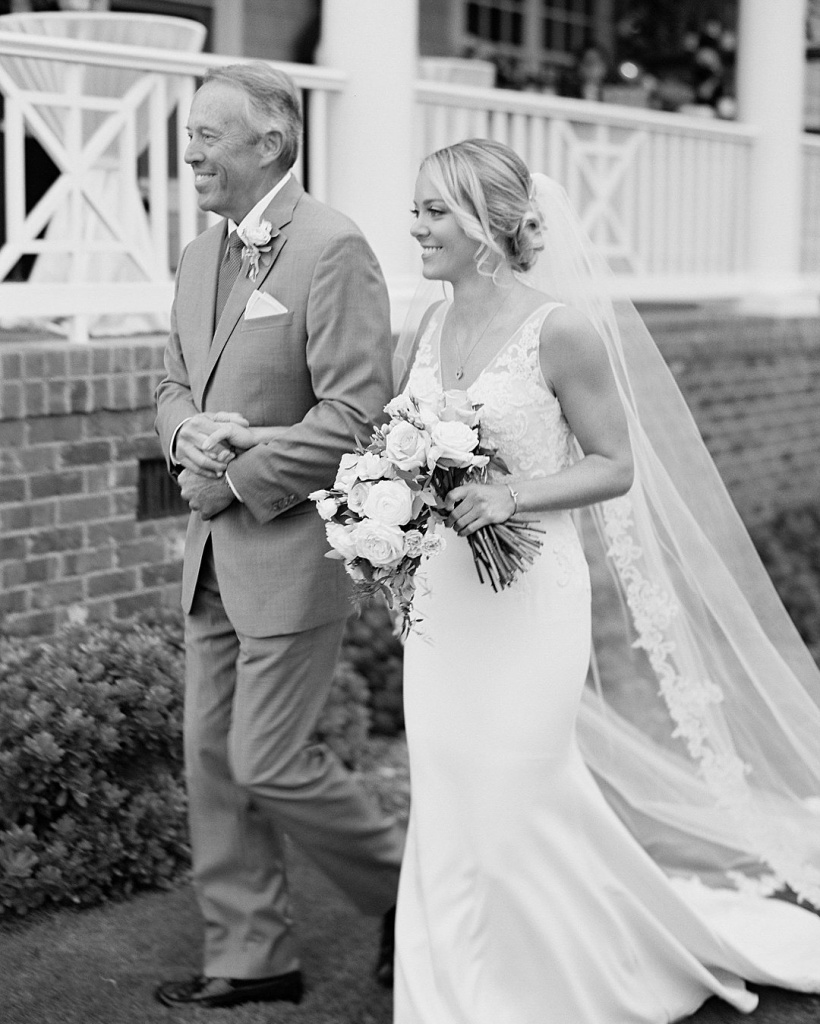 Photo by davidabel.co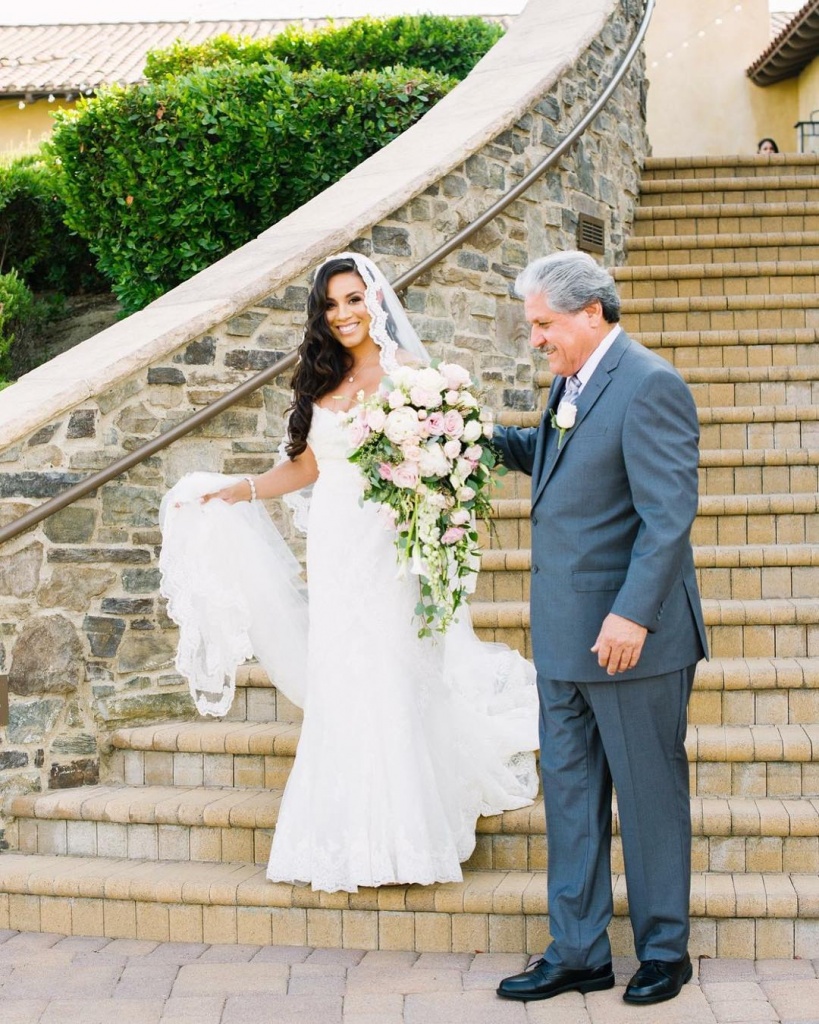 Photo by lovelylight_imagery
Making an Entrance
There's a well known tradition that a father escorts his daughter to the altar. It's not only a symbol of respect to the daughter's groom, but also a sign of devotion and support. Feeling the father's strong hand, you can relax and forget about anxiety, uncomfortable heels or the heavy dress. You're not alone in making your way down the aisle and appearing in front of the guests. Your father is right next to you to make this moment truly breathtaking.
The bride's father is a very important person on the wedding day. He has an essential mission of making an entrance with his daughter, giving the first speech during the reception as well as supporting his girl during their dance. Therefore, have your wedding photographer prepared to capture all these wonderful moments of this big day.