30 Best Places for a Wedding Photoshoot in Montreal
Publication date:

10/11/2023

Updated:

10/21/2023
So, you're gearing up to say "I do" and have cast your romantic gaze upon the splendid city of Montreal? Nice pick! Now, amidst the whirlwind of wedding planning and tasting far too many cakes, let's talk about those unforgettable wedding photos. With its perfect blend of Old World charm and contemporary chic, Montreal is a treasure trove of photography locations. So, today we've prepared for you the list of the best places in Montreal for wedding pictures! Yup, we've done our homework to bring you the most picture-worth of Montreal photography locations. Let's dive in, shall we?
Old Montreal / Montreal Old Port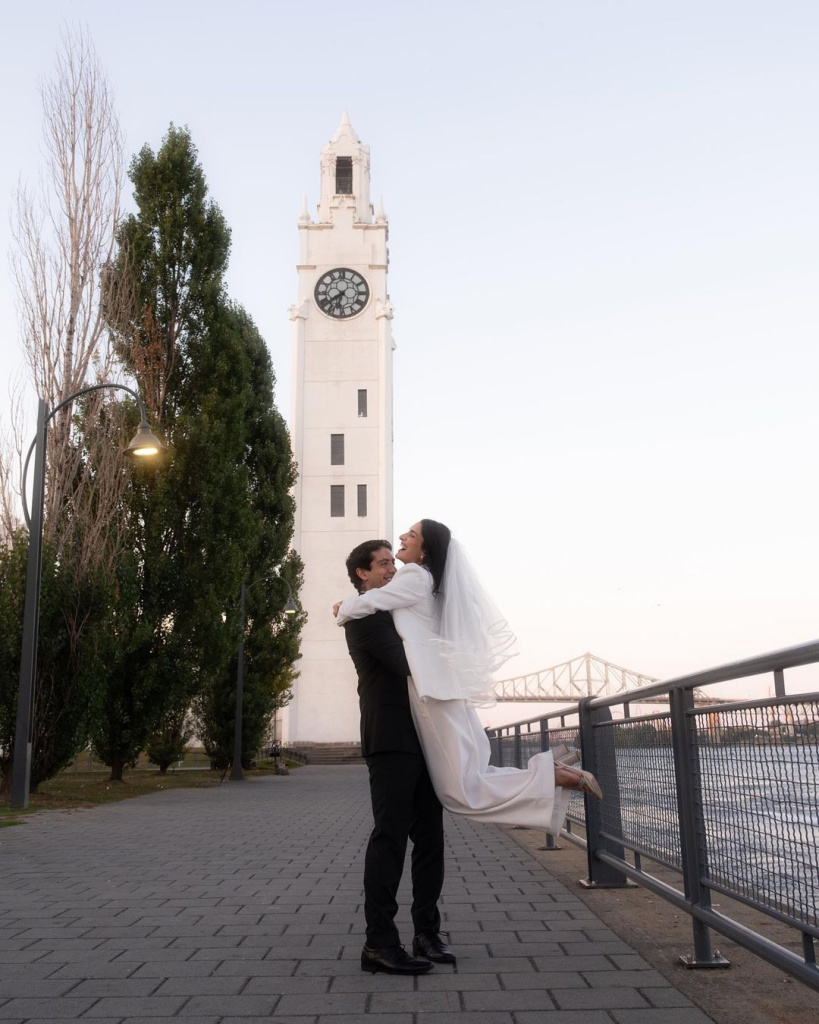 As one of the most enchanting and romantic wedding photo locations in Montreal, this place is bursting with history, charm, and European flair. The cobblestone streets whisper tales from centuries past, while the quaint architecture serves as a timeless backdrop for every love story. Every corner you turn, every alley you explore, you're bound to find a spot that looks like it was tailor-made for wedding snaps. From the serene waters of the Old Port to the buzzing terraces of Old Montreal, you're not just capturing a moment; you're capturing a piece of Montreal's heart. This place isn't just a location; it's an experience, one that adds a sprinkle of vintage magic to your photos.
Permits: Yes.
Best Time of Day: Early morning for that ethereal, soft light and fewer crowds. Late afternoon or just before sunset can also offer a golden hue that's pure magic for photos.
World Trade Centre Montréal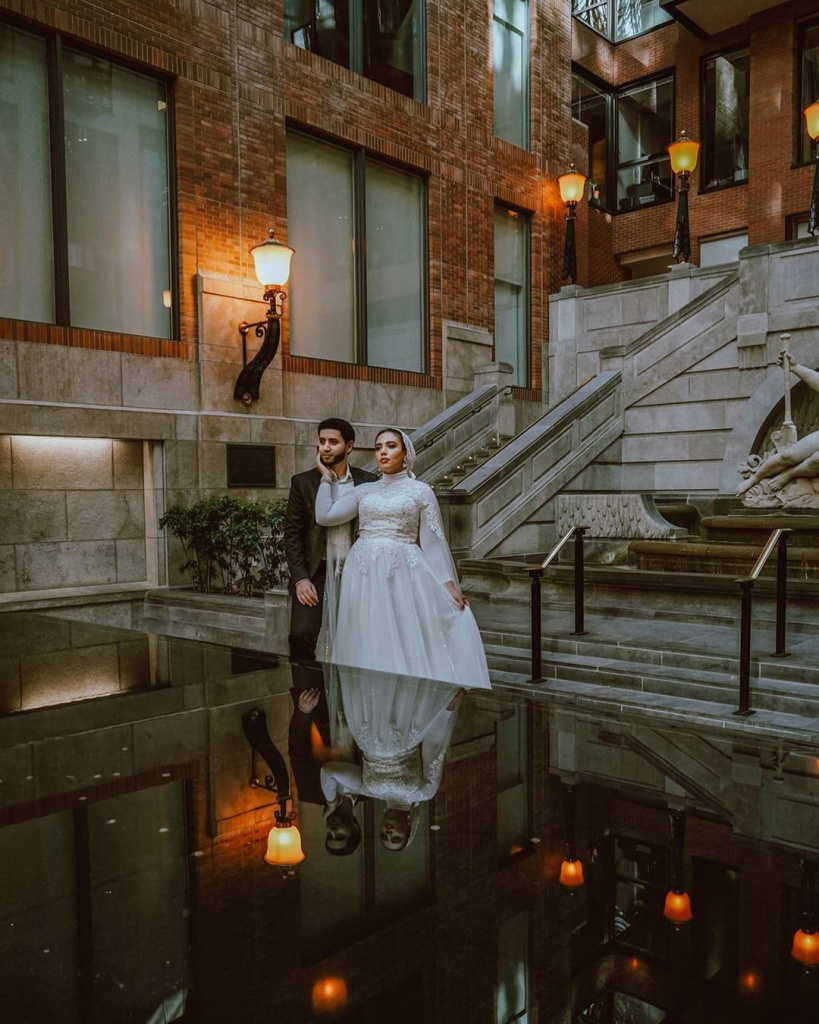 Positioned a stone's throw from the St. Lawrence River, the World Trade Centre Montréal is a harmonious blend of the city's modern pulse with its historic underpinnings, making it a prime choice for Montreal waterfront wedding photos. The grand atrium, crowned with a vast skylight, ensures the area is bathed in soft, flattering light—every photographer's aspiration. The famed "Ruelle des Fortifications", an enclosed piece of the old city wall, lends a distinguished backdrop, marrying Montreal's rich past with its vibrant present. Envision this: the juxtaposition of sleek modernity with aged stone, a blend of today's art installations with yesteryear's architectural marvels. Whether you're aiming for a chic metropolitan feel or a dash of antique charm, the World Trade Centre Montréal presents the perfect canvas.
Permits: Absolutely.
Best Time of Day: Weekdays, bright and early, when the morning light softly illuminates the atrium and before the city's heartbeat accelerates. Alternatively, the quiet of the evening post-business hours can lend a dreamy ambiance.
Oratoire Saint-Joseph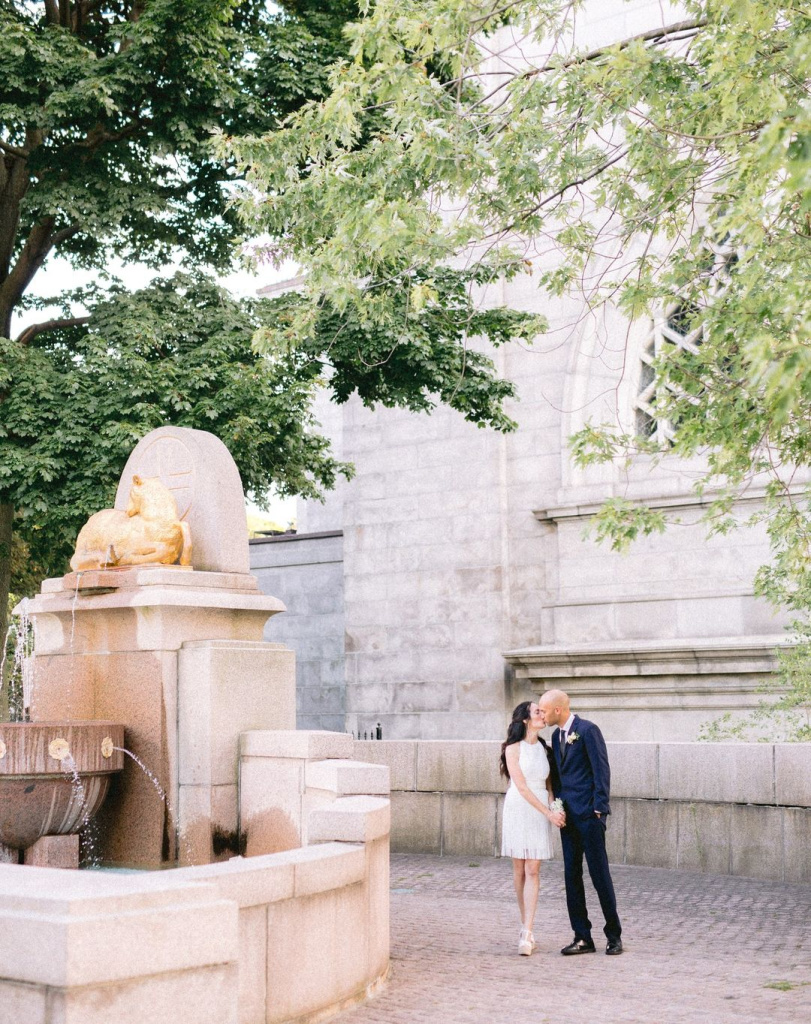 A testament to faith, architecture, and history, the Oratoire Saint-Joseph stands tall as one of the most awe-inspiring landmarks in the city. As one of the historic wedding photography spots Montreal boasts, this basilica doesn't just offer a backdrop—it offers an experience. With its grand domed roof, meticulously crafted interiors and expansive gardens, it's a place where every frame tells a story. The sweeping staircases outside lead to panoramic views of the city, offering both urban vistas and a touch of greenery. Meanwhile, inside, the soft play of light through the stained-glass windows can make for some ethereal, once-in-a-lifetime shots. Whether you wish to encapsulate a divine, celestial aura or simply take advantage of the monumental architecture, the Oratoire Saint-Joseph promises pictures that resonate with emotion and grandeur.
Permits: Yes.
Best Time of Day: Mid-mornings during weekdays are ideal. For those looking for an outdoor shot, late afternoons can cast a beautiful golden glow over the basilica's stone façade.
Botanical Gardens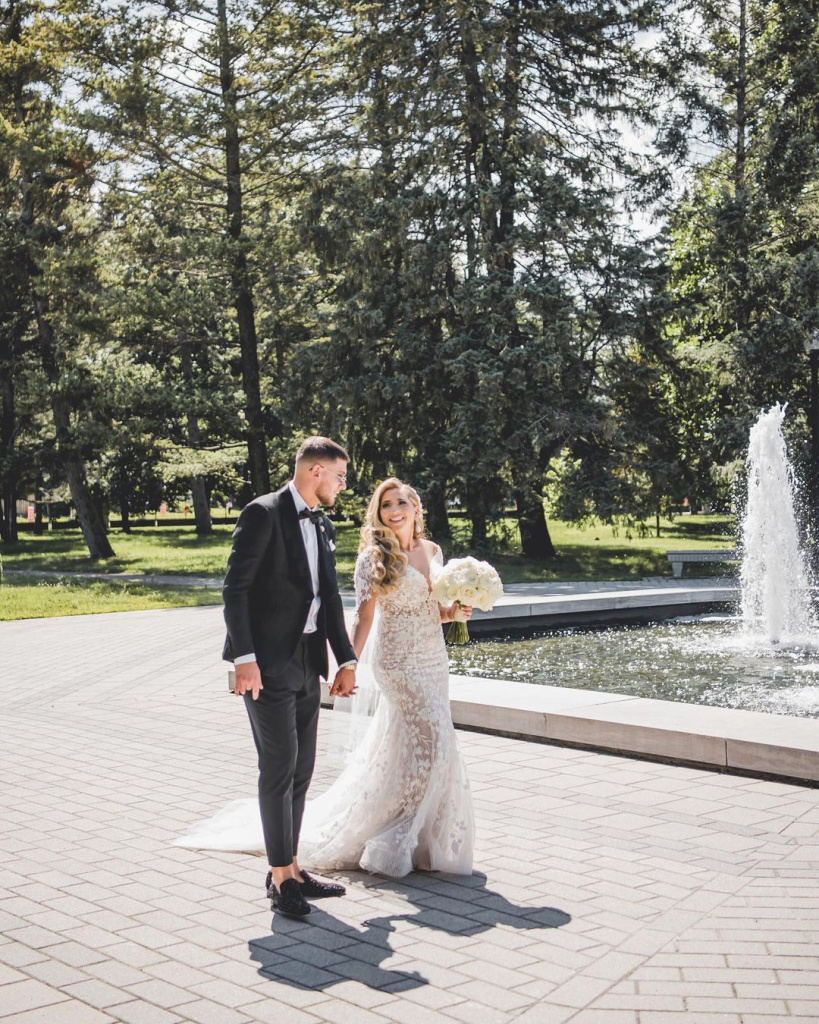 When we talk about lush green spaces, mesmerizing flora, and dreamlike landscapes, the Botanical Gardens undoubtedly tops the list of gardens for wedding photography in Montreal. Envision walking hand in hand amidst colorful blooms, with every pathway offering a new, vibrant backdrop. The gardens flaunt a diverse range of plants, from the exquisite bonsais of the Japanese Garden to the towering cacti of the Arid Zones. Cascading waterfalls, serene ponds, and meticulously manicured topiaries provide a myriad of settings that can cater to classic, whimsical, or even avant-garde wedding themes. It's nature's own studio, waiting to frame your love story in its most authentic and vivid form.
Permits: Yes.
Best Time of Day: Early morning, as the sun rises. Alternatively, late afternoon can capture the gardens bathed in a warm, golden hue. Avoid weekends if possible.
Marie-Reine du Monde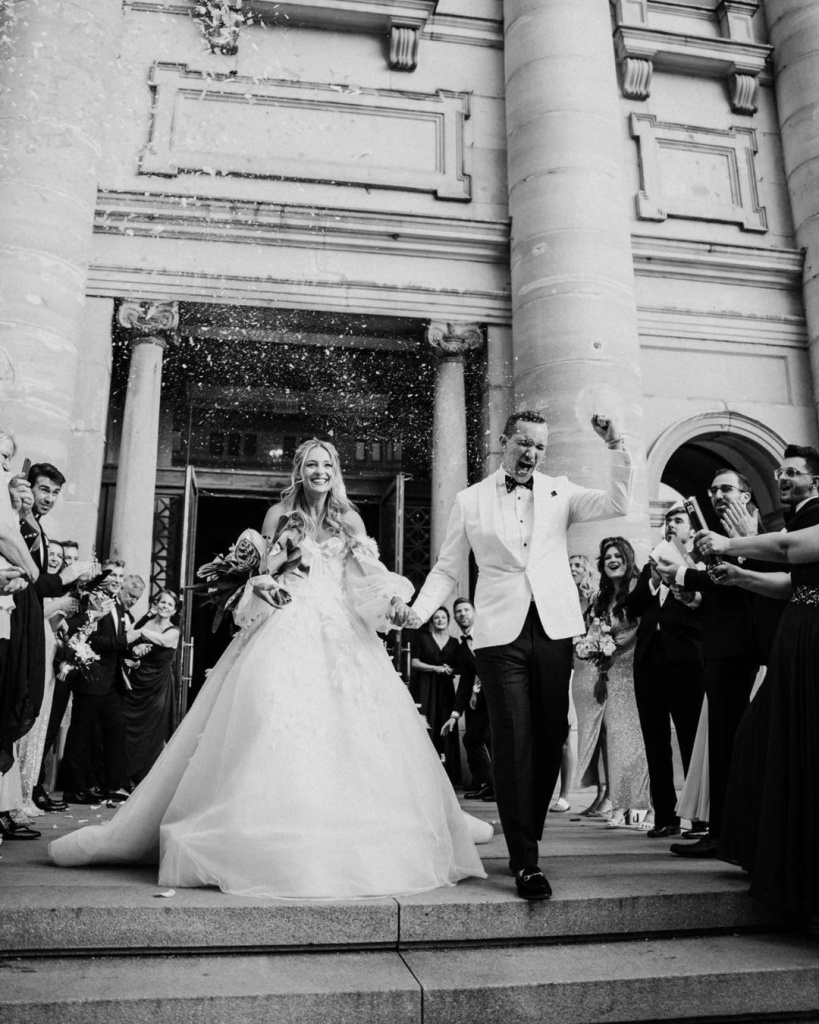 Gazing upon the impressive façade of Marie-Reine du Monde, it's evident why this cathedral is among the most sought-after Montreal wedding photoshoot locations. This magnificent basilica, a true architectural gem, blends the solemnity of spiritual sanctuaries with the grandeur fitting of a royal palace. Its towering spires reach for the heavens, while inside, the opulent interiors — from ornate altars to awe-inspiring frescoes — create a backdrop that exudes elegance and reverence. The sprawling grounds and the intricately designed exterior also provide ample opportunities for diverse shots.
Permits: Yes.
Best Time of Day: For indoor shots, mid-morning ensures the sunlight filters beautifully through the stained-glass windows. If you're aiming for outdoor snaps, the late afternoon provides a rich, golden hue against the cathedral's magnificent stonework.
Murals
If you're looking to infuse a vibrant, artistic flair into your wedding pictures, then Montreal's eclectic murals are your perfect backdrop. Dotted around the city, these murals are living testaments to Montreal's thriving art and culture scene. Each piece, ranging from abstract splashes to detailed portraits, tells a story, adding layers of depth, texture, and color to your photos. As dynamic embodiments of Montreal art and culture, wedding photos against these murals don't just capture a couple's love but also the very spirit of the city. From bustling boulevards to quiet alleyways, you'll find art pieces that resonate with your unique love story, making every shot a vivid tapestry of memories.
Permits: No.
Best Time of Day: Early morning offers soft lighting and fewer pedestrians.
Mile-end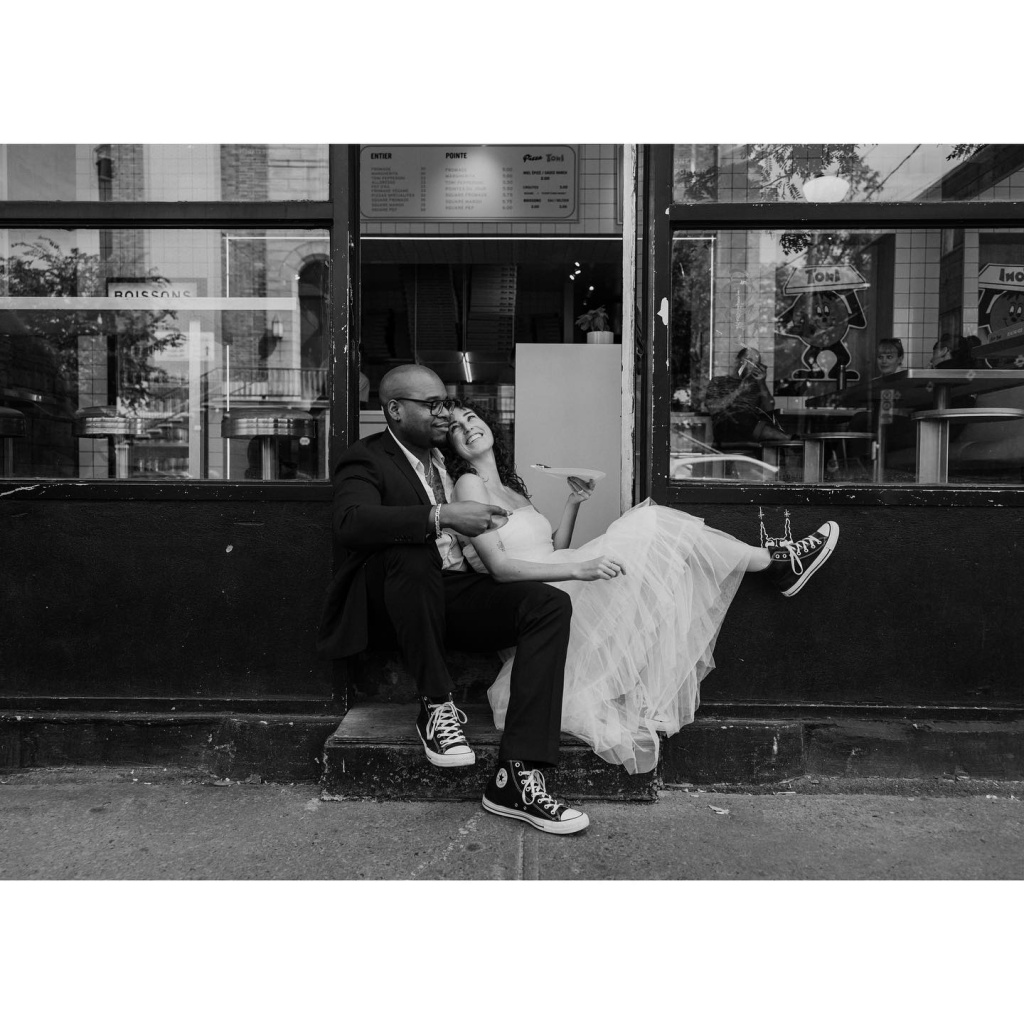 Stepping into Mile-end is like diving into the pages of a beautifully penned love story. With its artsy vibe, historic architecture, and lively streets, it ranks high on the list of best Montreal photography locations. Mile-end marries the old-world charm of cobblestone streets with the modern buzz of indie boutiques, hipster cafes, and colorful murals. Whether it's a candid shot outside a vintage vinyl store, a romantic moment under the tree-lined avenues, or a fun pose by a street musician, Mile-end provides a plethora of backdrops that reflect Montreal's diverse spirit. This eclectic neighborhood ensures each shot is infused with character, ambiance, and authenticity.
Permits: No.
Best Time of Day: Early mornings when the streets are quieter, and the light is soft. For a more dynamic vibe opt for late afternoons or early evenings.
La Ronde Amusement Park
Imagine capturing your love amidst the whirl and thrill of rides, cotton candy stands, and sparkling Ferris wheels. La Ronde Amusement Park, with its vivacious energy and panoramic skyline views, brings a delightful twist to Montreal's urban wedding photography. This isn't just about an urban landscape; it's about weaving fun, spontaneity, and a dash of nostalgia into your wedding album. From romantic shots aboard the carousel to playful poses with the park's vibrant attractions as a backdrop, La Ronde offers a dynamic setting that's as unpredictable and exciting as love itself.
Permits: Yes.
Best Time of Day: Early morning before the park gates open to the public is your best bet. 
Griffin Town / Atwater Market
Welcome to Griffin Town and the renowned Atwater Market, where Montreal's rich heritage merges seamlessly with its modern heartbeat. As one of the city's historic neighborhoods, Griffin Town exudes an old-school charm, with its brick-clad buildings and quaint streets. Atwater Market bustles with vibrant stalls, fresh produce, and the gentle hum of daily commerce. This delightful combination of the rustic and the contemporary is what makes this area one of the favorite Montreal wedding shoot locations. Imagine capturing candid moments amidst the bustling market lanes, or sharing a quiet, romantic gaze by the Lachine Canal that graces the area. The myriad textures, colors, and atmospheres on offer here provide endless possibilities to immortalize your love story.
Permits: For public spaces in Griffin Town, permits usually aren't required. However, Atwater Market might have specific guidelines.
Best Time of Day: Aim for mid-morning during weekdays for the perfect balance of ambient light and a less crowded setting.
Mont-Royal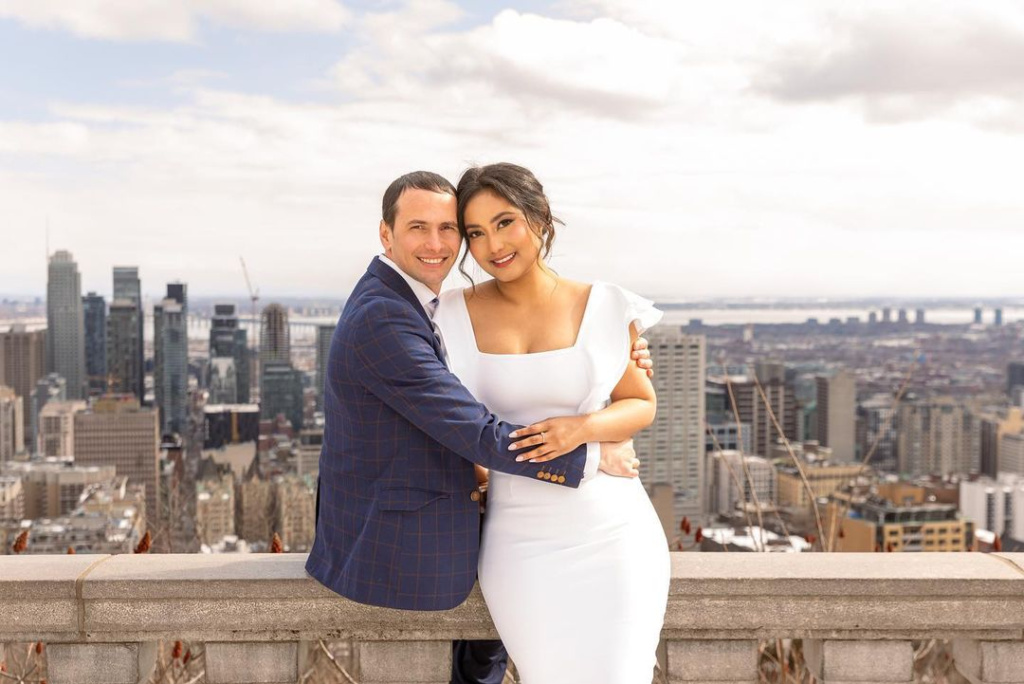 Elevate your wedding photos, both literally and figuratively, atop Mont-Royal, one of the most scenic wedding photo spots in Montreal. Often referred to as the city's lungs, Mont-Royal transcends being just a hill; it stands as a cherished urban oasis. With its sprawling green landscapes, meandering pathways, and breathtaking views, this locale is a dream for every couple seeking a picturesque photoshoot backdrop. Here, atop the city's zenith, you're presented with views that encapsulate the essence of Montreal. From the glinting skyscrapers forming the skyline to the serpentine flow of the St. Lawrence River, every glance offers a fresh, beautiful frame for your love story. And for those moments that call for a more intimate setting, the park's calm woods and serene lakesides await, ready to capture the whispers and giggles of shared moments.
Permits: No.
Best Time of Day: For shots overlooking the city, sunrise or sunset provides unparalleled lighting, casting a dreamy glow over Montreal's skyline.
Terrasse Nelligan
Situated in the heart of the city, Terrasse Nelligan is a luxurious escape that marries Montreal's urban pulse with an elevated serenity. Offering panoramic views of the cityscape, from the winding river to iconic landmarks, it's a premium spot for a Montreal rooftop wedding photoshoot. The chic ambiance of Terrasse Nelligan, combined with its fairy-lit setting and open sky, creates an ethereal setting. Imagine capturing your wedding moments against the backdrop of a sunset-painted skyline or under a canopy of stars, with the city lights twinkling below. It's romance, sophistication, and a dash of urban glamour all rolled into one.
Permits: Yes.
Best Time of Day: Sunset is an absolute gem of a moment here, offering a warm, golden palette against the city's silhouette.
Maisonneuve Park
Hidden away from the bustling city streets, Maisonneuve Park offers couples a serene escape that's perfect for a nature wedding photoshoot in Montreal. With its sprawling green meadows, charming duck-filled ponds, and dappled woodland trails, this park is a verdant paradise waiting to frame your love story. The changing seasons bring with them a mosaic of colors, from the pastel blossoms of spring to the fiery hues of autumn, ensuring a vivid, ever-changing backdrop. The harmonious blend of natural landscapes with crafted features, like ornate fountains and manicured flowerbeds, offers both rustic and refined settings for your shoot.
Permits: No.
Best Time of Day: Early morning.
Centre de la Nature in Laval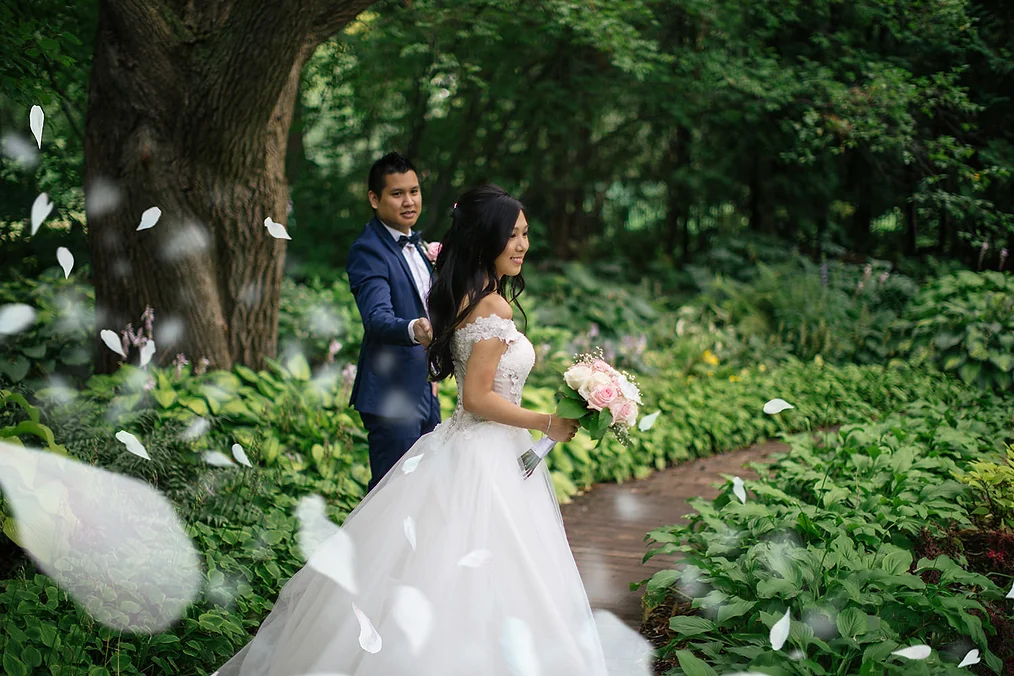 Just a short drive from Montreal, the Centre de la Nature in Laval stands out as one of the prime Montreal wedding photography venues. Unfurling across vast acres, this sanctuary of greenery, water, and wildlife is a treasure trove for photographers and lovebirds alike. From serene lakes that mirror the ever-shifting sky to gardens meticulously curated with seasonal blooms, every corner tells a story. Rustic bridges arching over peaceful waters, meandering paths that invite whispered secrets, and the sporadic dance of birds overhead create an ambiance that's both tranquil and captivating.
Permits: Yes.
Best Time of Day: The early morning or the late afternoon.
Montreal Olympic Stadium
A beacon of Montreal's skyline, the Montreal Olympic Stadium stands as a marvel of modern architecture and one of the best wedding photo spots in Montreal. Its sweeping curves, the towering inclined tower, and the vast esplanades combine to offer a backdrop that's both grand and unmistakably Montreal. This colossal structure, with its interplay of shadows and light, offers endless angles and perspectives, making each photo distinct and dramatic. Whether you're aiming for a wide-angle shot that captures the stadium's sheer magnificence or a close-up that showcases its intricate design nuances, this venue adds an avant-garde twist to traditional wedding captures.
Permits: Yes.
Best Time of Day: Early mornings provide a serene setting with softer lighting, while late afternoons cast a golden hue against the stadium's concrete and steel.
Habitat 67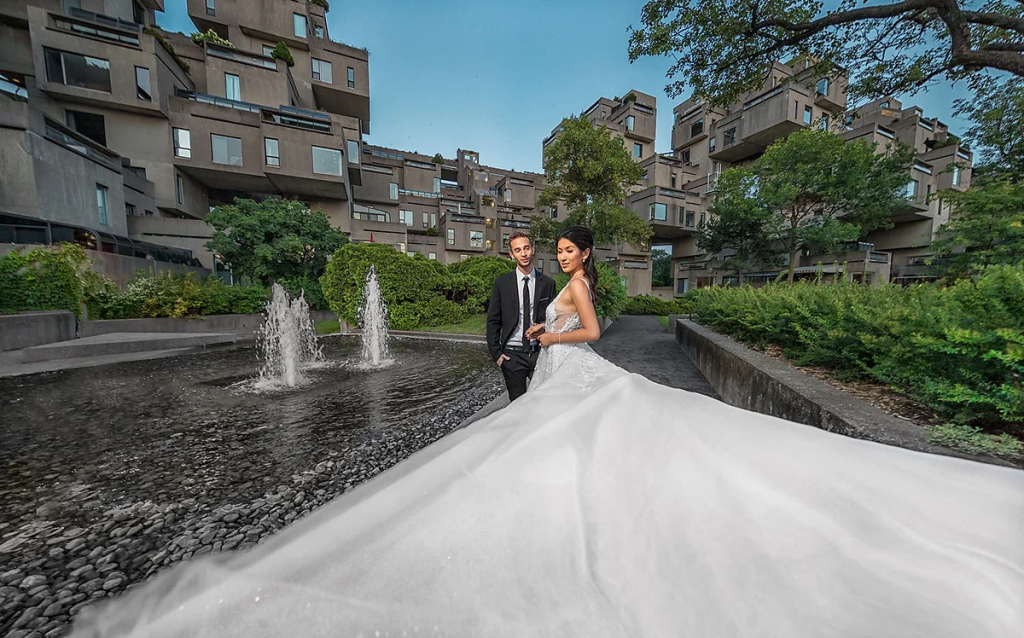 Nestled along the banks of the St. Lawrence River, Habitat 67 stands as an architectural icon, a testament to innovative design. Crafted by architect Moshe Safdie for Expo 67, this labyrinth of interlocking cubes is nothing short of a visual spectacle. But it's not just about the building's intricate design; its strategic location offers stunning views of the Montreal skyline. Imagine capturing your love story with the majestic cityscape as your backdrop — the skyscrapers, the glinting river, and the ambient city lights blending harmoniously with Habitat 67's avant-garde charm. For couples seeking a blend of modernity, uniqueness, and a panoramic touch to their memories, this spot ranks high for Montreal skyline wedding photos.
Permits: Yes.
Best Time of Day: Dawn or dusk.
Montreal Biosphere
Perched on Saint Helen's Island, the Montreal Biosphere stands as an embodiment of futuristic design amidst natural splendor. Originally crafted as the United States pavilion for Expo 67, this geodesic dome, with its intricate web of triangles and circles, offers an unparalleled setting for couples seeking something out of the ordinary. The interplay of light and shadow within its structure, combined with the lush green surroundings and views of the city, ensures every shot is as unique as the love story it captures. If you're on the hunt for truly unique locations in Montreal for wedding photos, the Biosphere promises a blend of innovation, nature, and urban sophistication that's hard to match.
Permits: Yes.
Best Time of Day: Early morning, late afternoon, or early evening.
Montreal Casino
Situated on the Notre Dame Island, the Montreal Casino is a convergence of grandeur, elegance, and electrifying energy. Recognized as one of the top Montreal wedding photography spots, this venue seamlessly blends the allure of its glittering interiors with the dramatic play of lights and shadows. Think grand staircases beckoning for a regal descent, luxurious lounges that speak of timeless romance, and vast windows offering glimpses of the city's heartbeat. The luminous fountains and neon reverie of the casino rooms provide a setting that's both opulent and intimate, turning every click into a frame-worthy masterpiece.
Permits: Yes.
Best Time of Day: Late afternoon or early evening.
Lavender Fields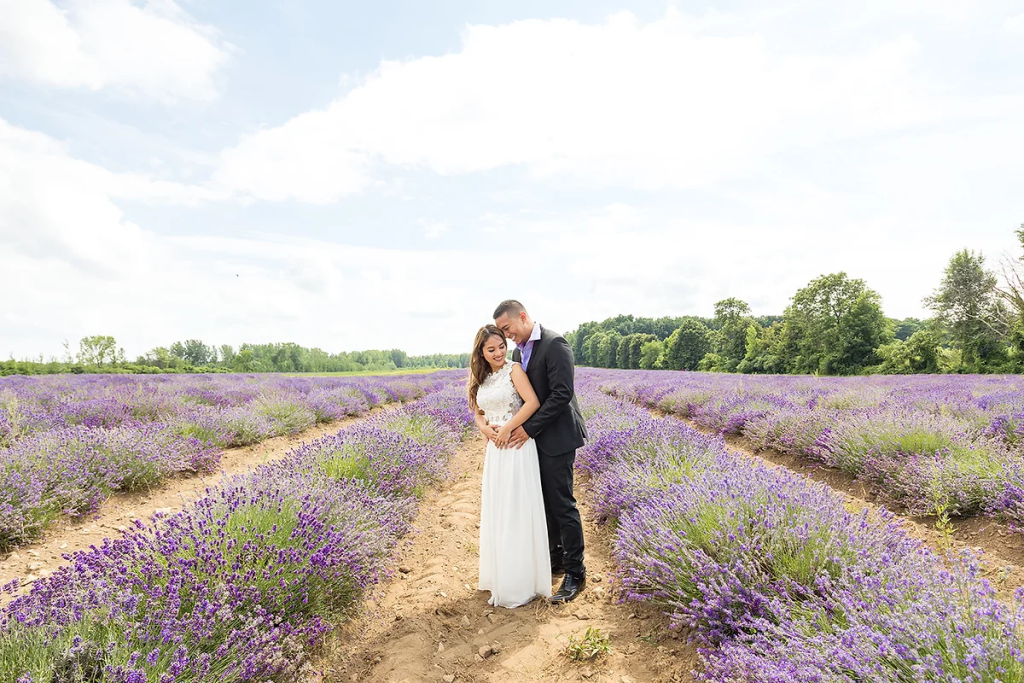 As one of the most mesmerizing Montreal photoshoot locations, these fields paint a canvas of deep purples and soft lavenders under the vast blue sky, creating an ambiance that feels straight out of a fairy tale. The rhythmic sway of the lavender against a gentle breeze, combined with the sun's play on these floral carpets, offers a myriad of photo opportunities.
Permits: Permits are often required, especially during peak bloom season.
Best Time of Day: Early morning, when the dew still clings to the lavender petals. Late afternoon or early evening during the golden hour is picture-perfect, as well.
Montreal Tremblant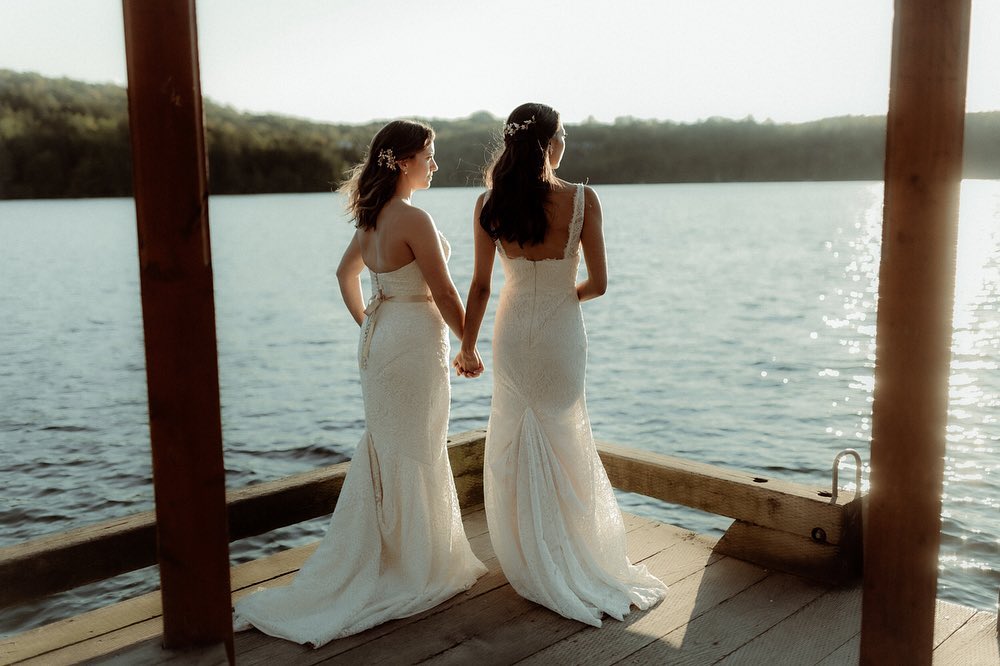 Towering over the landscape, this majestic mountain, coupled with the vibrant village at its base, stands proudly as one of the premier wedding picture locations in Montreal. Throughout the year, Tremblant transforms – from snow-covered peaks that glisten under the winter sun to verdant slopes in summer, ablaze with fall's fiery colors or adorned with spring's fresh blooms. The panoramic views from the mountain's summit provide a breathtaking backdrop, making every photo feel like a scene from an epic love story. Down in the village, charming cobblestone pathways, rustic chalets, and lively squares offer a contrasting, yet equally captivating, setting.
Permits: May be required.
Best Time of Day: Sunrise is particularly beautiful when viewed from the mountain's summit. If you're capturing the vibrant hues of the village or the mountain's natural beauty, the golden hour is best.
In case any of the above-mentioned locations stole your heart, mind checking out these absolutely unique wedding photography locations in Montreal:
Parc Jean-Drapeau
Bonsecours Market
Saint-Louis Square
Lachine Canal
Mount Royal Cemetery (Sounds spooky, but it's truly gorgeous!)
The Montreal Museum of Fine Arts
Ruelle Verte
Place des Festivals
McGill University Campus
Westmount Conservatory