Best Places for a Destination Wedding in the Caribbean
Publication date:

10/10/2023

Updated:

10/13/2023
Let's be real, there's an undeniable charm to the Caribbean. Whenever someone brings up paradisal Caribbean destination wedding locations, thoughts of golden horizons, beachy footprints, and exotic drinks come to life. Imagining these idyllic Caribbean wedding spots isn't reserved for the dreamers; it's for all who envision a heartfelt "I do" set against breathtaking vistas. Whether this dream ignited from an old travel brochure or is a newfound fascination, you've discovered the right guide. Believe us, these Caribbean destination wedding locations are straight out of fairytales.
Barbados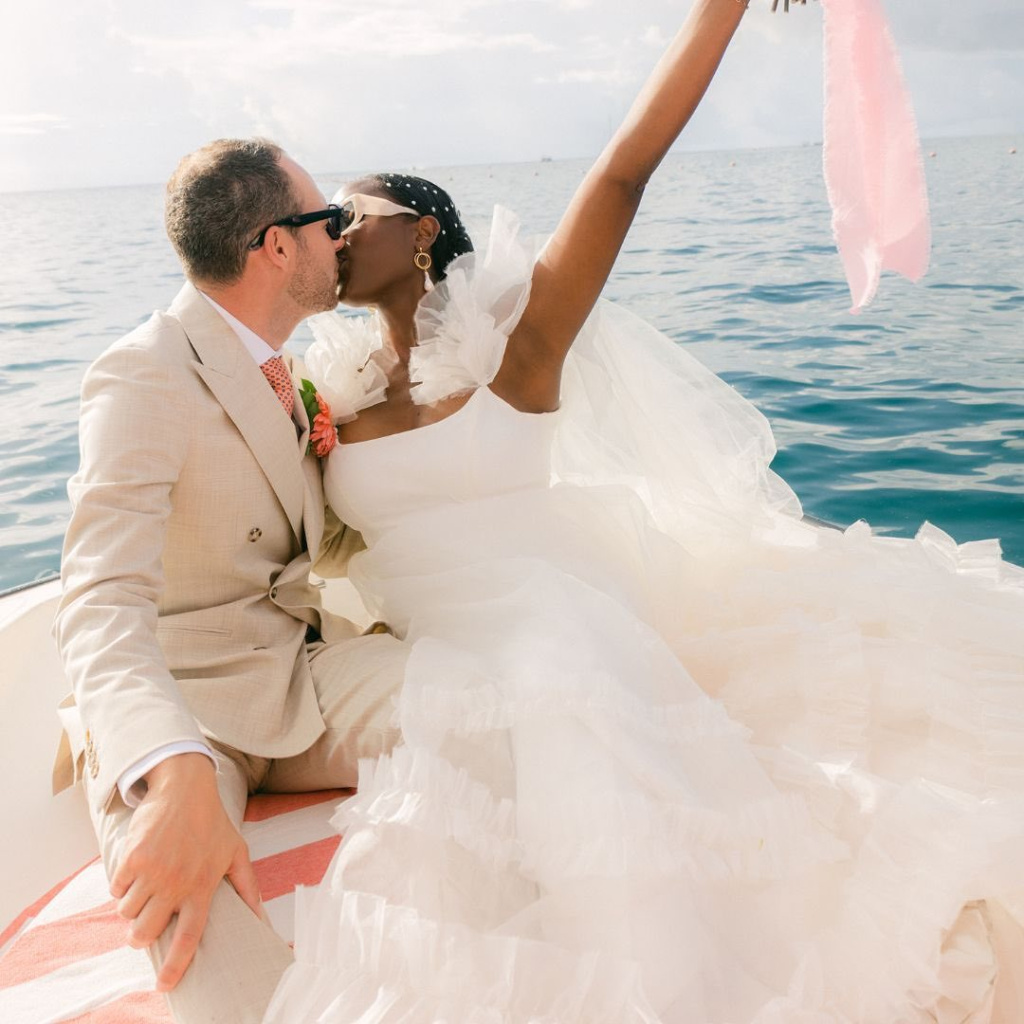 Exploring Barbados for the big day? Barbados consistently ranks among the best Caribbean islands for weddings. Now the island features premier wedding resorts that are hard to match. The luxurious Sandy Lane on the renowned Platinum Coast exudes magnificence, while the Crane Resort offers awe-inspiring panoramic views. If you're drawn to a blend of history and seaside luxury, the venerable St. Nicholas Abbey might just be your ideal venue. Imagine exchanging vows in a historic 17th-century mansion, with the soothing sounds of the ocean nearby!
Beyond beautiful venues, Barbados introduces unique ways to celebrate. Ever thought of saying "I do" beneath the waves in a submarine? Or, for cricket lovers, what about a special ceremony at the iconic Kensington Oval, complete with cricket-themed festivities?
Plus, Barbados isn't just about places; it's about experiences. Fancy a rum-tasting event? Share the island's cherished drink with your guests after the ceremony. If you're looking for local flair, incorporate calypso music and dance, letting Barbadian artists infuse your celebration with genuine island vibes.
St. Kitts and Nevis
Envision a serene corner of the Caribbean where nature's splendor meets romantic whimsy. That's St. Kitts and Nevis for you, twin islands embodying the essence of passion and charm, emerging as the best places to elope in the Caribbean.
Bathed in the gentle embrace of the Caribbean Sea, these islands invite couples with their harmonious balance of peace and breathtaking beauty. Think beyond traditional wedding settings, and picture a ceremony set against verdant sugarcane fields or tranquil shores, where the rhythmic lull of waves becomes the soundtrack to your commitment. The sugarcane landscapes offer more than just visual appeal; they serve as symbolic backdrops for couples seeking moments of profound connection.
Steeped in culture and heritage, landmarks like the Brimstone Hill Fortress in St. Kitts add an extra layer of historical allure to wedding ceremonies. For those in pursuit of genuine romance and scenic charm, the quest ends at St. Kitts and Nevis. Step into a romance narrative that future generations will recount with admiration.
Jamaica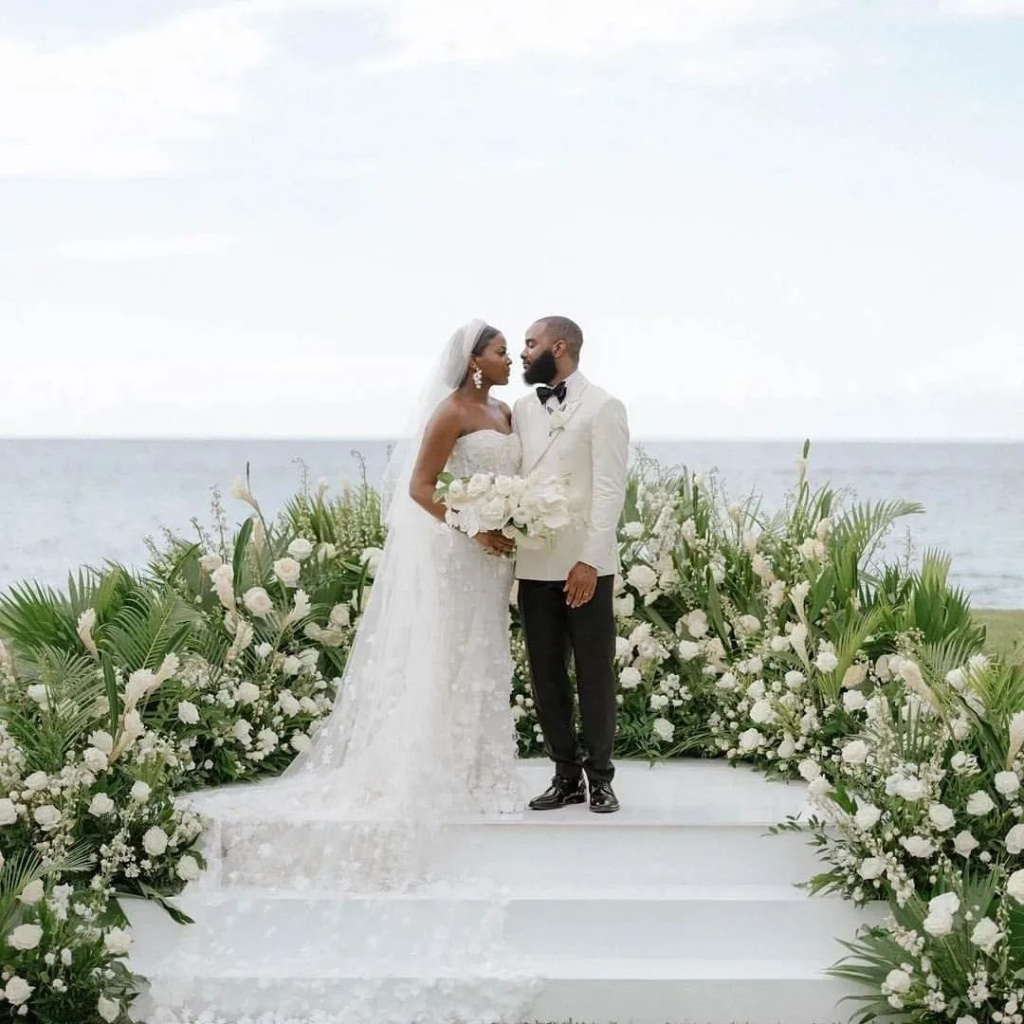 Jamaica pulses as the Caribbean's soul, where every melody tells a story and each sunset echoes with romance. In the tapestry of amazing Caribbean destination wedding locations, Jamaica dances to its unique tune, distinguishing itself from other island gems.
Consider the iconic Sandals Resorts that pepper Jamaica's coastlines, renowned for crafting dreamy wedding experiences. Not to forget the Rockhouse Hotel in Negril, majestically perched atop cliffs, offering breathtaking ocean panoramas. And for those yearning for a secluded haven, The Trident Hotel in Port Antonio envelops guests in an aura of exclusivity, ensuring each moment feels tailored to the celebration.
But Jamaica's allure isn't just in its venues. Picture exchanging vows as you drift on a bamboo raft along the serene Martha Brae River. Or, for those passionate about the past, a vintage-inspired wedding at the historical Rose Hall Great House might be the perfect backdrop, echoing whispers from yesteryears.
To truly give your guests a taste of Jamaica, host a post-wedding party with live reggae music and dancehall beats. For added local flavor, share stories of the White Witch of Rose Hall or the tales of Anansi.
St. Vincent and the Grenadines
Nestled within the Caribbean's warm embrace, St. Vincent and the Grenadines shine as a testament to nature's artistry. For those on a quest to discover the best Caribbean wedding spots, these islands emerge as a compelling choice, weaving together romance and majestic landscapes that few Caribbean locales can match.
Visualize a ceremony set on an exotic volcanic black sand beach, where gentle waves murmur their congratulations and a commanding volcano punctuates the skyline. Such pristine and untamed surroundings promise a nuptial celebration that's both distinct and memorable. Moving inland, the islands beckon with their lush, green terrains. Envision a wedding set amidst flourishing gardens, overlooking the vast expanse of the Caribbean, all while being enveloped in the heady scent of native flowers. Here, the harmony of seclusion and splendor is truly unmatched.
Rich in culture, St. Vincent and the Grenadines invite you to weave island traditions into your special day, enjoy local flavors, and sway to the rhythms of Caribbean melodies. In essence, for a destination that merges nature's beauty, island culture, and the heart of Caribbean romance, St. Vincent and the Grenadines await as the perfect choice.
St. Lucia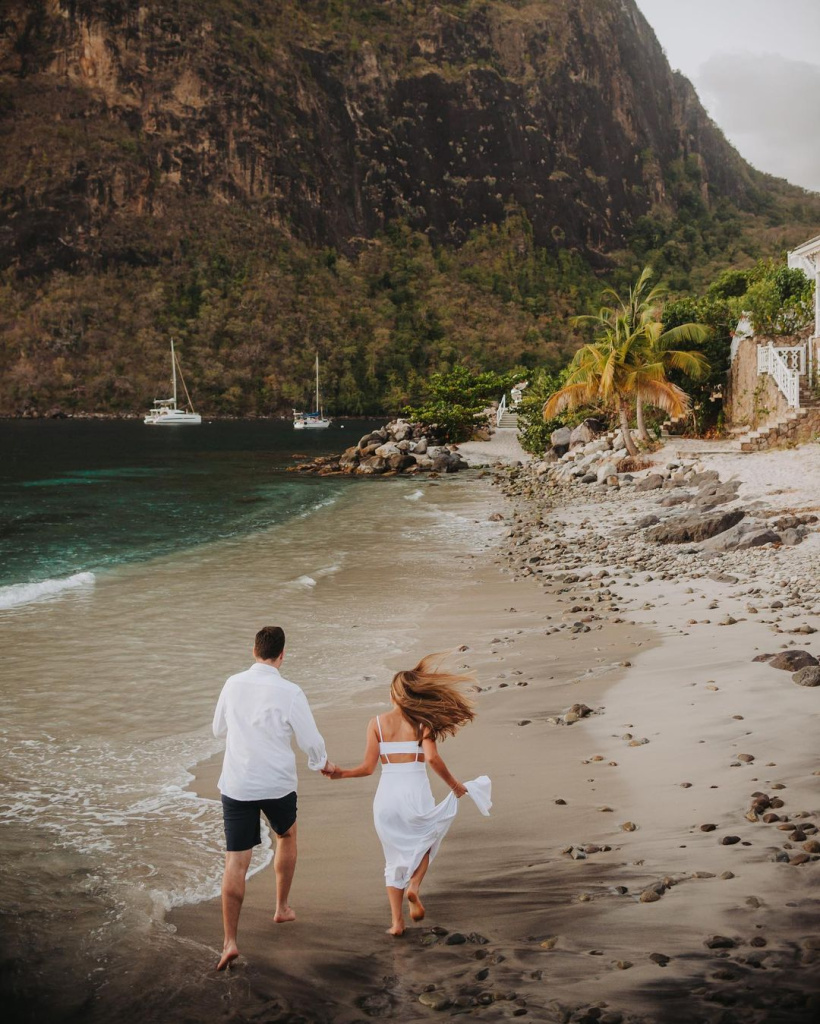 St. Lucia, wow! It's like nature's own love story. Out of all the Caribbean spots, St. Lucia has its own sparkle, especially with its beautiful mountains, forests, and volcanic sights. It's no surprise it's considered one of the top tropical wedding locations in the Caribbean.
If luxury is the word that defines your dream Caribbean wedding venue, then St. Lucia certainly won't disappoint. Renowned resorts like Jade Mountain Resort epitomize opulence, with their mesmerizing infinity pools and breathtaking vistas of the iconic Pitons. Then there's Sugar Beach, a Viceroy Resort, nestled between the Pitons, turning wedding celebrations into scenes right out of a fairy tale. For couples yearning for intimacy, venues like Ladera, known for its unique open design, promise both privacy and awe-inspiring panoramas.
However, St. Lucia's allure extends beyond its lavish accommodations. Envision a ceremony atop the Tet Paul Nature Trail, granting panoramic views of the Caribbean Sea and the island's majestic peaks. For thrill-seekers, tying the knot beneath the cascading Diamond Falls, surrounded by lush gardens, could be the romantic twist you're seeking. Integrate the island's vibrant rhythms and dances into your celebration for an authentic touch. And to truly immerse in the St. Lucian spirit, consider reciting your vows in Creole, the island's native tongue, adding a distinctive charm to your special day.
Dominica
Dominica, affectionately dubbed the 'Nature Island' of the Caribbean, seamlessly merges untouched splendor with enchanting allure. Its reputation as the best beach wedding destination in the Caribbean is well-earned. In Dominica, nature isn't just a picturesque setting; it weaves itself into the very fabric of matrimonial celebrations, adding layers of magic and romance to each moment.
Distinct from many of its Caribbean counterparts, Dominica treasures and maintains its natural vistas. With lush rainforests, untouched beaches, and captivating waterfalls, the island emerges as a haven for couples seeking an unspoiled, exotic wedding backdrop. This untamed beauty offers a marriage setting that feels both deeply personal and magnificently expansive.
Yet, Dominica's treasures don't stop at natural beauty. The island presents an array of cost-effective yet luxurious wedding venues. Resorts and locations like the coastal Fort Young Hotel, boasting panoramic oceanic views, and the Rosalie Bay Resort, cradled between rainforest and the Atlantic, guarantee ceremonies imbued with intimacy and splendor. In Dominica, each wedding becomes an unparalleled tale of love and nature's majesty.
Bahamas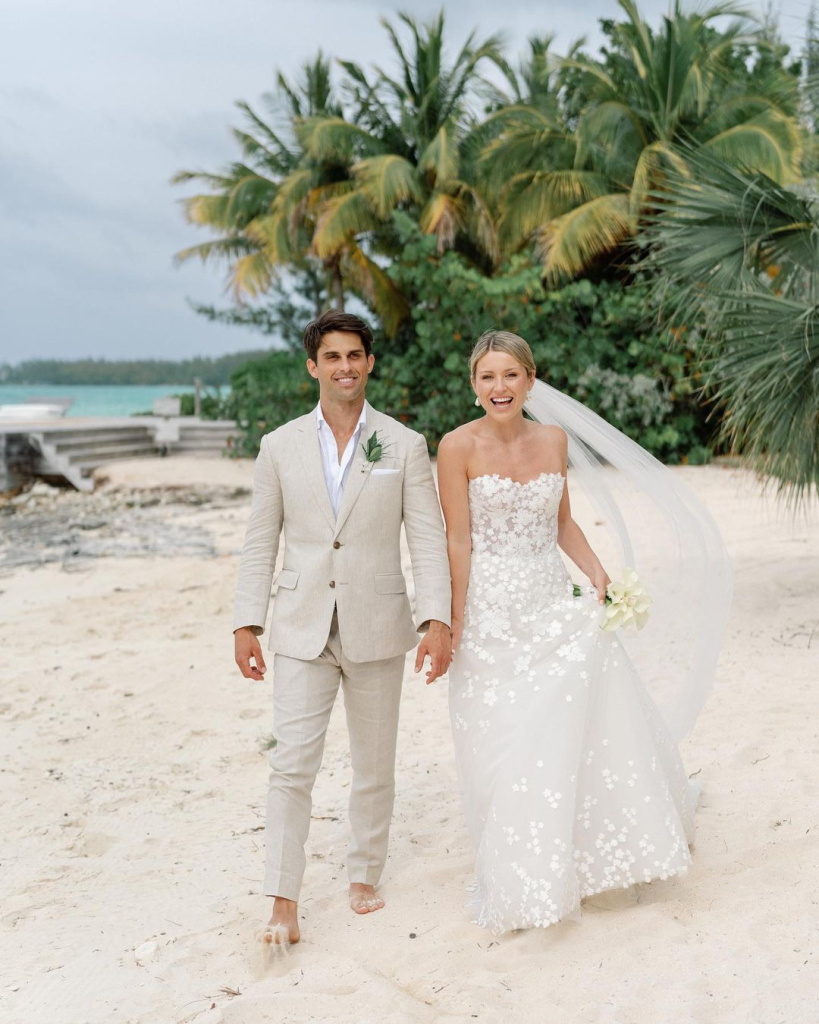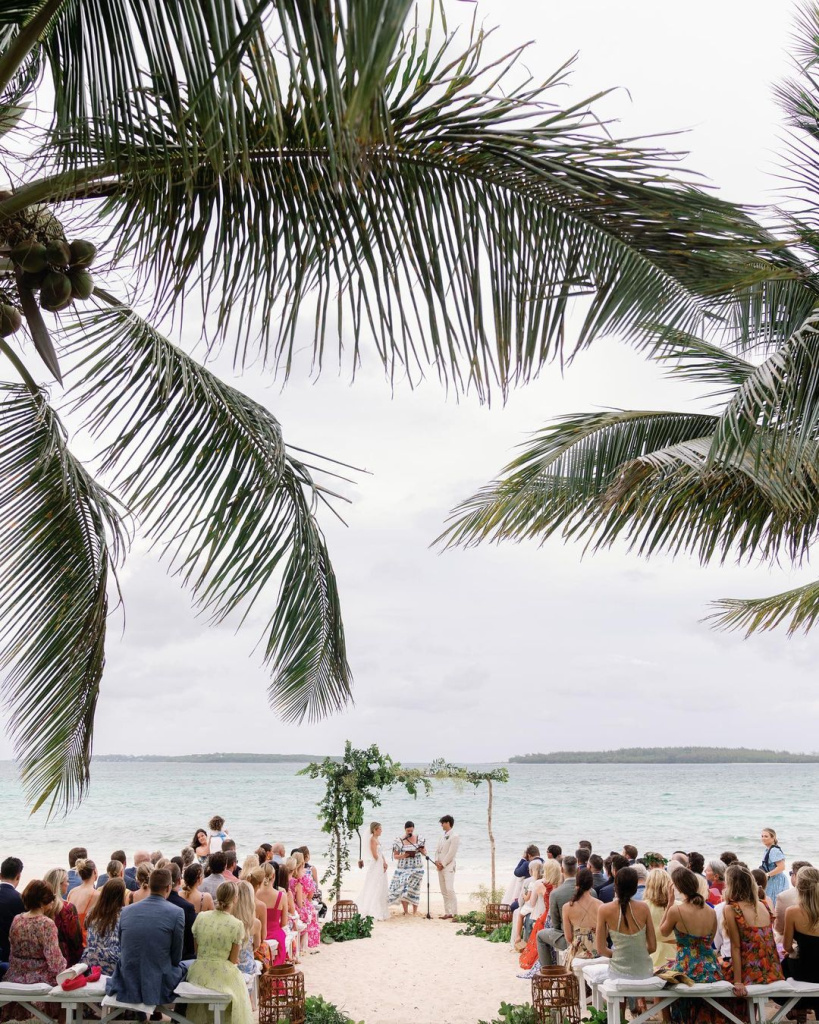 Sprawling across an impressive archipelago, the Bahamas comprises 700 islands and over 2,000 cays, each radiating its own romantic aura. With endless shades of blue and boundless love, the Bahamas presents a treasure trove of inspiration for Caribbean weddings.
Among the array of venues, Atlantis Paradise Island Resort dazzles with its opulent designs and mesmerizing aquatic displays, reminiscent of a fairy-tale setting. For those craving a serene ambiance, Pink Sands Resort on Harbour Island, distinguished by its iconic pink shores, crafts a dreamlike backdrop. For the more adventurous at heart, the untouched beaches of Exuma beckon, or perhaps the historic charm of Nassau's One&Only Ocean Club captures your fancy.
Yet, the Bahamas isn't confined to just sandy shores and crystal-clear waters. Ever thought of pledging your vows amidst vibrant marine life near dazzling coral reefs? Or experiencing the exclusivity of a private island like Kamalame Cay? To truly encapsulate the Bahamian spirit, consider integrating the lively rhythms of Junkanoo music and dance into your celebrations. Picture a parade of vibrant musicians and dancers adding a burst of color and energy to your special day, creating unforgettable moments.
Trinidad and Tobago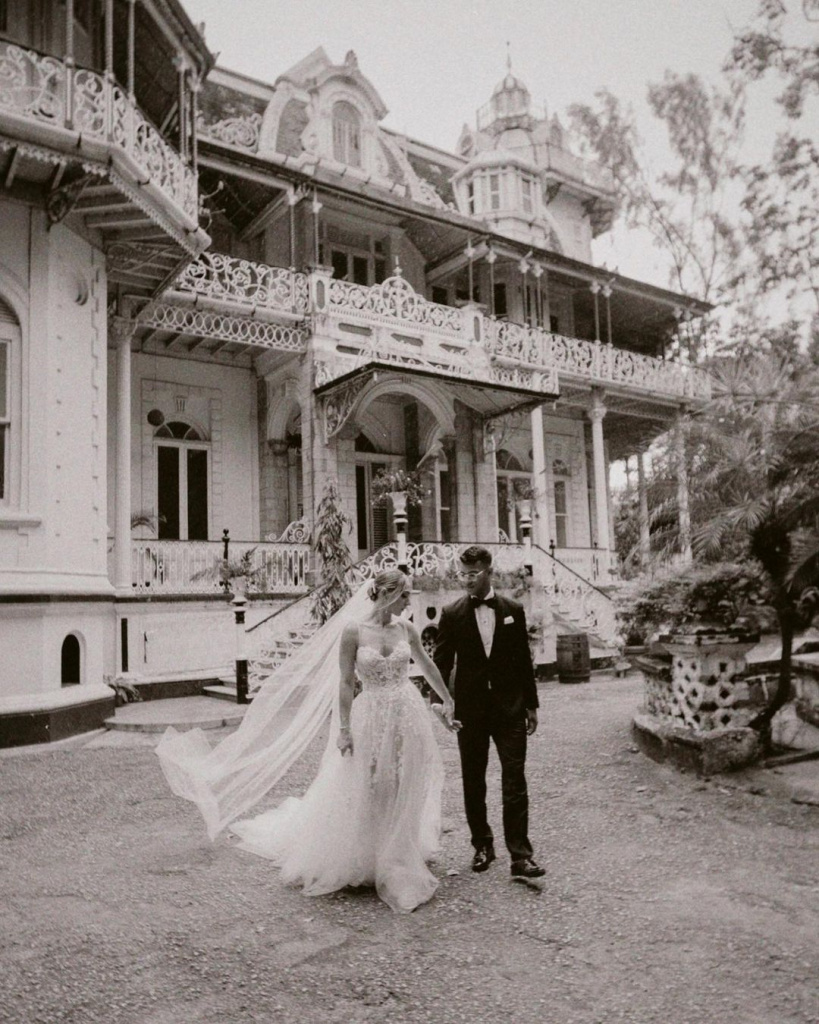 Trinidad and Tobago, revered among the Caribbean islands for destination weddings, captivates not just with its sun-kissed beaches but also with its vibrant traditions, lively festivals, and one-of-a-kind experiences.
For those envisioning beachfront nuptials, the twin islands serve as a dream canvas. Whether it's the serene embrace of Tobago's Pigeon Point or the tranquil allure of Trinidad's Maracas Bay, the islands invite couples to celebrate their union with the azure sea serenading them and soft sands caressing their feet.
Venues like Tobago's Mt. Irvine Bay Resort are the epitome of elegance, marrying the charms of a stunning beachfront with a picturesque golf course. On the other hand, the Hilton Trinidad offers a blend of modernity and nature, boasting views that span the bustling Port of Spain to the tranquil Gulf of Paria. For those seeking an idyllic escape, Stonehaven Villas, on Tobago's scenic western coastline, offers a sanctuary adorned with avian melodies and panoramic vistas of the vast ocean.
Dominican Republic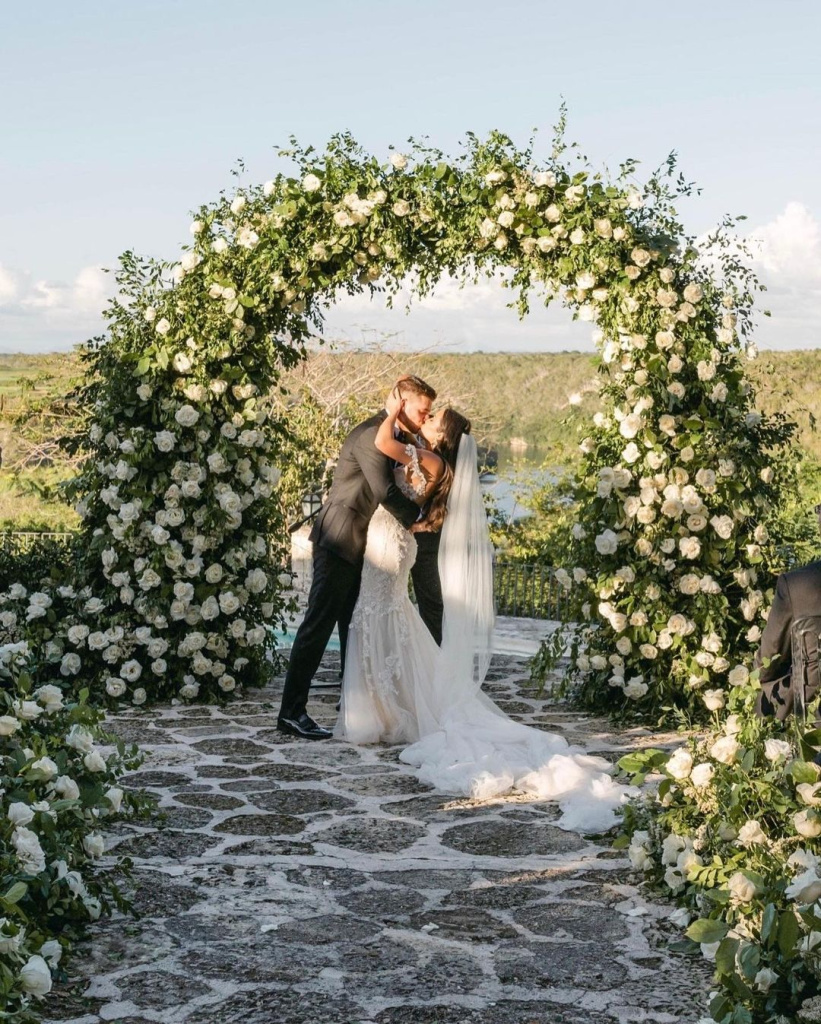 The Dominican Republic shines brightly among Caribbean gems, celebrated for its rich heritage, mesmerizing vistas, and iconic wedding locales. With its warm ambiance and diverse terrains, it effortlessly turns wedding aspirations into reality. For those on a quest to find the best places to get married in the Caribbean, the Dominican Republic unquestionably stands tall.
In places like Punta Cana, pristine beaches merge with luxurious resorts to present an array of beachfront wedding opportunities, enveloping your special day in tropical splendor. Journey to Altos de Chavón, a captivating ode to 16th-century Mediterranean villages, adding a touch of timeless elegance to your festivities. For lovers of untouched beauty, the secluded beaches and eco-centric havens of the Samaná Peninsula craft a dreamlike setting.
The Dominican Republic unfurls as a land of rich experiences waiting to be explored. Picture a heartfelt vow exchange against the backdrop of a tranquil beach, caressed by the Caribbean's azure waves. Or perhaps a scenic mountaintop setting amidst the rugged beauty of the Cordillera Central captivates your heart. Enhance the celebration with a taste of the Dominican – treat guests to local culinary delights like the robust sancocho stew or the aromatic moro de guandules, blending rice and pigeon peas in harmonious flavor.
Antigua and Barbuda
Envision tying the knot in Antigua and Barbuda, where azure waters kiss pristine sands and romance unfurls effortlessly. With their mesmerizing beaches, vibrant culture, and unparalleled experiences, these islands are genuine jewels of the Caribbean.
The allure of these islands as wedding havens lies in their diverse offerings. With Antigua laying claim to a unique beach for every day, choices abound. The timeless elegance of Nelson's Dockyard infuses ceremonies with historical charm. For couples yearning for seclusion, the pink sands of Barbuda present an idyllic backdrop.
How about embracing the open sea and committing to one another aboard a catamaran, with the vast horizon as witness? Or set amidst the lush foliage of Antigua's forests, nature's canopy overhead? Elevate the ambiance with the rhythmic melodies of Caribbean steel pan tunes and delight guests with local culinary staples like saltfish and fungee. A wedding in Antigua and Barbuda is a cherished mosaic of moments destined to endure.
Grenada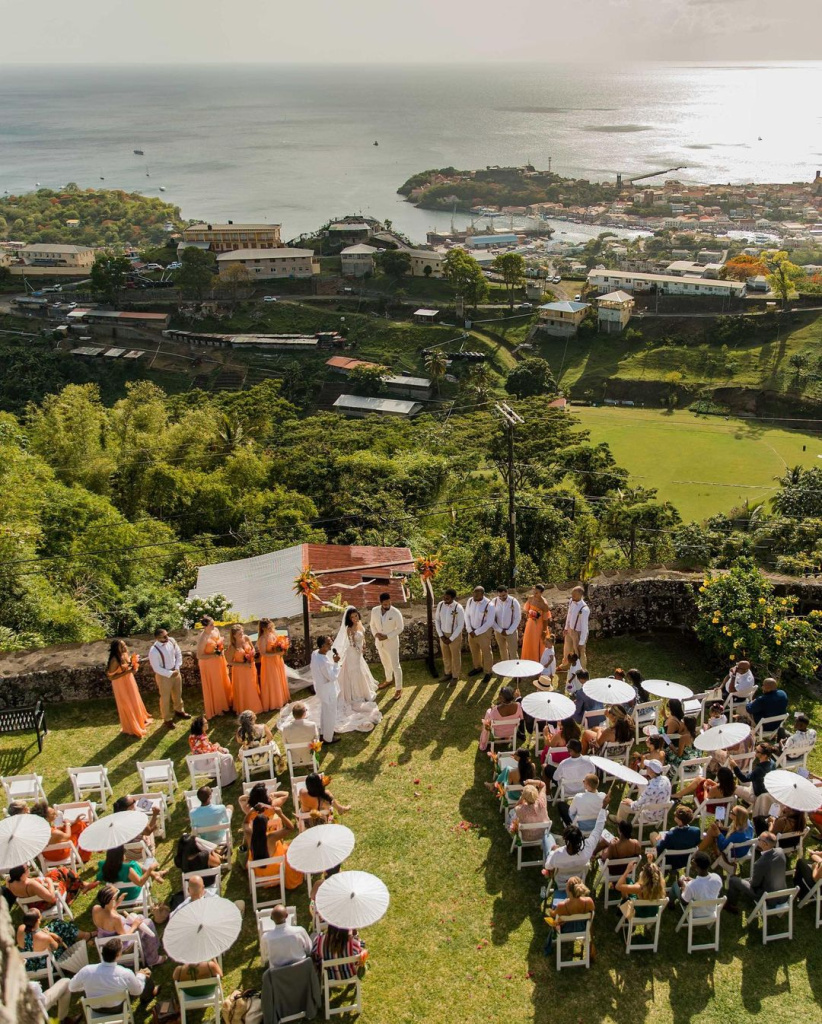 Grenada, fondly dubbed the Spice Isle, paints a romantic canvas where affection blossoms amidst fragrant spice breezes and the gentle caress of ocean waves. With its aromatic allure, scenic beauty, and heartwarming ambiance, Grenada proudly hosts the top Caribbean wedding venues.
Picture a ceremony on the iconic Grand Anse Beach, under the canopy of a mesmerizing sunset. Belmont Estate brings narratives of yesteryears alive with its colonial architecture and sprawling cocoa fields. Meanwhile, the Calabash Luxury Boutique Hotel tailors every nuance to perfection, offering couples an unparalleled personalized touch. Grenada's myriad options, from sunset sail ceremonies to garden weddings infused with the aromatic presence of nutmeg, cinnamon, and cloves, ensure a celebration that's as unique as it is memorable. The magic of Grenada lies in those intangible moments, where vows are accentuated by nature's own symphony.
Cuba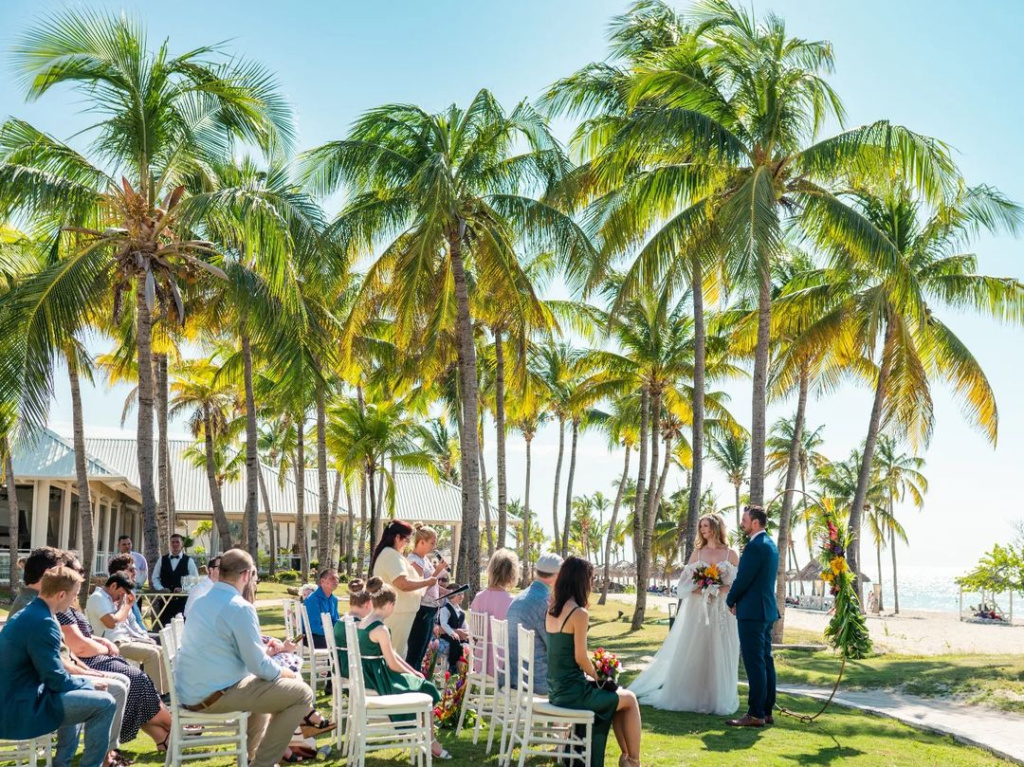 As a gem nestled in the heart of the Caribbean, Cuba stands out among the top Caribbean destination wedding locations. Its magnetic charm has drawn countless couples from around the world, making it a hotspot for those seeking the perfect setting for their dreamy destination wedding.
The island boasts pristine white sandy beaches, crystal-clear azure waters, and lush tropical landscapes that are nothing short of paradise. These picturesque surroundings provide the quintessential Caribbean feel that every couple dreams of for their special day. But, beyond its natural allure, Cuba carries a rich tapestry of culture and history. The vibrant streets of Havana, lined with pastel-colored buildings and classic cars, add a touch of vintage elegance to any wedding album.
Whether you're dreaming of a beachfront ceremony at sunset, a lavish affair in a historic mansion, or an intimate gathering in a countryside hacienda, Cuba offers a diverse range of venues to cater to every couple's unique vision. Plus, compared to many other Caribbean wedding venues, Cuba offers competitive pricing without compromising on quality or experience, ensuring that your dream wedding doesn't break the bank!
Haiti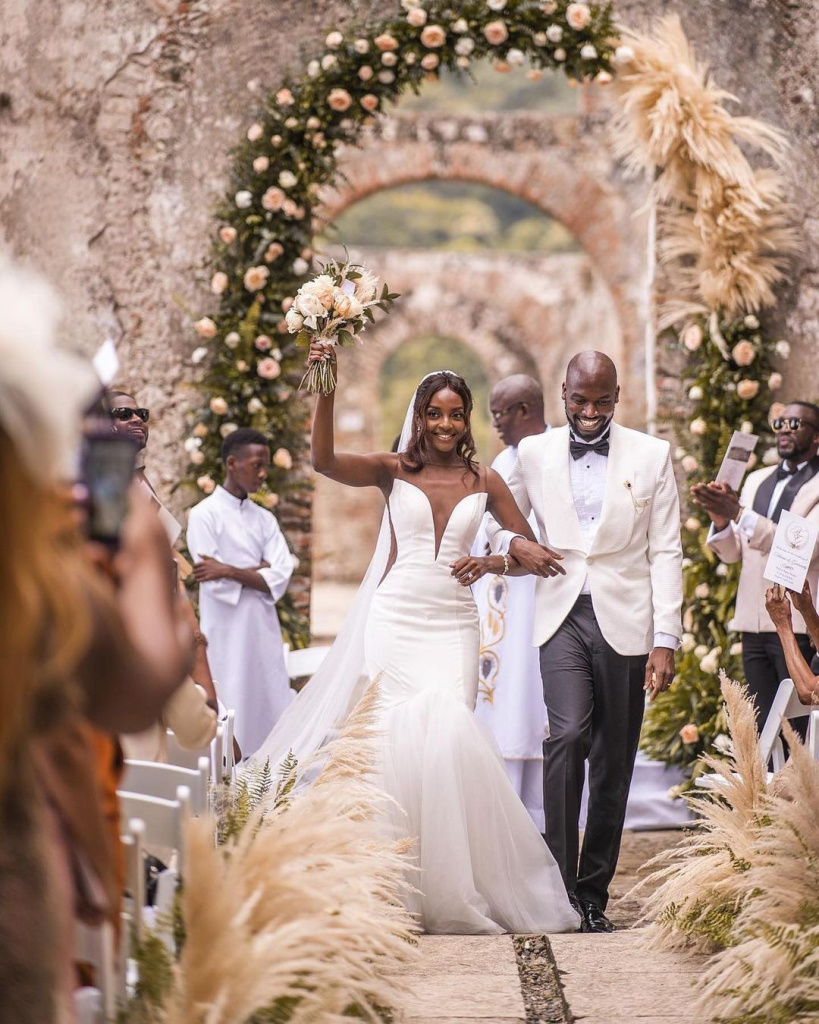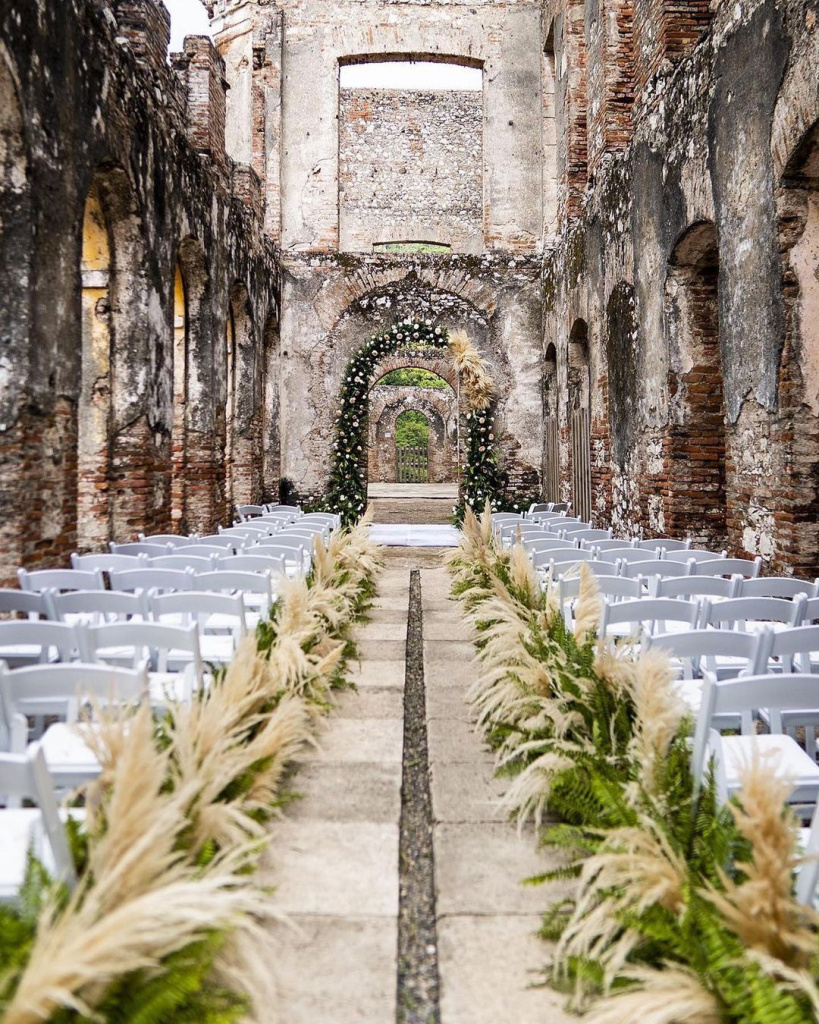 Nestled within the sparkling waters of the Caribbean, Haiti emerges as a land of enchantment, seamlessly weaving together its rich history, pulsating culture, and awe-inspiring landscapes. While often lesser-known compared to its neighboring islands, Haiti is a treasure trove offering some of the most idyllic Caribbean beach wedding spots. Beaches like Labadee and Port-Salut cherished as the Caribbean's hidden gems, invite couples with their untouched sands, crystalline waters, and private coves — crafting a sanctuary for those desiring an intimate beach wedding setting.
Drawing from a rich palette of French, African, and indigenous Taino heritages, Haiti unfolds a cultural mosaic unlike any other. The rhythmic cadence of Rara music and the vivid artistry found in its artworks breathe life into wedding celebrations, ensuring an ambiance steeped in authenticity and passion. Adding to its charm, the colonial relics and monumental fortresses, such as the Citadelle Laferrière, transport couples to a bygone era, positioning Haiti as a standout among romantic Caribbean wedding destinations.
So, whether you envision exchanging rings to the serene serenade of waves, amidst the grandeur of historical landmarks, or enveloped by tropical flora, Haiti presents an array of exquisite backdrops, each promising to turn wedding dreams into reality.