Top 10 Best Bridal Gown Designers in the World
Publication date:

09/21/2023

Updated:

11/30/2023
Hey, future Mrs.! You've snagged the ring and binged all the wedding reality shows on Netflix. Now, it's onto the biggie: finding THE dress that makes you feel like you're floating on cloud nine. This isn't just another shopping spree - it's the fashion mission of a lifetime, guys!
Alright, let's cut to the chase. If you're looking to go full-on bridal goddess, you gotta know who the real game-changers are in the wedding dress arena. So, sit tight, maybe grab a glass of bubbly, and let's dish on the top 10 wedding dress designers that you absolutely need to know about. These are the maestros who are putting the 'awe' in 'awesome' and the 'glam' in 'glamorous.' We're talking next-level, "Is this even real life?" kind of gorgeousness.
So whether you're dreaming of lace that looks like it's from another century or something so blingy it needs its own security detail, we've got you covered. Trust us, by the end of this, you'll have no doubts about where to find the best luxury wedding dresses in the world!
Vera Wang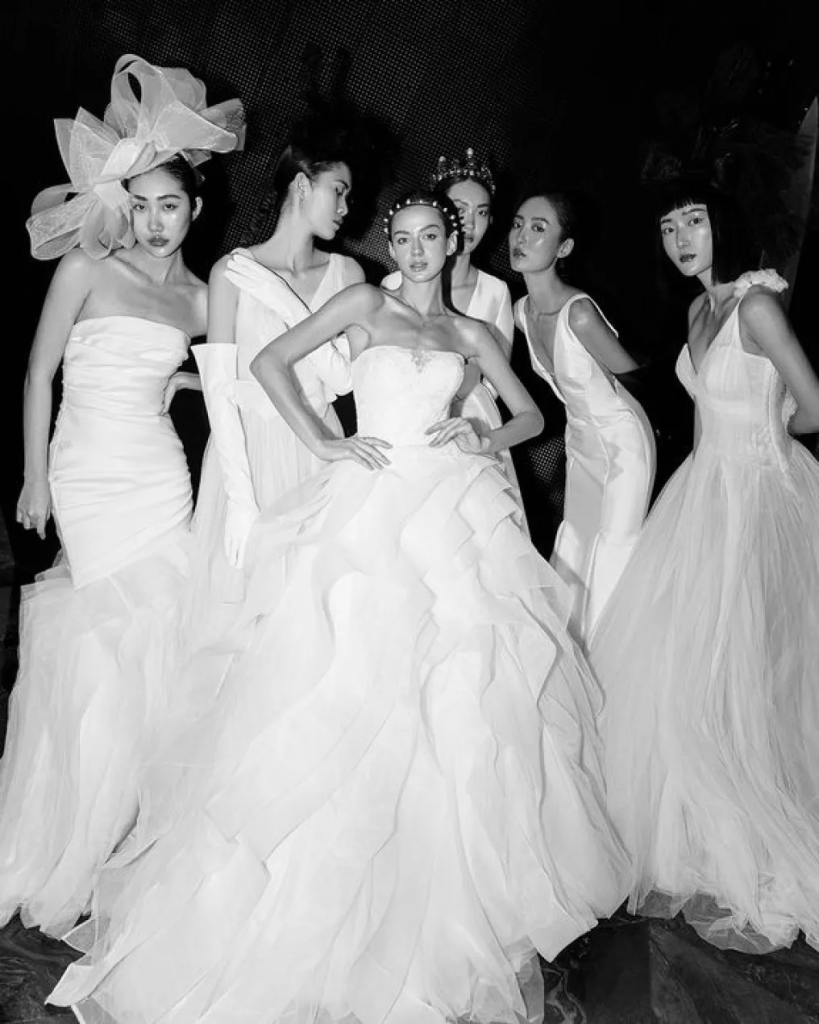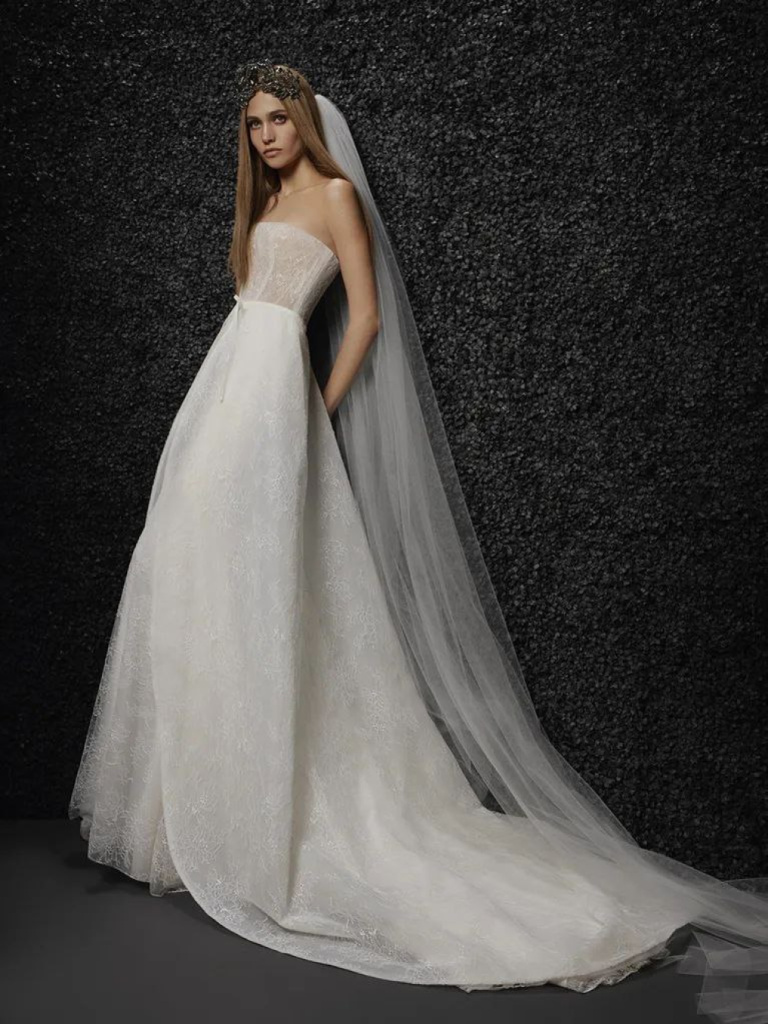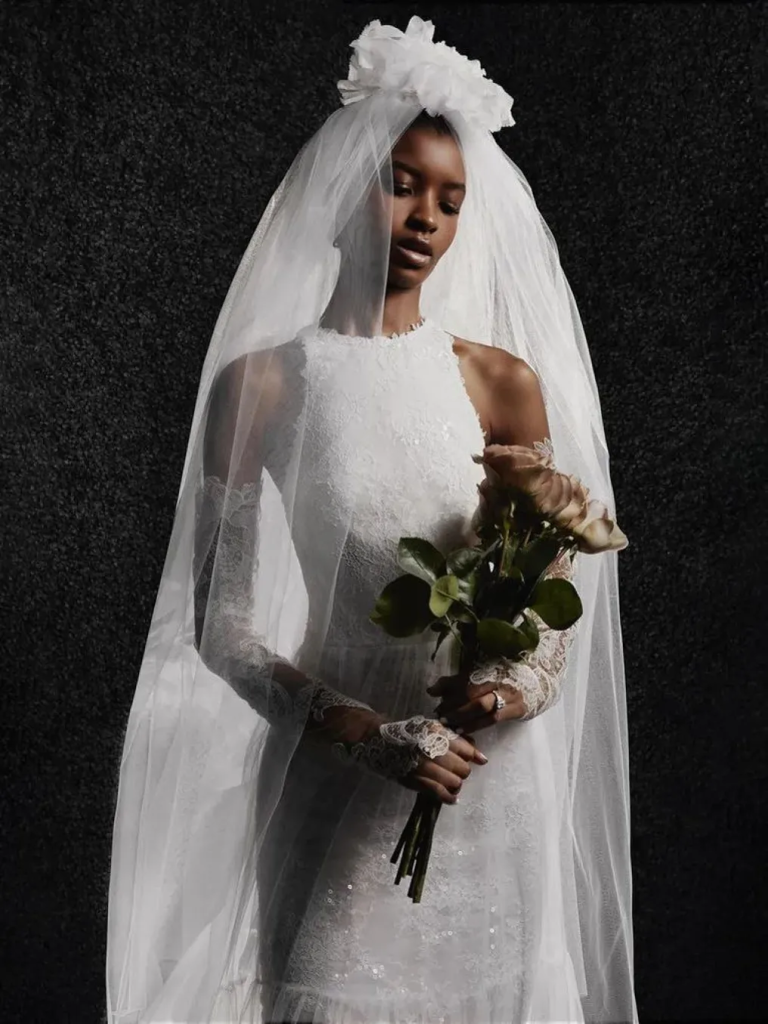 If you're on the hunt for a wedding gown that will leave everyone at your wedding speechless - meet your fairy godmother of wedding couture, one of the best wedding dress designers in the world - Vera Wang!
You know how there are moments that leave an indelible imprint on your memory? Yeah, stepping into a Vera Wang gown is one of them. As soon as you slide into that frothy tulle or sensuous silk, you know this is what magic feels like. She's the da Vinci of drapery, the Shakespeare of sequins. What sets Vera apart? First off, she's not afraid to buck tradition. Who says you need to be a vanilla bride swathed in white? Vera brings color into play like a maestro - delicate blushes, profound blacks, and even bold reds that make your individuality shine brighter than a diamond ring.
Now, let's gab about craftsmanship. Hand-embroidered embellishments? Check. Layer upon layer of whisper-thin chiffon? You got it. The kind of beadwork that looks like it was done by a league of angels working overtime? Absolutely. Every stitch, every fold, every bead - it's like a love letter to your own unique style. Oh, and let's not forget about how Vera knows the female form like the back of her hand. Her gowns don't just hang; they caress. They fit you in all the right places, emphasizing your assets and making you feel like the star of your own romantic blockbuster.
Monique Lhuillier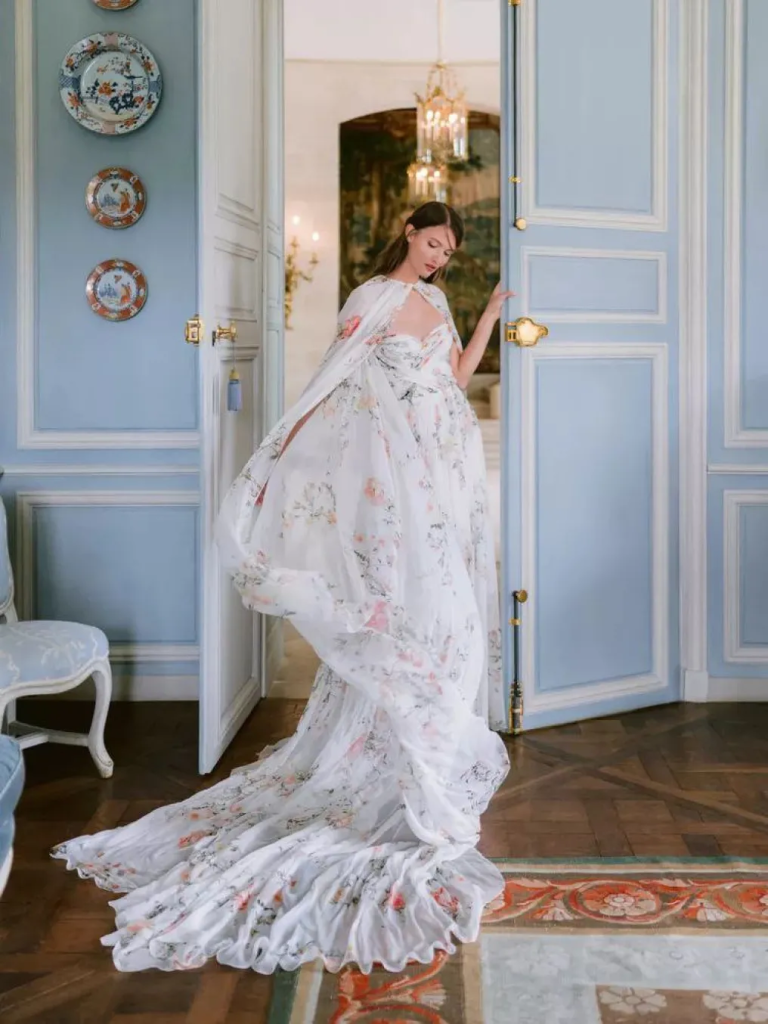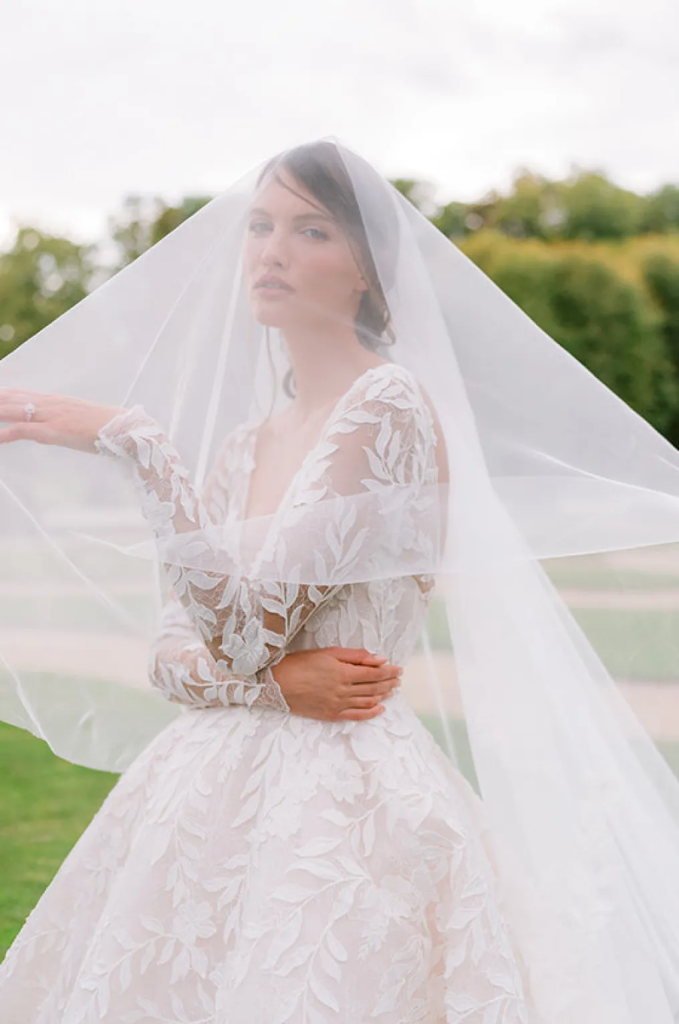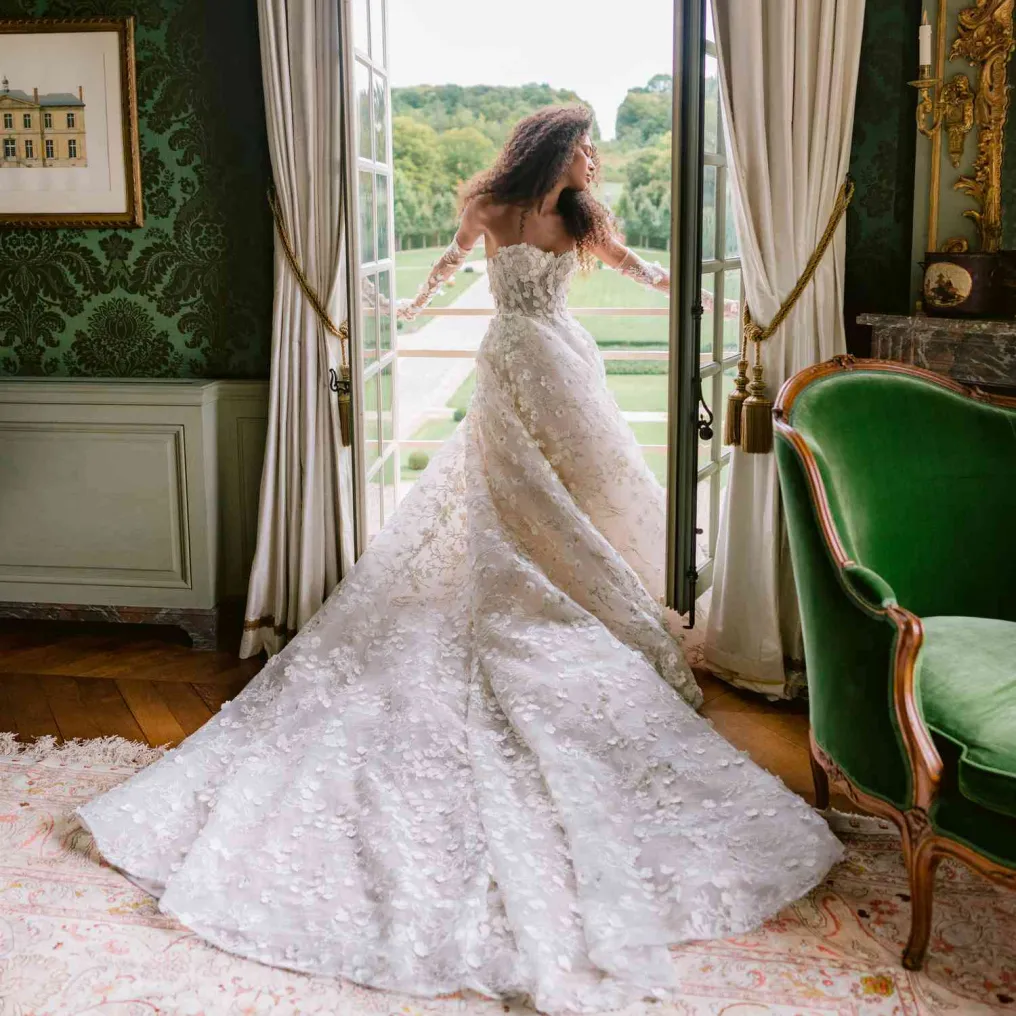 Forget what you thought you knew about couture bridal gowns because we're about to introduce you to the master of bridal couture: Monique Lhuillier, a top 10 bridal designer around the globe. Seriously, if gowns had Grammy Awards, Monique would be sweeping the ceremony.
Monique Lhuillier gowns weave fairy tales into every stitch. Each bead, each tulle layer, screams quality and sophistication. You'll feel like you're floating on air, or maybe even strutting down a Parisian runway. Yup, it's that kind of "ooh la la" vibe! Moreover, Monique has something for everyone. Are you the ethereal, woodland-nymph kind of bride? There's a gown for that. More of a Hollywood glam diva? Girl, they got you covered. Classic and timeless? Honey, Monique practically invented the term. You won't just find a dress; you'll find THE dress that is essentially you but amplified by a thousand.
Ah, the fabrics! Forget the scratchy, uncomfortable gowns that make you itch just thinking about them. Monique Lhuillier specializes in fabrics that not only look divine but also FEEL amazing. Think pure silks, dreamy chiffons, and luxurious laces that make you want to twirl around like you're in a rom-com montage. We mean, prepare for an audible gasp when you make your entrance. Monique Lhuillier doesn't just create dresses; they create moments. The gowns are literal show-stoppers, designed to make your partner's heart skip a beat (or ten).
Zuhair Murad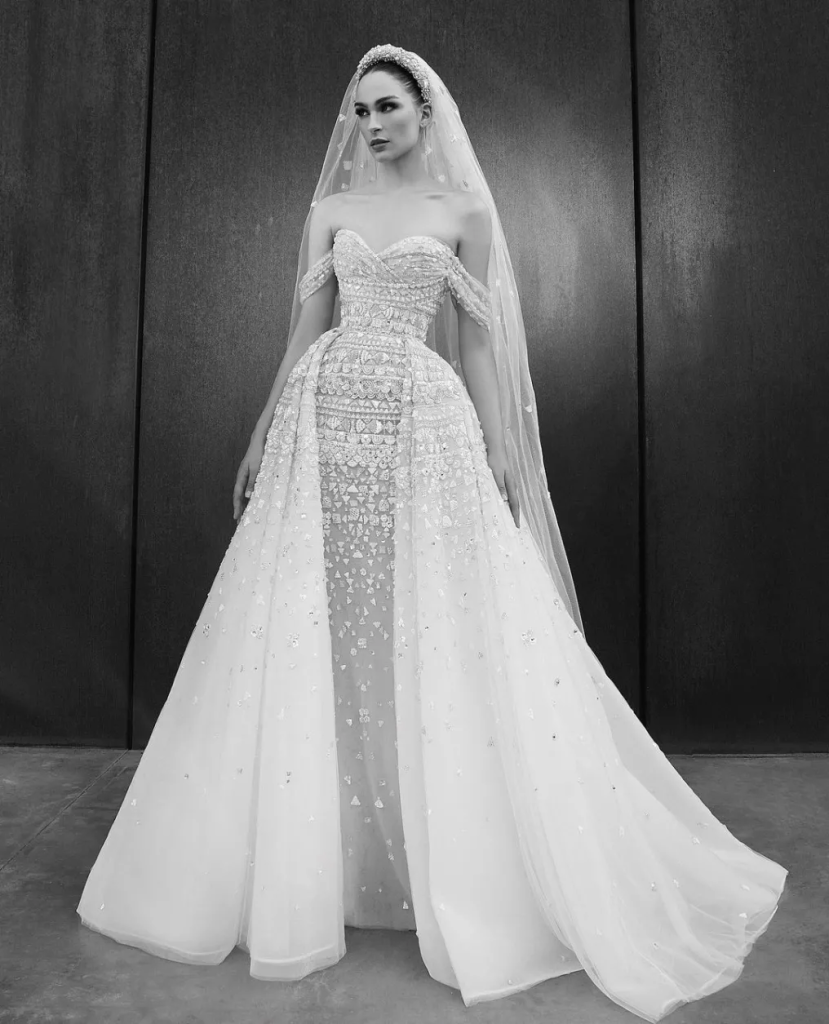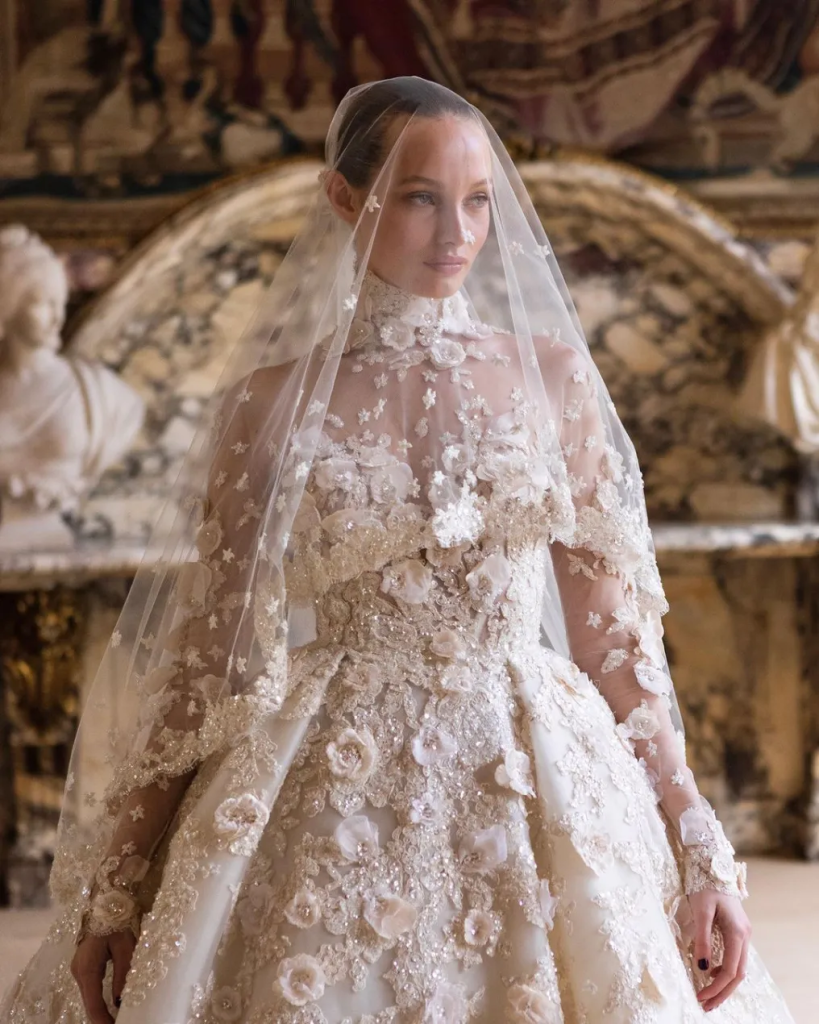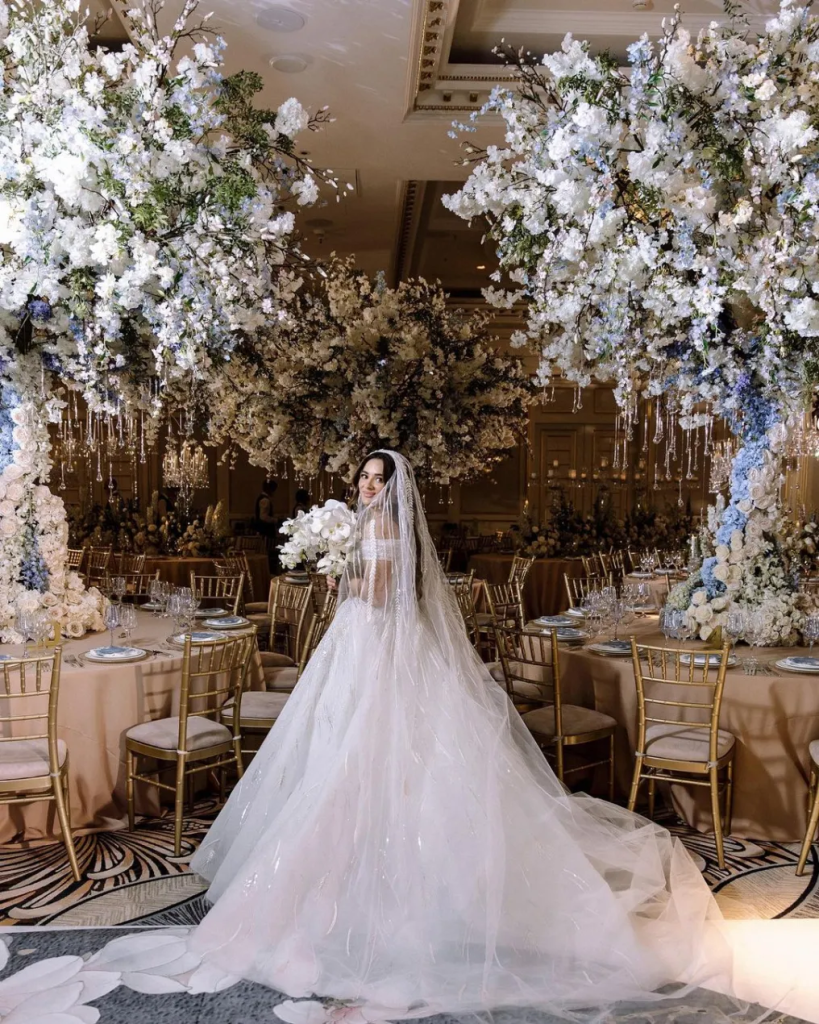 Now let's talk about Zuhair Murad, a world-famous wedding dress designer. You won't find any cookie-cutter gowns here. Each design feels like a love letter written just for you, and let's be real - who wouldn't want that? Now, onto the detailing, which is as perfect as that first kiss on your wedding day. We're talking delicate, handcrafted touches that make each gown one-of-a-kind. Picture the kind of intricate craftsmanship that looks like it took a lifetime to master!
You know how a hug from your favorite person in the world feels? That's how these gowns fit - just right, snug but not suffocating, like they were crafted just for you. It's the next best thing to being wrapped in love. Now, we know the price tags are on the steep side. But hey, this is not just fabric and thread. It's more like capturing a dream and wearing it. It's the kind of thing you'll want to pass down through generations, the same way you'd hand down a cherished family story. And honestly, the compliments and stares you'll get? Priceless.
So, if you're after that stand-out, steal-the-show, make-your-partner-fall-in-love-with-you-all-over-again gown, Zuhair Murad should be your go-to. Trust us, when you find your Zuhair Murad gown, you'll know - it'll be love at first sight.
Berta Bridal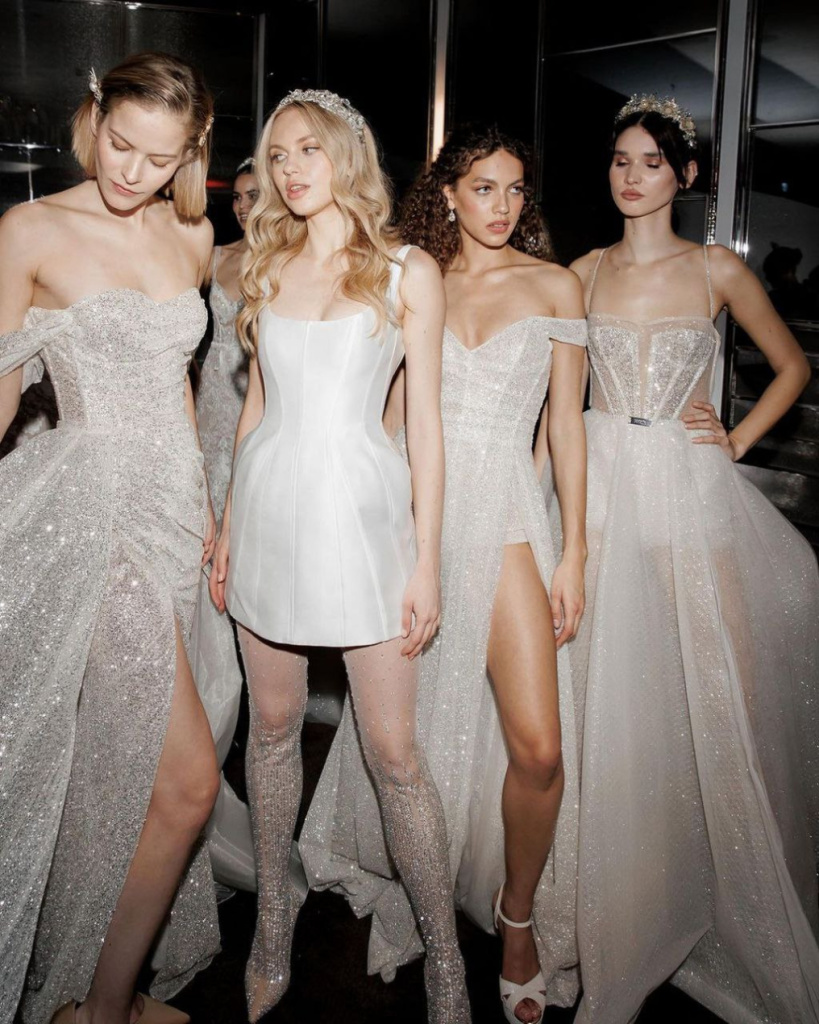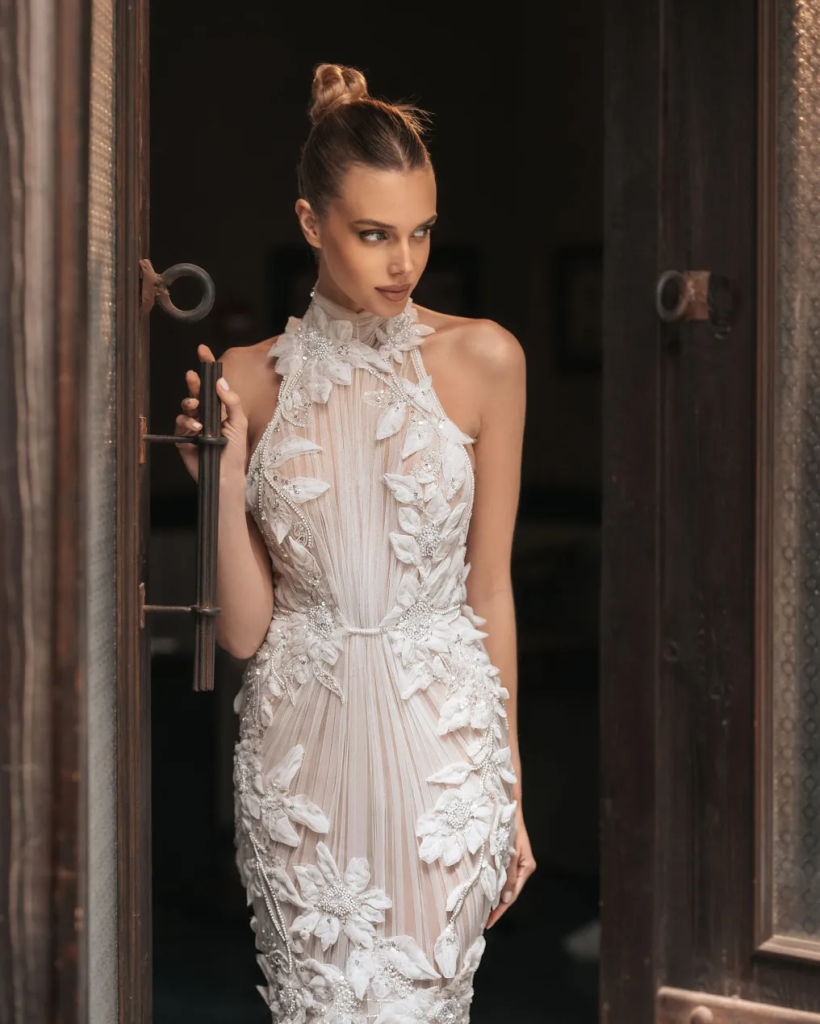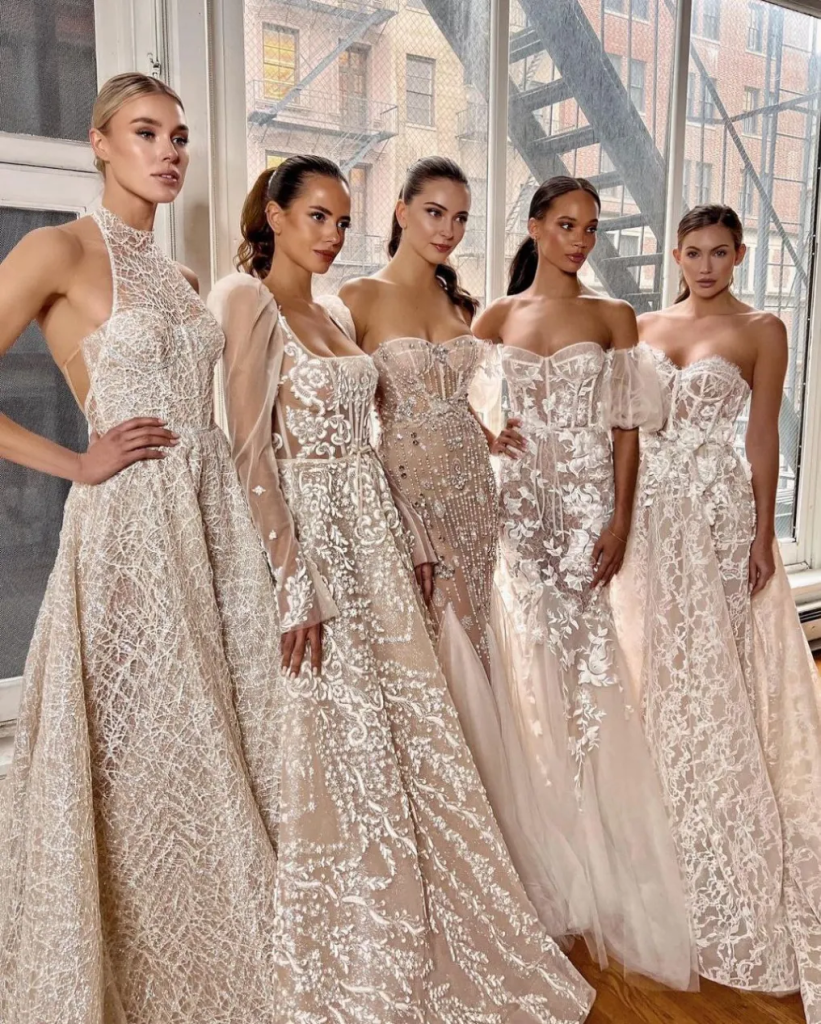 Let us let you in on a secret: Berta Bridal is where fairy tales are sewn into reality, one delicate bead at a time. We're absolutely delighted to include Berta Bridal in our top 10 bridal dress designers in the world list. Why? Oh honey, where do we even start?
First off, Berta dresses don't just "fit" - they embrace you. You know how some dresses seem like they're straight out of a cookie-cutter wedding magazine? Yeah, not Berta. These gowns scream individuality. Imagine intricate patterns that are just dying to be Instagrammed and dramatic silhouettes that redefine bridal glamour. Plus, there's a Berta for every bride - whether you're channeling classic Hollywood or boho chic. But wait - there's more! The attention to detail in a Berta gown is like the frosting on your wedding cake - utterly delectable and unforgettable. We're talking about ornate beadwork that catches the light in a way that'll make your future spouse tear up before you even start your vows. These gowns don't just enter a room; they command it.
Now, let's be honest. A Berta gown is an investment, and why shouldn't it be? You're not just buying a dress; you're buying a piece of art. So if you're ready to be a show-stopper and make your love story the stuff of legends, a Berta Bridal gown is your fashion soulmate.
Elie Saab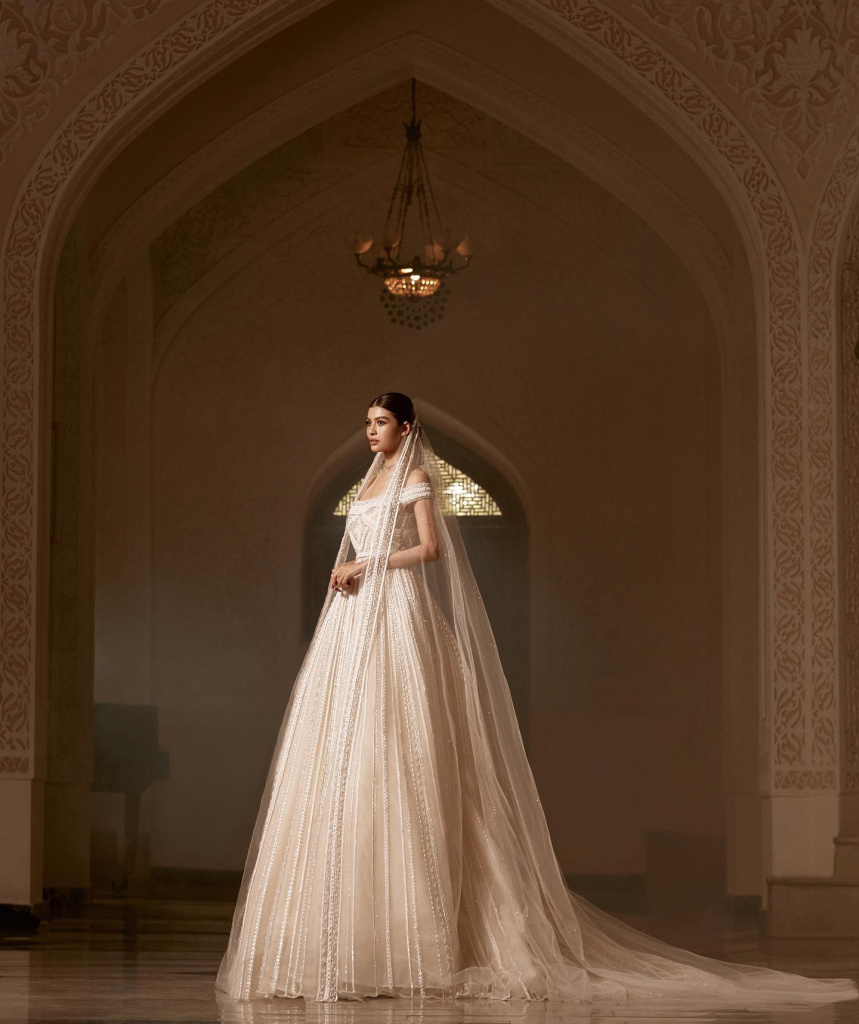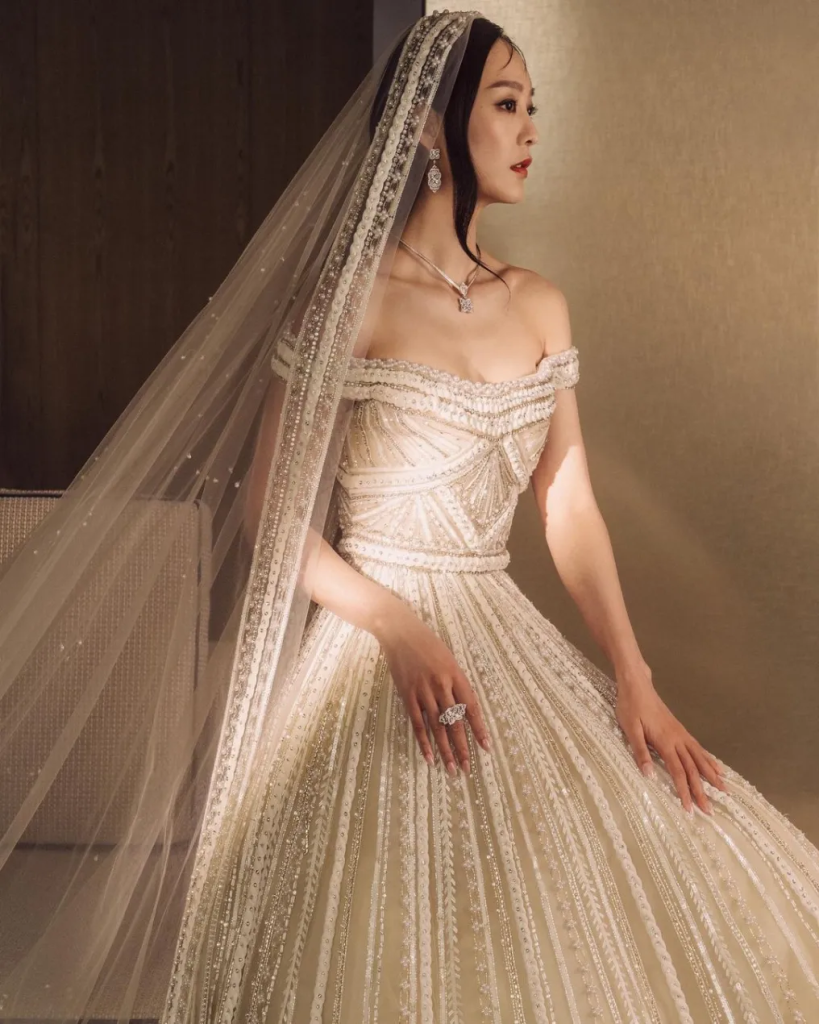 Elie Saab, a name that's basically synonymous with "fairytale come to life" is a top luxury bridal designer. What makes them special, you ask? Imagine stepping into a gown and immediately becoming the heroine of your own epic love story, the kind that poets write about and painters wish they could capture. The Lebanese designer infuses each masterpiece with a tantalizing blend of Eastern and Western aesthetics. We're talking about intricate lacework that maps your body like the constellations in the night sky, and beadwork so detailed, that it's like wearing a gown stitched by a legion of couture-loving fairies. Saab sources the finest silks, the most decadent satins, and the dreamiest tulle, and then layers them into a cascade of sumptuous beauty. The color palette? It's a symphony of the softest blushes, radiant golds, and even heavenly blues. Who says you can't be your own "something blue"?
And the silhouettes? They've got princess-worthy ball gowns that practically demand their own zip code, slinky sheaths that hug your curves like they're holding onto a secret, and A-lines so perfect they'll turn geometry into your new favorite subject. Accessories? The veils are practically sentient beings, floating behind you in an ethereal trail as if summoned by some divine bridal deity. And the trains? They don't just follow you; they glide, leaving in their wake a trail of awe-struck guests and probably a couple of dropped jaws.
Galia Lahav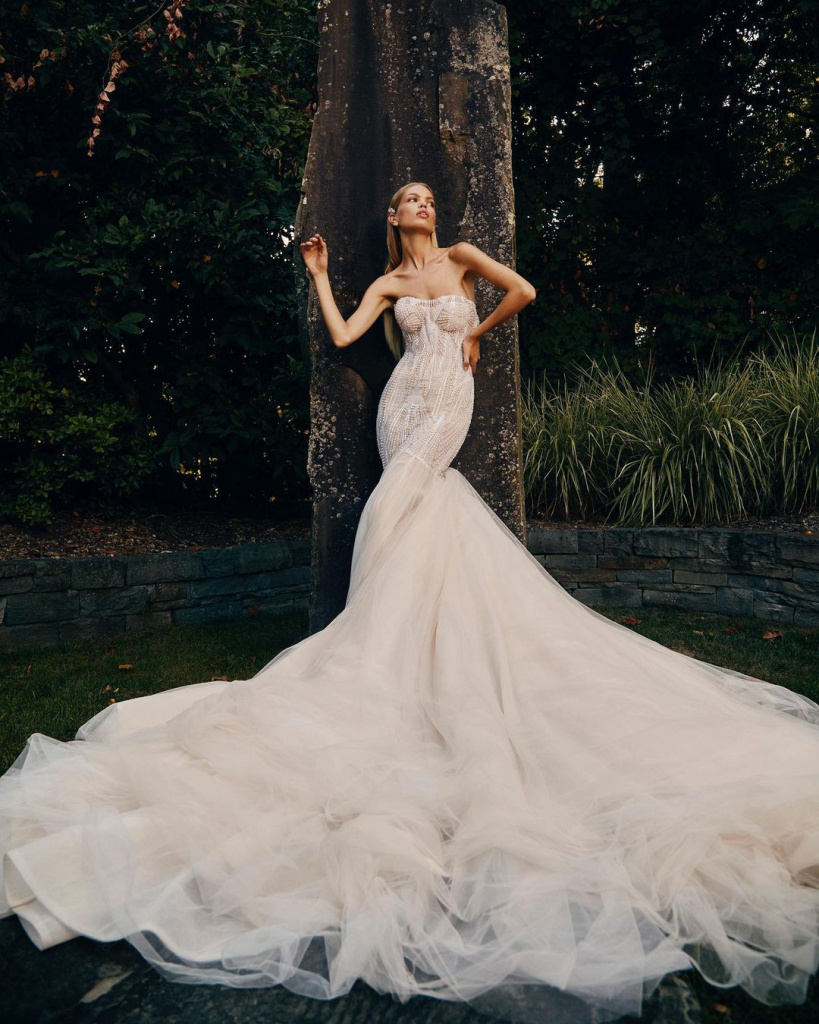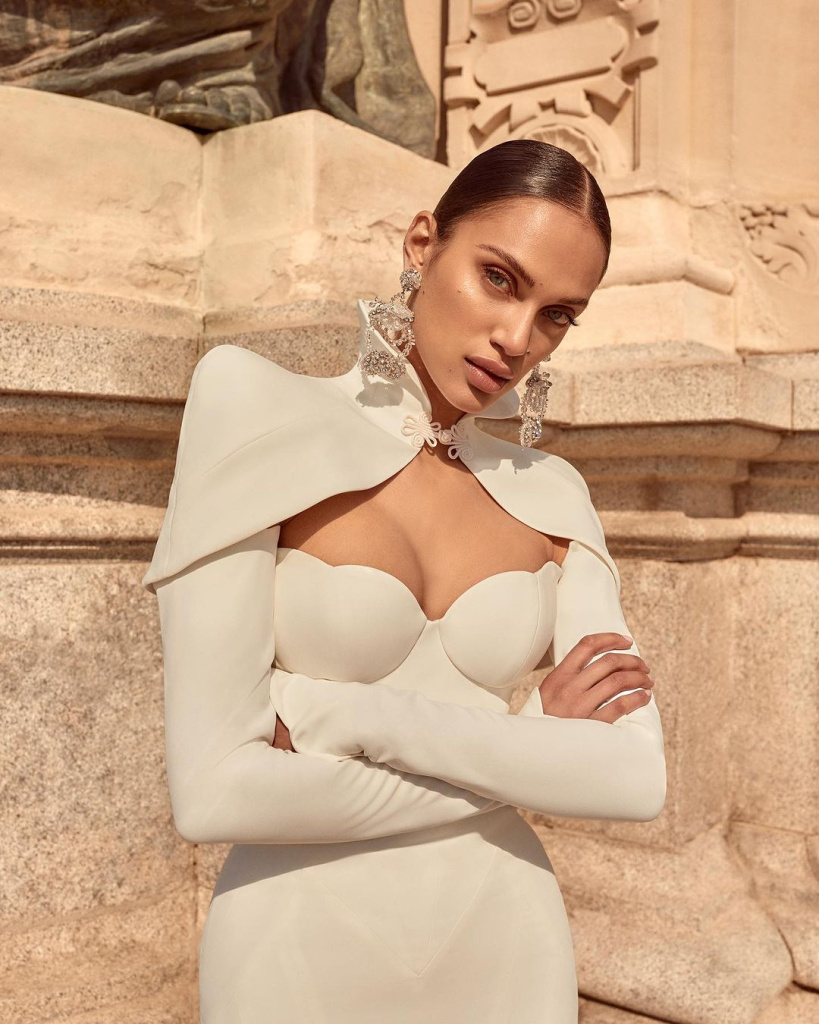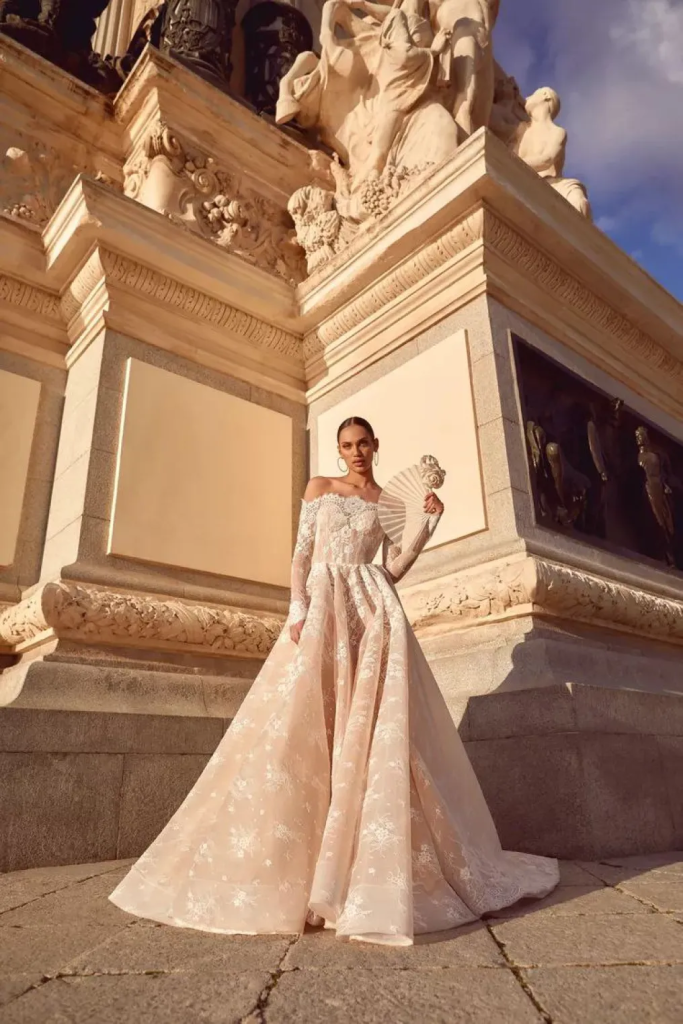 We can't talk about the top wedding dress designers in the world without bowing down to this absolute queen of bridal couture - Galia Lahav.
So why do we adore Galia Lahav? Let's kick it off with "unique." Girl, when we say unique, we mean dresses that would make Cinderella ditch her glass slipper to run barefoot to the nearest Galia Lahav boutique. Forget generic - every gown screams your name! But hold your horses, because it's not just about aesthetics. You know how they say, "It's what's inside that counts?" Well, these dresses wrap you up in comfort you wouldn't believe. Galia Lahav believes in luxury that you can actually move in. Yeah, you heard us right - you can actually hit the dance floor and throw those shapes without worrying about a wardrobe malfunction.
If you have a vision, Galia Lahav will bring that dream to life. They don't just offer dresses; they offer a bridal experience, one where you're the dazzling star. We're talking fittings that feel like royal appointments and personal touches that'll make you cry happy tears. So if you want to slay that aisle like it's your personal runway, get yourself into a Galia Lahav gown. This is the "I do" you'll be talking about for the rest of your "till death do us part." And trust us, in a Galia Lahav, that happily ever after starts the moment you slip into that dress.
Oscar de la Renta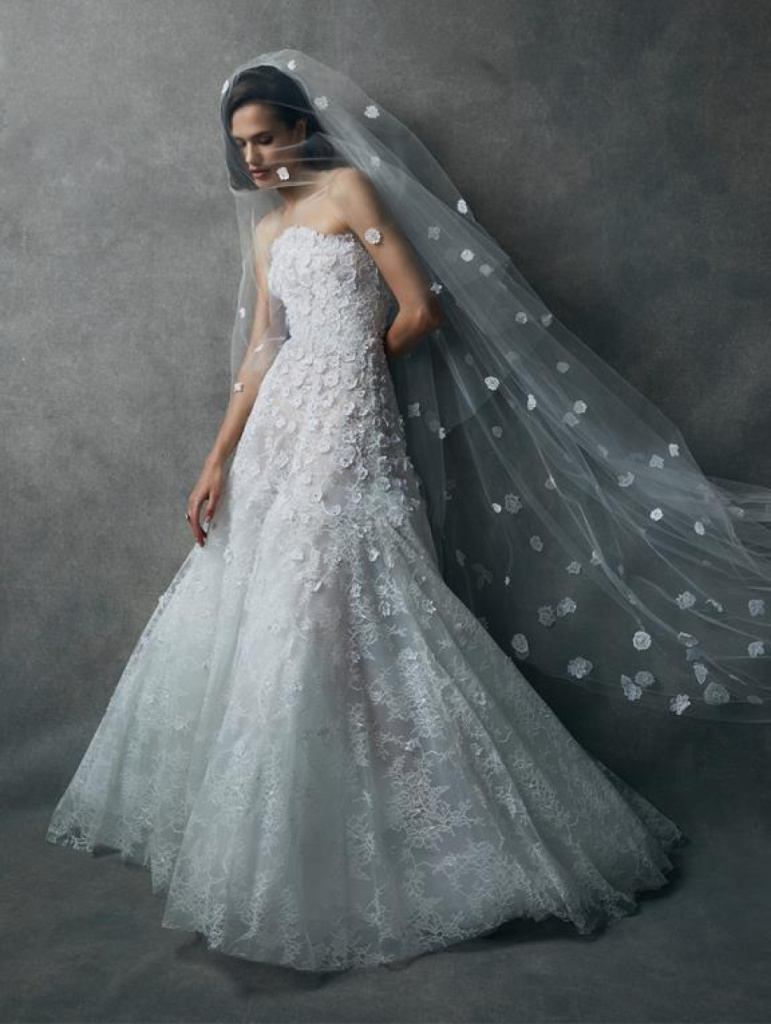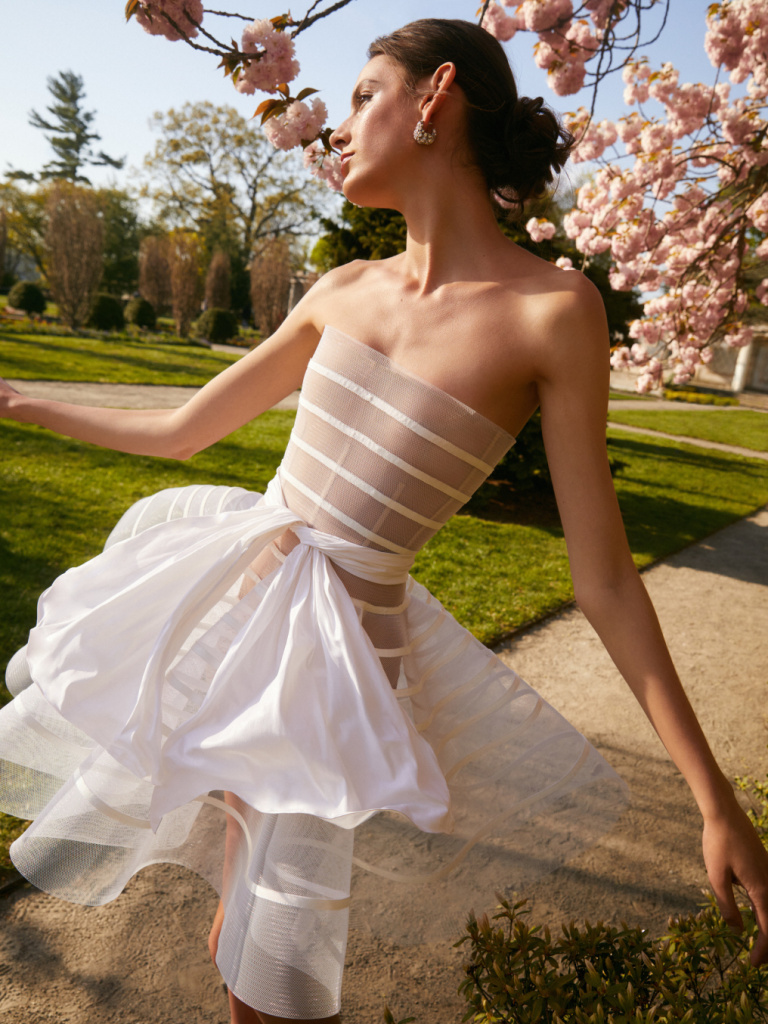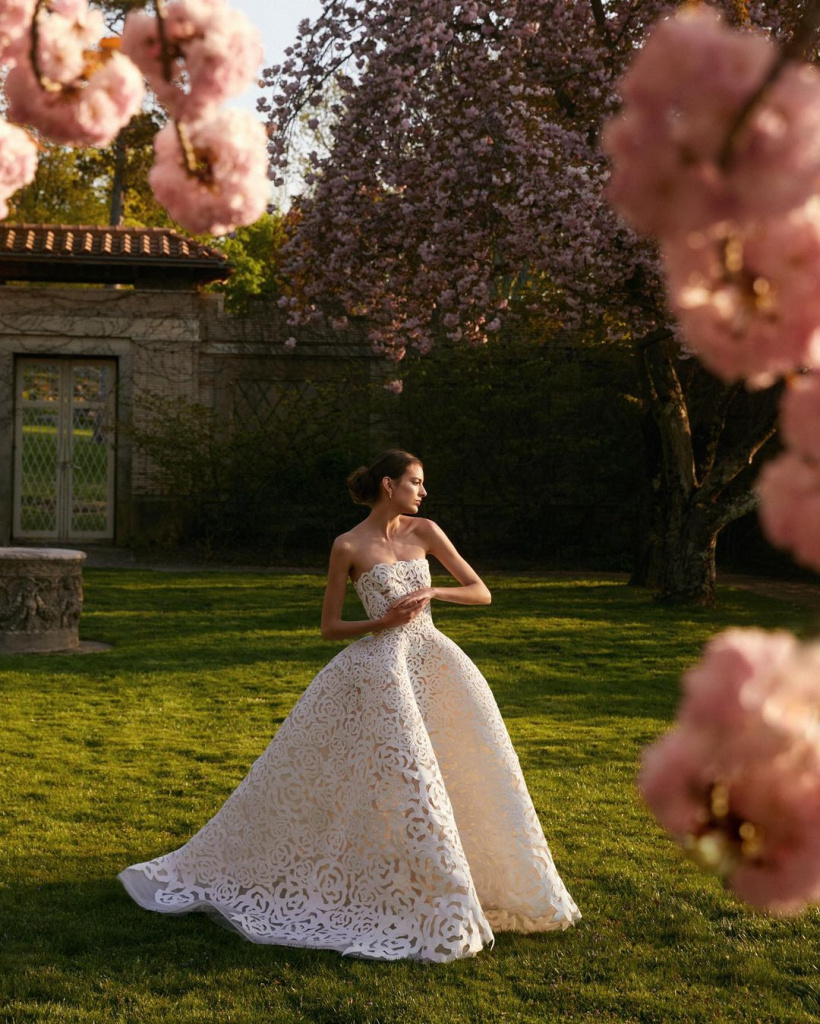 If you're dreaming of looking like a diva, a queen, or a celestial being on your big day, we've got the word - Oscar de la Renta, a wedding dress designer who deserves the spotlight. This brand isn't just a label; it's a fairytale stitched into fabric. We're talking bespoke couture that breathes life into your wildest bridal dreams.
First off, their designs are timeless. Imagine stepping into a gown that effortlessly blends vintage grace with modern glamour. Yeah, that's what we're talking about! We adore how they play with lace, silk, and tulle like wizards, creating something both ethereal and tactile. Seriously, you've got to feel it to believe it. Every gown bears the hallmark of meticulous craftsmanship. Think hand-embroidered details, strategically placed appliqués, and, oh my gosh - the beadwork! The beadwork is like stardust sprinkled on moonlight. We swoon every time. You won't just wear these gowns; you'll radiate, darling.
Their silhouettes range from royal ball gowns to seductive mermaid styles. And their use of color? Iconic. Who says bridal wear must stick to vanilla whites and demure ivories? If you're daring enough, go ahead and sashay down the aisle in blush, champagne, or sultry black!
Reem Acra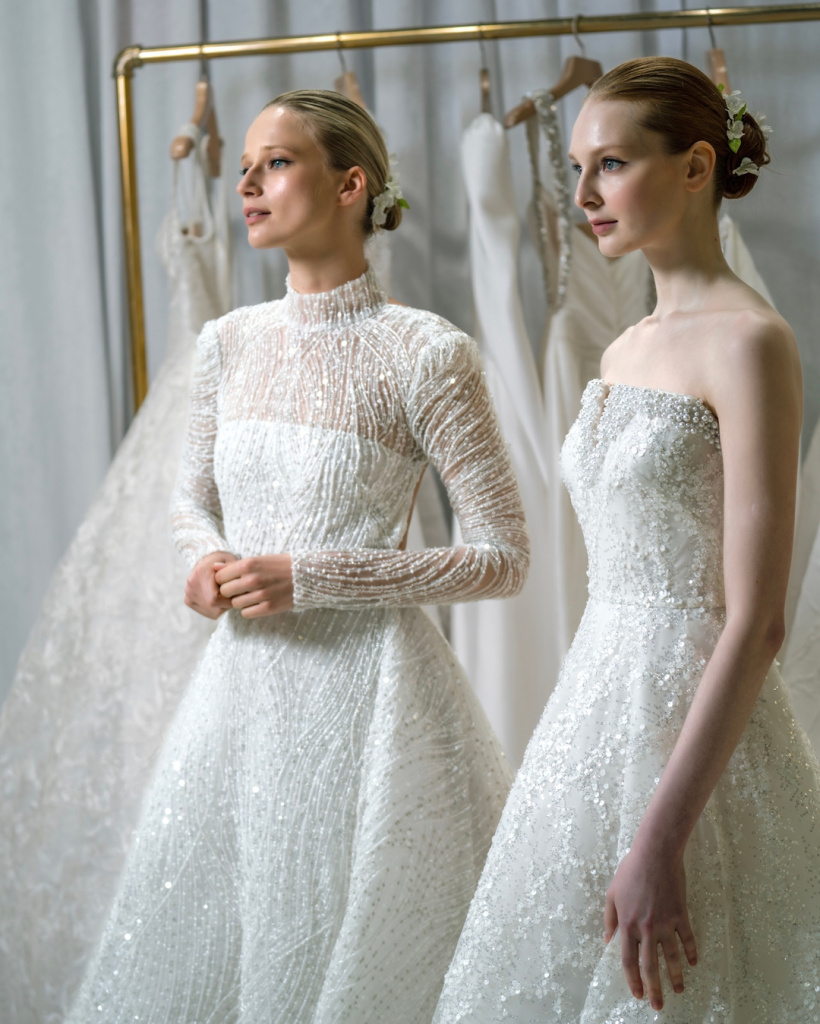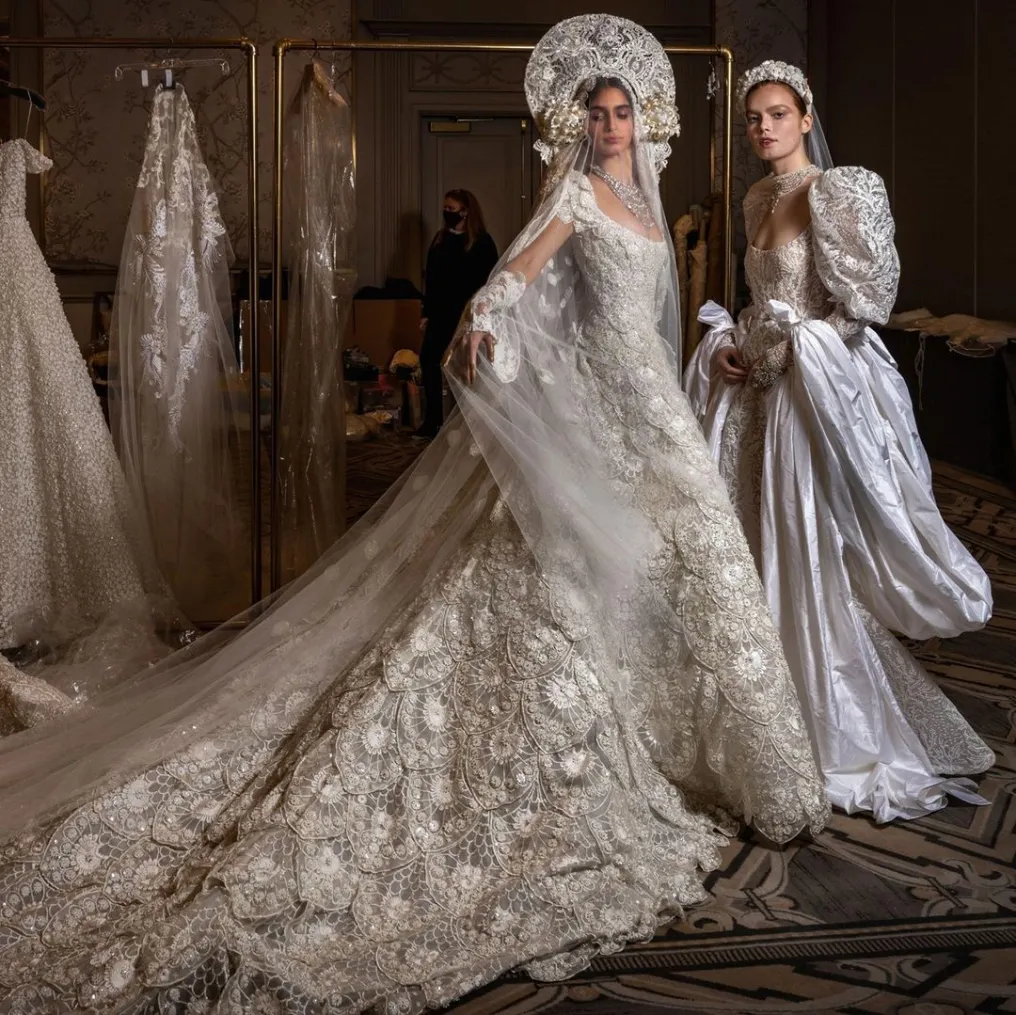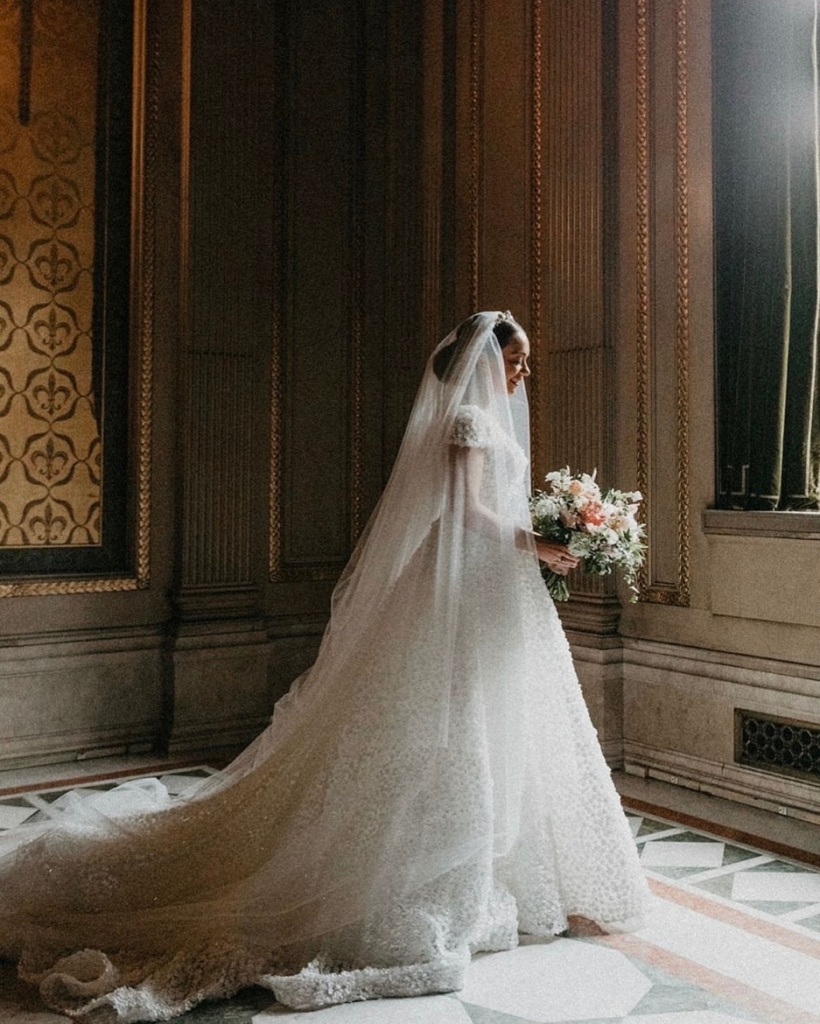 We're about to introduce you to the brand that deserves the crown and sash in your search: Reem Acra, one of the top 10 wedding gown designers. If Reem Acra gowns were a playlist, they'd be all killer hits, no filler. The fabrics? Oh, girl, we're talking about the best of textiles here. And don't even get us started on the embroidery. Hidden gems of crystal, swirls of silver thread, and intricate beading would make a pirate's treasure chest look basic. Now, about those silhouettes. Forget "one size fits all"; this is more like "one vibe fits YOU." Whether you're after a look that screams old-money glam or one that whispers timeless elegance, Reem Acra has a silhouette that'll make you feel like the star you are.
We can't wrap this up without talking about the feels. Sliding into a Reem Acra gown is like finding the last missing piece to the world's most beautiful jigsaw puzzle - you suddenly see the whole stunning picture and everything clicks. This is the gown that boosts your mojo, lights up your face like the golden hour, and makes your heart swell bigger than a full moon.
Reem Acra isn't just a name on a list of couture luxury bridal gown designers; it's a one-way ticket to feeling like the headliner in the love story of the century. So go ahead, and claim your spotlight, because a Reem Acra gown isn't just a dress - it's an event. And girl, you're the main attraction!
Valentino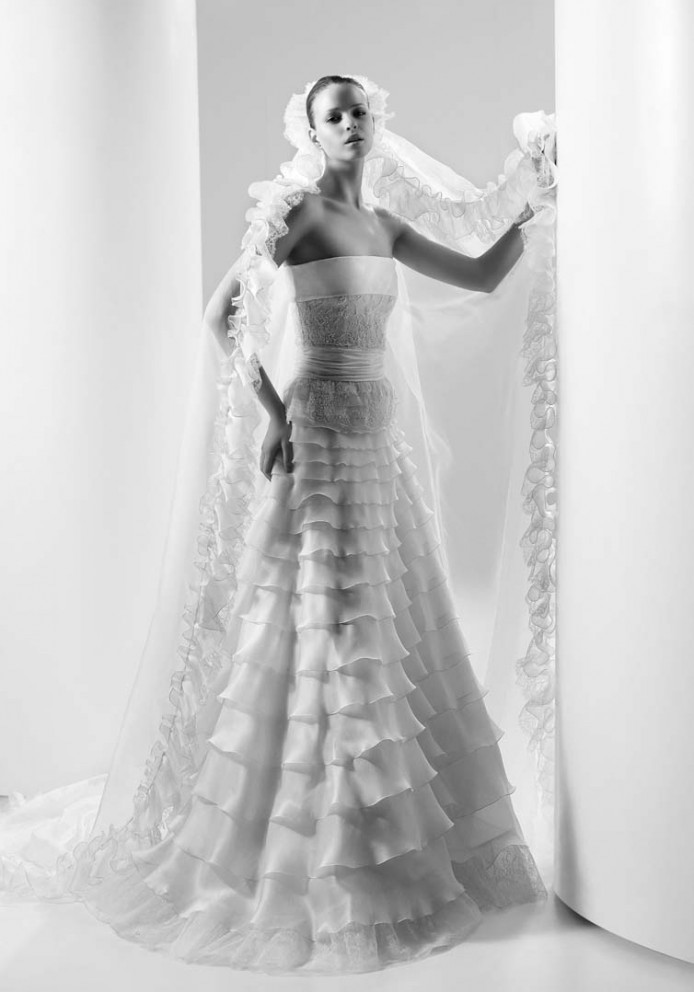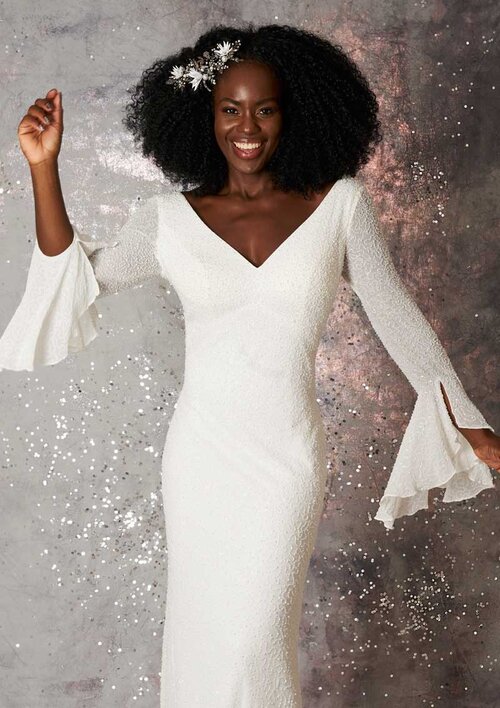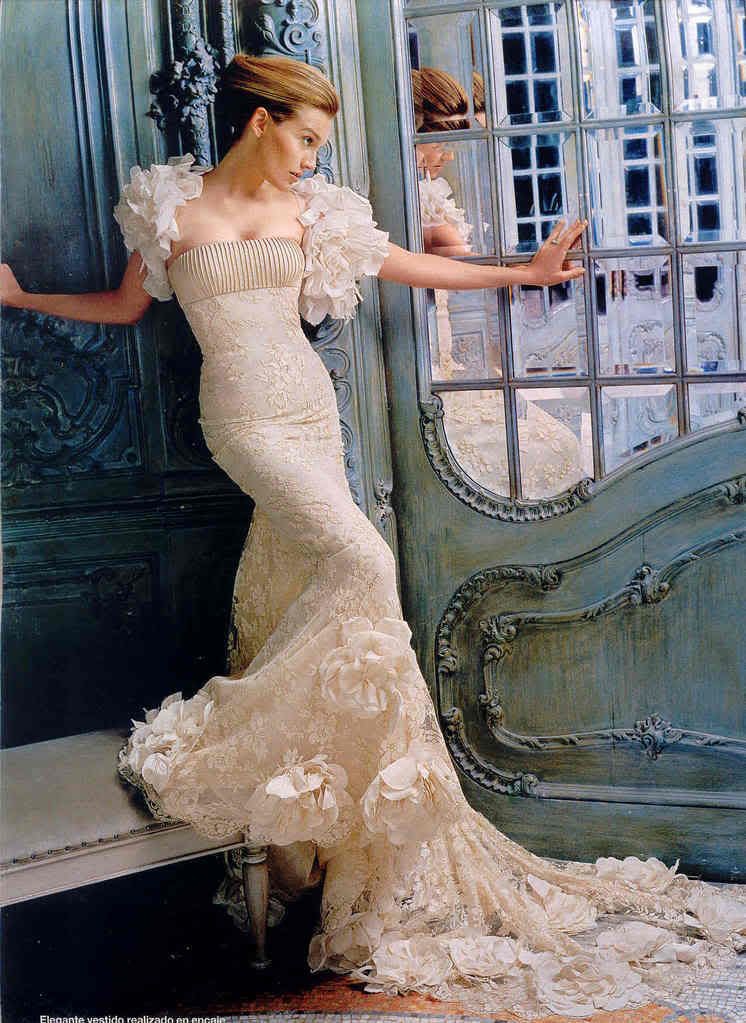 Nestled lovingly in our top 10 best wedding dress designers is a name that practically needs no introduction but deserves one anyway: Valentino!
When we say Valentino, we're talking about the epitome of timeless romance meets jaw-dropping elegance. Imagine the softest silk, tulle, and lace whispering against your skin. These materials don't just hang; they float, they caress, and they make love to you as you glide down the aisle. And the designs? You'll be gasping for air. It's an array of dreaminess, intricacy, and absolute wow factor. Think of meticulous hand-beaded embellishments that twinkle like stars against a midnight sky. Picture cascading trains that wouldn't look out of place in a royal palace. We're talking detail so minute and perfect, it's like each gown got a pep talk from Valentino himself, saying, "Go out there and make her look like the queen she is!"
But here's where Valentino really sets itself apart: individuality. Each gown tells a story, YOUR story. Whether you're the embodiment of vintage grace or a modern muse, Valentino's got your back. You're not just putting on a dress; you're stepping into a work of art, a legacy. With a Valentino, you're not only joining in the footsteps of A-list celebs and iconic fashionistas who've donned the brand before, but you're also etching your own place in a long line of elegance and beauty. 
Sabyasachi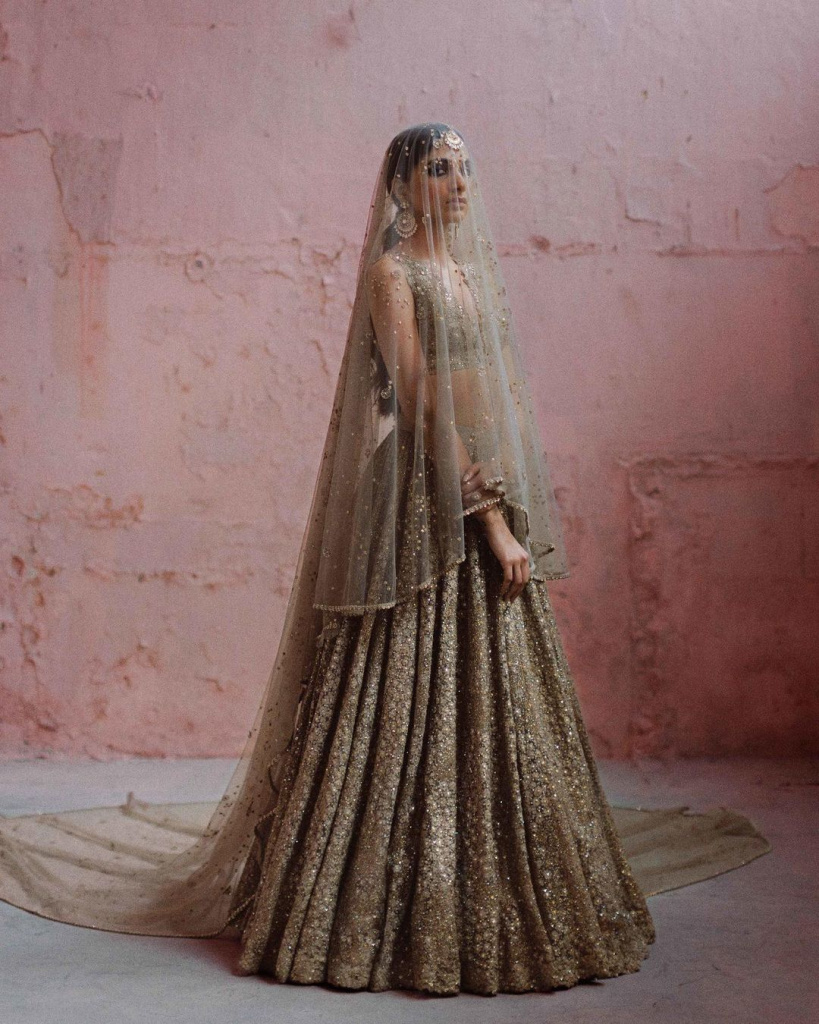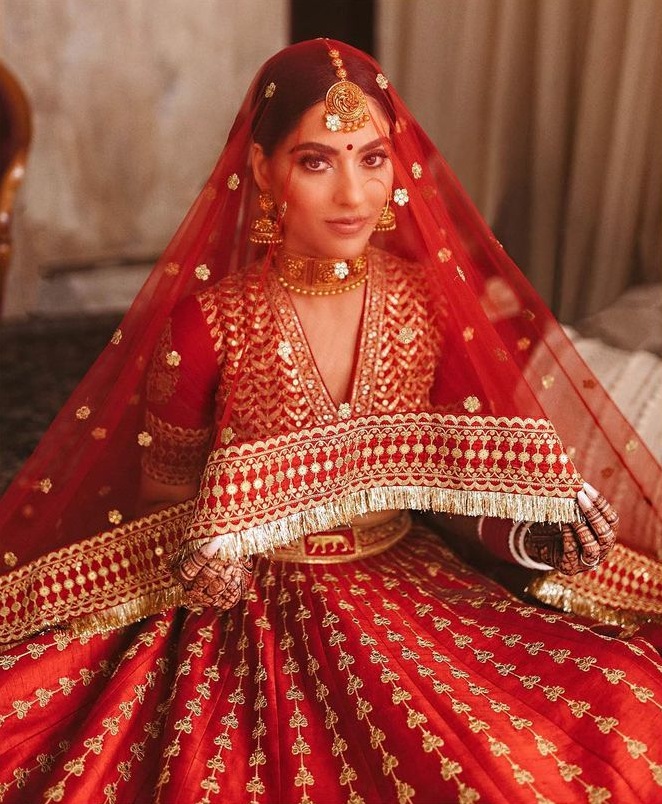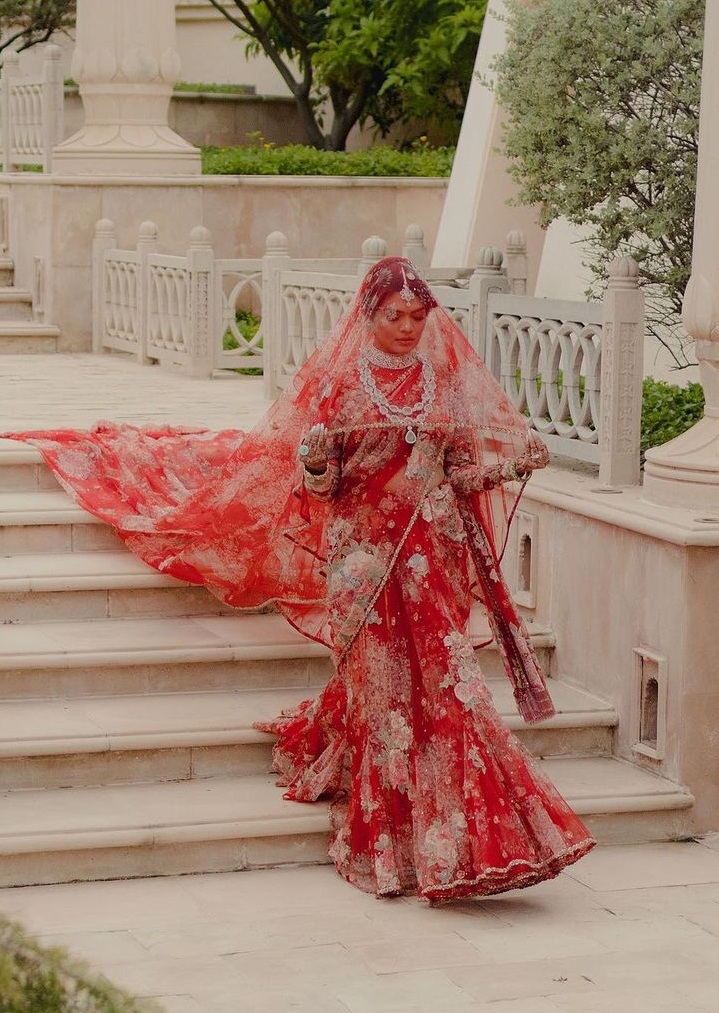 Meet one of the best wedding dress designers in the world. Drum roll, please... we're talking about the one and only Sabyasachi! Sabyasachi isn't just another designer, oh no, he's a storyteller. When you slip into one of his gowns, you're not just wearing fabric; you're wrapping yourself in layers of history, culture, and artisan craftsmanship. Imagine stepping into a room and being the living, breathing embodiment of art. That's Sabyasachi for you!
This brand marries (pun intended) traditional Indian techniques with global trends. Intricate hand embroidery, opulent fabrics, and rich, decadent colors. Yet, there's also this understated elegance. We know, you want to flaunt your individuality, not be a cookie-cutter bride. And Sabyasachi gets it. You get to collaborate, play with designs, and stitch together your very own dream. By the end, you're not just walking down the aisle; you're gracing the world with a masterpiece that's got your soul woven into it. And let's not forget the jaw-dropping embellishments. Your gown won't just sparkle; it'll freaking dance with you! It's like having your own little fireworks display as you waltz around, bling-blingin' in the most tasteful way, of course!
Alright, we've waltzed through the biggest bridal designers' wonderland and dropped some serious names in the gown game. Whether you've got your heart set on a ballgown that would make any Disney princess jelly or a sleek number that screams Bond Girl at a wedding, there's a dream-weaver on our list for you! Grab your Pinterest board, your closest confidants, and maybe another glass of that bubbly, and get ready to make that ultimate fashion statement with these top 10 wedding dress brands!