Hawaiian Wedding Traditions
Publication date:

05/26/2023
Aloha! If you're looking to tie the knot in paradise, Hawaii is the place to do it. There's nothing quite like a Hawaiian wedding to celebrate your love in a truly memorable way. Get ready to be swept away by these fantastic Hawaiian wedding traditions that will make your big day extra special.
Say "I Do" in Style: Hawaiian Wedding Ceremony Ideas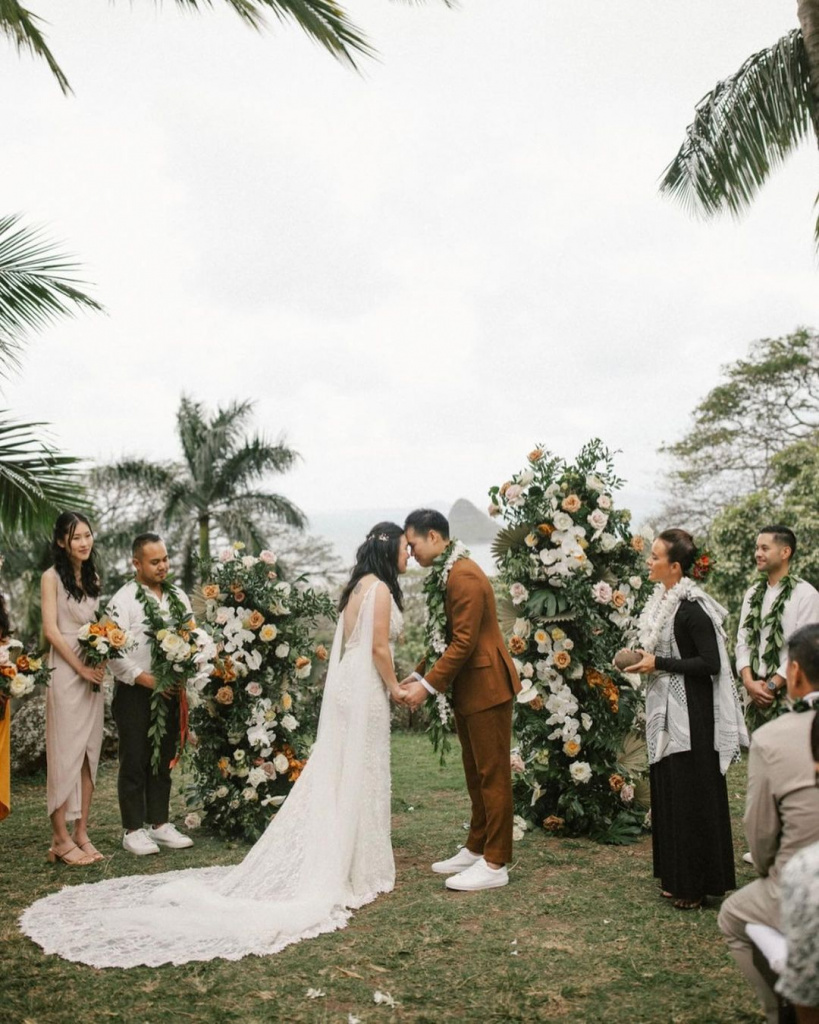 When you imagine a Hawaiian wedding, you're probably picturing a breathtaking beach ceremony. But there are so many more ways to embrace the Aloha spirit. How about exchanging vows in a lush botanical garden, on a cliff overlooking the ocean, or even under a cascading waterfall?
The possibilities are endless, and whichever location you choose, don't forget to include some traditional Hawaiian elements like the lei exchange, Hawaiian prayers, and live music featuring the ukulele or slack key guitar. You can also incorporate the Hawaiian tradition of oathing stones, where the couple places their hands on a lava rock while reciting their vows, symbolizing the strength and foundation of their marriage.
Typical Hawaiian Wedding Ceremony Script
The Hawaiian wedding ceremony script is a beautiful blend of traditional and modern elements that captures the essence of the island's rich cultural heritage. Here's a more detailed breakdown of what a script according to the native Hawaiian wedding traditions might look like:
Welcoming the guests: The ceremony often begins with a warm greeting, welcoming the guests and sharing the significance of the chosen location. The officiant, often a kahu (Hawaiian minister), may open with a traditional Hawaiian oli (chant) or pule (prayer).
Lei exchange: One of the most iconic symbols of Hawaiian culture, the lei exchange is an essential part of the ceremony. The bride and groom exchange lei with each other and may also present lei to their parents and bridal party as a sign of love, respect, and appreciation.
Oathing stones: A unique Hawaiian tradition, the couple places their hands on a lava rock while reciting their vows. This symbolizes the strength, endurance, and foundation of their marriage. The stone can be kept as a keepsake after the ceremony.
Vows: The couple recites their vows, which can be traditional, personalized, or a combination of both. The vows typically express their love, commitment, and promises to each other as they embark on their journey together.
Ring exchange: The couple exchanges wedding rings as a symbol of their eternal bond. For a Hawaiian touch, consider having the rings blessed with sea salt or water from a sacred location, representing purity and protection in the marriage.
Unity ceremony: A unity ceremony, such as pouring two different-colored sands into a single container or lighting a unity candle, signifies the blending of the couple's lives. This optional element can be personalized to reflect the couple's unique love story.
Pronouncement: The officiant pronounces the couple as husband and wife, often with a traditional Hawaiian blessing to ask for the protection and guidance of the couple's ancestors and the divine.
Closing statement: The ceremony concludes with a heartfelt closing statement, asking guests to join in a final Hawaiian chant, prayer, or song to bless and celebrate the couple's union. The officiant may also offer a final blessing or words of wisdom for the newlyweds.
Celebrate with Aloha: Embracing Hawaiian Wedding Reception Traditions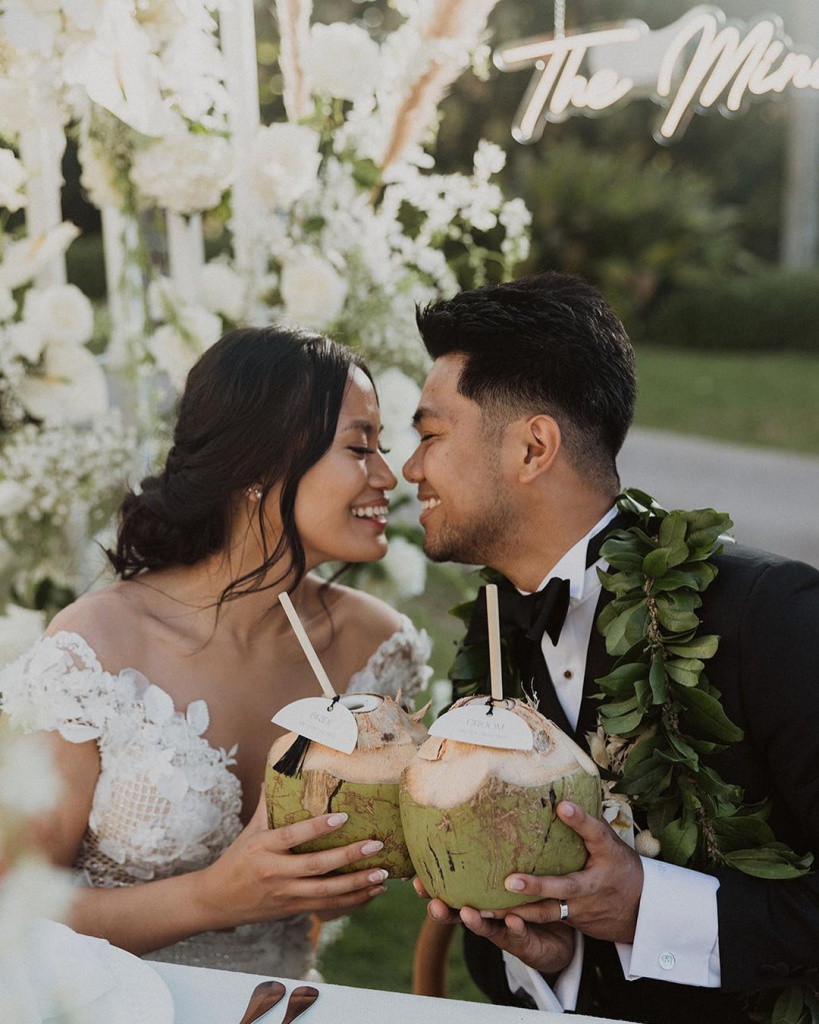 Get ready to embrace the island vibes and celebrate your love Hawaiian-style! From mouthwatering local dishes to captivating entertainment, incorporating Hawaiian wedding reception traditions will create an unforgettable experience for you and your guests. Here's a deeper look at some of the key elements of a truly authentic Hawaiian wedding reception:
The Luau Feast: One of the most iconic aspects of a Hawaiian celebration is the traditional luau feast. Often featuring a kalua pig roasted in an imu (underground oven), the menu is a scrumptious spread of local favorites such as poi, lomi lomi salmon, laulau, poke, ahi tuna, grilled mahi-mahi, and of course, haupia for dessert. To elevate your dining experience, consider hiring a local chef or catering service specializing in traditional Hawaiian cuisine.
Traditional Hawaiian Music: Set the tone for your reception with live Hawaiian music, featuring instruments like the ukulele, slack key guitar, and the ipu (a traditional Hawaiian gourd percussion instrument). From classic island melodies to modern Hawaiian tunes, a talented musician or band can create a warm and inviting atmosphere for your guests.
Hula Performances: No Hawaiian reception is complete without a mesmerizing hula performance. Hire professional hula dancers to showcase this beautiful and expressive art form, telling the stories of the islands through dance. For a more interactive experience, consider arranging a hula workshop for your guests, allowing them to learn and participate in this captivating tradition.
Fire Knife Dancing: Add some excitement to your reception with a thrilling fire knife dance performance. This ancient Samoan tradition, now a staple of Polynesian entertainment, features skilled dancers twirling and tossing flaming knives to the beat of rhythmic drums, leaving your guests in awe.
Interactive Activities: Keep the good times rolling with fun and engaging activities for your guests. Teach them how to dance the hula, and give them a chance to play the ukulele or participate in traditional Hawaiian games. You could also set up a lei-making station, allowing your guests to create their own beautiful floral arrangements to take home as a memento.
Tropical Decor: Transform your reception space into a tropical paradise with lush greenery, vibrant flowers, and natural elements like bamboo, rattan, and sea shells. Incorporate traditional Hawaiian symbols like the honu (sea turtle) or the hibiscus flower in your table settings and centerpieces for an extra touch of island flair.
Signature Cocktails: Delight your guests with refreshing, tropical-inspired cocktails. Offer classics like Mai Tais, Blue Hawaiians, or Lava Flows, or create a custom cocktail that reflects your favorite island flavors. Don't forget to include non-alcoholic options like fresh coconut water, guava juice, or lilikoi lemonade.
By incorporating these Hawaiian traditions for your wedding, you'll create an unforgettable celebration filled with laughter, dancing, and the warmth of the Aloha spirit.
Travel Back in Time: Ancient Hawaiian Wedding Traditions
Why not delve into Hawaii's rich history and include some old Hawaiian wedding traditions on your special day?
Weddings were frequently held under the open sky or in a sacred heiau (temple) in ancient times. The kahuna pule (Hawaiian priest) would blow a conch shell to signal the arrival of the couple. Together they would then exchange lei, which symbolized their love and dedication. Following that, the priest would bind their hands together with a maile lei, symbolizing the union of two lives.
Consider using a traditional Hawaiian chant or oli sung by a kumu hula (hula teacher) in your ceremony to make it even more real. A blessing of the rings with Hawaiian sea salt or water from a special spot could also be included, indicating purity and protection in your marriage.
Say Yes to the Dress: Hawaiian Traditional Wedding Dress
Immerse into the enchantment of Hawaiian bridal fashion and say "I do" in a gorgeous gown that honors the island's rich cultural heritage. The traditional Hawaiian wedding gown, known as the holoku, is ideal for brides looking for a beautiful and timeless design. Let us look into the distinctive features and variations of this magnificent outfit!
Holoku Style
The holoku is a long, fitting garment that emanates grace and elegance. It has a high neckline, long sleeves, and a train, and it demonstrates a simple yet exquisite silhouette that has lasted the test of time. This classic design pays homage to the Victorian era while being tailored to the customs and tastes of Hawaiian royalty.
Fabrics and Patterns
Holoku dresses can be crafted from a variety of luxurious fabrics, such as silk, cotton, or even traditional Hawaiian kapa cloth. Delicate lace, embroidery, or floral patterns often adorn the gown, adding an extra layer of depth and beauty to the design.
Customization
While the traditional holoku boasts a specific silhouette, modern brides can customize their gowns to reflect their personal style. Options include shorter sleeves, a more fitted waist, or a daring open back. The key is to maintain the essence of the traditional holoku while infusing it with your unique touch.
Accessories
To complete your traditional Hawaiian bridal look, consider adding authentic accessories like a haku lei (floral crown) or a maile lei draped around your shoulders. Other options include delicate pearl or shell jewelry and a flowing veil adorned with tropical flowers or lace appliqués.
Alternative Styles
If the traditional holoku isn't quite your style, you can still embrace the Hawaiian spirit with other island-inspired wedding dress options. Consider a gown with a tropical print, a mermaid silhouette that mimics the flowing waves, or a simple sheath dress adorned with a statement floral sash or belt.
By choosing a traditional Hawaiian wedding dress or incorporating elements of the island's vibrant culture into your bridal ensemble, you'll create a truly unforgettable look for your special day. And as you walk down the aisle, you'll carry the spirit of aloha with you!
Hawaiian Wedding Dress Code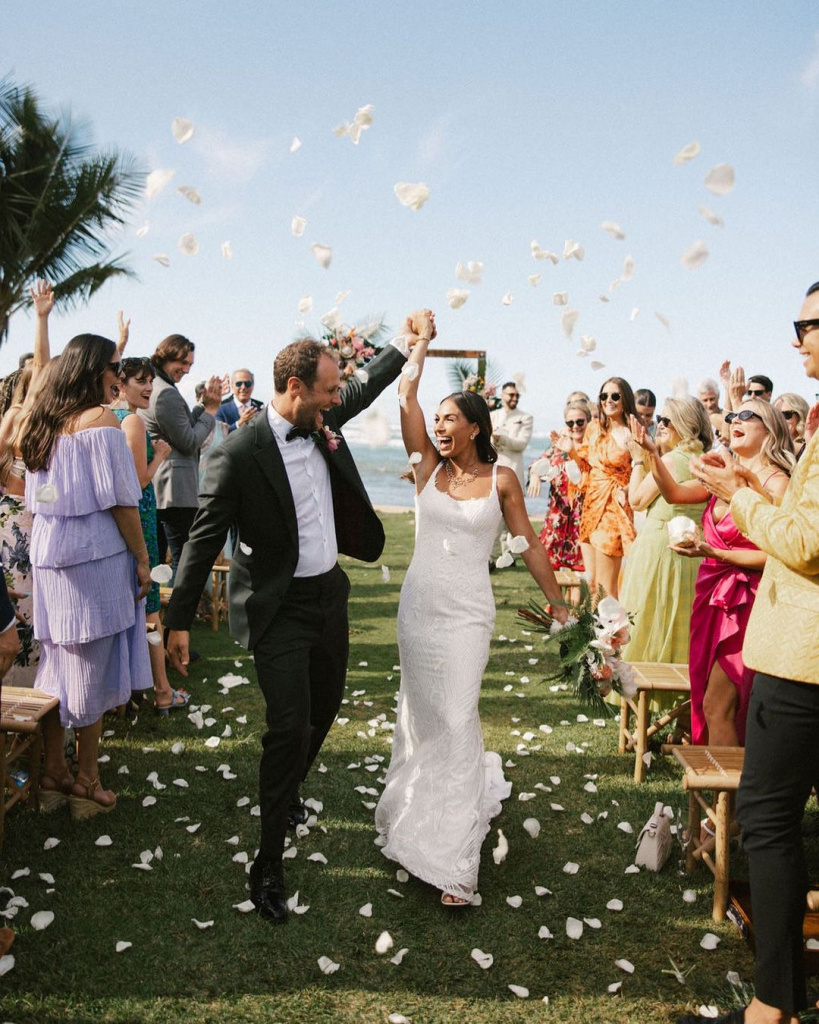 We've covered the most important person of the day, so let's move on to the rest of the party! As you already know, a Hawaiian wedding calls for attire that strikes the perfect balance between elegance and comfort. Whether you're a member of the wedding party or a guest, dressing for a Hawaiian wedding is all about embracing the island's laid-back vibe and natural beauty. Let's explore the different ways you can showcase the Hawaiian spirit through your wedding wardrobe!
Groom's Attire
Grooms can showcase their island style with a linen or cotton shirt, featuring a subtle Hawaiian print or solid color, paired with khaki or linen pants. For a more formal touch, consider a lightweight suit or a vest. Complete the look with a kukui nut or maile lei.
Bridesmaids' Dresses
Bridesmaids can wear colorful, island-inspired dresses in a variety of styles, from elegant maxi dresses to playful sundresses. Choose a single color or mix and match it with a palette inspired by the islands' vibrant flowers and landscapes. Accessorize with a wrist or head lei for a touch of Hawaiian charm.
Groomsmen's Outfits
Groomsmen can sport matching Hawaiian shirts and khakis or linen pants, embracing the island's relaxed atmosphere. For a more polished look, consider lightweight blazers or vests. Accessorize with kukui nut or ti leaf leis.
Guest Attire
Encourage your guests to embrace the laid-back island vibe by wearing resort casual attire. For women, flowy dresses, skirts, or jumpsuits in bright colors or tropical prints are ideal. Men can opt for light button-down shirts, polo shirts, and linen or khaki pants. Footwear should be comfortable and suitable for outdoor settings, such as sandals, wedges, or loafers.
Flower Girl and Ring Bearer
Dress the little ones in adorable island-inspired outfits, such as a mini version of the bride's gown or a cute Hawaiian print dress for the flower girl, and a matching Hawaiian shirt and shorts set for the ring bearer. Complete their look with a flower or kukui nut lei.
By choosing attire that reflects the spirit of the islands, your Hawaiian wedding will not only be a stylish affair but also a comfortable and memorable experience for everyone involved. So, get ready to embrace the island chic and celebrate your love in true Hawaiian fashion!
Express Your Gratitude: Hawaiian Wedding Gifts Traditional
In Hawaii, it's customary to present wedding guests with a small token of appreciation called a makana (gift). Traditional Hawaiian wedding gifts often include items like kukui nut leis, handmade soaps, or bags of Hawaiian sea salt. To make your gifts more personal, consider incorporating your favorite local treats, such as chocolate-covered macadamia nuts, Kona coffee, or Hawaiian honey. You could also give your guests reusable tote bags or tumblers featuring a custom design inspired by your wedding theme or the beauty of the islands.
Delving Deeper into Hawaiian Wedding Cake History
The Hawaiian wedding cake boasts a unique and fascinating history, blending local flavors with traditional cake-making techniques brought to the islands by American and European settlers. Let's embark on a flavorful journey through time to discover the origins, evolution, and variations of this delectable wedding dessert.
Plantation Era Origins
The Hawaiian wedding cake finds its roots in the plantation era when American and European settlers introduced their cake-making traditions to the islands. As they adapted to their new home, these settlers began incorporating local ingredients into their cake recipes, giving birth to the unique and flavorful Hawaiian wedding cake.
Local Flavors
Over time, the classic white wedding cake was transformed with the addition of tropical flavors native to the islands. Ingredients like guava, passion fruit, coconut, pineapple, and macadamia nuts became essential components of these cakes, infusing them with a taste of paradise that set them apart from traditional wedding cakes.
Modern Twists
Today, Hawaiian wedding cakes feature a wide variety of flavors and designs, as bakers continue to experiment and innovate. You might find cakes with tiers of different flavors, like lilikoi (passion fruit), chocolate macadamia nut, or haupia (coconut pudding), allowing guests to enjoy a variety of tastes. These cakes often feature unique fillings, such as tropical fruit curds or creams, adding an extra burst of island flavor.
Tropical Decorations
Hawaiian wedding cakes are often adorned with fresh tropical flowers, such as orchids, plumerias, or hibiscus blossoms, which not only add a pop of color but also reflect the beauty of the island surroundings. Other design elements include intricate sugar decorations, edible shells or sea creatures, and hand-painted Hawaiian motifs.
Alternative Desserts
While the Hawaiian wedding cake remains a popular choice, some couples opt for alternative island-inspired desserts to showcase their love for the local flavors. Options include malasadas (Portuguese donuts), haupia (coconut pudding) squares, mochi ice cream, or even a towering display of fresh tropical fruit.
Cake-Cutting Ceremony
As with any wedding, the cake-cutting ceremony is a significant part of a Hawaiian wedding reception. Couples often use a cake knife adorned with tropical flowers, shells, or even a meaningful Hawaiian heirloom to slice their cake, symbolizing the first task they complete together as a married couple.
Hawaii Wedding Ceremony and Reception Packages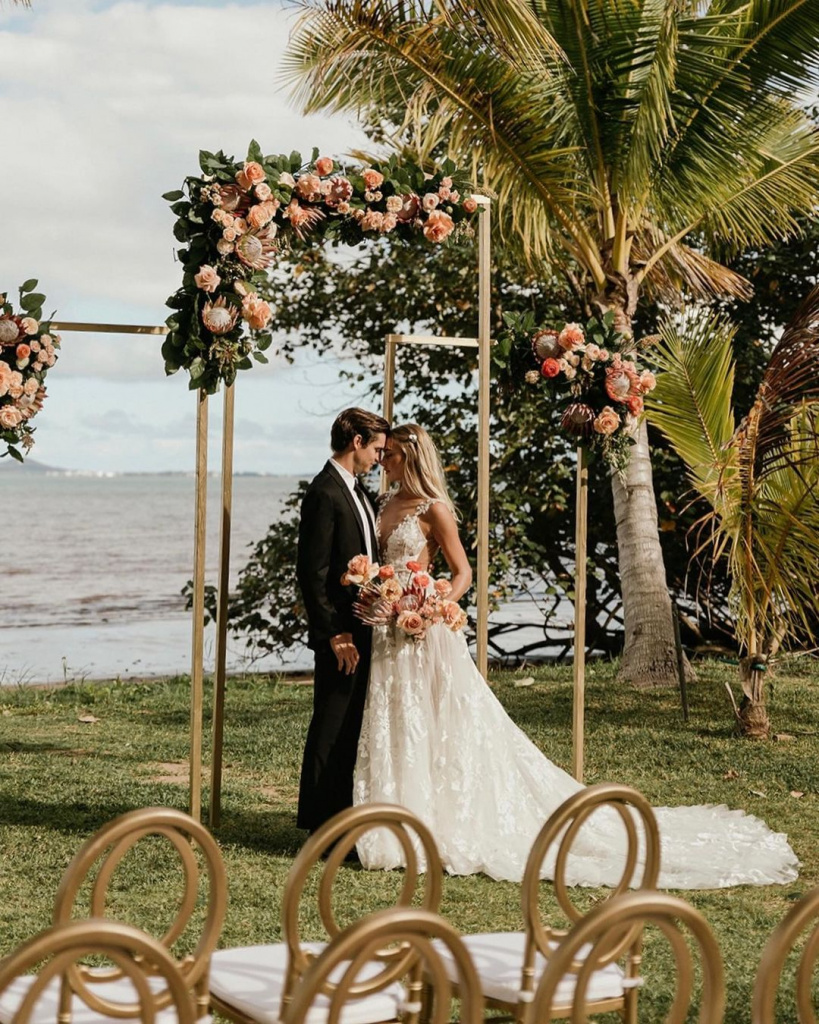 For couples looking to simplify their planning process, Hawaii offers a wide range of wedding ceremonies and reception packages. These all-inclusive options often cover everything from the venue and catering to the photographer and entertainment. Many hotels, resorts, and wedding planners specialize in creating customized packages to suit your specific needs and budget, ensuring your big day is as stress-free as possible. When choosing a package, make sure to ask about any additional services or upgrades, such as floral design, wedding coordination, or even a traditional Hawaiian blessing for your marriage.