Black American Wedding Traditions to Include in Your Celebration
Hello there! Do you want to include some rich Black American wedding traditions in your wedding? You've reached the address! We'll go through some amazing customs and ideas for making your wedding day extra special and unforgettable. So let's start this wedding planning celebration!
Most Popular Black American Wedding Traditions
Alright, let's kick things off with some of the most popular Afro-American wedding traditions. These time-honored customs are sure to add a touch of heritage and meaning to your big day. Trust us; your guests will be talking about these unique traditions for years to come:
Jumping the Broom: This one's a classic! By leaping over a beautifully decorated broom, you're symbolically "sweeping away" your old lives and jumping into your new ones together. Plus, it makes for some pretty rad photo ops! You can even personalize your broom with your wedding colors or add meaningful trinkets to make it truly one-of-a-kind.
Tasting the Four Elements: This tradition involves the couple tasting four flavors (sweet, sour, bitter, and spicy) to represent the different aspects of life they'll face together. Think honey, lemon, vinegar, and hot pepper. It's not only symbolic but also a fun and interactive moment for you and your partner.
Libation Ceremony: Honoring ancestors with a libation ceremony is a beautiful way to include family members who couldn't be there to celebrate with you. Pouring a small offering of water or alcohol onto the ground while calling their names is a touching tribute. You can also light candles or offer flowers to further honor their memory.
The Second Line Parade: This lively New Orleans tradition involves the newlyweds leading their guests in a joyful dance procession, complete with brass bands and festive parasols. It's a fantastic way to kick off your reception and get everyone in the party spirit!
Wearing Crowns: In some African cultures, couples wear elaborate crowns or headdresses during the ceremony to symbolize their status as royalty on their wedding day. This regal touch will definitely make you and your partner feel like a king and queen.
Why Black American Wedding Ceremony Is So Special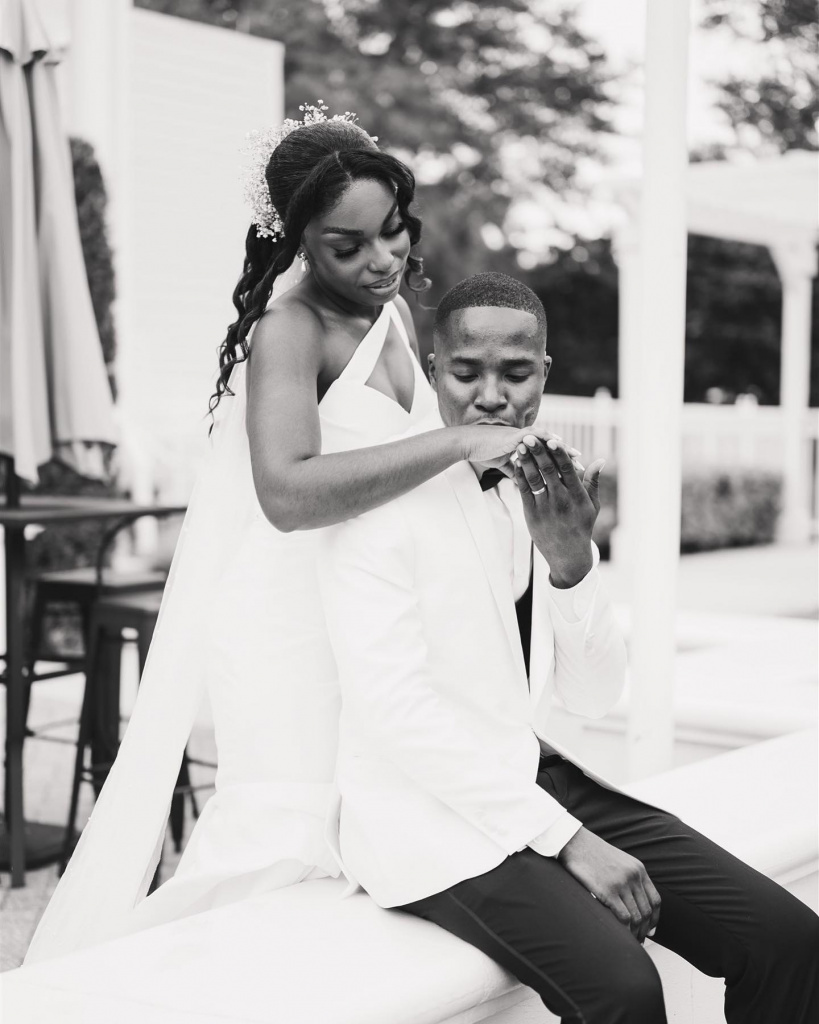 What makes these rituals so unique, you may wonder? It's all about the ties to one's heritage, family, and community. By adding these customs to your wedding, you are not only celebrating your love but also honoring the generations that have come before you. It's a lovely way to tie the knot while paying honor to your roots.
Incorporating traditional African American wedding customs is also a great way to educate your guests about your culture and foster harmony among all attendees. As a result, your wedding will be more than simply a celebration of love; it will also be a monument to the power and perseverance of the Black American community. Furthermore, these one-of-a-kind traditions will add a personal touch to your wedding, distinguishing it from the cookie-cutter ceremonies that everyone has seen a million times before.
Delightful African American Wedding Ceremony Traditions
But wait, there's more! Here are some fantastic African American wedding ceremony traditions that'll add a touch of culture and history to your celebration:
Kola Nuts: In West African tradition, kola nuts symbolize healing and unity. Including them in your ceremony is a sweet way to start your life together on a positive note. You can either incorporate the nuts into your décor or have the officiant present them to the couple during the ceremony.
Cowrie Shells: These small shells represent prosperity and fertility. You can incorporate them into your décor, attire, or even your wedding favors for a touch of good fortune. Consider creating cowrie shell jewelry for you and your bridal party, or using the shells to create a stunning centerpiece for your reception tables.
Handfasting: This ancient tradition involves the couple's hands being tied together with a cloth or ribbon, symbolizing the binding of their lives and commitment to each other. You can use a fabric that holds special meaning for you, such as a family heirloom or a piece of cloth in your wedding colors.
Drumming: Incorporating traditional African drumming into your ceremony or reception is a powerful way to connect with your roots and create an unforgettable atmosphere. You can hire a local drumming group or even encourage your guests to participate in a group drumming session.
The Wedding Train: The wedding train is a procession of female family members and friends that accompany the bride to the ceremony in some African American communities. This lovely display of love and support is a meaningful way to remember the special women in your life.
Traditional African American Wedding Ceremony Script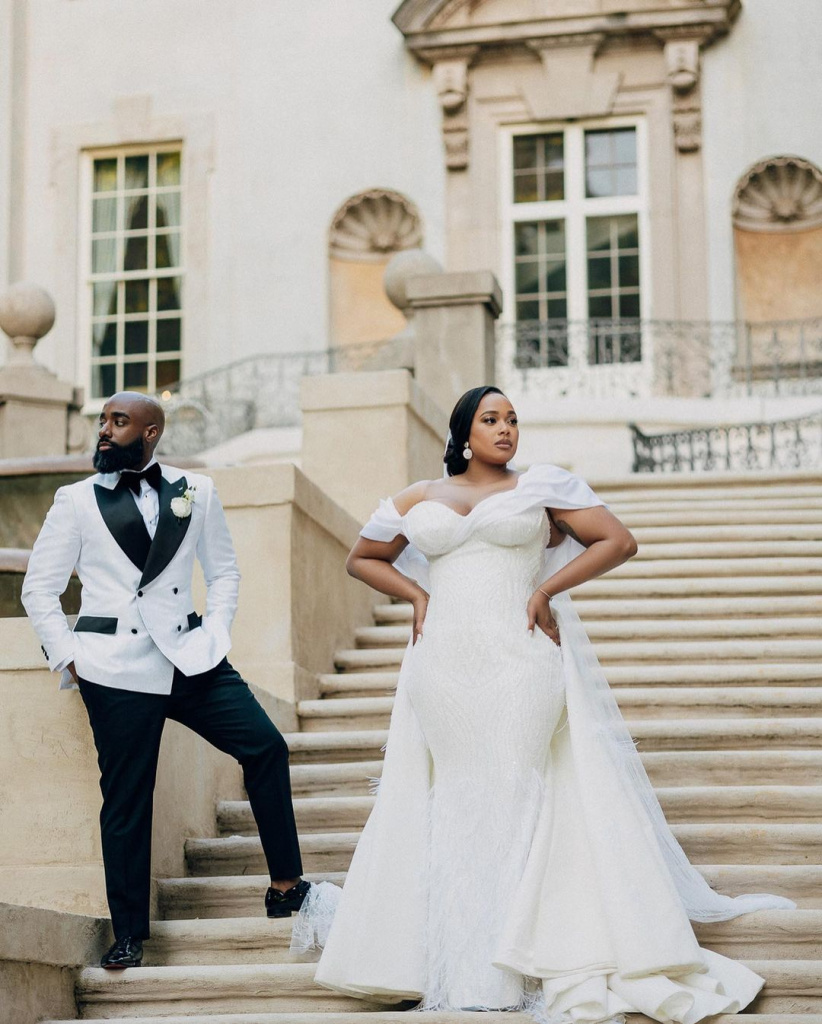 Now that you've identified some wonderful traditions, you may be wondering how to incorporate them into your ceremony. Don't worry, we've got you covered! Religious readings, poetry, and even personal vows may be included in a traditional African American wedding ceremony program. Don't be scared to get creative and incorporate items that speak to you and your companion.
Here's a sample script to get you started:
Processional: The wedding party and couple make their entrance, accompanied by music that holds personal or cultural significance.
Welcome: The officiant welcomes the guests and discusses the significance of the couple's ancestry and the customs they have decided to include.
Invocation: To bless the couple and set the tone for the ceremony, a prayer, poem, or song is offered.
Libation Ceremony: The couple pays tribute to their ancestors and loved ones who have died, with a brief explanation of the ritual for visitors who are unfamiliar with it.
Readings: Family and friends offer meaningful readings, poetry, or remarks that express the couple's love and dedication.
Handfasting: The officiant explains the symbolism of handfasting and leads the couple through the ritual, binding their hands together as they recite their vows.
Tasting the Four Elements: The couple tastes each of the four flavors, with the officiant explaining their significance.
Exchange of Rings: The couple exchanges rings as a symbol of their eternal love and commitment.
Jumping the Broom: The officiant explains the tradition, and the couple jumps over the broom to officially seal their marriage.
Pronouncement and Kiss: The officiant pronounces the couple as married, and they share their first kiss as a married couple.
Recessional: The couple leads the wedding party and guests out of the ceremony space, often accompanied by lively music or a celebratory second-line parade.
African American Traditional Wedding Dress
Fashion-forward brides and grooms, listen up! African American traditional wedding dresses often feature stunning, bold patterns, and vibrant colors. Think rich, lush fabrics like Ankara, Kente, and Aso Oke. Don't be afraid to make a statement and embrace your heritage with your attire. You can opt for a full traditional outfit or incorporate elements like headwraps, sashes, or jewelry into a more contemporary look.
For grooms, consider wearing a traditional dashiki, an embroidered agbada, or a tailored suit made from African fabrics. The key is to find a balance between personal style and cultural expression that feels true to you.
The Most Extravagant Black American Wedding Hairstyles to Try
Looking for some hair-spiration for your big day? Black American wedding hairstyles range from intricate updos adorned with jewels to gorgeous natural styles that celebrate your curls and coils. Whatever you choose, remember to rock it with confidence and let your personality shine through.
Braids: Whether you opt for a braided crown, box braids, or cornrows, braids are an elegant and versatile choice for your wedding day. You can adorn them with beads, flowers, or even cowrie shells for added flair.
Twists: Senegalese twists, Marley twists, or even Havana twists can create a stunning updo or be worn down for a more relaxed look. Add some glam with gold cuffs or hairpins for a touch of sparkle.
Afro: Embrace your natural hair and rock a gorgeous afro on your big day. You can keep it simple or add accessories like a floral crown or jeweled headband to elevate the look.
Sleek Updo: For a sophisticated style, pull your hair back into a sleek updo or low bun. Add a twist or braid for extra texture, or keep it classic with a smooth finish.
Locs: If you have locs, consider styling them in an elegant updo, half-up half-down style, or even a cascading side-swept look. Accessorize with fresh flowers or hair jewels to make your locs stand out.
Touchy African American Wedding Ceremony Songs for Your Playlist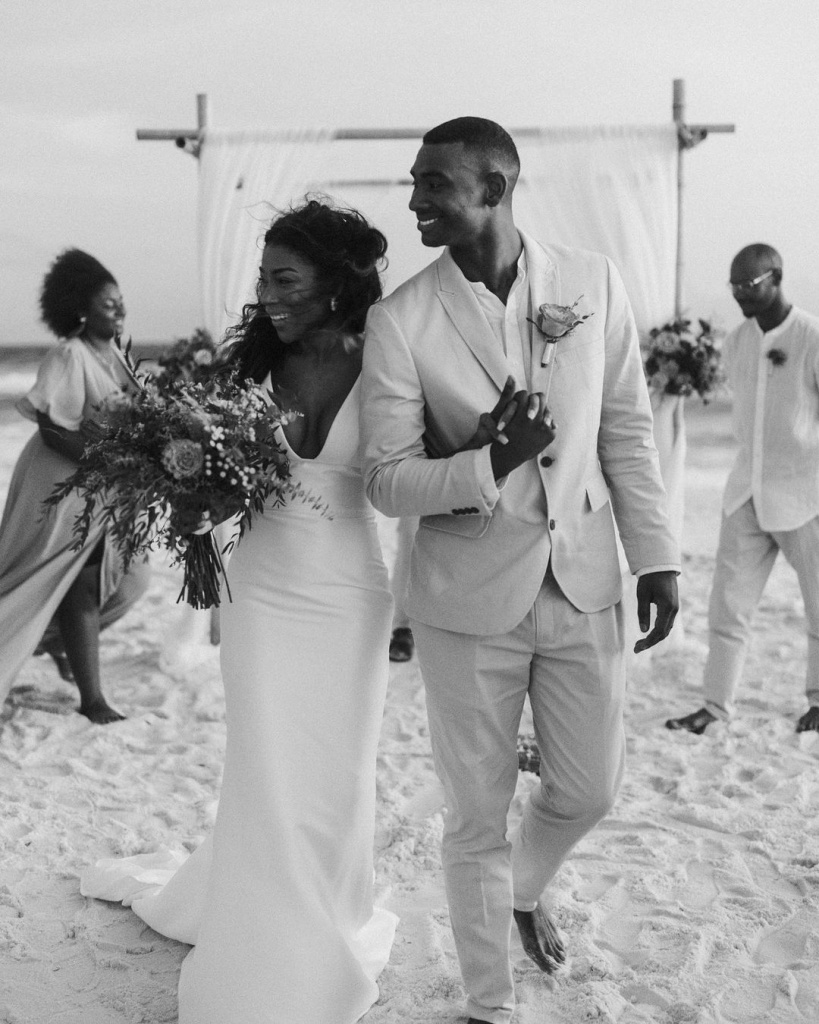 Finally, let's talk tunes! From soulful classics like "At Last" by Etta James to modern hits like "All of Me" by John Legend, there's no shortage of beautiful African American wedding ceremony songs to add to your playlist. Consider incorporating some gospel, jazz, or R&B tracks to really set the mood and create a memorable atmosphere.
Here are some touchy songs to get you started:
"A Couple of Forevers" by Chrisette Michele
"Ribbon in the Sky" by Stevie Wonder
"So Amazing" by Luther Vandross
"Golden" by Jill Scott
"Can't Take My Eyes Off You" by Lauryn Hill
"Love of My Life" by Erykah Badu ft. Common
"If This World Were Mine" by Marvin Gaye & Tammi Terrell
"Here and Now" by Luther Vandross
"You Are the Best Thing" by Ray LaMontagne
"By Your Side" by Sade
From the ceremony to the music, there are countless ways to infuse your special day with elements that reflect your culture and love story. So go ahead and embrace these traditions with open arms, and get ready to throw a wedding that's truly unforgettable!