Hey there, stylish reader! We know you've got a flair for fashion, and we're so glad you stopped by. Wedding season is upon us, and let's face it - dressing for a cocktail wedding can be a bit of a challenge. But don't worry, we've got your back. Get ready to raise a glass as we serve up some fabulous tips and tricks to help you nail that cocktail attire with ease, confidence, and a dose of charm. So grab your favorite beverage, settle in, and let's dive into the world of chic and classy ensembles, all tailored just for you. Cheers!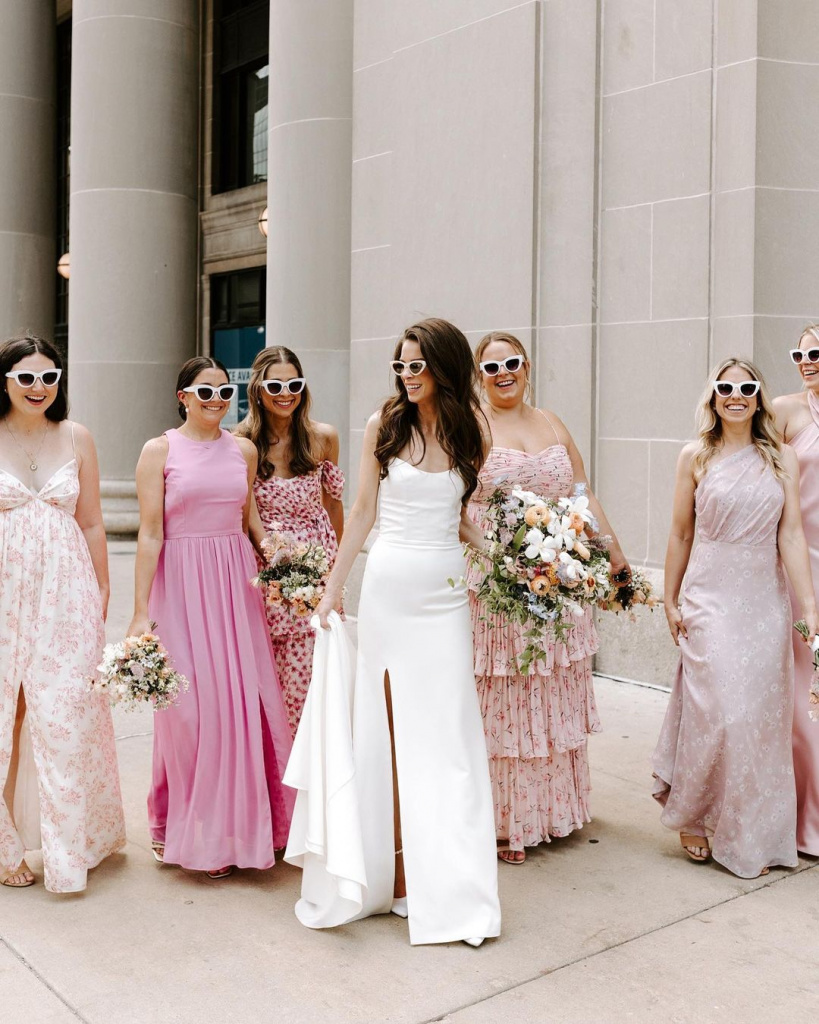 What Is A Cocktail Attire?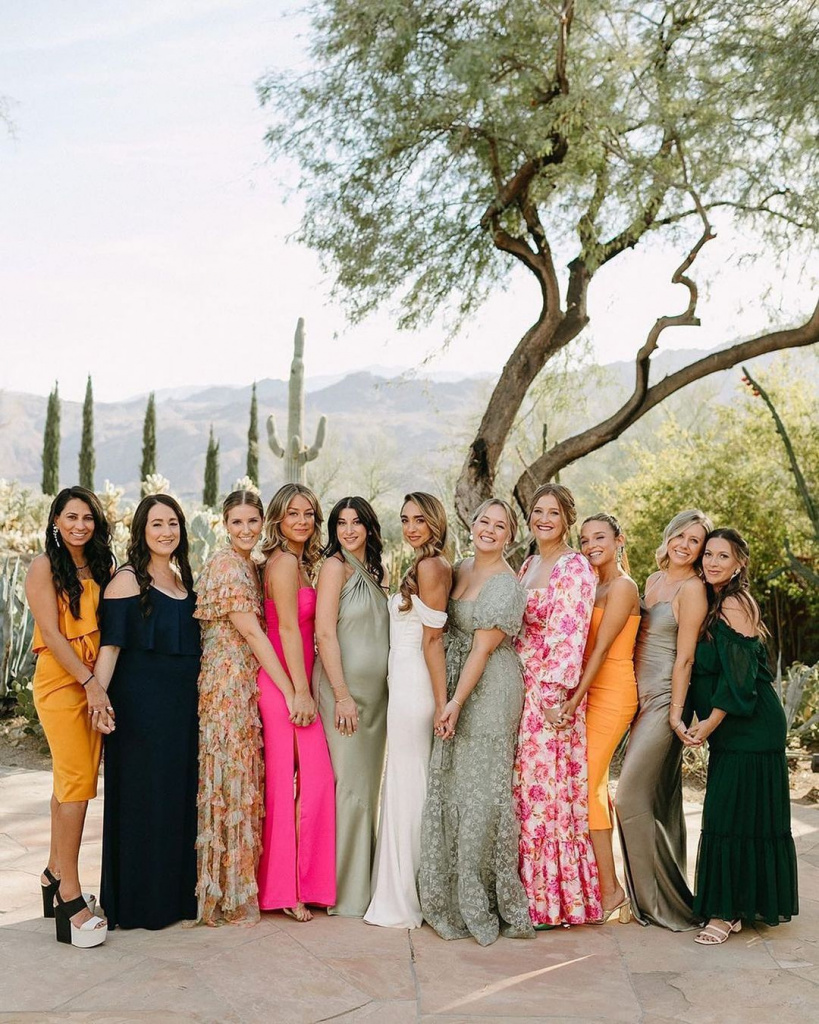 You might be wondering, "What exactly a cocktail attire for a wedding?" Well, you're in luck, because we're here to break it down for you and make sure you're dressed to impress at the next cocktail wedding you attend!
Cocktail attire is all about striking that perfect balance between formal and casual, offering a chic, semi-formal look that's perfect for celebrations that are a little less buttoned-up than your traditional black-tie affair. Picture dapper suits and elegant dresses, with a touch of flair and creativity that lets your personality shine through.
Cocktail weddings are typically held in the late afternoon or early evening, where the vibe is more about mingling, sipping on fancy drinks, and enjoying delicious hors d'oeuvres than sitting down for a full, formal dinner. This dress code has its roots in the glamorous, sophisticated cocktail parties of the 1920s and '30s, and it's been charming party-goers ever since. Oh, and are they popular? You bet! Cocktail attire is a crowd favorite for its versatility and the opportunity it gives guests to express themselves with a bit of flair. It's perfect for weddings, engagement parties, and other chic soirees that call for a touch of class without going overboard on the formality.
The best part? Investing in a fabulous cocktail attire ensemble means you'll have a go-to outfit for future events. You can easily repurpose your cocktail attire for other weddings, holiday parties, or even a romantic date night. Just switch up your accessories, and you're good to go!
Cocktail Attire For Women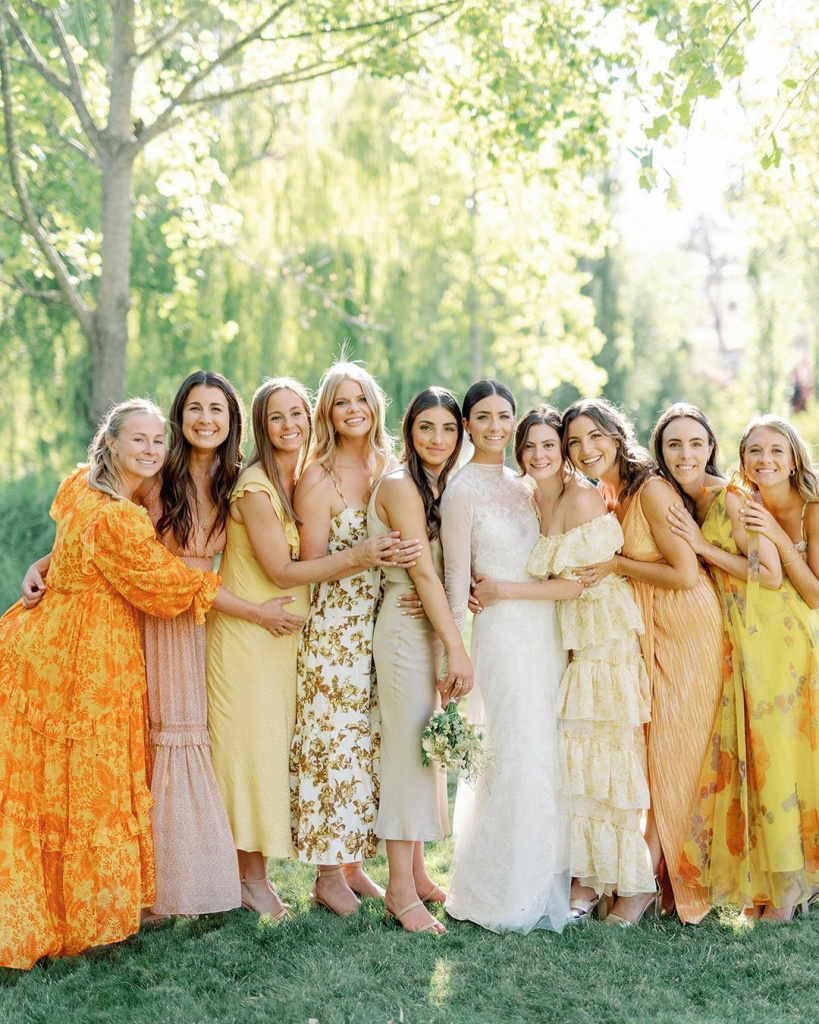 We're excited to help you find the perfect ensemble for the next cocktail wedding you attend! Now, let's explore the exciting realm of cocktail dresses and their key attributes!
Little Black Dress (LBD): A classic that never goes out of style, the LBD is a cocktail attire staple. It's versatile, elegant, and can be dressed up with statement jewelry or a pop of color in your shoes or clutch. Opt for a knee-length or slightly above-the-knee hemline for a timeless look.
Midi Dresses: These dresses fall between the knee and mid-calf, offering a bit more coverage while still being stylish and sophisticated. Midi dresses come in various styles, from body-hugging sheaths to flowy A-lines, making them a great choice for any body type.
Fit and Flare Dresses: This silhouette is universally flattering, with a fitted bodice that cinches at the waist and flares out into a fuller skirt. Perfect for dancing the night away, fit and flare dresses add a touch of playful elegance to your cocktail attire.
Jumpsuits: Who says cocktail attire has to be a dress? Jumpsuits are a trendy and chic alternative, offering a unique twist on the traditional cocktail look. Choose a tailored jumpsuit in a luxe fabric like satin or crepe for a sophisticated and modern vibe.
Off-the-Shoulder Dresses: Show off your décolletage with an off-the-shoulder dress that adds a touch of drama and romance to your ensemble. This style is perfect for those looking to make a statement while still adhering to the cocktail dress code.
Lace Dresses: Feminine and delicate, lace dresses exude elegance and sophistication. Choose a knee-length lace dress in a rich color like burgundy, navy, or emerald green for a chic and eye-catching look.
High-Low Dresses: These dresses feature a hemline that's shorter in the front and longer in the back, giving your outfit a playful and modern twist. High-low dresses are perfect for showcasing a fabulous pair of heels while still offering the elegance of a longer gown.
Velvet Dress: Ideal for colder months, a velvet dress adds warmth and elegance to your cocktail look. Choose a rich, jewel-toned color for added sophistication.
Sleeved Dresses: When temperatures drop, a dress with sleeves can be both stylish and practical. Opt for long sleeves or three-quarter length, depending on your preference and the level of formality.
Wrap Dress: A classic and versatile option, the wrap dress is perfect for transitional seasons like spring and fall. It provides extra coverage without sacrificing style and can be easily layered with a light jacket or shawl.
Floral Midi Dress: Perfect for spring and summer weddings, a floral midi dress brings a touch of whimsy and romance to your cocktail attire. Pair it with strappy sandals and a delicate necklace for a garden party-ready look.
Lightweight Maxi Dress: For warm-weather weddings, a lightweight maxi dress can keep you cool while still looking chic. Choose a flowy fabric like chiffon and opt for bright colors or bold patterns for a summery feel.
Satin Slip Dress: This sleek and sultry option is great for warmer evenings. Layer it with a light blazer or duster coat for cooler temperatures or an outdoor event.
Chiffon Dress: Light and airy, a chiffon dress is perfect for warm weather or destination weddings. The fabric's delicate drape creates an elegant and ethereal look.
Sequin Dress: For cooler evenings, a sequin dress adds sparkle and glamour to your cocktail attire. Choose a long-sleeved or high-necked style for extra coverage and warmth.
Wide-Legged Pants and a Blouse: For a chic alternative to a dress, try creating a cocktail outfit with pants and a flowy blouse. It's perfect for transitional weather and offers more coverage than a traditional dress.
Culotte Jumpsuit: A culotte jumpsuit is a stylish and breezy option for warm weather events. The cropped, wide-legged pants offer added ventilation, while the one-piece design still maintains a polished appearance.
Remember to always consider the wedding's theme, location, and time of day when choosing your outfit. It should be a reflection of your personal style while still adhering to the semi-formal dress code. Now that you're armed with all this fabulous knowledge, we have no doubt you'll be the belle of the ball at your next cocktail wedding. Happy shopping, and have a blast!
Men's Cocktail Attire For A Wedding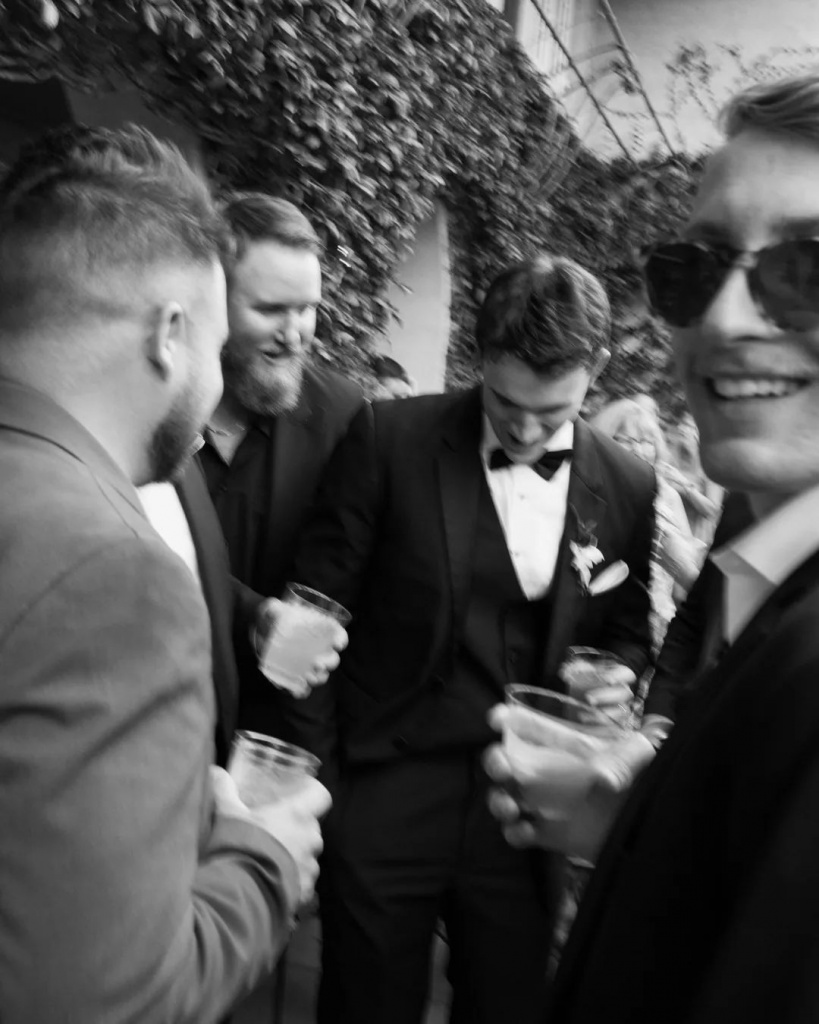 Here we'll talk about the ins and outs of wedding cocktail attire for men, so you'll be dressed to the nines! Let's see some stellar examples and the best features that make them stand out, all while giving you a fresh perspective!
Classic Suit: You can never go wrong with a well-fitted, two-piece suit in a versatile color like navy, charcoal, or black. This timeless option can be easily dressed up with a crisp dress shirt, a coordinating tie, and a stylish pocket square.
Blazer and Slacks: For a more relaxed yet polished look, pair a tailored blazer with contrasting slacks. This combination allows for creativity with color and patterns, giving your ensemble a unique edge.
Three-Piece Suit: Elevate your cocktail attire with a three-piece suit, featuring a matching vest. This look adds an extra touch of sophistication and formality, perfect for more elegant affairs.
Tuxedo: While not always necessary for cocktail weddings, a tuxedo can be a fantastic choice for evening events or more upscale venues. Opt for a traditional black tuxedo or experiment with rich, jewel-toned colors for a modern twist.
Bold Suit: Stand out from the crowd with a suit in a bold color or pattern. Think rich burgundy, royal blue, or even a subtle plaid. This option is perfect for the fashion-forward gentleman who wants to make a statement.
Linen Suit: For warm-weather weddings or outdoor events, a lightweight linen suit will keep you cool and stylish. Pair it with a breathable dress shirt and loafers for a comfortable yet refined look.
Tweed Suit: Ideal for fall or winter weddings, a tweed suit provides warmth and texture while maintaining a classic, polished appearance. Choose a suit in earthy tones like brown or gray, and accessorize with a knit tie for added flair.
Double-Breasted Suit: Make a bold impression with a double-breasted suit, featuring a distinctive overlapping front panel with two columns of buttons. This style adds a touch of elegance and vintage charm to your cocktail attire.
Monochromatic Look: Create a sleek and modern ensemble by pairing a suit, shirt, and tie in the same color family. This monochromatic look is both eye-catching and effortlessly chic.
Sports Coat and Chinos: For a more casual yet still polished option, try pairing a sports coat with well-fitted chinos. This combination offers versatility and comfort, while still adhering to the semi-formal dress code.
Armed with these fresh ideas, you're all set to make a lasting impression at your next cocktail wedding. Time to show off your style, gentlemen!
What Accessories To Consider When Going To A Cocktail Dress Code Wedding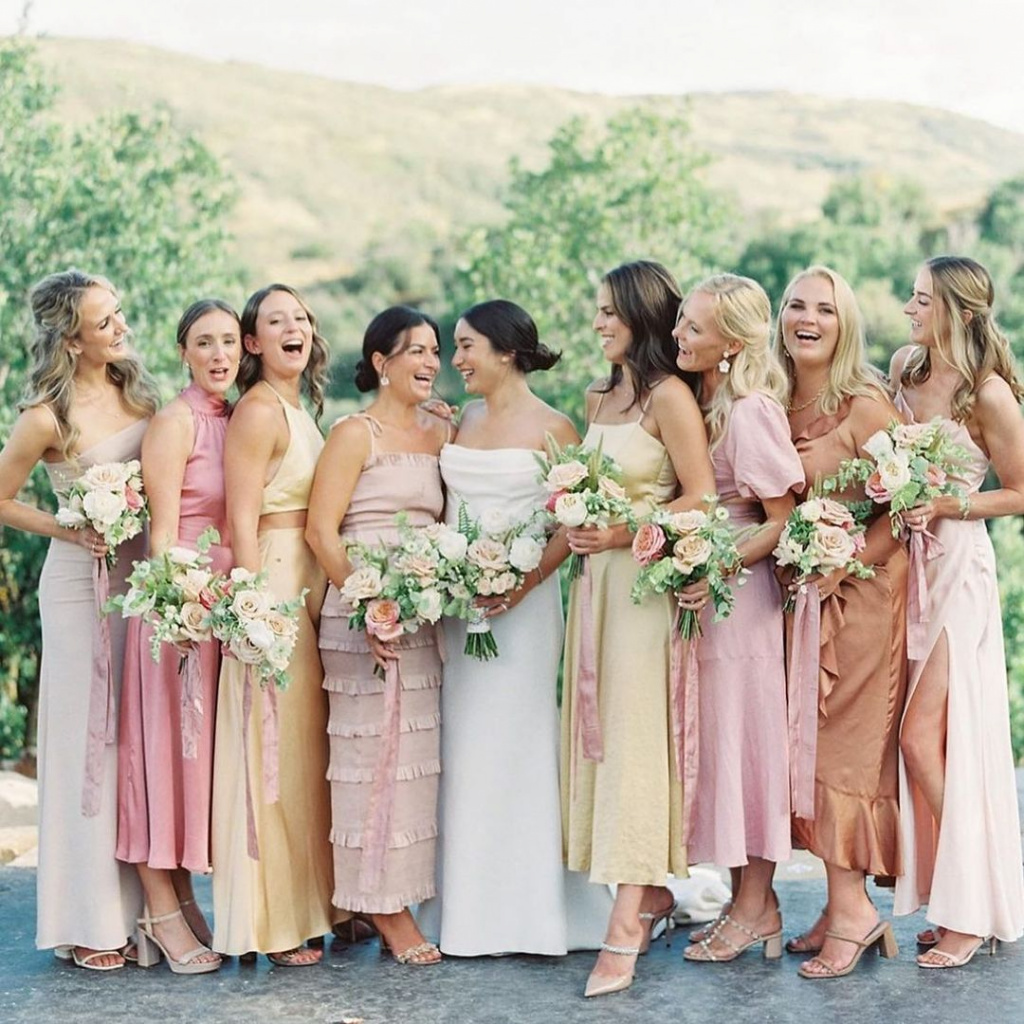 Accessorizing is key when it comes to perfecting your cocktail party attire. Let's explore 7 fabulous examples for both men and women, ensuring you'll be the epitome of chic.
For Women:
Statement Jewelry: Choose bold earrings, a dazzling necklace, or an eye-catching bracelet to elevate your ensemble. Remember to balance your jewelry, so if you go big with earrings, keep your necklace minimal, and vice versa.
Clutch: A stylish clutch adds both function and flair to your outfit. Choose one that complements your dress and has enough room for essentials like your phone, lipstick, and keys.
Heels: A great pair of heels can make your outfit pop. Opt for a classic pump, strappy sandals, or even a chic block heel, depending on your dress and personal style.
Hair Accessories: Add a touch of glamour with hair accessories like jeweled hairpins, an elegant headband, or a delicate hair comb. This can take your hairstyle to the next level and tie your look together.
Shawl or Wrap: For cooler weather or added coverage, a shawl or wrap in a coordinating color or fabric can be both stylish and practical.
Belt: If your dress is simpler, consider adding a statement belt to cinch your waist and add some visual interest.
Hosiery: Depending on the weather and the dress, consider wearing sheer pantyhose or even patterned or colored tights to elevate your look and add a touch of sophistication.
For Men:
Tie or Bowtie: A sharp tie or bowtie can pull your entire look together. Choose a color or pattern that complements your suit and adds a touch of personality.
Pocket Square: Add flair to your suit with a coordinating or contrasting pocket square. It's an easy way to showcase your style and attention to detail.
Cufflinks: Cufflinks are a subtle but sophisticated accessory that can enhance your cocktail attire. Choose a classic metal design or opt for something more unique, like personalized or novelty cufflinks.
Dress Shoes: A polished pair of dress shoes is essential for any cocktail outfit. Choose a classic oxford, brogue, or loafer in black or brown, depending on your suit color.
Socks: Don't overlook your socks! Choose a pair that complements your suit and adds a pop of color or pattern for a stylish touch.
Watch: A sleek dress watch can add a touch of sophistication to your ensemble. Opt for a classic metal or leather band that matches your other accessories.
Boutonniere: For a special touch, consider wearing a small boutonniere on your lapel. This can add a pop of color and a hint of romance to your outfit.