A wedding without the hassle: how to entertain the little guests
Publication date:

03/05/2022

Updated:

02/06/2023
Wedding day is thought to be a family celebration. Therefore, many couples invite the guests with their children. However, if you've decided to host kids at your event, you should know how to deal with them and keep children occupied for a long time with different games and activities. It's important to elaborate a plan of what you're going to offer the young guests, because in case children are bored, they'll just drive their parents crazy asking to go home. Down below, there are several tips on what is recommended to do to keep kids cheerful for hours.
Fair Weather Fun - Outdoor Games
If you're lucky to have nice sunny weather on your wedding day, you may relax, because a part of the preparation is completed. The easiest way to provide kids with a great deal of room for their activities is to set up lawn games in a specially designed thematic area. It'll be awesome to decorate this area according to the main wedding concept in order to maintain the whole ambiance. Among the most popular outdoor games are: twister, lawn bowling, hide-and-seek, Jenga, hopscotch, a three-legged race and others. Also, prepare a cute box filled with soap bubbles, and younger kids - will definitely be entertained with  them. Additionally, many children are obsessed with playing in tents. So, let them create one on their own, giving some cushions, rugs and bright pillows. For summer weddings, it'll be a great option to set up a separate soft  bar for kids, where they'll be able to choose a beverage or even create their own by mixing juices and sodas. Some decorations, fruits and colored paper straws will turn the bar into an appealing place to hang out.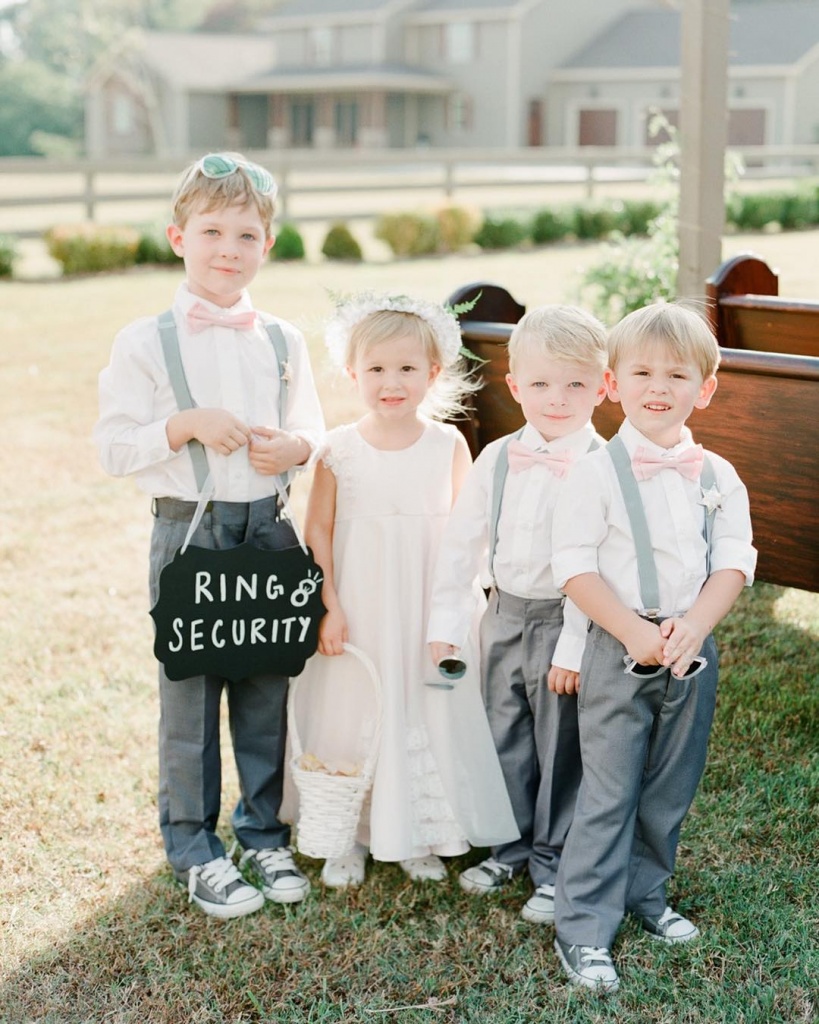 Photo by thehappybloom
Rainy Day Entertainment
In case the weather doesn't make it possible for kids to spend time outside, you should work on the entertaining program inside the hall. The best choice here, if you can afford and the budget allows it, is to hire professional entertainers for older kids and babysitters for youngsters. These people can easily prepare the activities in line with any age and quantity of children. Moreover, you can ask them to put on costumes or choose the characters inspired by your wedding theme: storytellers, clowns, impersonators (Mickey Mouse, Minions, Batman, Disney princess), magicians, balloon modelers. They don't just play with kids and amuse them, but also supervise and look after everyone. So, you can relax and don't think about kids' safety. Though, even without professional help, you can come up with many games and activities to keep children occupied for hours. A great choice would be: twister, jump ropes, hula-hips, air hockey tables, ping-pong. One more thing to take into account is kids' music playlists. Make their favorite songs play in the room where they will  stay during the whole day. They will be absolutely surprised and happy to see a dance instructor, who would teach them some modern dance tricks and just let them move as much as they want. Anyway, except for the active games, you can always offer different board games and crafts.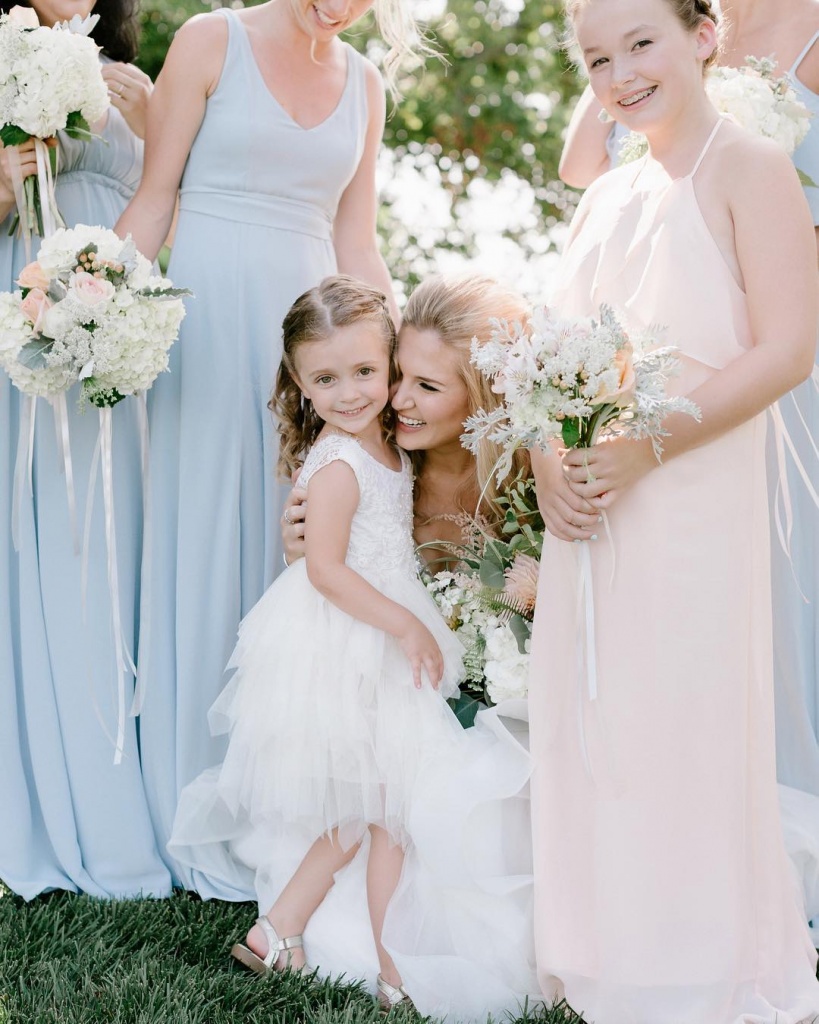 Photo by davidabel.co
Arty Crafty Occupation
Actually, DIY and crafts creating are favorite activities for kids of all ages. Even those who are more into running and jumping, will finally settle down and dive into hand making for a long period of time. The thing is that the number of options you can suggest young celebrants to create is huge. They can decorate a paper cake, make personalized gift cards for the bride, the groom and all the guests, design a wedding dress or decorations and make masks for a Photo Booth that they will use after for the photos. Additionally, you may ask the wedding photographer to print photos of children during the celebration, so they could put them in  the picture frame. Guess what these picture frames are? Right, they are another craft idea for kids. You can transform it all into a thrilling quest: create a Photo Booth mask, take a picture with it and put it into a self-designed picture frame.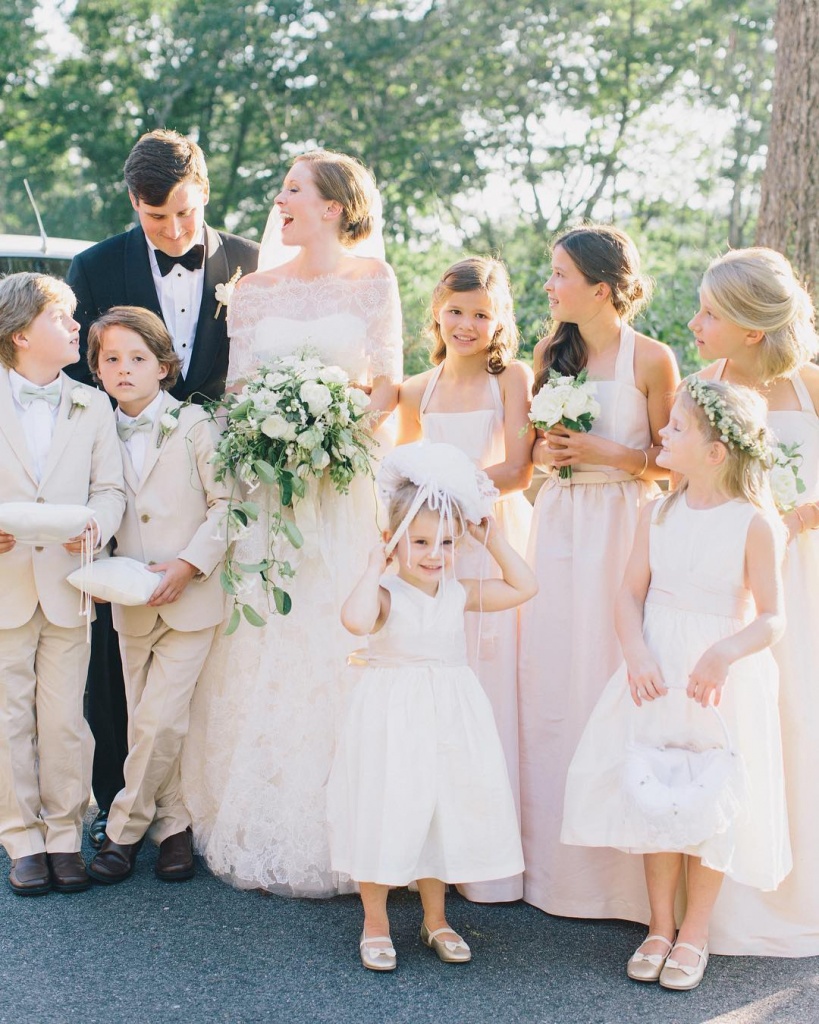 Photo by corbingurkin
Table Games
Despite the amount of active games you offer, there will be kids who tend to stay at the table and play something calm and chill. That's why it makes sense to have a cute separate table for children to play at. Usually, all toys and stationary for kids look bright and have different colors and shapes. So, you can use all these things as decorations, that later will be used as materials for drawing or crafting. Provide kids with lots of kraft paper, pretty wedding coloring pages, cups of crayons, stickers, play dough, color paper and tabletop chalk in case your table covering allows it. In addition, order a long paper sheet for coloring and place instead of the tablecloth. First, kids won't make the white tablecloth dirty with chalk or crayons. Second, thanks to the size of a coloring page, children can draw throughout the entire evening. As for the board games and table activities, the most popular ones are Monopoly, Hungry Hippos, Operation, jigsaw puzzles and Lego building blocks.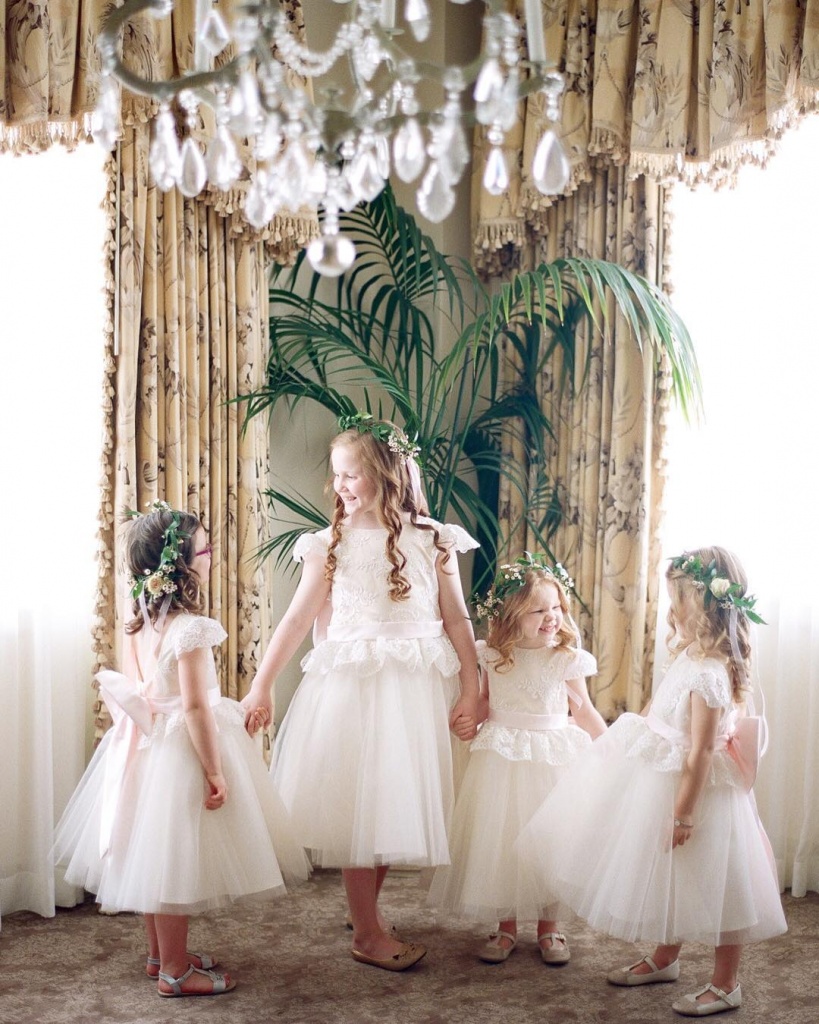 Photo by audrawrisleyphoto
A Movie Room
Another great idea to keep kids busy and safe is setting up a cozy place for watching their favorite movies or cartoons. Make this room more attractive by adding cute pillows, beanbags and cushions for sitting. Also, give the young spectators mini bags of popcorn or even set an ice-cream or cotton candy station, so that every kid could choose the flavor and topping. You can be sure that in this movie space children are staying out of trouble, they are well amused and are not going to disrupt the adult guests.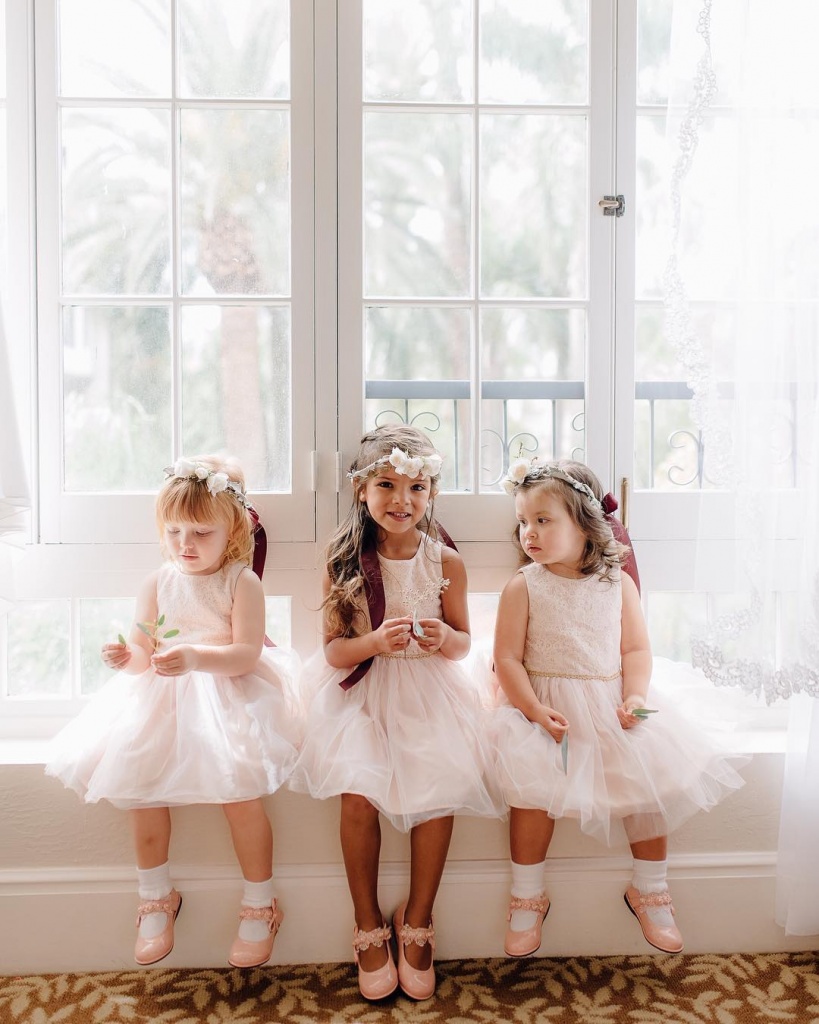 Photo by xoandfetti
Kids Photo Booth
Kids just love changing outfits and go through different dress-up items, funny hats, feather boas or shawls and definitely masks. There are lots of free mask printables you can easily find online. However, offering your little attendees to make their own masks as a part of the activity will both keep them busy and make these masks more personal and special. Moreover, let kids capture this big day from their angle and perspective, giving them access to Instax cameras. You'll be genuinely surprised how amusing it will be both for all your guests and for kids being real paparazzi.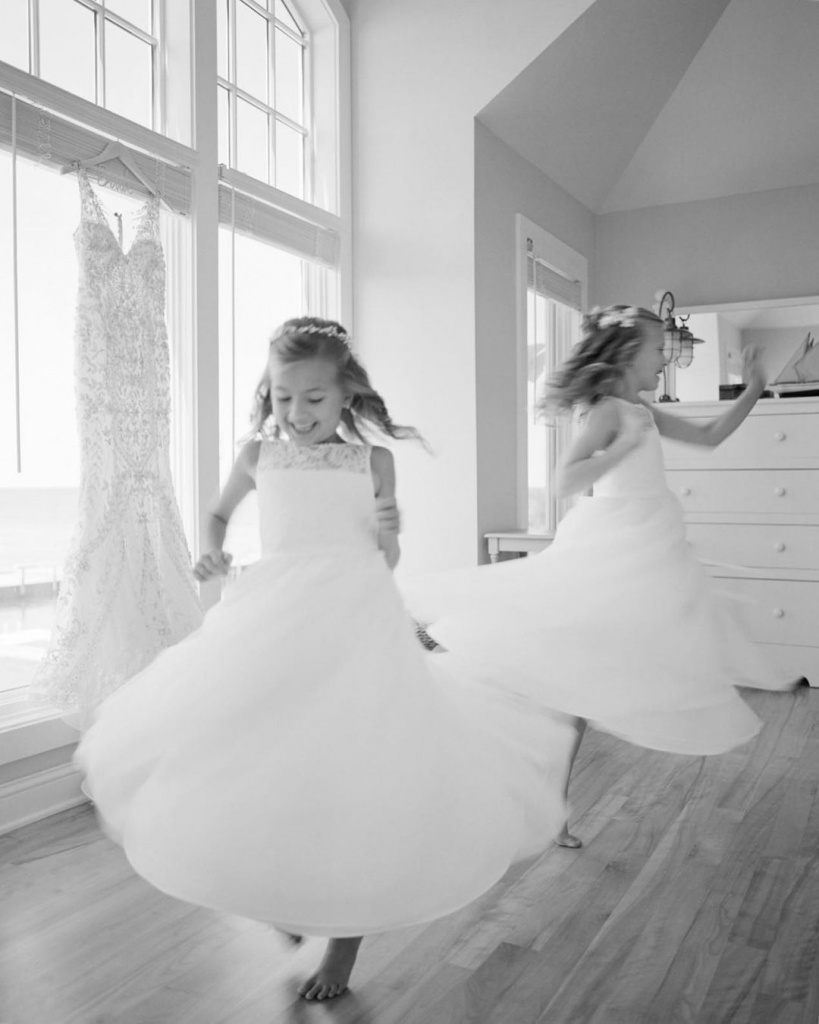 Photo by themccartneys
Lots of Treats
The only thing you shouldn't miss is giving your little guests treats and presents. It can be a welcome activity bag, where you put some sweets and a pack of crayons kids can use during the wedding. Also, don't forget about a candy bar. Your adult guests will surely love it, but the youngsters will be around this area during the entire evening, rest assured! With that in mind, order a piñata, children adore hitting it, collecting sweets and presents that come out, and even holding a competition. As for the presents -  bubbles, coloring books, mini toys, puzzles, crayons are the best options. 
It's the essential thing to show your young guests that a wedding is not just a celebration for adults. With the recommendations above, you'll be able to create a kid-friendly atmosphere and children will definitely love the day they've spent with you.