Hey there, soon-to-be-wedded lovebird! Let us tell you why outdoor wedding venues are the bee's knees, the cat's pajamas, and the perfect place to tie the knot!
First things first, Mother Nature's got your back when it comes to stunning scenery. Forget about shelling out big bucks for fancy decorations; nature's already decked out in breathtaking colors and views. Picture saying "I do" under a canopy of twinkling stars, or with the ocean waves crashing nearby. Now that's a backdrop even Picasso couldn't paint!
But wait, there's more! Outdoor venues offer the most spacious dance floor you could imagine. Worried about Uncle Bob's wild dance moves causing chaos? No problemo! There's plenty of room for everyone to break it down without breaking any noses. Plus, the fresh air will keep everyone's spirits high, and nobody's going to complain about a little extra vitamin D.
Now, timing is key when planning an outdoor wedding. Unless you're a fan of turning into a human icicle, it's best to avoid the winter months. Late spring and early autumn strike the perfect balance between toasty temperatures and nature's beauty in full bloom. But let's not ignore the elephant in the room: the weather. Sure, you can't predict when those rain clouds will appear, but hey, that's what backup plans are for! And let's be honest, rain on your wedding day is good luck, right? Just think of it as nature's way of showering you with blessings.
Lastly, let's talk about the cherry on top: the photos. Can we say "Instagram-worthy"? With an outdoor wedding, you're guaranteed to have the most stunning, double-tap-inducing pics to share with friends and family. Your followers will be green with envy as they scroll through your hashtag. #RelationshipGoals, indeed!
So, as we figured that an outdoor wedding venue is truly a magical choice for your special day, let's move on to some breathtaking examples!
The Biltmore Estate, Asheville, North Carolina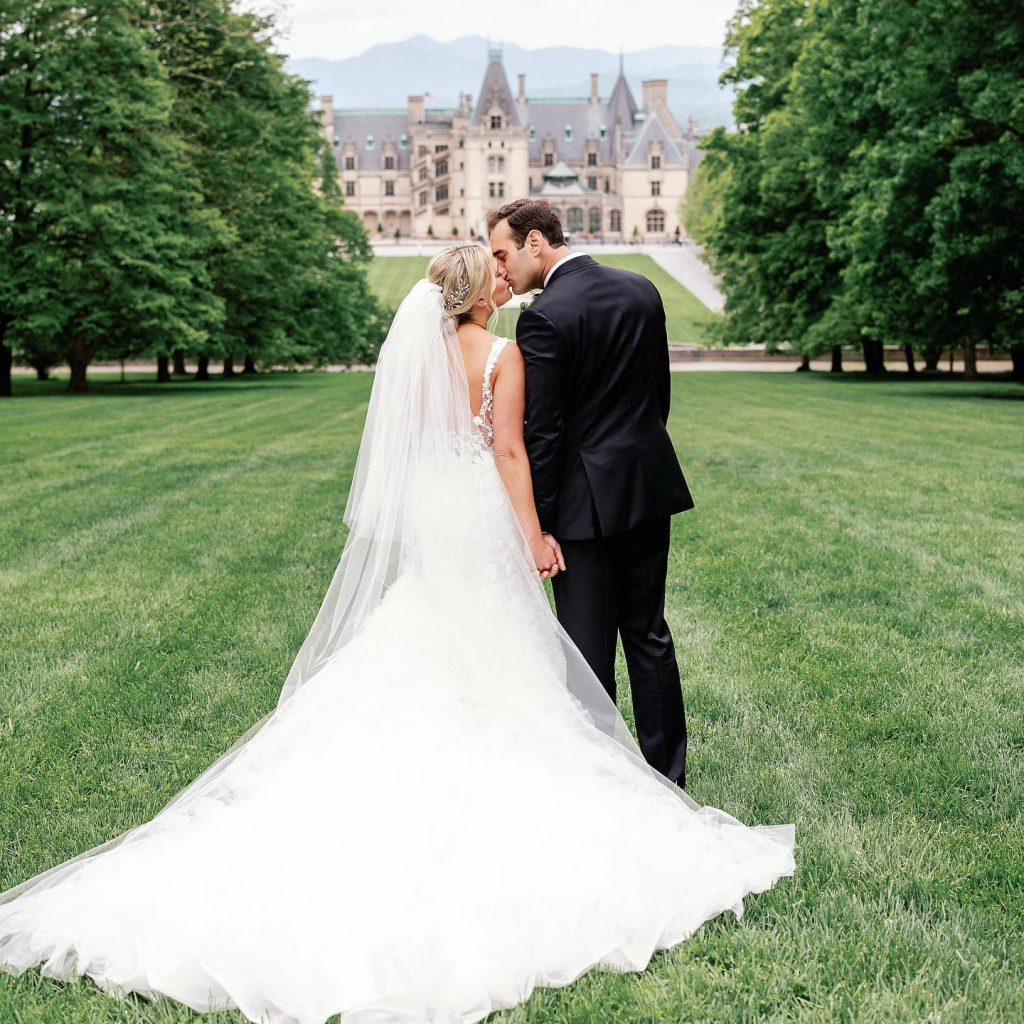 Let us paint you a picture of why this outdoor wedding venue is such a precious gem for lovebirds like you! This French Renaissance-inspired chateau will make you feel like you've traveled back in time. The grandeur and opulence of this mansion are unmatched, ensuring a truly unforgettable wedding experience.
From the fragrant Rose Garden to the tranquil Italian Garden, you'll be surrounded by natural beauty as you exchange your vows. Set amidst the Blue Ridge Mountains, the place offers a picture-perfect backdrop for your big day.
It also provides a variety of options for your ceremony and reception. Choose from elegant outdoor locations like the South Terrace or the Tennis Lawn, or opt for an intimate indoor setting like the Champagne Cellar.
Treehouse Point, Issaquah, Washington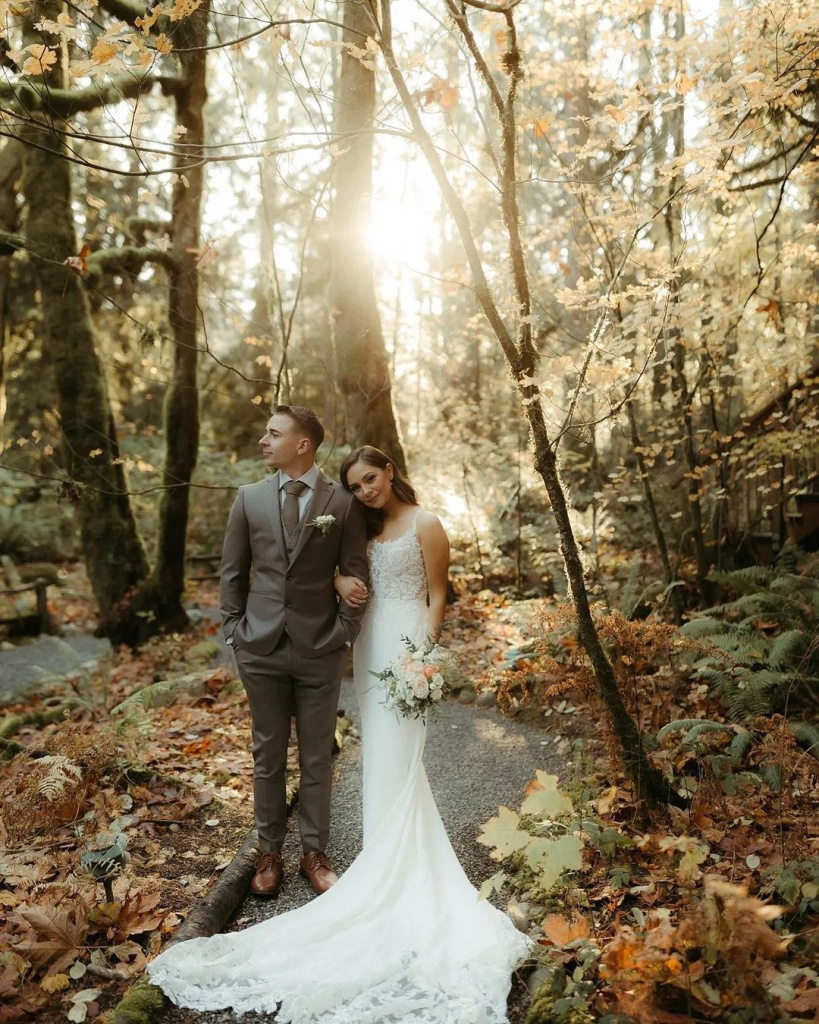 A truly magical nature wedding venue for your nuptials! And here's why:
Surrounded by towering trees, lush greenery, and the soothing sounds of the Raging River, Treehouse Point offers a serene, intimate setting for your big day.
Treehouse Point offers the option to rent the entire property for your wedding celebration, ensuring complete privacy and an intimate experience.
If you're an environmentally conscious couple, this venue's focus on sustainability and harmony with nature will resonate with your values.
From intimate ceremonies to larger receptions, Treehouse Point can accommodate a variety of wedding styles and guest counts.
The lush forest, enchanting treehouses, and charming details of Treehouse Point will make your wedding photos truly memorable.
Haiku Mill, Maui, Hawaii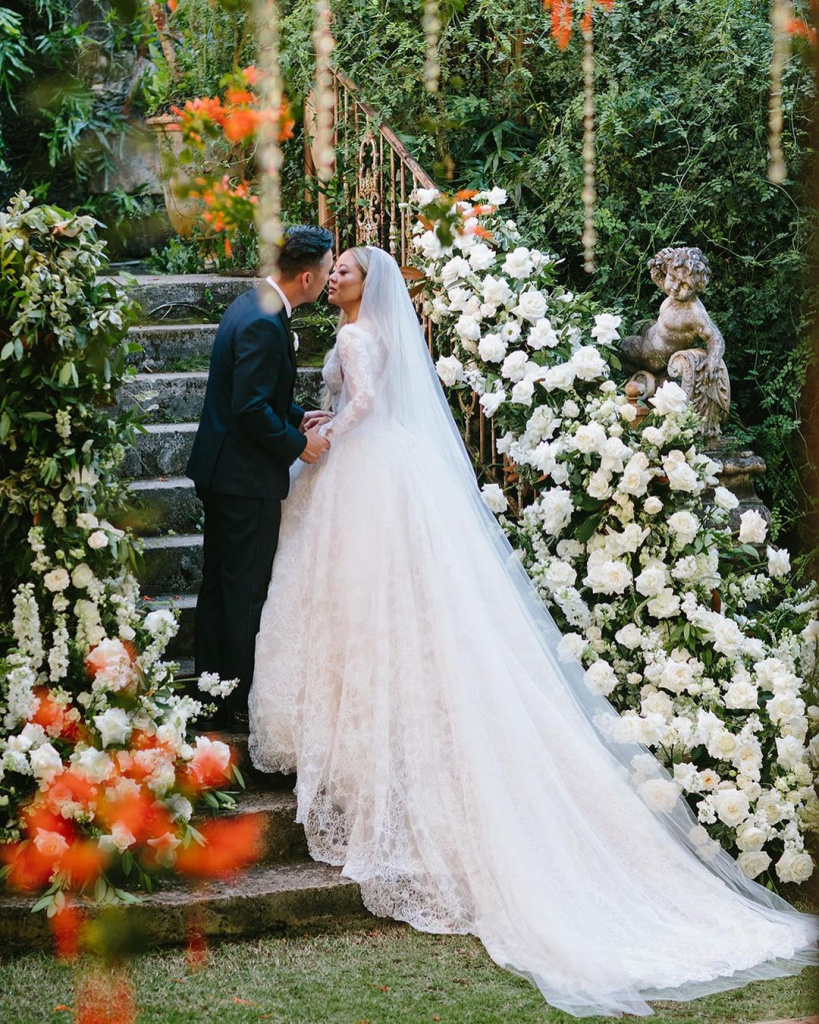 Haiku Mill, located on the enchanting island of Maui, Hawaii, is a dreamy outside venue that seamlessly blends the island's tropical beauty with old-world European charm. Nestled among lush botanical gardens, the historic sugar mill's stone ruins are adorned with crawling vines and vibrant flowers.
As you exchange vows beneath the elegant open-air pavilion, the gentle trade winds and intoxicating scent of blooming flora will create a romantic ambiance that's truly unforgettable. Haiku Mill is the perfect destination for couples seeking a unique, breathtaking, and intimate setting for their big day in paradise.
Sunstone Winery, Santa Ynez, California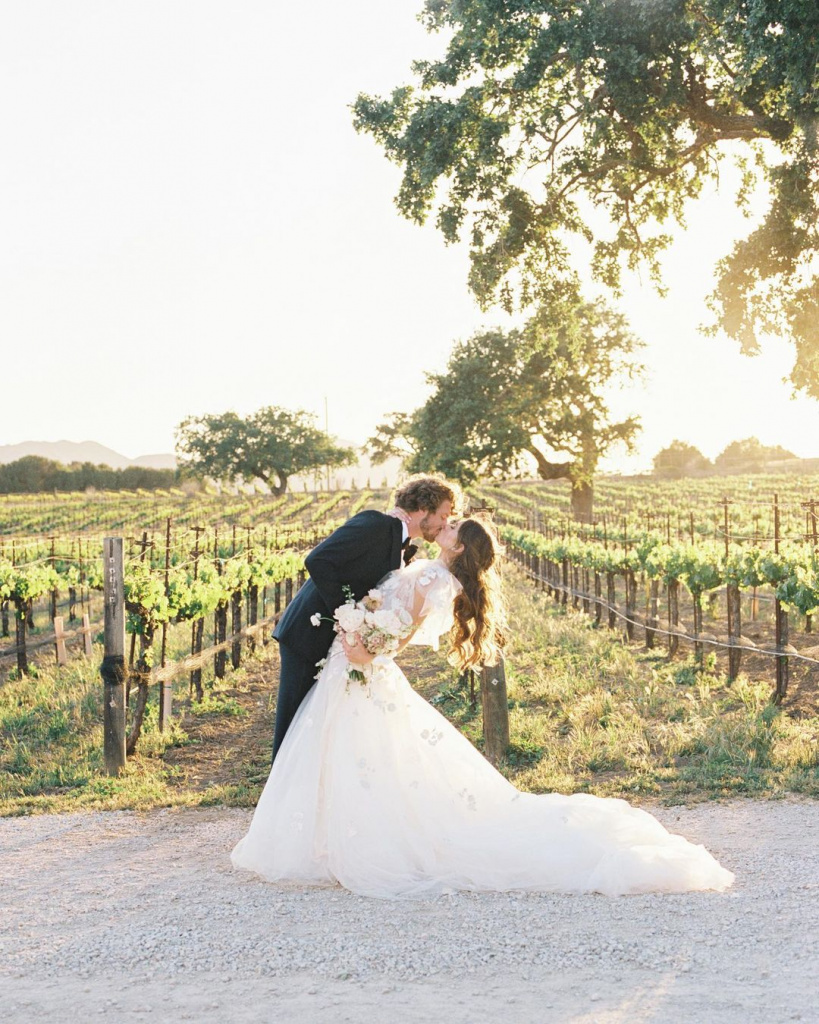 Sunstone Winery, located in Santa Ynez, California, is a breathtaking wedding venue outside that transports you to the heart of Tuscany without ever leaving the Golden State. This stunning villa, inspired by Tuscan architecture, is nestled among rolling vineyards and lush olive trees, offering a picturesque and romantic setting for your big day. The warm, sun-kissed hills and rustic elegance of the winery create an idyllic atmosphere for exchanging vows and celebrating your love. Sunstone Winery is an amazing outdoor wedding venue for couples seeking the charm of the Italian countryside right in sunny California.
The Greenbrier, White Sulphur Springs, West Virginia
The Greenbrier, located in White Sulphur Springs, West Virginia, is a luxurious and historic resort that exudes classic Southern elegance. With a rich history spanning over two centuries, this beautiful outdoor wedding venue has hosted U.S. Presidents, royalty, and celebrities.
The resort offers an array of stunning outdoor spaces, including manicured gardens, grand terraces, and picturesque golf courses, providing a regal backdrop for your wedding celebration. The Greenbrier's biggest flex is its impressive legacy and reputation as "America's Resort," ensuring a timeless and unforgettable experience for you and your guests as you celebrate your love in high style.
The Ranch at Rock Creek, Philipsburg, Montana
The Ranch at Rock Creek, situated in Philipsburg, Montana, is a luxury ranch resort that offers a perfect blend of rustic charm and sophisticated elegance. Set against the breathtaking backdrop of the Rocky Mountains, the ranch spans over 6,600 acres of unspoiled wilderness, providing a picturesque and serene setting for your wedding celebration.
With a variety of event spaces, including open meadows, historic barns, and riverside locations, The Ranch at Rock Creek offers a unique and memorable experience for couples seeking a Western-inspired wedding venue with views along with all the luxurious comforts of a world-class resort.
Sedona Golf Resort, Sedona, Arizona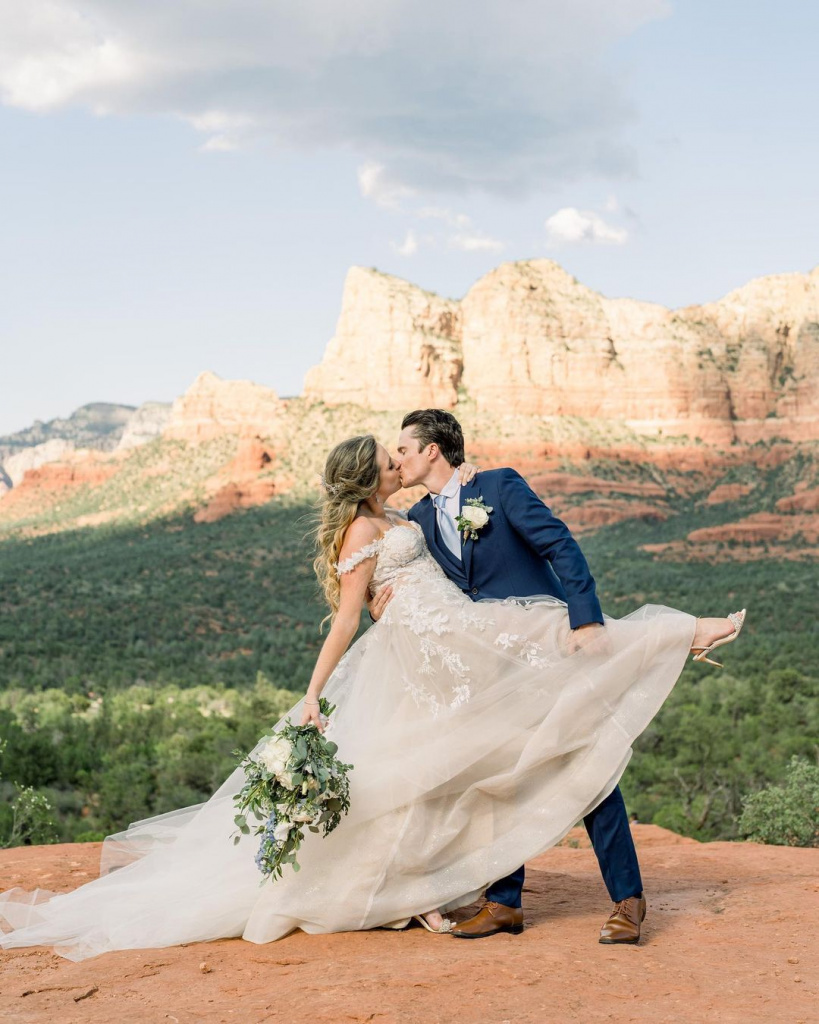 Sedona Golf Resort, located in the heart of Sedona, Arizona, is a spectacular outdoor wedding venue that showcases the awe-inspiring beauty of the region's iconic red rock formations. The golf resort offers a pristine, manicured setting with panoramic vistas of the surrounding desert landscape, creating a truly unforgettable backdrop for your special day.
Among its best features are the meticulously maintained greens, the vibrant sunsets that bathe the red rocks in a warm glow, and the clear desert skies that make it a perfect starry night outdoor wedding venue. Sedona Golf Resort presents a one-of-a-kind desert oasis for couples seeking an extraordinary wedding experience amidst the captivating beauty of the Southwest.
Brooklyn Botanic Garden, Brooklyn, New York
Brooklyn Botanic Garden, situated in the heart of Brooklyn, New York, is a lush urban oasis that offers a serene and picturesque setting for your wedding celebration. This 52-acre garden boasts a variety of stunning landscapes, including cherry blossoms, a rose garden, and a Japanese hill-and-pond garden.
As you exchange your vows amidst the vibrant foliage and tranquil water features, you'll forget that you're in the bustling city. The Brooklyn Botanic Garden provides a beautiful, nature-filled escape for couples seeking a peaceful and enchanting outdoor wedding reception venue within the urban jungle of New York City.
Dunton Hot Springs, Dolores, Colorado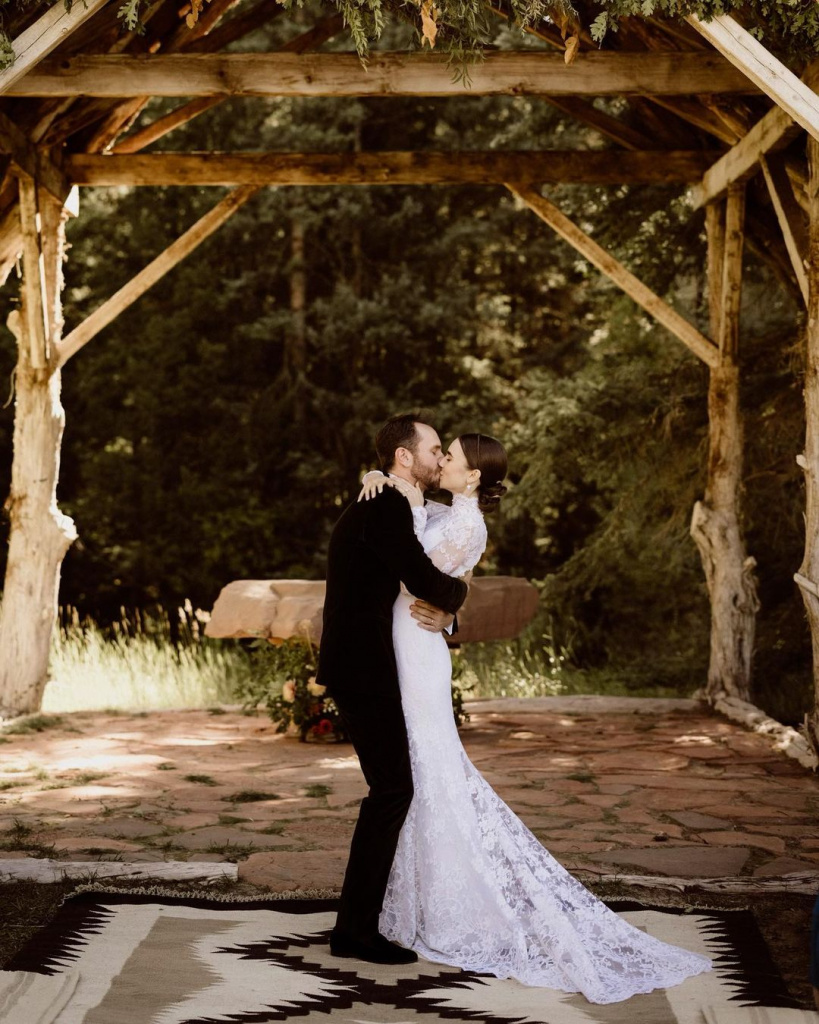 Dunton Hot Springs is a luxury resort nestled in the San Juan Mountains of Dolores, Colorado. This exclusive retreat, featuring restored 19th-century log cabins, offers a perfect blend of rustic charm and modern amenities.
Surrounded by stunning natural beauty, guests can enjoy rejuvenating natural hot springs, indulge in gourmet meals crafted from locally-sourced ingredients, and partake in a range of outdoor activities such as hiking, fly fishing, and horseback riding. Dunton Hot Springs is an idyllic destination for those seeking a serene, high-end escape in the heart of the Colorado wilderness.
Vizcaya Museum & Gardens, Miami, Florida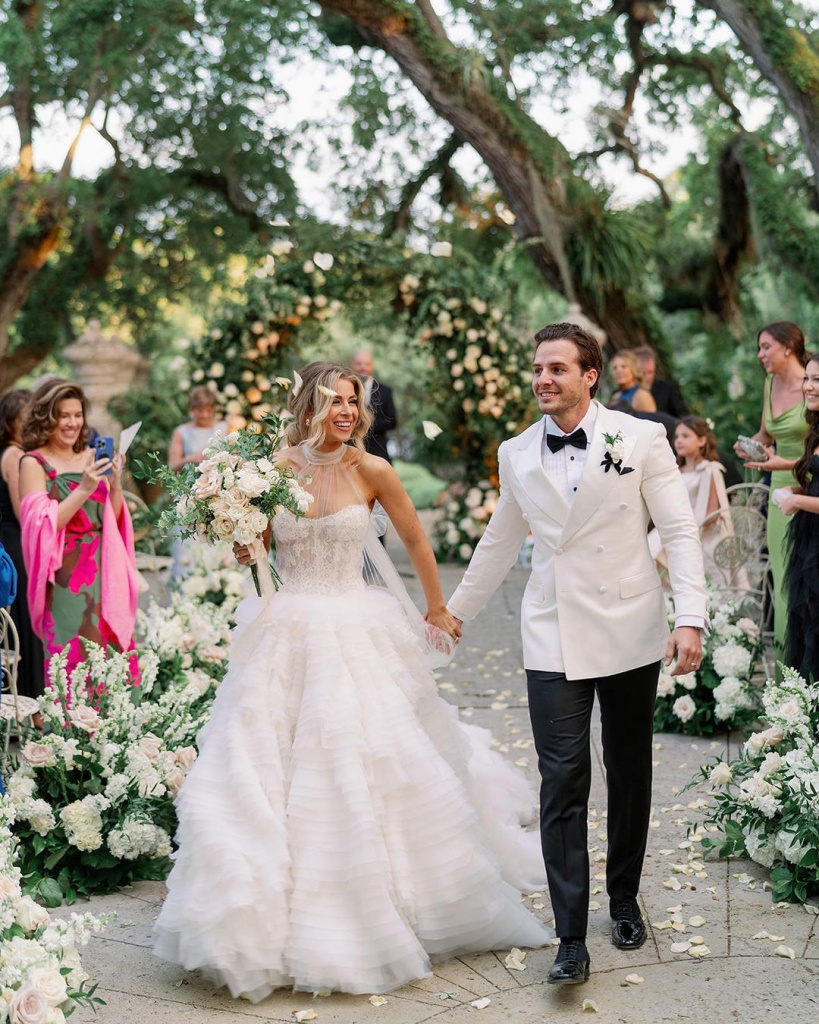 Vizcaya Museum & Gardens is a breathtaking wedding venue located in Miami, Florida. This enchanting Italian Renaissance-style villa, set against the backdrop of Biscayne Bay, offers a truly romantic and unforgettable setting for couples to exchange their vows.
The estate's lush, meticulously maintained gardens feature enchanting landscapes, elegant fountains, and sculptures that create a magical ambiance for any wedding celebration. With its rich history, stunning architecture, and idyllic scenery, Vizcaya Museum & Gardens provides a fairy-tale setting for couples seeking a sophisticated and timeless outside wedding venue for their special day in the heart of Miami.
Thorncrown Chapel, Eureka Springs, Arkansas
Choosing this outstanding outdoor wedding ceremony venue for your big day will not disappoint, and here's why:
Its unique design incorporates an abundance of glass and wooden beams, creating a harmonious blend of nature and modern architecture.
The chapel's floor-to-ceiling windows offer breathtaking views of the surrounding Ozark Mountains.
Although Thorncrown Chapel offers an outdoor wedding experience, it's also an enclosed space, providing shelter from any unexpected weather changes.
The venue allows you to personalize your wedding ceremony.
The chapel is easily accessible from major cities such as Fayetteville, Bentonville, and Little Rock, and it is also close to the Northwest Arkansas Regional Airport.
Malibu Rocky Oaks Estate Vineyards, Malibu, California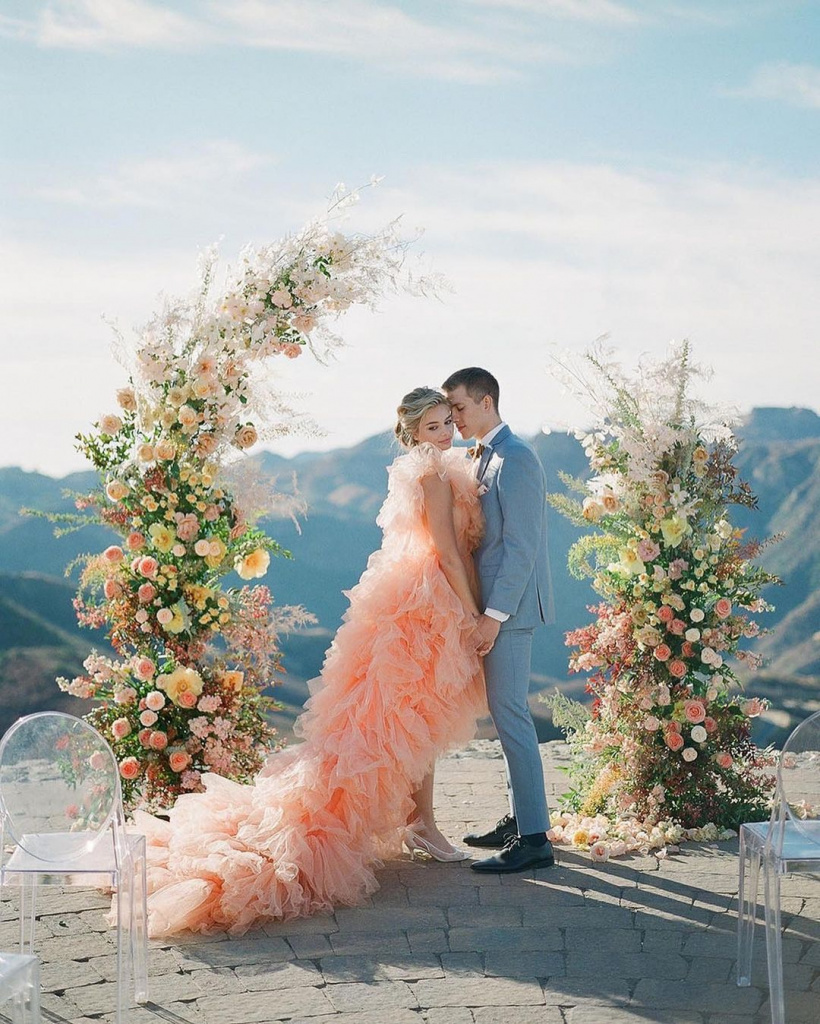 Malibu Rocky Oaks Estate Vineyards is an exquisite wedding venue perched atop the picturesque mountains of Malibu, California. This luxurious Tuscan-inspired villa boasts 360-degree panoramic views of the surrounding vineyards and valleys, creating an enchanting backdrop for your special day.
The Estate offers a perfect blend of rustic charm and sophisticated elegance, providing a breathtaking setting for an unforgettable celebration. With its stunning vistas, impeccable service, and romantic ambiance, Malibu Rocky Oaks Estate Vineyards is the ultimate choice for couples seeking a truly remarkable wedding experience in the heart of California's wine country.
The New York Botanical Garden, Bronx, New York
The New York Botanical Garden, located in the Bronx, is an enchanting wedding venue offering a lush, nature-inspired oasis amidst bustling city life. Spread across 250 acres, this urban haven features a diverse array of beautifully designed gardens, providing a picturesque backdrop for your special day.
From elegant Victorian-style conservatories to romantic floral landscapes, the Botanical Garden presents a unique setting for each phase of your celebration. With its captivating scenery and serene atmosphere, The New York Botanical Garden is the ideal choice for couples seeking a magical outdoor wedding venue in the heart of New York City.
Nestldown, Los Gatos, California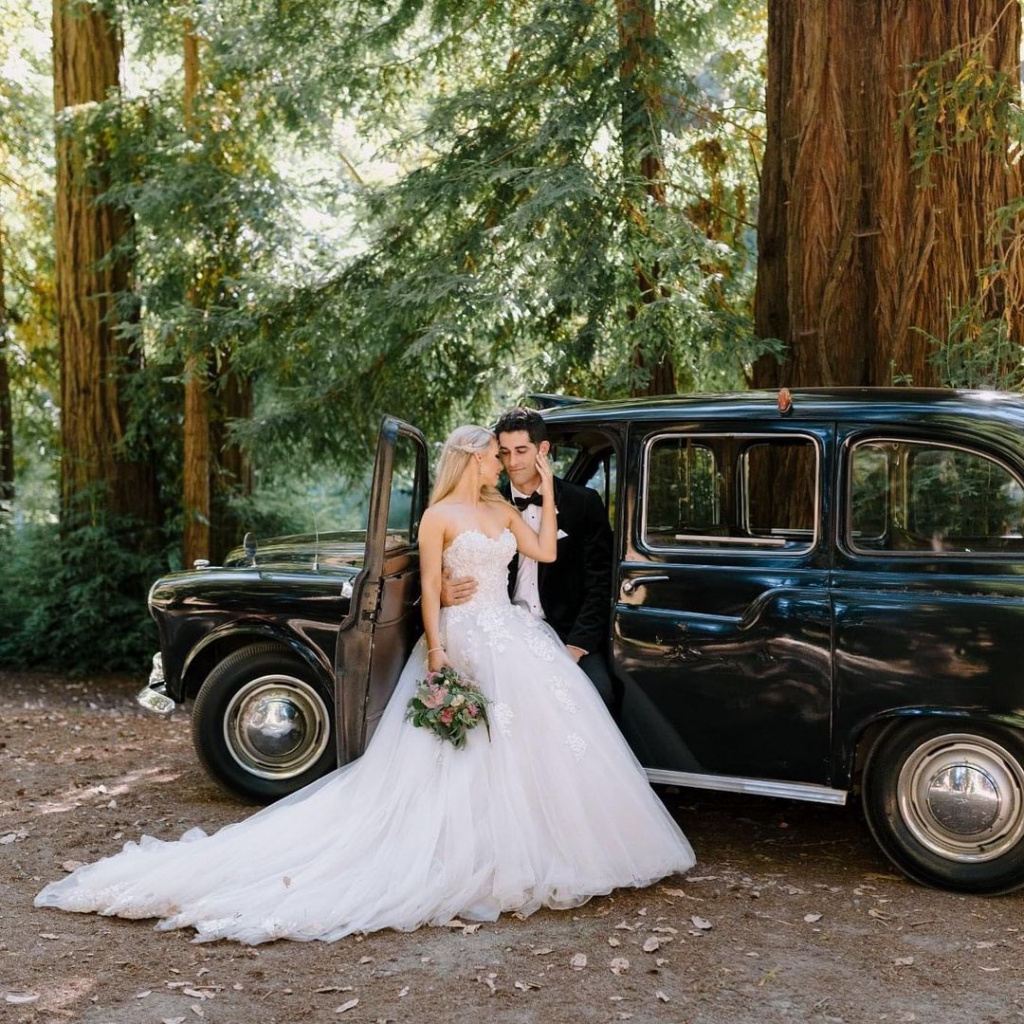 Nestldown, located in Los Gatos, California, is a pretty wedding venue that captures the essence of enchanting woodland charm. Set among towering redwood trees and lush gardens, this picturesque retreat offers a tranquil and intimate atmosphere for your special day. The venue features a beautiful chapel, a serene koi pond, and whimsical outdoor spaces that create a magical ambiance for both ceremonies and receptions. With its stunning natural surroundings, elegant rustic design, and exceptional attention to detail, Nestldown provides the perfect backdrop for couples seeking a fairy-tale experience in the heart of the Santa Cruz Mountains.
La Caille, Sandy, Utah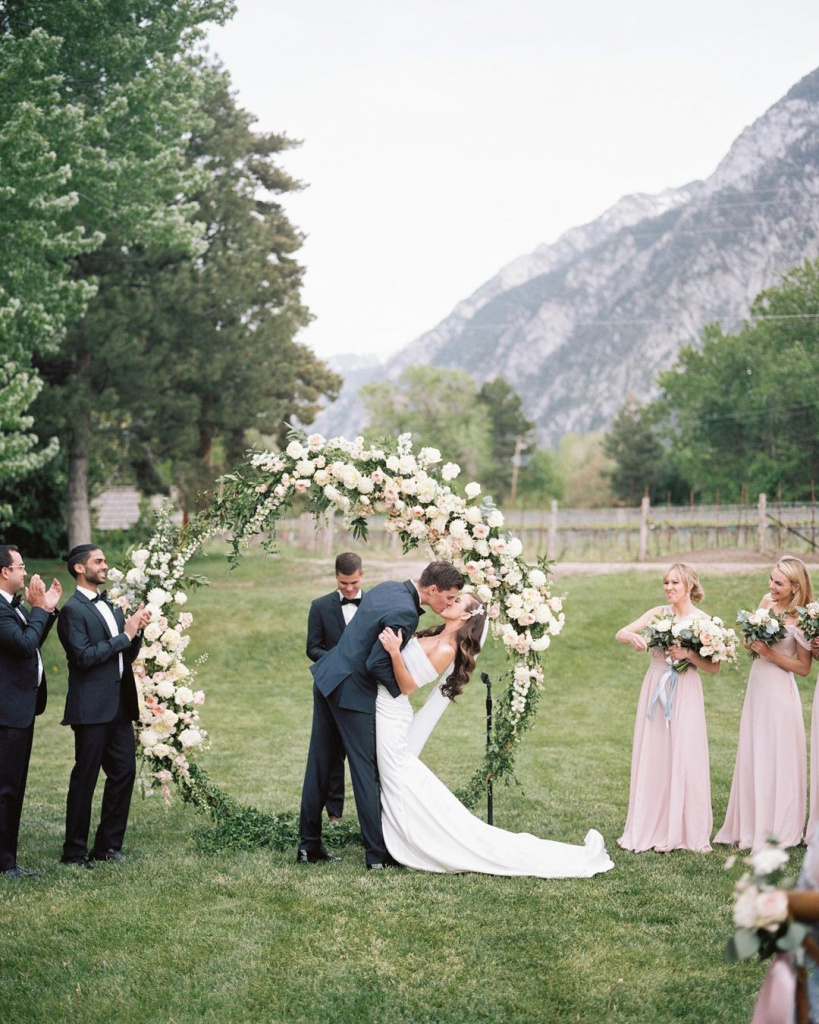 Imagine exchanging your vows amidst the majestic Wasatch Mountains, surrounded by lush gardens, graceful fountains, and enchanting vineyards. La Caille offers this very dream-like setting for your special day.
Their dedicated team of wedding professionals is committed to making your vision a reality, ensuring a seamless and stress-free planning experience. As you dance the night away under the stars, you and your guests will be captivated by the magical ambiance that only La Caille can provide. The estate's unique combination of old-world romance and breathtaking scenery will create an unforgettable backdrop for your wedding photos, leaving you with memories to cherish for a lifetime.
The Boulders Resort & Spa, Scottsdale, Arizona
Picture your dream wedding set against a dramatic desert landscape, surrounded by awe-inspiring boulders and mesmerizing sunsets. The place is also renowned for its luxurious accommodations and exceptional service, ensuring that every aspect of your wedding is meticulously planned and executed.
Here, you can choose from a variety of stunning indoor and outdoor spaces, each designed to showcase the natural beauty of the Sonoran Desert. Whether you envision an intimate ceremony amid the resort's lush gardens or a grand reception beneath a starlit sky, The Boulders Resort & Spa offers the perfect setting for any wedding size and style.
Oheka Castle, Huntington, New York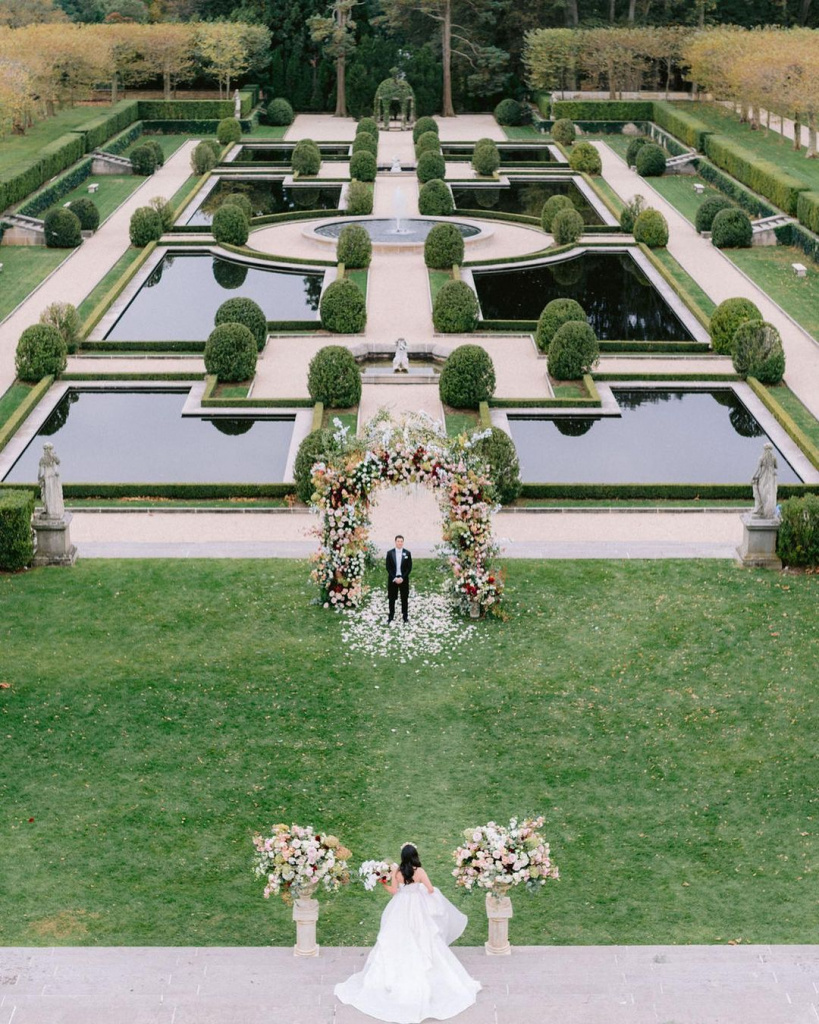 Choosing this aesthetic wedding venue you'll be surprised what it can give you:
The chateau provides an enchanting and magical atmosphere reminiscent of a fairy tale.
The castle's luxurious interiors, sweeping staircases, and opulent ballrooms are perfect for a lavish and sophisticated celebration.
Oheka Castle is surrounded by beautifully manicured gardens, offering a picturesque backdrop for outdoor ceremonies and receptions, as well as providing incredible photo opportunities.
As one of the most prestigious outdoor wedding venues in the US, it offers an unparalleled level of exclusivity and privacy for your special day.
The dedicated staff is committed to providing personalized service, ensuring that every aspect of your wedding is seamlessly executed.
Oheka Castle's in-house catering team is renowned for its culinary expertise, creating exquisite menus tailored to your tastes and preferences.
Pelican Hill Resort, Newport Coast, California
Picture your dream wedding in a breathtaking location where the azure ocean meets the sky, creating a mesmerizing backdrop for your special day. Pelican Hill Resort, situated on the stunning Newport Coast in California, offers just that, along with a host of luxurious amenities and services to make your wedding nothing short of spectacular. The resort features a range of exquisitely designed outdoor spaces, including the iconic Rotunda, a magnificent, columned terrace with a dramatic view of the ocean.
By choosing Pelican Hill Resort as your outdoor wedding venue, you'll create a once-in-a-lifetime experience that seamlessly blends natural beauty, luxury, and personalized service.
Misty Farm in Ann Arbor, Michigan
Misty Farm in Ann Arbor, Michigan has everything it needs to be called the perfect outdoor wedding venue. Set on a beautiful 18-acre property, featuring lush green meadows, a sparkling pond, and charming wooded areas it mesmerizes at the first glance. With its exposed beams, warm lighting, and vintage charm, the barn is an ideal setting for your reception, comfortably accommodating up to 150 guests.
What's more, Misty Farm's natural beauty is on display throughout the year, making it a stunning choice for weddings in any season. From the vibrant colors of fall to the lush greenery of summer, the picturesque surroundings will create a memorable and romantic atmosphere for your special day.
Saddlerock Ranch in Malibu, California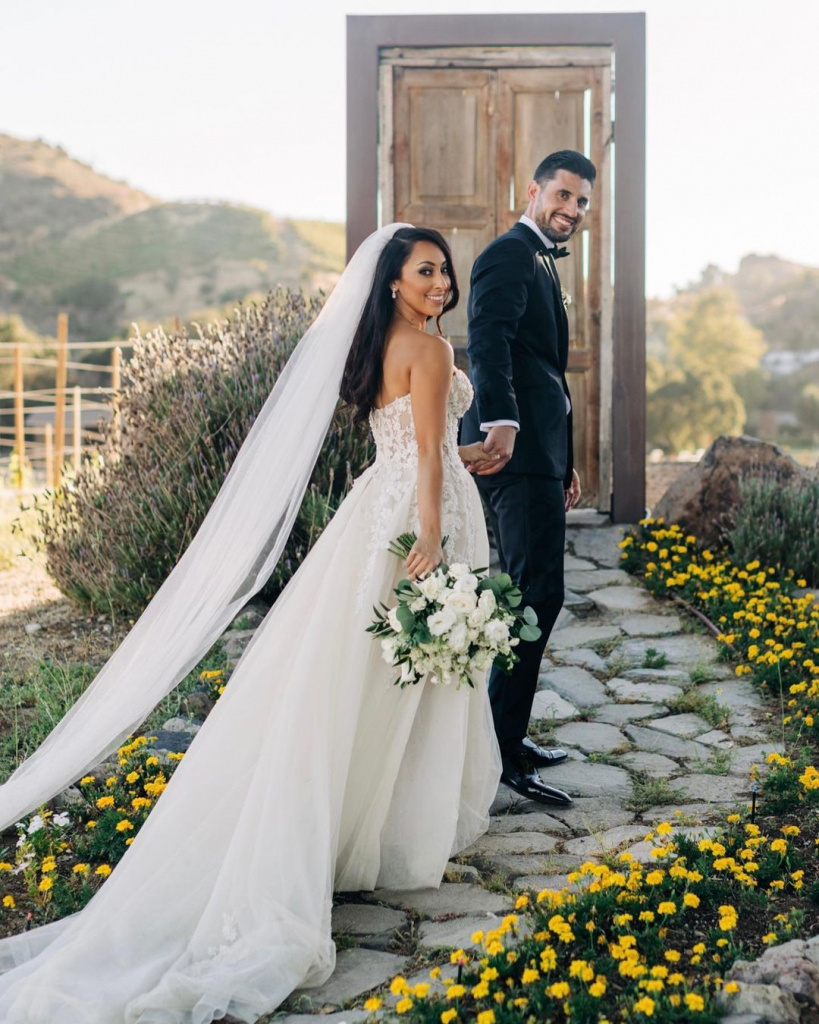 Nestled in the scenic Malibu hills, the venue provides a captivating and versatile setting for your perfect wedding. Spread across 1,000 acres of pristine landscape, this unique venue combines rustic elegance with natural beauty to create a truly unforgettable experience for you and your guests.
Choose your ideal setting among the romantic Oak Grove, the charming Chateau Le Dome, or the lush Garden Estate. The ranch is surrounded by picturesque vineyards, ancient oak trees, and breathtaking mountain vistas, creating a dreamy and photogenic backdrop for your ceremony, reception, and wedding photos.
The St. Regis, Aspen, Colorado
There are several compelling reasons to choose The St. Regis Aspen, Colorado, as your outdoor wedding venue:
It offers unparalleled views of the majestic mountain range, providing a stunning backdrop for your wedding ceremony and reception.
It features a variety of sophisticated indoor and outdoor spaces that can accommodate both intimate gatherings and grand celebrations.
Renowned for its world-class service, The St. Regis Aspen has a dedicated team of wedding professionals committed to ensuring your special day is executed flawlessly.
With its prime location in Aspen, The St. Regis offers a unique and romantic setting for both winter weddings, surrounded by snow-capped peaks and cozy fireplaces, and summer celebrations, featuring lush green landscapes and outdoor recreational opportunities.
The Ritz-Carlton, Kapalua, Maui, Hawaii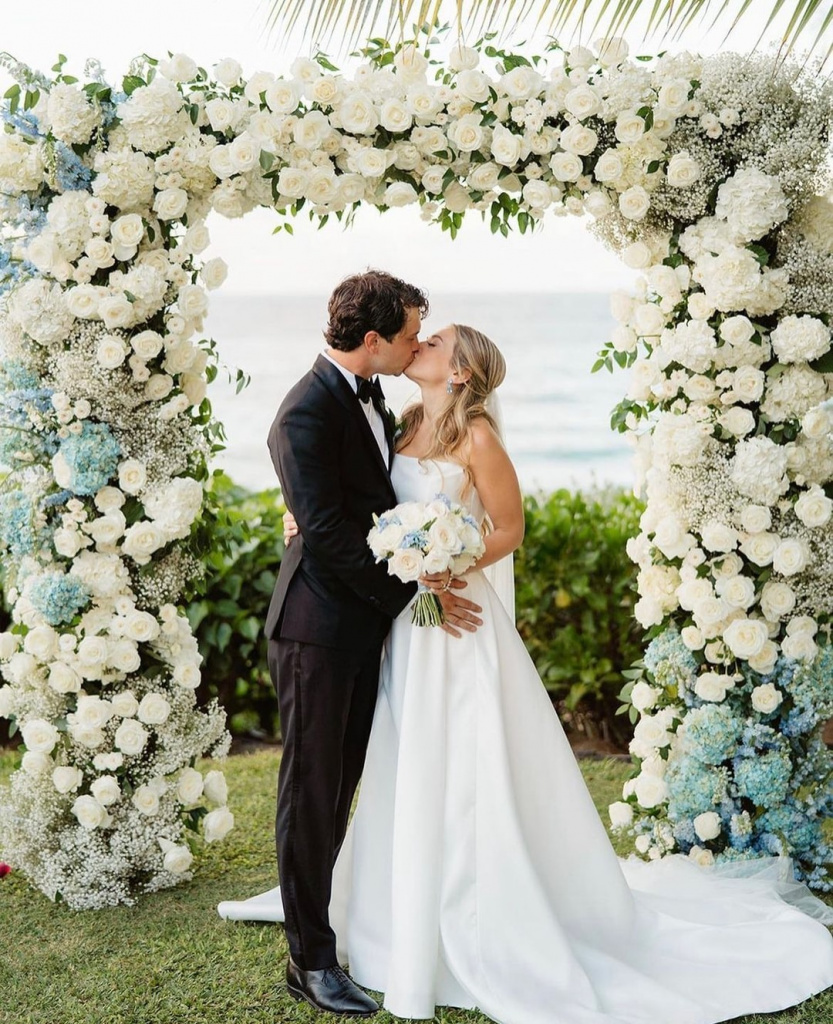 Imagine exchanging your vows surrounded by the captivating beauty of Maui's crystal-clear waters, lush landscapes, and golden sunsets. The Ritz-Carlton, Kapalua, Maui, Hawaii, is a dream come true for couples seeking the best outdoor wedding venue.
The location offers breathtaking views of the Pacific Ocean that create a mesmerizing backdrop for your wedding ceremony and reception. Moreover, the resort features a variety of stunning outdoor spaces, including elegant oceanfront lawns, secluded gardens, and intimate beachfront coves, allowing you to tailor the setting to your wedding vision.
Valley of Fire State Park Wedding in Overton, Nevada
This venue offers a truly unique and awe-inspiring setting for your wedding. The park boasts a striking landscape, with vibrant red sandstone formations, captivating valleys, and intriguing petroglyphs. Exchanging vows amidst the ancient geological formations and fiery hues will create a memorable moment that you and your guests will cherish forever.
It also has a pretty convenient location, just an hour's drive from Las Vegas. By the way, this venue is also an environmentally-friendly option, as your event will have minimal impact on the surrounding ecosystem, and your venue fees will contribute to the preservation and maintenance of the park!
And if your heart hasn't skipped a bit when scrolling through the breathtaking pics from the venues above, we provide you with this list of our favorite unique outdoor wedding venues:
Beaulieu Garden, Rutherford, California - A breathtaking private estate in Napa Valley, with beautifully landscaped gardens, a sycamore tree-lined driveway, and enchanting vineyards.
Camp Lucy, Dripping Springs, Texas - A scenic hill country estate with charming indoor and outdoor spaces, surrounded by majestic oak trees and beautiful views.
Gervasi Vineyard, Canton, Ohio - A romantic vineyard estate featuring a Tuscan-inspired villa, picturesque lakes, and a beautiful winery setting.
Bonnet Island Estate, Manahawkin, New Jersey - A private coastal island retreat with a charming chapel, elegant ballroom, and stunning waterfront views for a romantic beach wedding.
Race & Religious, New Orleans, Louisiana - A historic complex of buildings boasting rustic charm, exposed brick walls, and courtyards, perfect for a bohemian wedding with a touch of Southern charm.
The Gardens at Elm Bank, Wellesley, Massachusetts - A beautiful 36-acre estate with a variety of cultivated gardens and charming architecture, offering a picturesque setting for a garden wedding.
Roche Harbor Resort, San Juan Island, Washington - A waterfront resort with lush gardens, historic buildings, and breathtaking views of the harbor, ideal for a romantic island wedding.
Dunaway Gardens, Newnan, Georgia - A historic garden venue featuring beautiful water features, terraced landscapes, and a natural amphitheater, creating a magical setting for an outdoor wedding.
The Breakers, Palm Beach, Florida - A luxurious oceanfront resort with stunning architecture and picturesque gardens, ideal for an extravagant seaside wedding.
Meadowood Napa Valley, St. Helena, California - An upscale wine country estate surrounded by beautiful vineyards and lush gardens, offering an elegant and intimate setting for a high-end wedding.