109 Mother-Son Wedding Songs
Publication date:

05/29/2023

Updated:

07/04/2023
Let us tell you, there's nothing quite like witnessing a tender mother-son wedding dance. It's a magical moment that tugs at the heartstrings and brings tears to the eyes. So, today we'll explore some of the most heartwarming, toe-tapping, and even chuckle-inducing songs for mother-son dances. You're gonna love this list!
The Best Mother-Son Dance Songs Of All Time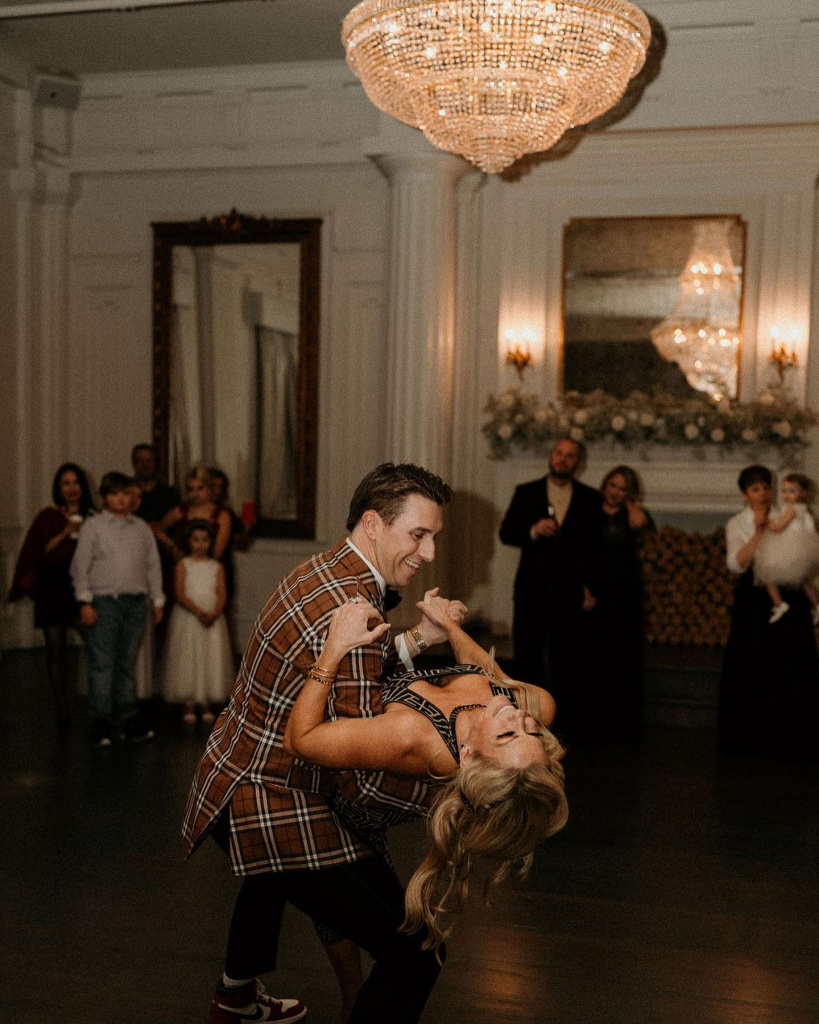 You can't go wrong with these timeless tunes that have made countless moms and sons smile, cry, and sway together:
"A Song for Mama" - Boyz II Men
"You'll Be in My Heart" - Phil Collins
"In My Life" - The Beatles
"What a Wonderful World" - Louis Armstrong
"You Raise Me Up" - Josh Groban
"Simple Man" - Lynyrd Skynyrd
"Wind Beneath My Wings" - Bette Midler
"Landslide" - Fleetwood Mac
"I'll Always Love My Mama" - The Intruders
"Bridge Over Troubled Water" - Simon & Garfunkel
"The Perfect Fan" - Backstreet Boys
"Through the Years" - Kenny Rogers
"I Hope You Dance" - Lee Ann Womack
Unique Mother-Son Dance Songs
Looking for something a bit different? Check out these unique tracks that'll make your dance one-of-a-kind:
"93 Million Miles" - Jason Mraz
"Letter to My Mother" - Edwin McCain
"The One Thing" - Shakira
"You're My Best Friend" - Queen
"Days Like This" - Van Morrison
"Over the Rainbow" - Israel Kamakawiwo'ole
"You Are the Sunshine of My Life" - Stevie Wonder
"Sweetest Devotion" - Adele
"Forever Young" - Bob Dylan
"He Gets That from Me" - Reba McEntire
"The Long and Winding Road" - The Beatles
"Headlights" - Eminem ft. Nate Ruess
Short Mother-Son Dance Songs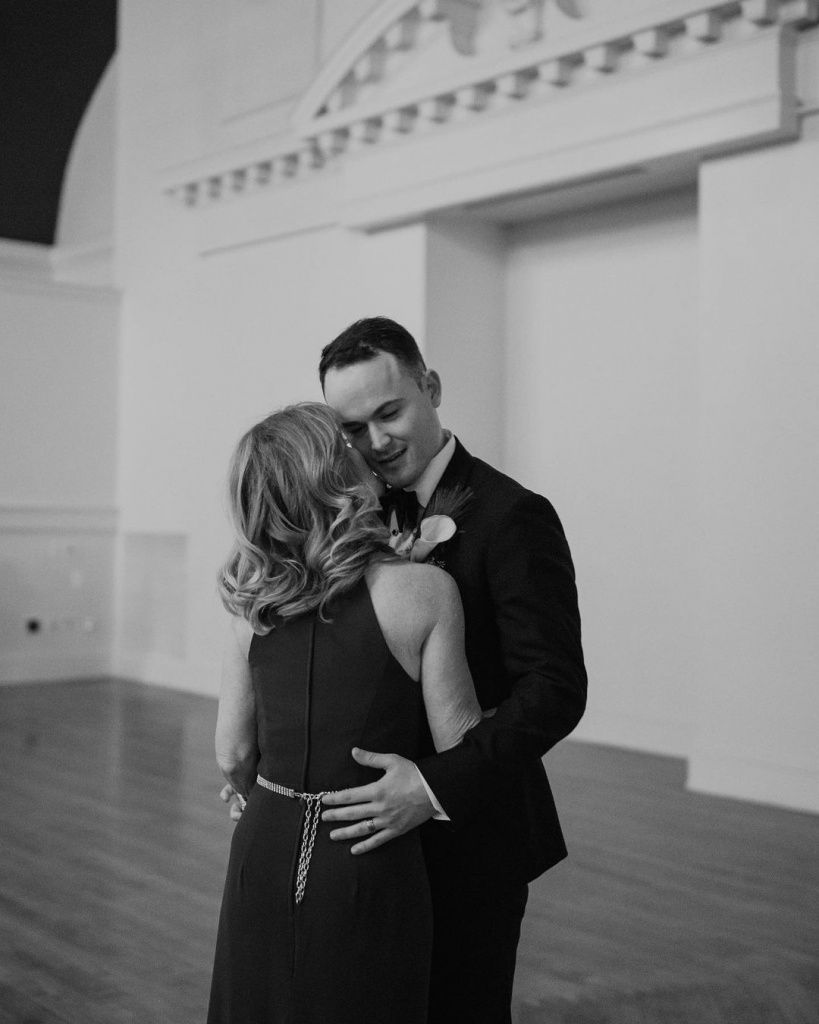 Short on time but big on love? These tunes are perfect for a quick yet memorable dance:
"My Wish" - Rascal Flatts
"Stand by Me" - Ben E. King
"You've Got a Friend" - James Taylor
"How Sweet It Is (To Be Loved by You)" - Marvin Gaye
"Lean on Me" - Bill Withers
"Your Song" - Elton John
"God Only Knows" - The Beach Boys
"Love Me Tender" - Elvis Presley
"Unforgettable" - Nat King Cole & Natalie Cole
"Mama's Song" - Carrie Underwood
"I Turn to You" - Christina Aguilera
"Moon River" - Andy Williams
"Have I Told You Lately" - Rod Stewart
Upbeat Mother-Son Dance Songs
Get the party started with these lively tracks that'll make you want to dance the night away:
"Dancing in the Street" - Martha and the Vandellas
"Beautiful Day" - U2
"I'll Be There" - The Jackson 5
"Higher and Higher" - Jackie Wilson
"Walking on Sunshine" - Katrina and the Waves
"You Make My Dreams" - Hall & Oates
"Happy" - Pharrell Williams
"I Got You (I Feel Good)" - James Brown
"Come on Eileen" - Dexys Midnight Runners
"Ain't No Mountain High Enough" - Marvin Gaye & Tammi Terrell
Funny Mother-Son Dance Songs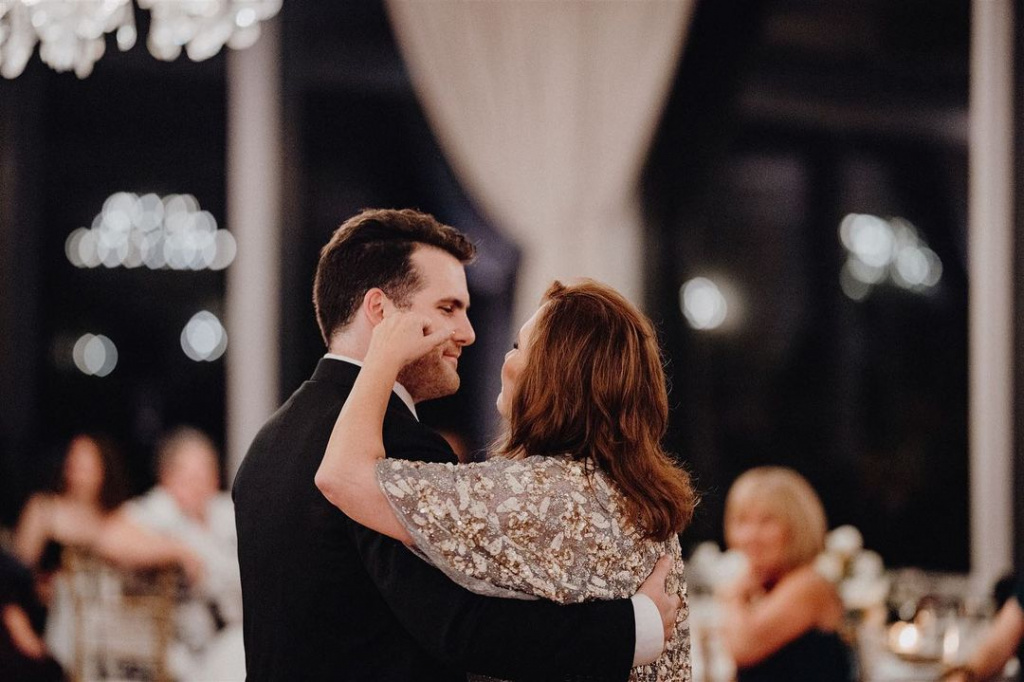 Add a touch of humor to your dance with these hilarious and fun tracks:
"Mama Tried" - Merle Haggard
"Stacy's Mom" - Fountains of Wayne
"Mother's Little Helper" - The Rolling Stones
"Mrs. Robinson" - Simon & Garfunkel
"Mama Told Me (Not to Come)" - Three Dog Night
"Your Mama Don't Dance" - Loggins and Messina
"Take Your Mama" - Scissor Sisters
"Mama Said" - The Shirelles
"Mambo No. 5" - Lou Bega
"Thank You Mom" - Good Charlotte
"She's Always a Woman" - Billy Joel
Classic Rock Mother-Son Wedding Songs
Rock the dance floor with these timeless and unforgettable classic rock tracks:
"Sweet Emotion" - Aerosmith
"Bohemian Rhapsody" - Queen
"Don't Stop Believin'" - Journey
"Blackbird" - The Beatles
"Free Bird" - Lynyrd Skynyrd
"Here Comes the Sun" - The Beatles
"Dream On" - Aerosmith
"More Than a Feeling" - Boston
"Carry on Wayward Son" - Kansas
"Rock and Roll All Nite" - KISS
"Imagine" - John Lennon
"Purple Haze" - Jimi Hendrix
"Stairway to Heaven" - Led Zeppelin
Popular Mother-Son Dance Songs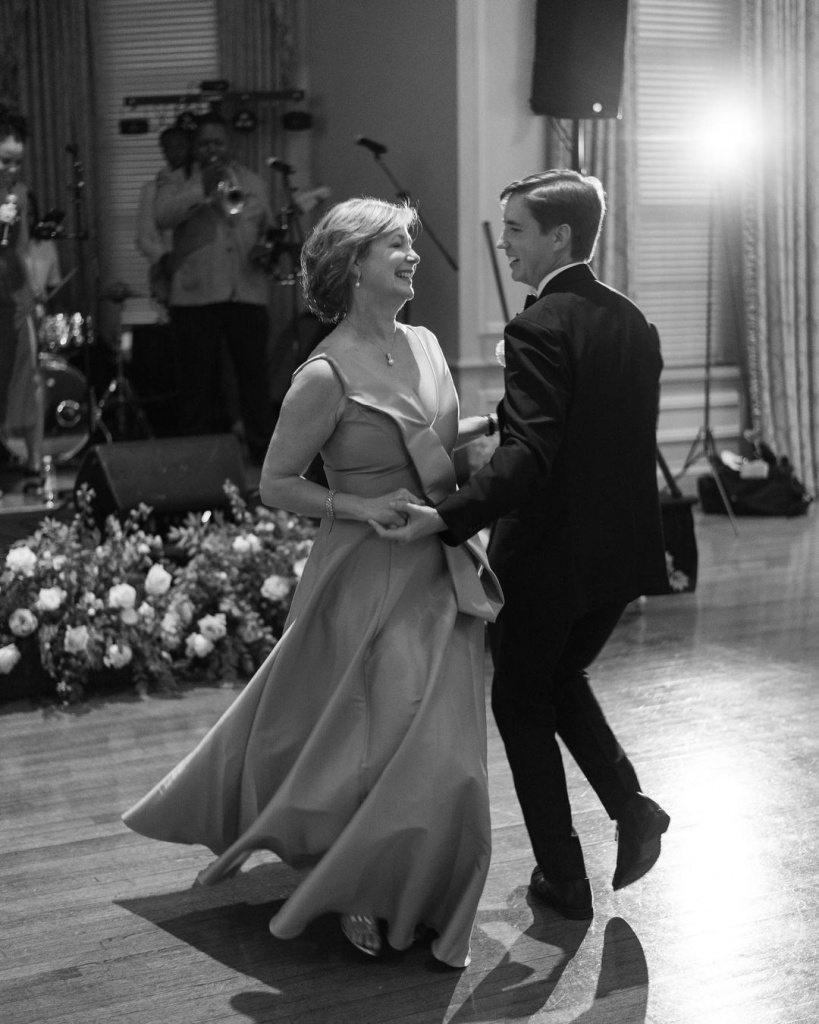 These popular tracks will have everyone singing along and getting in on the fun:
"Because You Loved Me" - Celine Dion
"I'll Stand by You" - The Pretenders
"The Way You Look Tonight" - Frank Sinatra
"Blessed" - Elton John
"You're the Inspiration" - Chicago
"My Heart Will Go On" - Celine Dion
"Hero" - Mariah Carey
"Everything I Do (I Do It for You)" - Bryan Adams
"Time After Time" - Cyndi Lauper
"I Will Always Love You" - Whitney Houston
"Can't Help Falling in Love" - Elvis Presley
"You've Got a Friend in Me" - Randy Newman
"Ain't No Sunshine" - Bill Withers
Instrumental Mother-Son Wedding Dance Songs
Let the music speak for itself with these beautiful and touching instrumental tracks:
"Air on the G String" - Johann Sebastian Bach
"Moonlight Sonata" - Ludwig van Beethoven
"Ave Maria" - Franz Schubert
"The Swan" - Camille Saint-Saëns
"Gymnopédie No.1" - Erik Satie
"Adagio for Strings" - Samuel Barber
"Pavane" - Gabriel Fauré
"Meditation" - Jules Massenet
"River Flows in You" - Yiruma
"Morning Mood" - Edvard Grieg
"Chariots of Fire" - Vangelis
Country Mother-Son Wedding Songs
Let the sweet twang of country music create a memorable moment for you and your mama:
"I Hope You Dance" - Lee Ann Womack
"My Wish" - Rascal Flatts
"Don't Blink" - Kenny Chesney
"It's Your Song" - Garth Brooks
"There You'll Be" - Faith Hill
"Mama's Song" - Carrie Underwood
"Never Alone" - Lady Antebellum
"Meanwhile Back at Mama's" - Tim McGraw
"The Best Day" - Taylor Swift
"Mother Like Mine" - The Band Perry
"Mom" - Garth Brooks
"Angels" - Randy Travis
"Like My Mother Does" - Lauren Alaina
And there you have it! A treasure trove of songs for mother-son dance to suit every taste and style. No matter which song you choose, it's sure to create a heartwarming memory that will last a lifetime.
Mother And Son Wedding Dance FAQs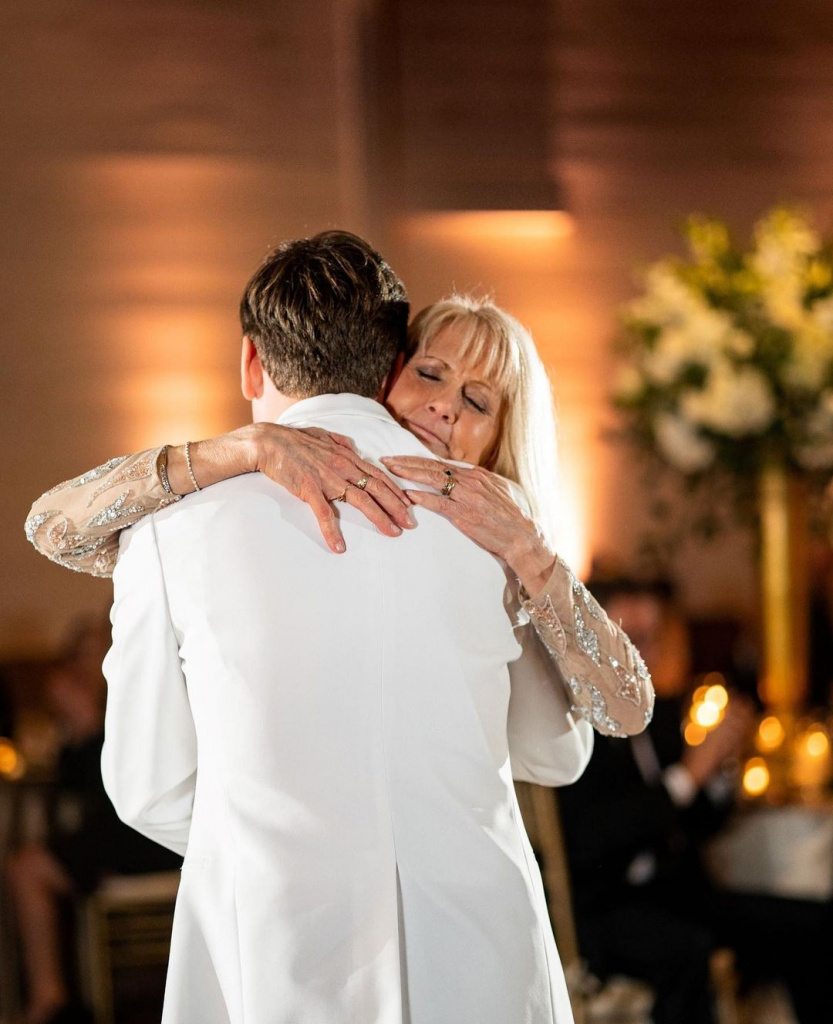 Let's clear a few things up.
When should the mother-son dance take place during the wedding reception?
It usually follows the newlyweds' first dance and the father-daughter dance. You can, however, have the mother-son dance come before the father-daughter dance, or even merge both dances into one song. Ultimately, the timing and order are up to you and what feels right for your special day. Consult with your wedding planner, DJ, or band to create a smooth flow for your reception timeline.
How do we choose the perfect mother-son wedding dance song?
First things first, it should be meaningful and evoke a special bond between the two of you. Consider the following suggestions while selecting the appropriate song:
Consider your relationships and any songs that have sentimental importance for you, such as a childhood lullaby or a song that reminds you of a shared memory.
Consider your musical tastes and preferences, and then select a song that reflects your personality and style.
Be bold and think outside the box! Unusual and unexpected tunes might enhance the experience.
Consult with your mum and solicit her opinion. After all, this is a dance for both of you.
Can we use the same song for both the father-daughter and mother-son dances?
Absolutely! Combining the father-daughter and mother-son dances into one song is a great way to save time and create a special, shared moment. Choose a song that is meaningful and appropriate for both relationships. You can start the dance with both couples on the dance floor or have the father-daughter duo begin and then invite the mother-son pair to join halfway through the song.
What if my mother or I are not comfortable with dancing in front of everyone?
If either of you feels uncomfortable or self-conscious about dancing in front of a crowd, there are a few options to consider:
Opt for a shorter song or ask your DJ or band to fade the song out after a certain point, reducing the time spent on the dance floor.
Consider taking dance lessons together before the wedding to build confidence and make the experience more enjoyable.
Invite other mother-son or father-daughter pairs to join you on the dance floor, making the moment less focused on you and more of a group celebration.
If dancing in public is truly not an option, consider skipping the traditional dance and finding another way to honor your relationships, such as a heartfelt toast or a special slideshow.
Do we have to stick to traditional or slow songs for the mother-son dance?
Not at all! The mother-son dance should be a reflection of your unique relationship, and there are no strict rules about song choice. Feel free to choose an upbeat, funny, or even unconventional song if that's what represents your bond best. Just ensure the song is appropriate and respectful, as the moment is still meant to be a heartfelt celebration of your relationship.