Everything You Need for a Retro '90s-themed Bachelorette Party
Publication date:

07/19/2023

Updated:

07/19/2023
Alright ladies, get ready for a nostalgia-packed ride back to the '90s! As a bride-to-be, you've got enough on your plate, and we're here to help you plan a 90s-themed bachelorette party that would make even the Spice Girls jealous. Whether it's timeless music, unforgettable fashion trends, or distinctive pop culture moments, the '90s era has it all! So, buckle up, because we're about to take a memorable trip down memory lane, filled with laughter, fun, and the perfect touch of nostalgia. This guide is the golden ticket you need to create an unforgettable 90s bachelorette party for your squad.
90s-Themed Party Games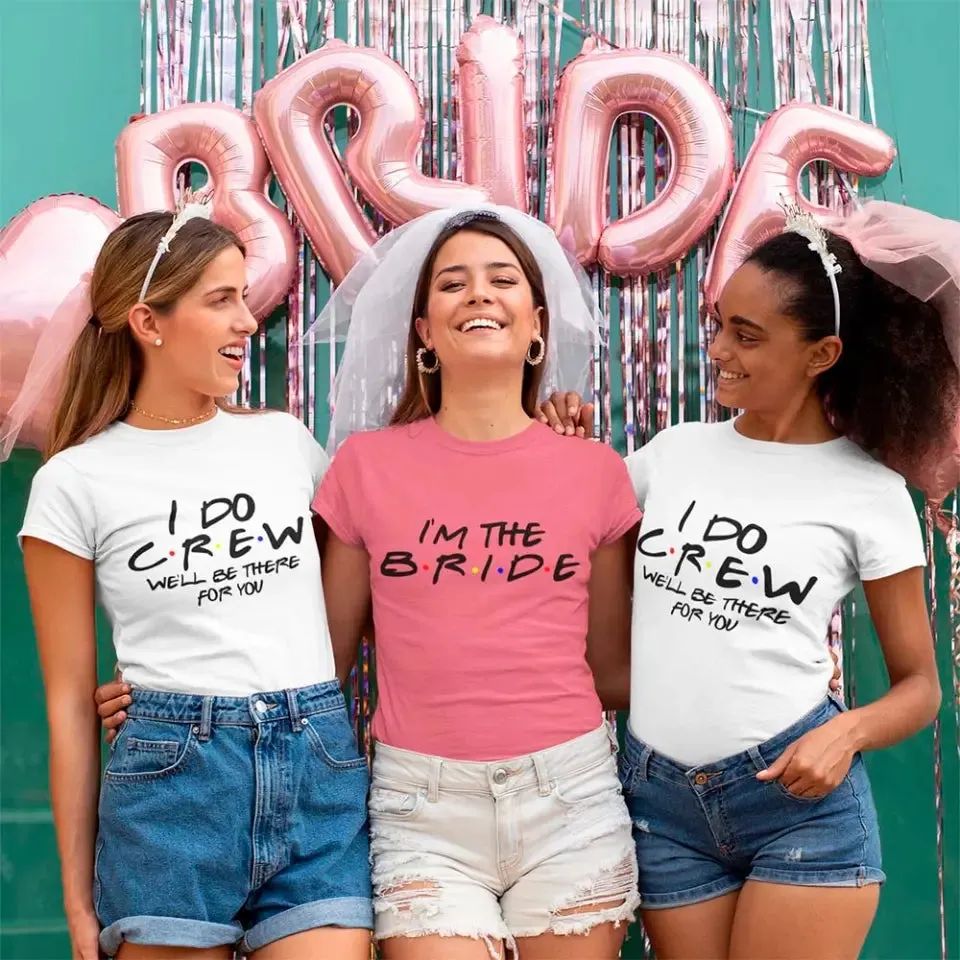 If there's one thing that the '90s taught us, it's that nothing brings people together quite like good ol' fashioned fun. When it comes to planning 90s-themed bachelorette party games, consider the essence of the era. It was a time when people connected through music, TV shows, and trends that continue to hold a special place in our hearts. As you start your 90s-themed bachelorette party, think about these five games that could spark not only the competitive spirit but also laughter and memorable moments.
Name That '90s Tune
This game is a sure way to get everyone's adrenaline pumping. Start by creating a playlist with all the iconic '90s hits. Include a variety of genres, from pop hits by the Spice Girls to rock anthems by Nirvana. As each song plays, your guests must guess the title and the artist. To up the ante, add some bonus questions related to the song or artist. Remember, the faster you answer, the better your chances are of winning!
'90s Trivia
Nothing stirs up fond memories like a good trivia game. Take your guests on a trip down memory lane by preparing a list of questions about '90s music, movies, TV shows, and events that defined the era. Divide the party into teams for a fun-filled competition. Who knows, you might discover some hidden '90s buffs among your friends!
'90s Charades or Pictionary
Two classic party games with a '90s spin! Prepare a list of '90s-centric clues covering movies, music, TV shows, fashion trends, or significant events. For charades, players must act out their clue silently while their team tries to guess. If you prefer drawing, opt for Pictionary instead. Either way, these games will have everyone diving deep into their '90s knowledge and reminiscing about the decade's iconic moments.
'90s Karaoke
Release your inner divas with this epic karaoke challenge. It's time to channel your inner Britney, Mariah, or Whitney as you belt out their classic hits. Pick some of the best '90s songs and have your crew show off their singing skills. Whether you hit every note or not, the main goal is to have a blast!
Pogs Tournament
Pogs were all the rage in the '90s! This simple game of skill and luck involves flipping small cardboard discs called Pogs. Organize a friendly tournament and reminisce about those schoolyard games. Have some prizes ready for the Pog champion - perhaps some '90s-themed goodies. This will surely invoke feelings of nostalgia while you engage in some good-natured competition.
Guess the '90s Toy
This is a tactile guessing game that will have everyone laughing and reminiscing about their favorite childhood toys. Gather a variety of popular toys from the '90s, such as Beanie Babies, Furby, Polly Pockets, and more. One by one, blindfold each guest, hand them a toy, and see if they can guess what they're holding based purely on touch. The one who guesses the most toys correctly wins, but it's the burst of memories that will make this game a hit.
Dress-up Relay Race
Here's a game that will not only induce laughs but also bring back those wild '90s fashion trends. Create a pile of '90s clothes and accessories. The aim is to race against the clock as teams dress up in '90s attire, then run to a certain point and back before the next person goes. It's all about speed, but also style. So, go wild and get creative with your looks!
Tamagotchi Challenge
This game is a throwback to one of the biggest '90s fads - the Tamagotchi, a handheld digital pet that required constant care. At the beginning of the party, distribute Tamagotchis or Tamagotchi apps to each guest. Throughout the event, guests must take care of their digital pets by feeding them, cleaning them, and providing attention. The person whose pet is the happiest and healthiest by the end of the night wins. This game will not only bring back fond memories but also provide a few laughs as guests scramble to keep their pixelated pets alive!
'90s Dance Off
Unleash your inner dancing queen with a '90s dance-off! Learn some classic '90s dance moves such as the Macarena, the Running Man, or the Carlton Dance. Once everyone's ready, let the dance-off begin! The team or individual who performs the best wins. But remember, it's all good fun!
'90s Celebrity Heads
A twist on the classic party game, this version will have you and your guests guessing '90s celebrities. At the start of the party, stick a post-it note on each guest's forehead with the name of a famous '90s personality - they could be musicians, actors, politicians, or even fictional characters. The goal is to figure out your assigned celebrity by asking the other party-goers yes-or-no questions. Are they a pop star? A movie actor? Did they wear flannel? The first one to guess their '90s identity correctly wins, but the real fun comes from the hilarious questions and the nostalgic conversations this game can spark.
90s Bachelorette Party Outfits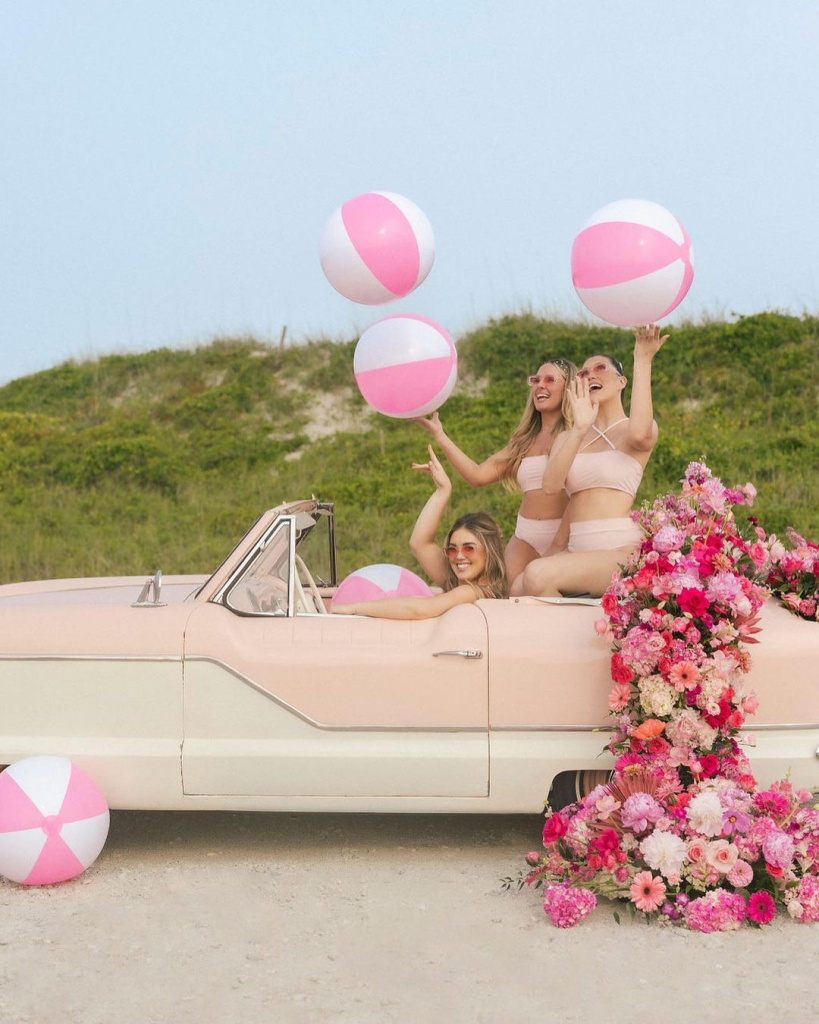 In the '90s, fashion was all about self-expression, and when it comes to a 90s-themed bachelorette party, it's time to get creative. The '90s fashion scene was a wild mix of grunge, preppy, hip-hop, and pop culture trends. As you plan your outfits, think of iconic '90s looks that make you feel fantastic. And remember, the 90s theme dress code is all about expressing yourself, so don't be afraid to experiment and most importantly, have fun! Here are nine 90s-themed bachelorette party outfits ideas that will help you and your friends make a memorable fashion statement.
Grunge Goddess
The '90s grunge look was all about rebellion and freedom. For this outfit, go for a plaid flannel shirt, a band tee, ripped jeans, and combat boots. If it's cold, layer up with a chunky knit cardigan. Accessorize with a beanie or bandana and some dark lipstick for that signature grunge touch.
Hip-Hop Honey
When we mention 90s theme party outfits hip-hop, it's all about embracing the street-style vibe. This look involves baggy jeans or track pants, a cropped top, a bandana, and some chunky gold jewelry. Complete the look with some fresh kicks and a confident attitude that says "I'm ready to party!"
Pop Princess
Channel your inner Britney or Christina with this sweet and playful look. Go for a pleated mini skirt, a tied-up white shirt, and knee-high socks. Don't forget to style your hair in cute pigtails and accessorize with some girly jewelry.
Sporty Spice
This look takes its inspiration from athletic trends. Grab a matching tracksuit, a sporty crop top, or Adidas pants. Don't forget the quintessential fanny pack, chunky sneakers, and a high ponytail to bring this look to life.
Denim Diva
The '90s loved denim, and so will you with this outfit. Whether it's a denim jumpsuit, a denim skirt, or a denim jacket, you'll be rocking this iconic '90s trend. Add a choker necklace and combat boots to complete your denim-on-denim look.
Minimalist Chic
The '90s also saw the rise of minimalist fashion. Think Carolyn Bessette-Kennedy with a simple slip dress, minimalist accessories, and barely-there makeup. A pair of strappy sandals would complement this look perfectly.
Clueless Cutie
This look is a tribute to the iconic '90s film Clueless. Embrace your inner Cher or Dionne with a plaid mini skirt, knee-high socks, a white blouse, and Mary Janes. Don't forget the feathered boa for that extra touch of '90s extravagance!
Rave Babe
For those who embraced the techno scene in the '90s, this look is for you. Neon colors, baggy pants, cropped tops, and lots of bracelets are key elements of this style. And of course, you can't forget the glow sticks!
TV Show Trendsetter
Why not dress as your favorite '90s TV character? Whether it's Rachel from "Friends," Kelly from "Saved by the Bell," or Daria, channeling their look can add a fun twist to your '90s party.
Spice Girls Superstar
The Spice Girls were quintessential '90s pop icons, and each had her own distinct style. Choose your favorite Spice - Sporty, Baby, Ginger, Posh, or Scary - and emulate her signature look. For Sporty, think athletic wear like tracksuits and crop tops. For Baby, opt for something sweet and feminine like a babydoll dress. Ginger was known for her bold, sultry outfits, often featuring the UK flag. Posh was minimalist, preferring little black dresses and sleek silhouettes. And Scary was all about eccentric, leopard print outfits. 
The 90s-Themed Bachelorette Party Decorations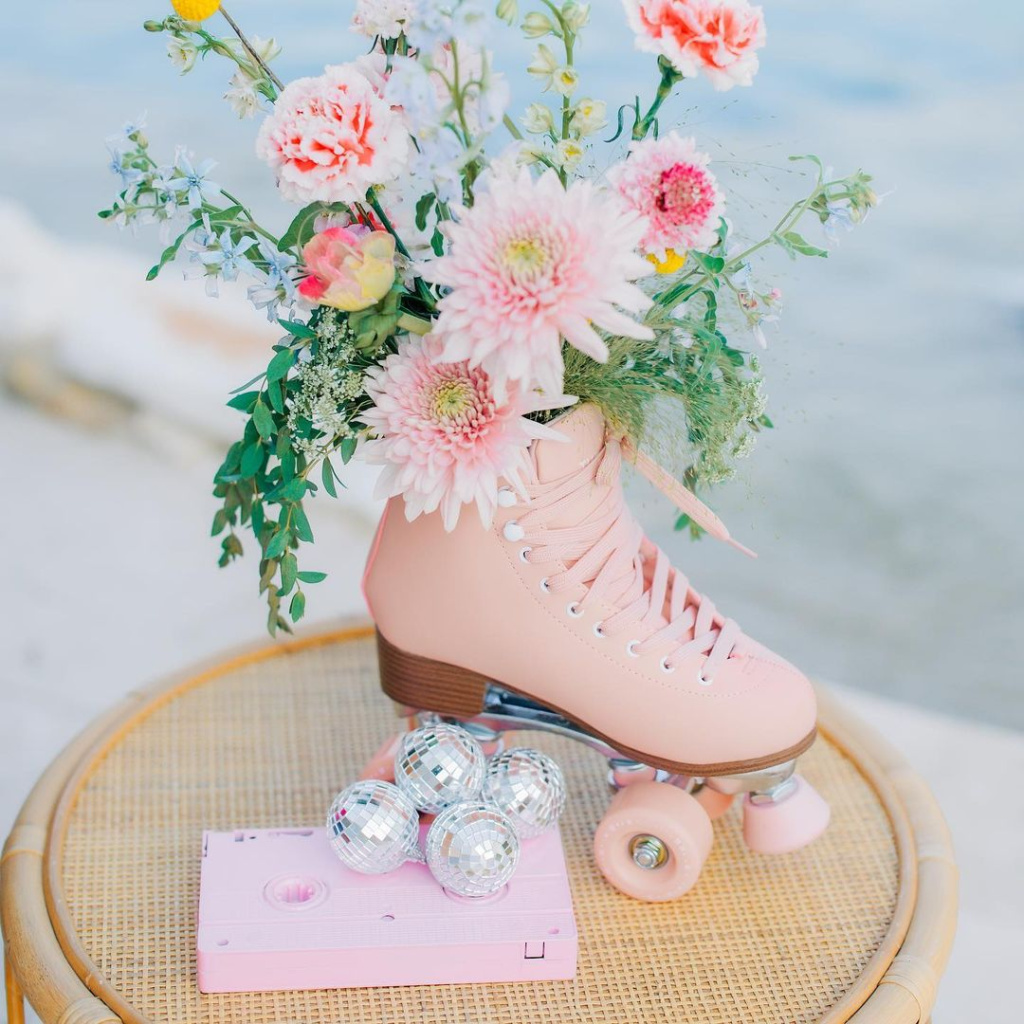 No 90s-themed hen party would be complete without some spot-on decorations. The right decor not only sets the mood but also serves as a perfect backdrop for unforgettable photos. As you dive into planning, think about the elements that defined the '90s era. From bright colors to iconic pop culture references, your 90s bachelorette party decorations can be a fun and creative project. Here are some questions to consider as you plan your decor: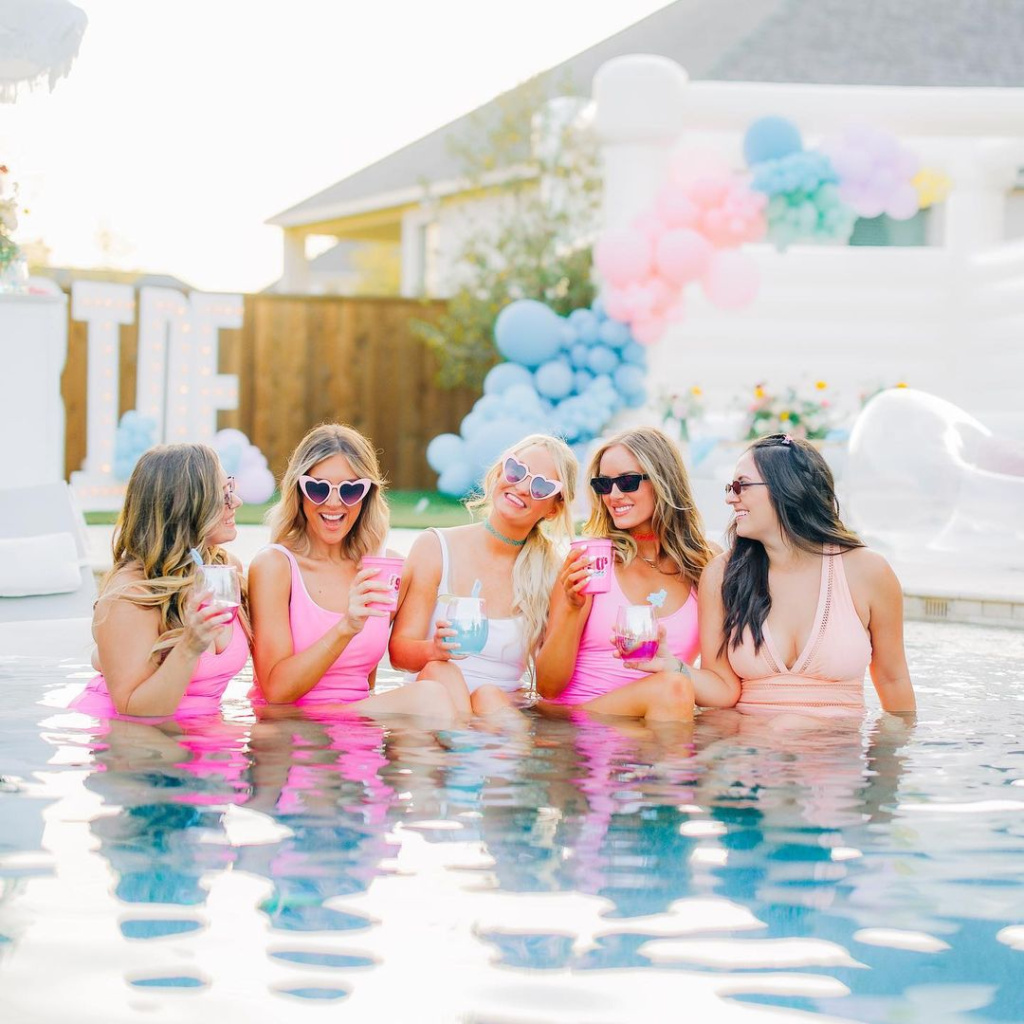 What were the iconic '90s color schemes? Think neon, pastel, and metallic. Balloons, streamers, tablecloths, and napkins in these colors will immediately transport your guests back to the '90s.
How can you incorporate '90s pop culture? Consider decorating with posters of popular '90s movies, bands, and TV shows. Life-size cutouts of '90s celebrities can be an unexpected and humorous addition.
What about '90s technology? Decorate with mock CDs, cassette tapes, and VHS tapes. You could even find an old TV and have '90s music videos playing in the background. This not only adds to the theme but also creates a fun talking point.
How can you make the party interactive? A photo booth with '90s props like inflatable guitars, retro sunglasses, and chokers would be a hit. It encourages guests to get into the spirit and creates memorable snapshots of the evening.
Can the food and drink presentation be themed too? Absolutely! Use pop rocks as a cocktail garnish or serve drinks in neon-colored cups. These touches keep the theme consistent and create a cohesive experience for your guests.
How can the table setting reflect the theme? Neon plastic tablecloths, disposable plates with '90s designs, and brightly colored napkins can add to the festive feel. Even small details, like themed drink stirrers or straws, can contribute to the overall aesthetic.
90s-Themed Party Food Ideas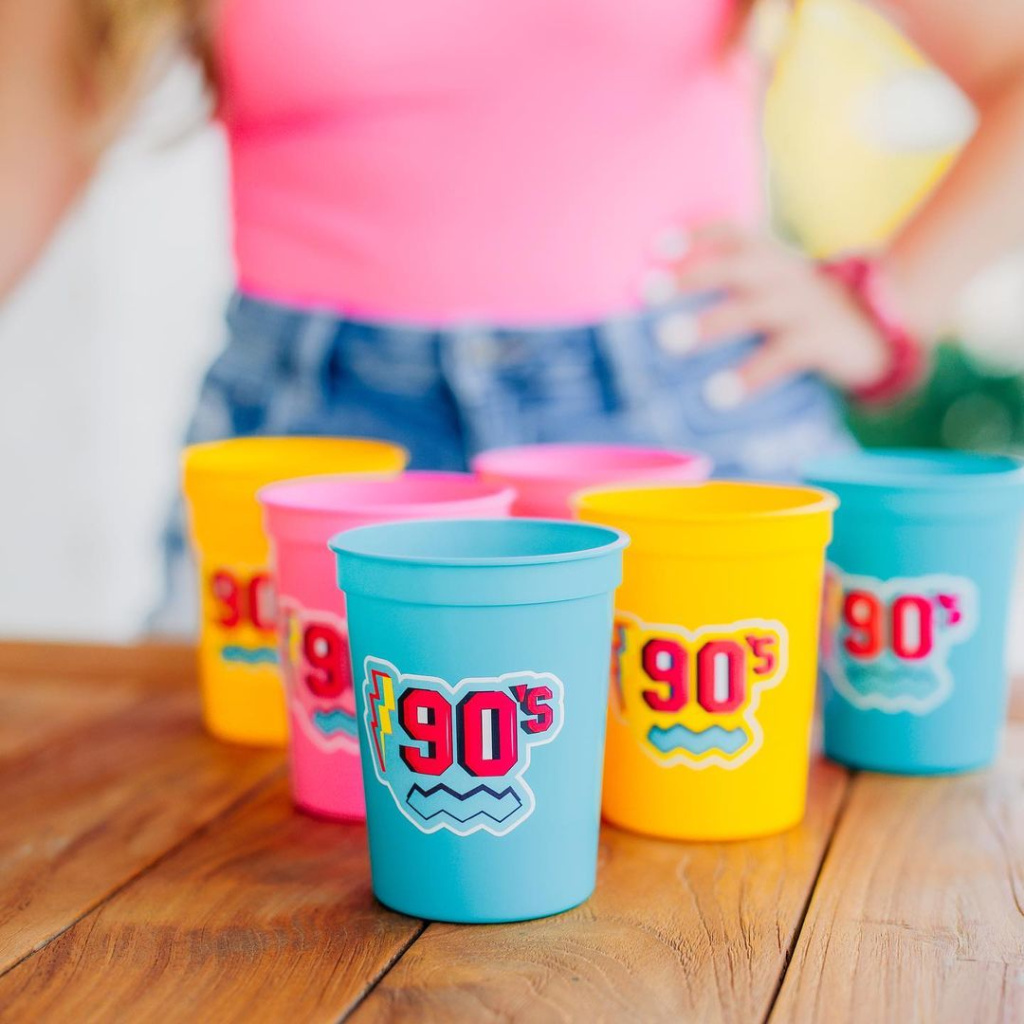 Food and drinks are at the heart of any great party. When it comes to a 90s-themed bachelorette party, you have the chance to serve up nostalgia on a plate. From snack foods that were the rave to iconic '90s candies, your menu can be a delightful trip down memory lane. As you plan your party menu, consider these questions to create a feast that's straight out of the '90s:
What were the popular '90s snacks? Consider setting up a snack bar featuring classic '90s snacks like Dunkaroos, Gushers, and Pop-Tarts. This not only provides easy finger food for guests but also sparks fun conversations about their favorite '90s snacks.
What about the main dishes? Why not serve up some '90s fast-food favorites? Mini pizzas, hot dogs, and burgers are always crowd-pleasers. Or you could create a DIY nacho bar, another popular choice from the '90s era.
How can you incorporate '90s drinks? No '90s party is complete without drinks that defined the era. Include popular '90s drinks like Capri Suns, Fruitopia, or even Surge if you can find it. And if you're up for some fun, craft some '90s-inspired cocktails for a boozy blast from the past.
What were the iconic '90s candies? A candy bar with '90s candies like Ring Pops, Push Pops, and Baby Bottle Pops is sure to be a hit. It's a sweet way to reminisce and enjoy some nostalgic treats.
Can the cake be '90s-themed too? Absolutely! Get creative with your cake design. You could have a cake decorated with '90s symbols or even shaped like a popular '90s icon. The options are endless, and it adds a special touch to the celebration.
Remember, planning a '90s bachelorette party is all about capturing the spirit of this fun-filled era. It's a chance to relive some of your best memories while making new ones. So, get your game face on, dust off those retro outfits, and get ready to party like it's 1999!